January is here and each day is getting cooler than the previous one! It is such a shock to see that the West Coast of US is actually cooler than the East Coast. Not very common to see the East coast enjoy New Year' Eve with just a light sweater while we were freezing while watching the fireworks on NYE!! They say the storm El Nino is going to hit us soon. No wonder it is so cold even in California! The weather is such that a cup of hot chocolate is the best drink now.
It can be even better when it is mixed with some crushed peppermint. Those left-over candy sticks from Christmas can be used here. If you cannot lay your hands on that one, use the peppermint chocolates from a local store. The taste of dark chocolate along with the sharp flavor of peppermint and the richness of freshly whipped cream combines to give a great drink! If you like a less richer version of the drink, you can skip the cream on top and add some half and half cream in the milk.
I made this drink and I used this #coppermug to serve the drink. This was part of the review process by Inspired Basics. The hammered copper mug is perfect for all your drinks, hot as well as cold. Serve the hot chocolate the way I served, or spike it a little to enhance it. The 16 oz mug is the perfect size mug for all your drinks. Made from 100% copper, this mug is a must-have in all houses! The mug shines as good as new, even after using it and washing it over and over again. If you would like to have one too, here is the Amazon link to buy it.




Ingredients
Milk 1 cup
Unsweetened Cocoa Powder 1 tbsp
Sugar 1 tbsp
Vanilla Extract ½ tsp
Peppermint Candy Cane 2 inch piece
Heavy Whipping Cream ¼ cup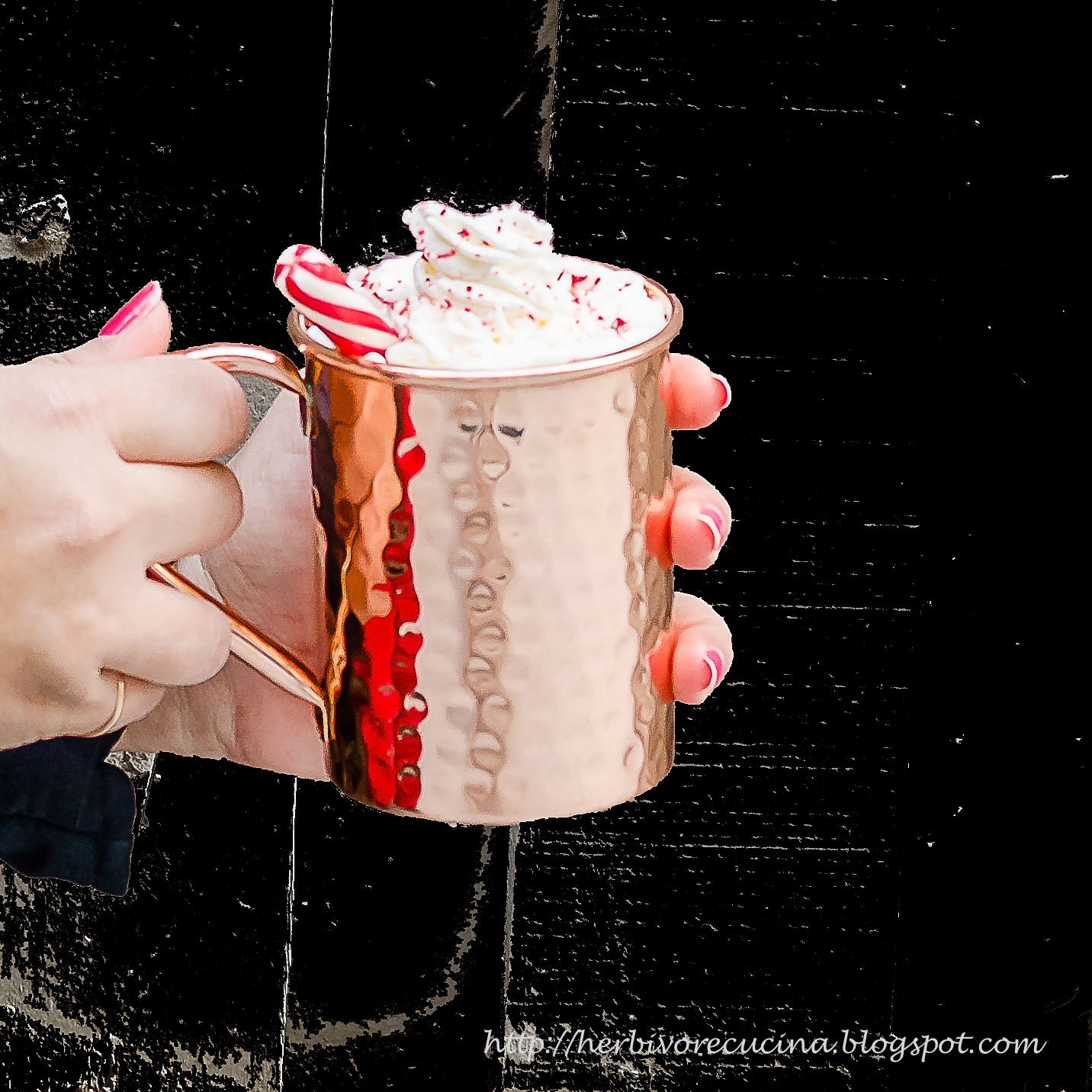 Method
To start, crush the candy cane in a blender to a small bits and pieces. Set aside. Whisk the heavy cream, rest of the vanilla extract and ¼ tablespoon sugar to get soft peaks. Heat milk in a saucepan, add ¾ tablespoon sugar and mix well. Once the milk boils, add cocoa powder, some vanilla extract and a pinch of candy cane. Mix well.
Pour the hot chocolate milk into a cup or moscow mule. Top with half the whipped cream. Sprinkle some candy cane bits and top with remaining cream. Now sprinkle the remaining candy cane and garnish with another cane stick on the side. Serve hot!
P.S.: One or more products in this post have been given to me complimentary for review purposes. However, all the opinions are completely my own.