Blogging Marathon #73 Week 4 Day 3
Theme: Ingredients through Mail
Dish: Pina Colada Smoothie Bowl


A sunshine smoothie bowl inspired by the famous Pina Colada, this is Vegan and needs just a couple of ingredients. What do you like to top your bowl with?


Smoothie bowl, the trend that has been all over the food world for a while! The idea of eating your smoothie has taken centre stage for a while and now everybody is innovating new combinations and flavors.

For the longest time I have not been a fan of smoothies. Back in India there were a few places that stirred up some of them, but they never caught my fancy. I mover to the US and tried some here. Not that they were not good, but I never developed a liking for them. Then came these bowls, colorful smoothies in fancy bowls; topped with fruits, seeds and nuts!

These bowls are so pretty, it is hard to say no to them. Having tried a few at breakfast places, I finally decided to take a plunge and explore this colorful world of smoothie bowls.

Plus, I am doing a Blogging Marathon with a few fellow bloggers and my theme this week has been Ingredients by Mail. I was paired with Srividhya and she gave me three really interesting ingredients! With the foxtail millet upma and chocolate walnut brownies made from the first two ingredients, it was time to make something from the third ingredient, Coconut Milk!

I have been using Coconut milk in my recipes, especially Thai cooking. That was my instantaneous thought when I grabbed the can from her. But I did not want to make something that has 20 ingredients, one of them being Coconut Milk.

To do full justice to the ingredient and to start my journey towards pretty looking Smoothie bowls, I made this Pina Colada Smoothie Bowl. First, this bowl cannot be made without Coconut Milk and it has only ONE other ingredient in it. Plus, Virgin Pina Colada happens to be my favorite drink and I knew I could not go wrong with it! So I made this sunshine colored bowl that was super easy to make and was really delicious too!


Substitutions


In this recipe I used canned pineapples and canned coconut milk. If you have either of them fresh, feel free to use them. Besides, I opted for a can of Pineapple tidbits in their own juice. So the smoothie was slightly sweet, just right for me. If you are using Pineapple in heavy syrup, you might want to reduce the amount used, to avoid over sweetening the smoothie. And lastly, I added the toppings I like best, you all feel free to indulge in your favorite fruits, nuts and seeds.


Ingredients
Thick Coconut Milk ¾ cup
Canned Pineapple bits ½ cup
Honey if required

Toppings
Pineapple bits ¼ cup
Kiwi slices
Banana slices
Maraschino Cherries
Chia seeds 1 tbsp
Method

Drain the pineapple bits from the can and freeze them for 30 minutes. In a blender add frozen pineapple, thick coconut milk and honey if required. Blend till smooth and of perfect texture.

Remove in a bowl and top with Pineapple bits, Kiwi slices, Banana slices and Maraschino Cherries. Sprinkle Chia seeds and serve.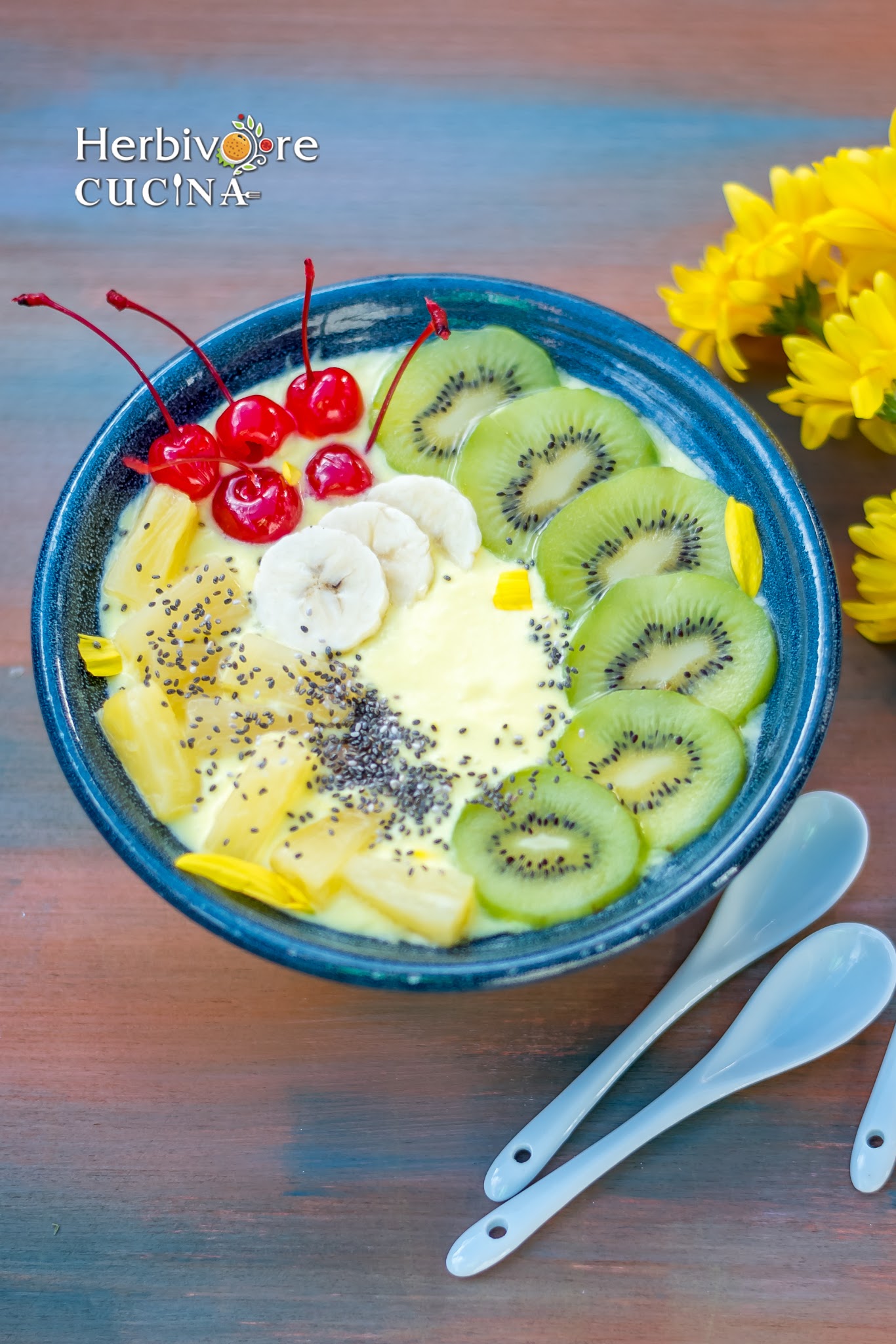 Check out the Blogging Marathon page to see what the other Blogging Marathoners are doing for BM#73