An easy to make recipe for perfectly crisp, puffed and airy puris. Use these to make your favorite pani puri, golgappa or puchka! 
Indian cuisine has a LOT of chaat recipes and pani puri is probably the MOST loved. From the street vendor to tons of pani puri at home; it is always a pleasure to indulge.
Chaat is one of the top picks for my cuisine of choice. From samosa chaat to sev puri and bhel puri to dahi papdi chaat; I love them all. 

Whenever I go to India, I enjoy them to my hearts content. When back in the US, I make most of the chaats at home.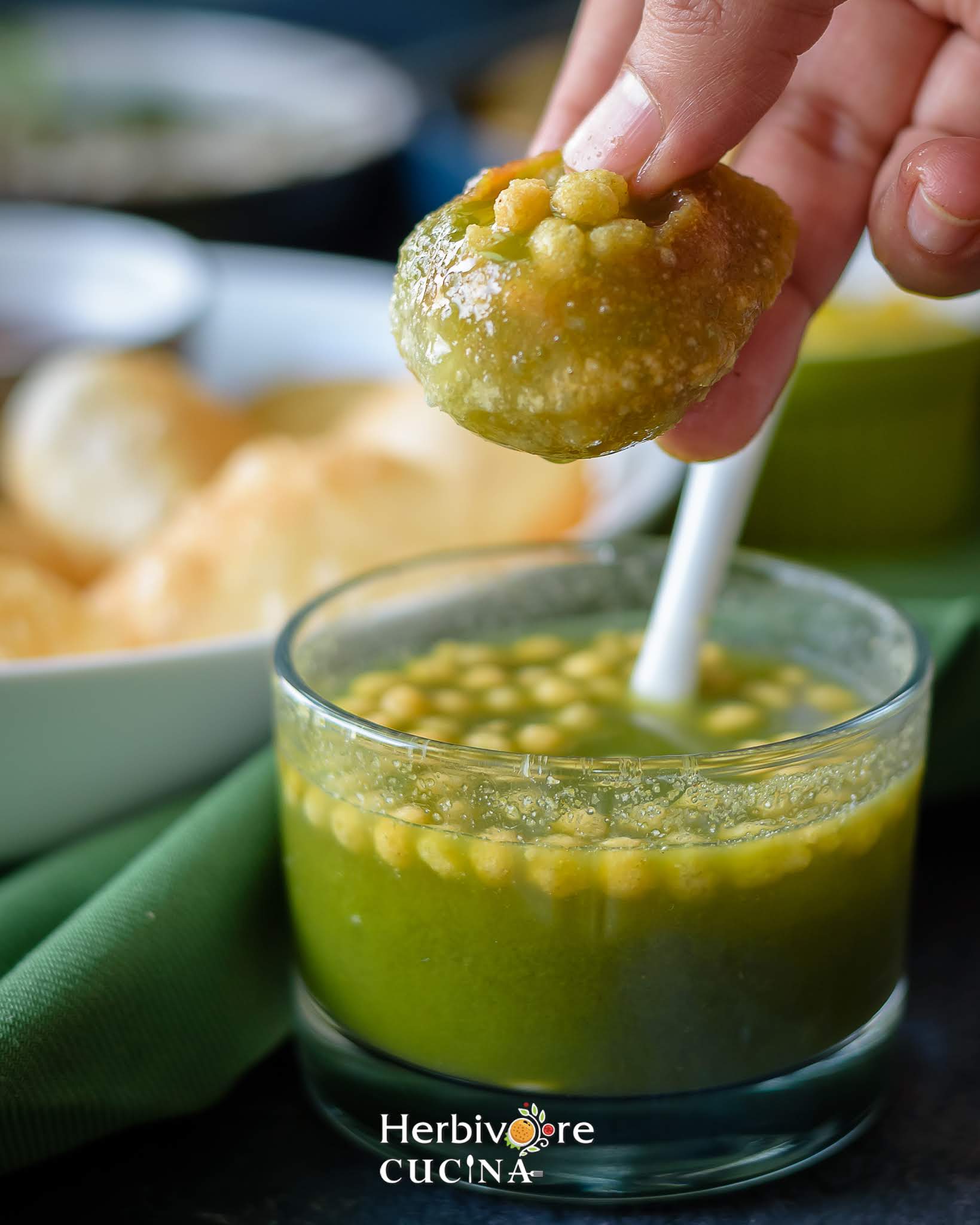 What is Pani Puri?
Pani puri; as the name suggests is puri (fried puffed crisps) filled with a lot of things like spiced potato and moong, sweet tamarind date chutney and spicy mint pani. 
This dish is popular all over the country by a bunch of names like gup chup, gol gappa, puchka and pani puri.  
The true pleasure of enjoying is definitely from a street vendor but it is fairly easy to make at home. 
For the longest time I have been making all the ingredients at home except the puri.
Lately I decided to give the puri a shot and after a couple pf attempts; I started making batch after batch of soft, crisp and nicely puffed puris. 
Not to mention, homemade pani puri puris takes the experience to a new high. Once you have tried home-made puris, it is difficult to go back to store bought ones, I promise!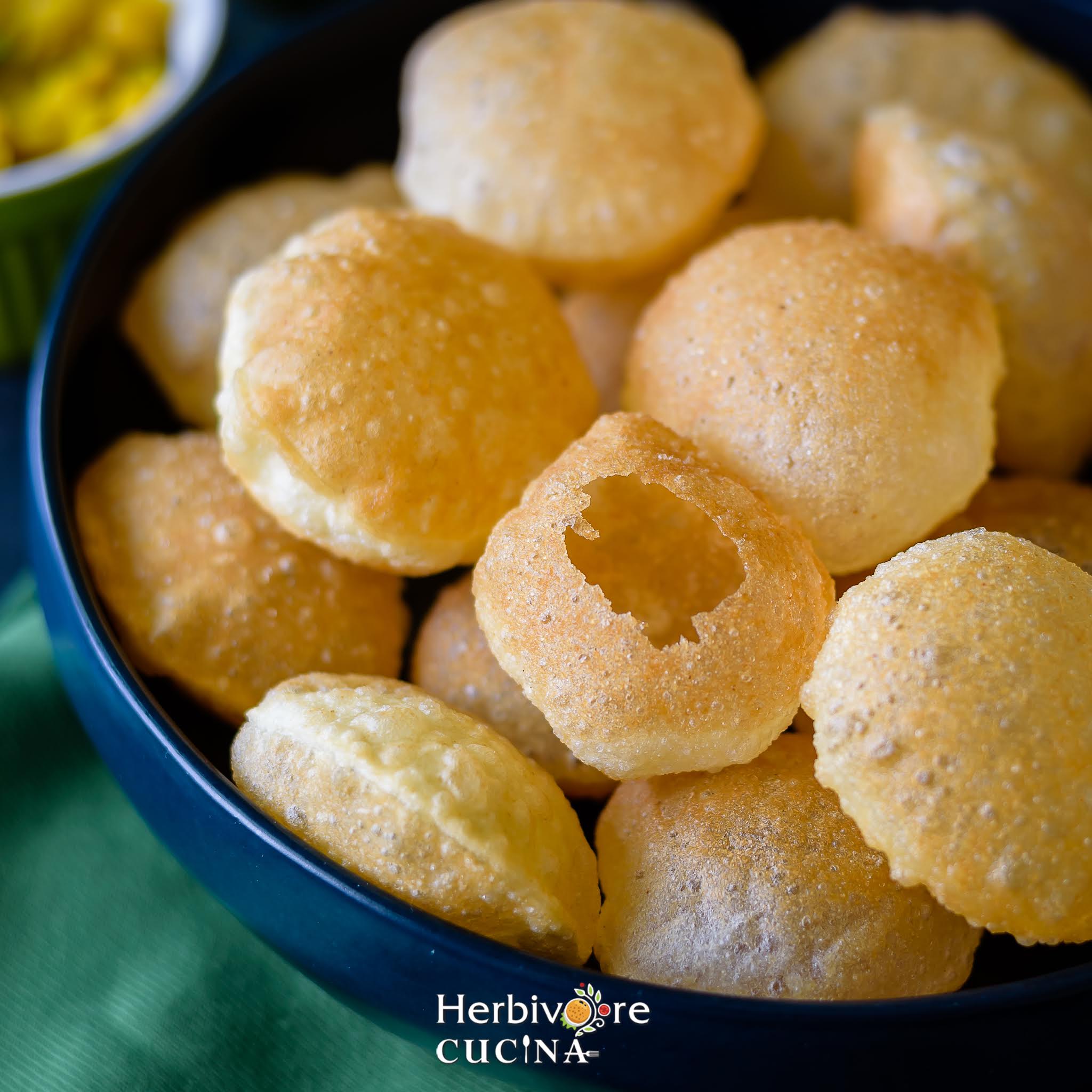 Tips to get super crunchy pani puri
The stack of perfectly puris at any pani puri vendor does make them look super intimidating to make at home. But all it needs is some patience and a LOT of consistency to get them perfect at home.
The ingredients used to make the puri vary based on the recipe used. There are sooji golgappas and flour golgappas. 
The ones I like and make are the sooji ones. For these you need sooji, some all purpose flour, baking soda and club soda. 
In order to get batch after batch of perfect puris, pay attention to a few things and the results are going to be amazing for sure. 
Knead the dough well using a stand mixer or with your hand. This step is important to develop gluten in the dough. 
The dough should not be super tough or super soft. It should be somewhere in the middle. 
While the dough rests and the puris rest after rolling; never leave them uncovered. Dried puris will not puff as you would like. 
Roll the dough as even as you can. The proportion below is for 60-70 puris. Do not try to roll the entire dough at once. Work in small pieces so that it can be rolled thin and even. 
Frying them is easy. Start off with high heat to puff the puris and then lower to medium high to cook them well. Keep pusing them down with a ladle to puff them well. 
Do not overcrowd the oil. Keep space for the puris to expand and puff. 
Never stack the fried puris when hot. They will lose their puff and become soggy. Let them cool completely before storing. 
Serve them with spicy mint pani, sweet and tangy dates tamarind chutney and a filling made from potatoes, moong, chana and spices. Here is what my filling mixture looks like. 
Here is the full recipe for Pani Puri.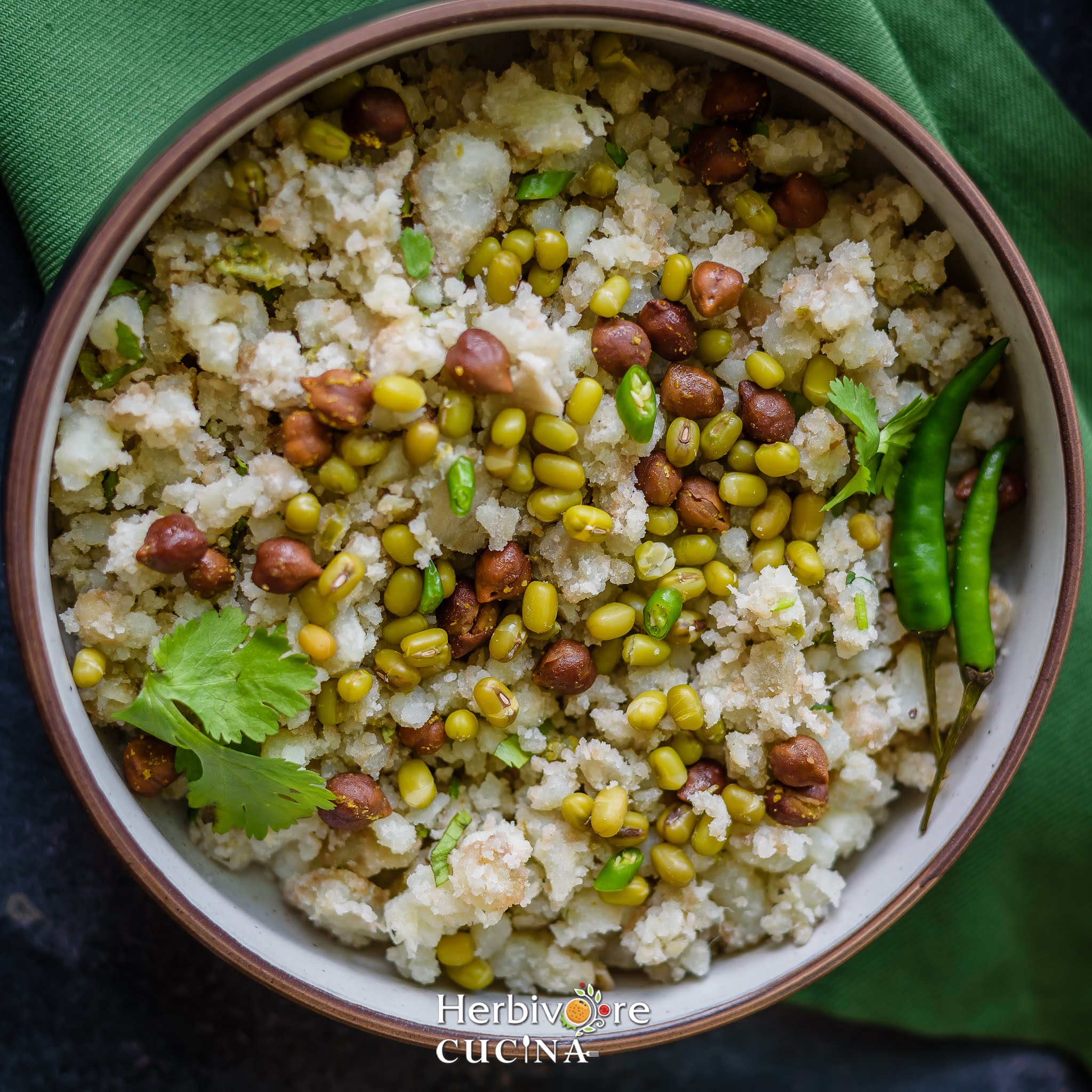 Variations in ingredients
There are several recipes of pani puri that mention the ingredients as just flour and water, flour, water and soda and so on. 
The concept in making the puris is that the moisture in the flour escapes when it touches the hot oil and the puri puffs up. So water and oil are the essential components. 
However using just flour and water makes the recipe a little tricky. You are relying on perfect rolling skills to make the puris. 
Add some baking soda and it is one step easier to make puris. My grand mother and mother always used club soda to make the dough and I follow the same. 
This method works well each time and so I totally recommend using it!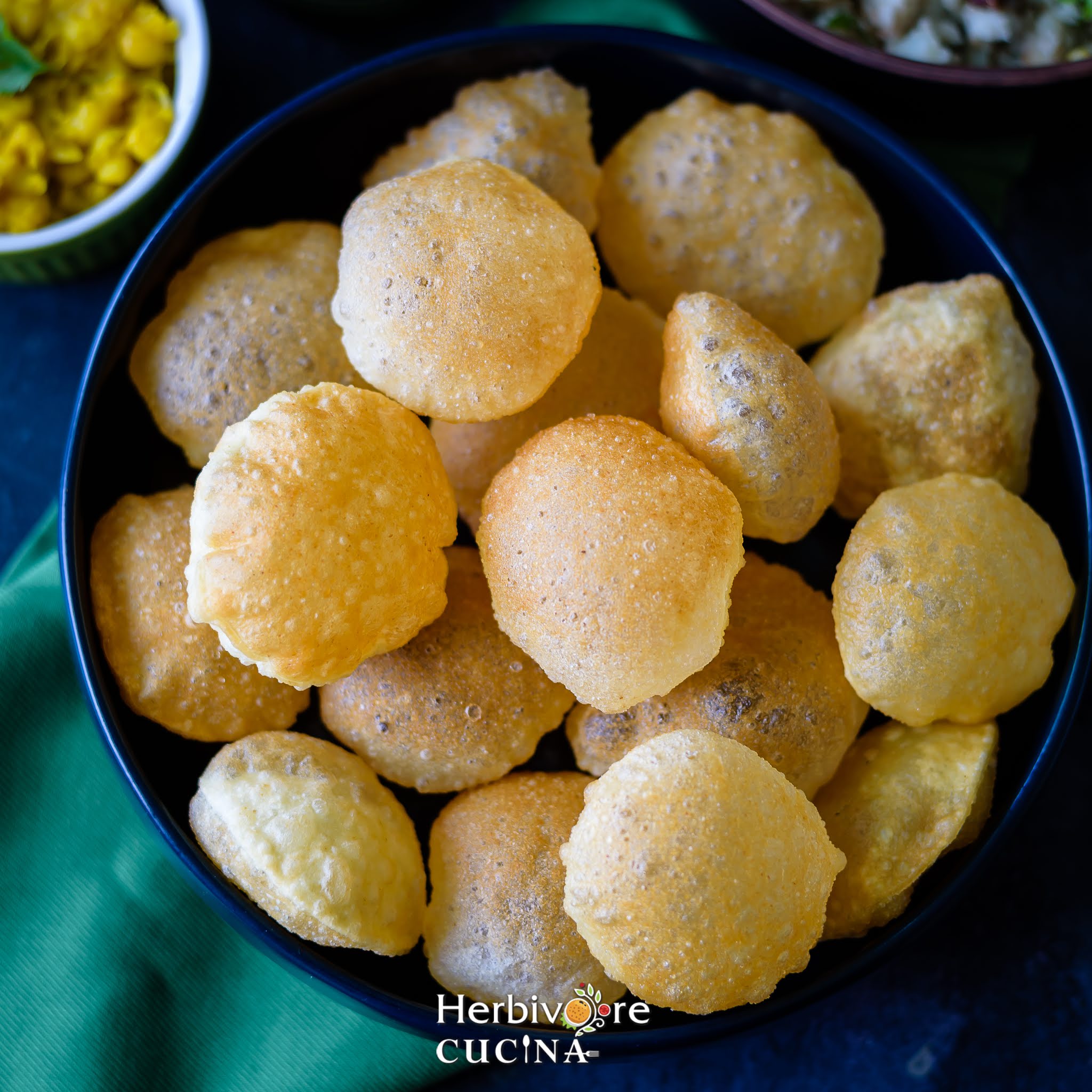 How to serve Pani Puri?
These puris are made for traditional pani puri that is served with sweet date tamarind chutney, spicy mint pani and stuffing like potato, chana and moong. 
The same puris can be used to make dahi puri too. A lot of places in the US serve sev batata puri in these puris too. 
And for some odd puris that did not puff up during frying; use them to add in bhel or to make sev puris. They taste the same; just that they did not puff up. I do end up with 3-4 puris like that.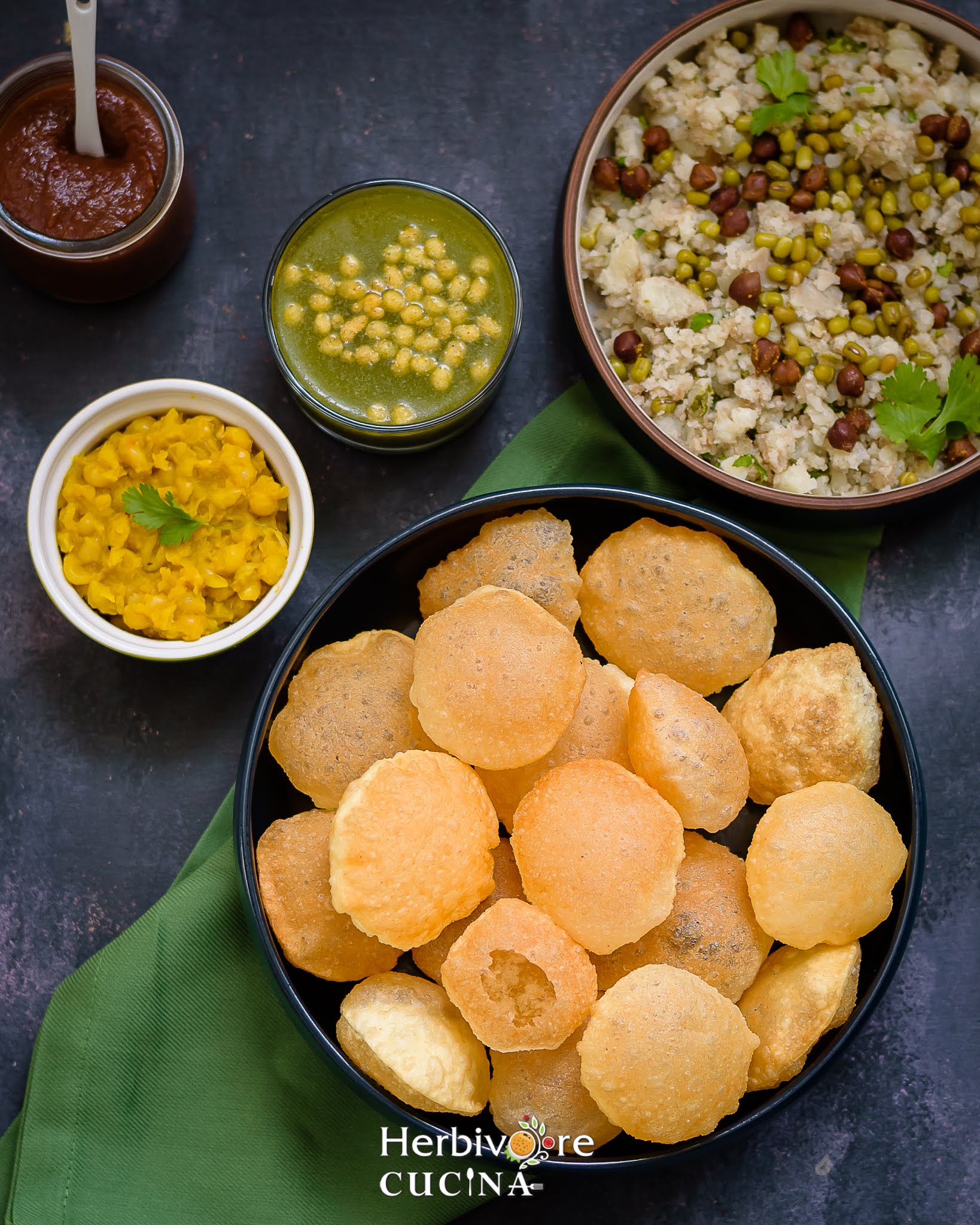 Ingredients
Fine Semolina/ Rava 1 cup
All purpose flour 2 tbsp
Baking Soda ⅛ tsp
Club Soda/ Sparkling Water ¼ cup
Salt ¼ tsp
Water if needed
Oil to fry
Method
In a bowl add fine semolina, all purpose flour, baking soda and salt. Mix well.
Add club soda or sparkling water. Mix well. Add water as required to make a dough. The dough should not be too tough or soft. 
Knead the dough for 8-10 minutes. 
Place the dough in a bowl and cover with a wet kitchen towel. Let the dough rest for 30 minutes. 
Once rested, knead it again for a couple of minutes. Divide the dough into 5- 6 equal parts. 
Using one dough ball, roll it out to a disc of 1.5-2 mm thickness. Keep the other dough balls covered with wet towel.
Using a cookie cutter of 4-5 cm diameter cut out discs. Place the discs under a wet kitchen towel so they do not dry out. 
Collect the leftover dough cuttings and save them. Repeat for all the dough balls and for the saved dough cuttings. 
Heat the oil in a wok or pan till hot. Keep the flame high when putting the puris to fry. 
Do not overcrowd the pan. Put about 5-6 puris depending on the size of the pan. 
Lower the flame to medium high and fry the puris pressing them down with a spatula. 
Once they puff up, turn them over and fry till golden brown. 
Remove from oil and place the puris on paper towels to drain off excess oil. 
Store in an airtight container once completely cool. Enjoy as pani puri with sweet dates tamarind chutney, spicy mint pani and various fillings. Detailed recipe for Pani Puri here.