The summer is here and so is Memorial Day weekend. With this weekend and the warm weather settling in, barbeque will soon become a family favorite activity. While there are multiple ingredients like paneer, potatoes, grilled cheese and everyone's fav s'mores to grill, this potato patty is a great picnic recipe.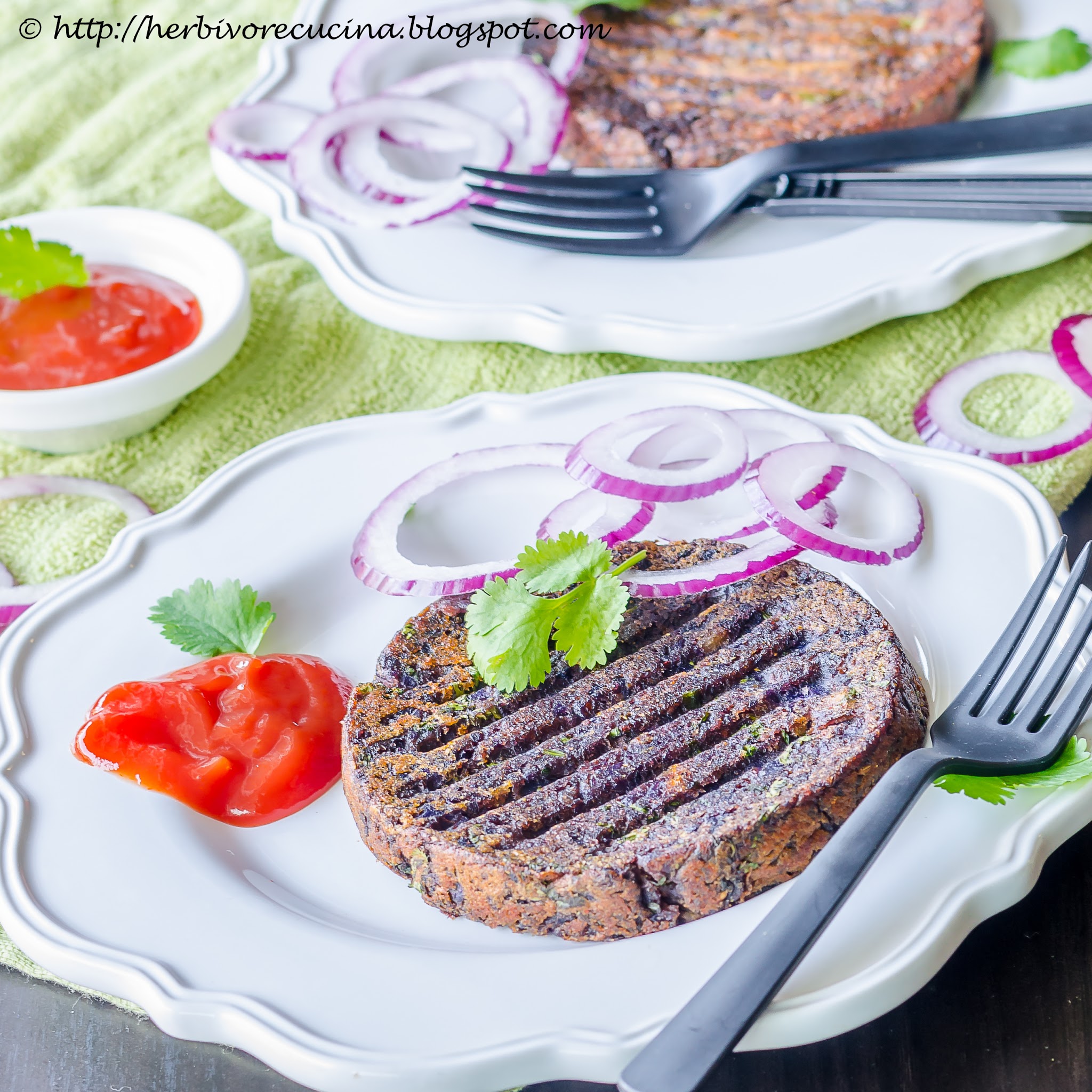 Potato cutlets or patties is a commonly made Indian dish. Sometimes served with white peas as Ragda Patties, sometimes with chole as chole tikki and sometimes with just bread slices. This recipe is similar to the traditional tikki recipe, just that it is made from purple potatoes instead of white and I added smoked paprika (my new favorite) instead of red chilli powder for that bbq kick to the patties! If you do not have either, just replace with the conventional ingredients.
Btw, I made these patties in my kitchen instead of the grill. To make these I used Uvistar's patty press that they sent me recently. The press comes in a size that is perfect for all standard hamburger buns. Made from aluminium, this non stick press is perfect for all patties like potato, beans, quinoa or even meat. The press can be directly placed on the gas or grill, and the press yields equal sized patties for all your barbeque patties. What is best about this press? It is the ribbed base and top that gives patties just like the ones at the restaurants! I loved this press. Order yours here.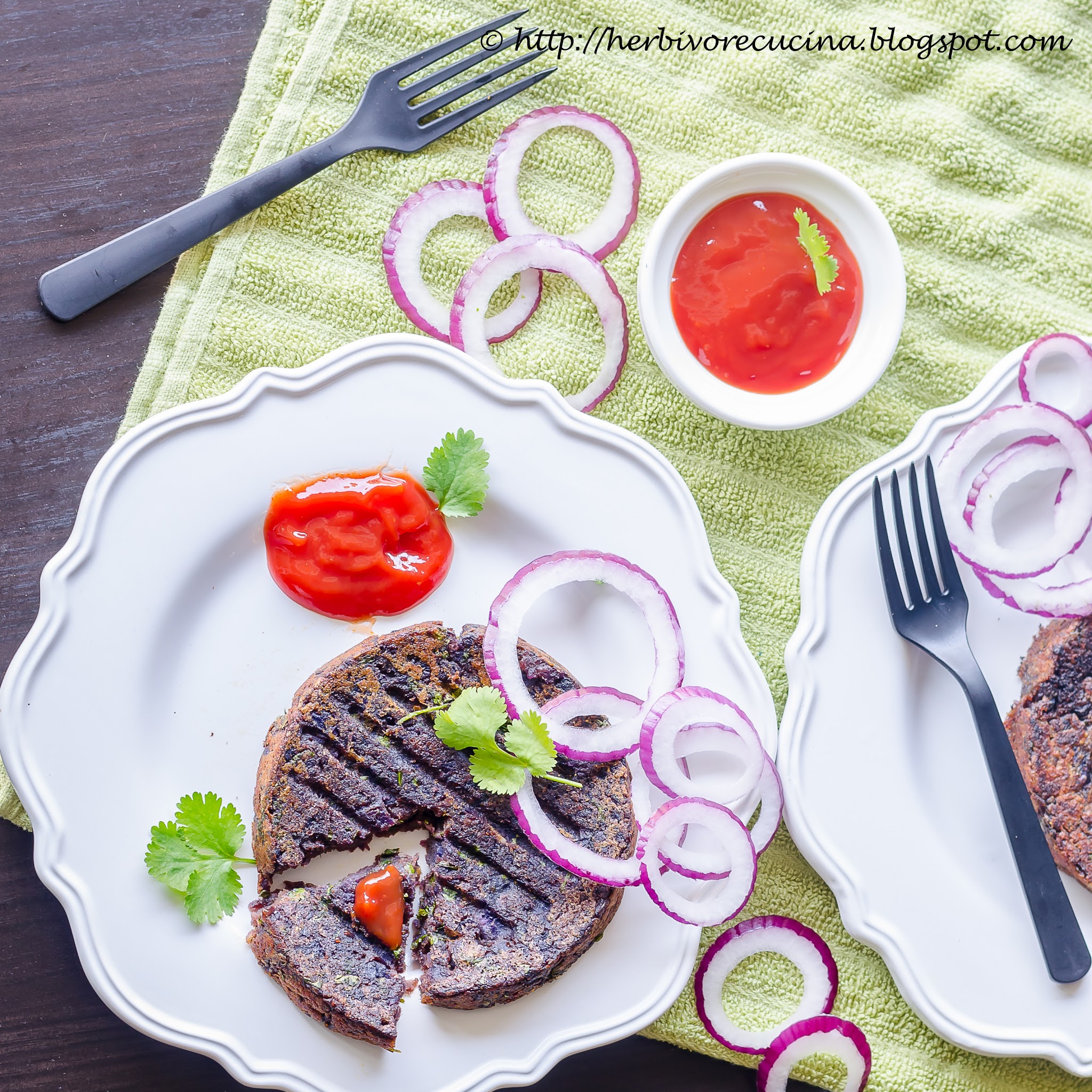 If you intend to make these patties on your next summer trip, it is rather simple. Just mix all the ingredients except cornstarch and take the mixture with you. Just blend in the cornstarch when ready to make and using the press directly on the grill and make your family these fresh and yummy patties!
Ingredients
For three big patties
Purple Potatoes 2 medium
Cilantro a handful
Smoked Paprika 2 tsp
Garam Masala 1 tsp
Ginger Garlic paste 1 tsp
Lemon Juice
Salt, Sugar
Corn starch 1-2 tbsp
Cooking spray/ Oil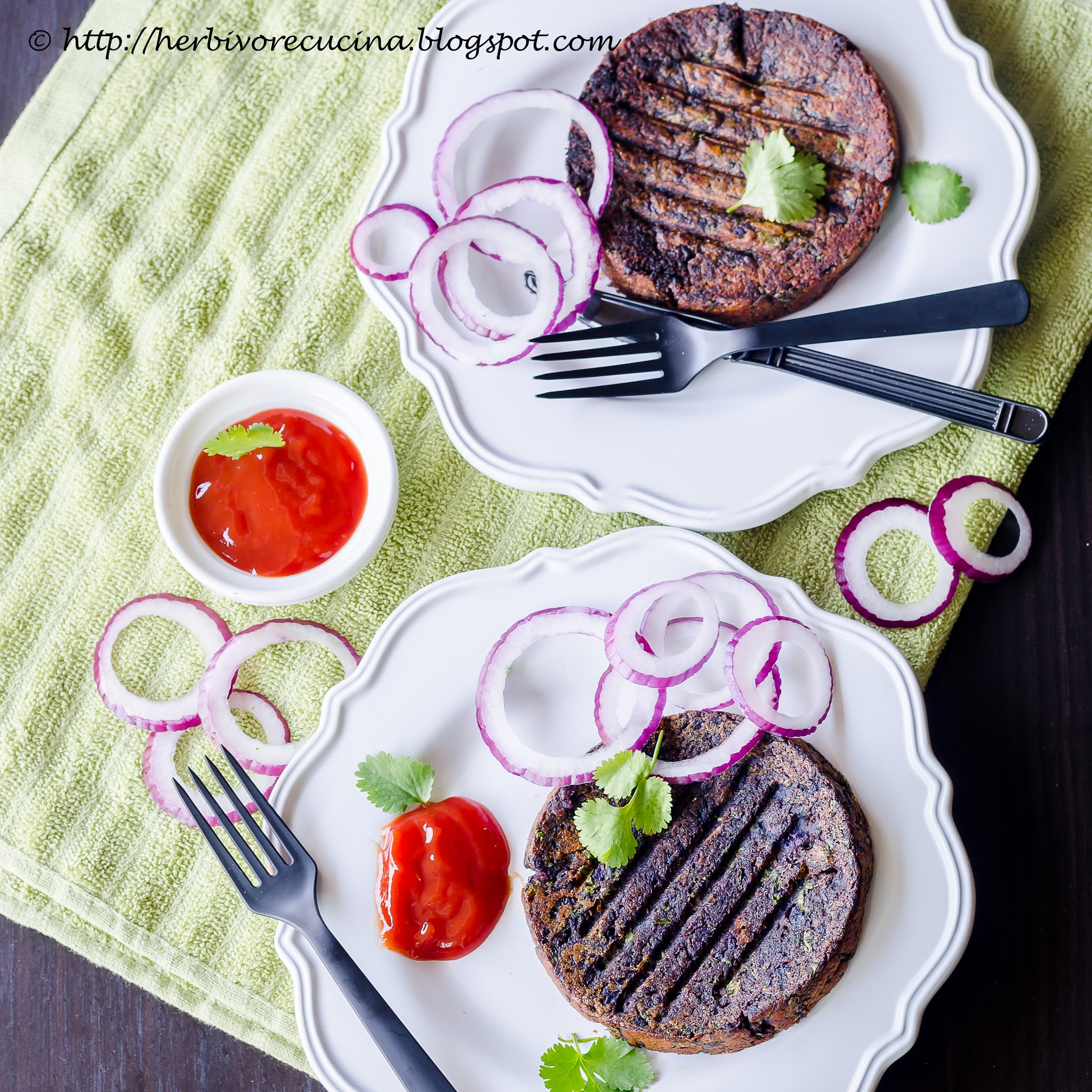 Method
Pressure cook the potatoes till soft. Cool, peel and transfer to a mixing bowl. Add all the ingredients except cooking spray/ oil. Adjust the quantity of corn starch depending on how wet the potatoes are. Make a mixture that is dry and dough like.
Spray the patty press with cooking spray and place it directly on the gas or grill. Add the potato mixture to the pan, spread it evenly and press down. Grease the top of the patty with oil or spray and cover with the patty press top.
Let the patty get a crunchy base and cook well before removing it from the press.
To serve, transfer the patty onto a plate, serve with tomato ketchup, mustard sauce or any sauce of your choice. These cutlets taste great even with some spicy cilantro chutney. I added a few onion rings too.