Blogging Marathon# 63 -Journey through the cuisines: Day 18

State: Punjab
Dish: Rajma Masala


A new day, a new letter in the Mega Marathon today. My state of choice is still Punjab and I thoroughly enjoyed cooking up Punjabi dishes for the blog. At home, we love our Punjabi fare and Rajma is one of our favorite dishes. So when I saw that R falls into the third week and I am making Punjabi food this week, Rajma was my first last and only choice!


Here is a funny story about Rajma. If you have seen how bachelors live in the US as roommates, you would know that they find it easy to cook legumes compared to vegetables. No fresh vegetable shopping, no chopping (they use ready made ginger chilli paste as well as tomato puree at times), just pressure cook the beans and saute with ready spice mix and you can whip up a filling meal rather quickly. So was the case with my husband and his friends. When I came to the US, I looked through the kitchen cabinets and found varying quantities, colors and sizes of packets in each cabinet; filled with rajma and its cousins. All together, I think I had about 5-6 lbs of Rajma.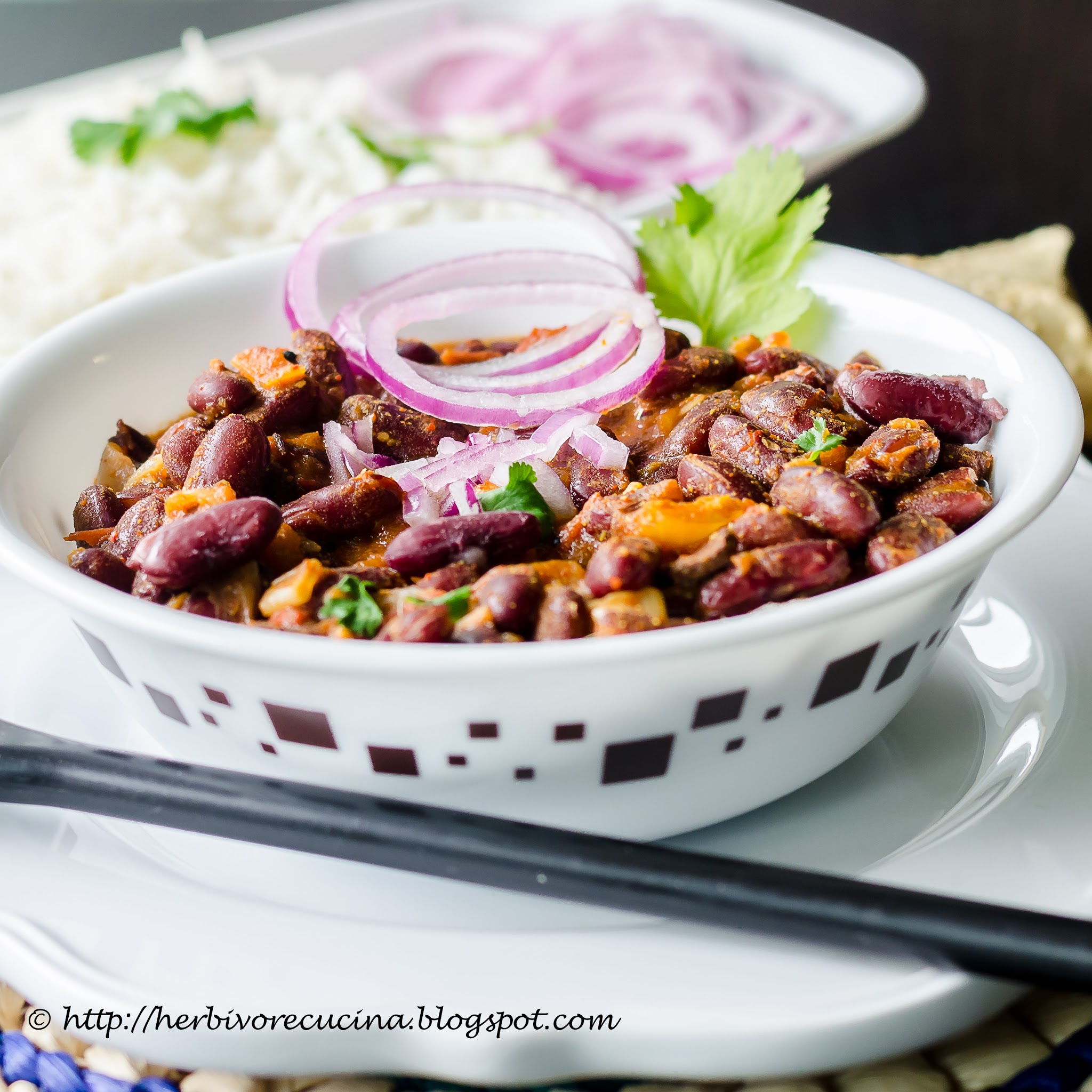 So when this Marathon came along, I was so happy, making rajma again and getting some out of my way. To my shock and horror, I did not have any rajma packets left!! We ate all the rajma from his bachelor days within a year and a half!! I was tempted to eat rajma and post it on the blog as well as this marathon, so with a heavy heart I bought a brand new packet of rajma. The store I generally shop from did not have the 2 lbs packet so I got 4 lbs. I don't think I am ever going to be able to live without having a couple of lbs of rajma around me :p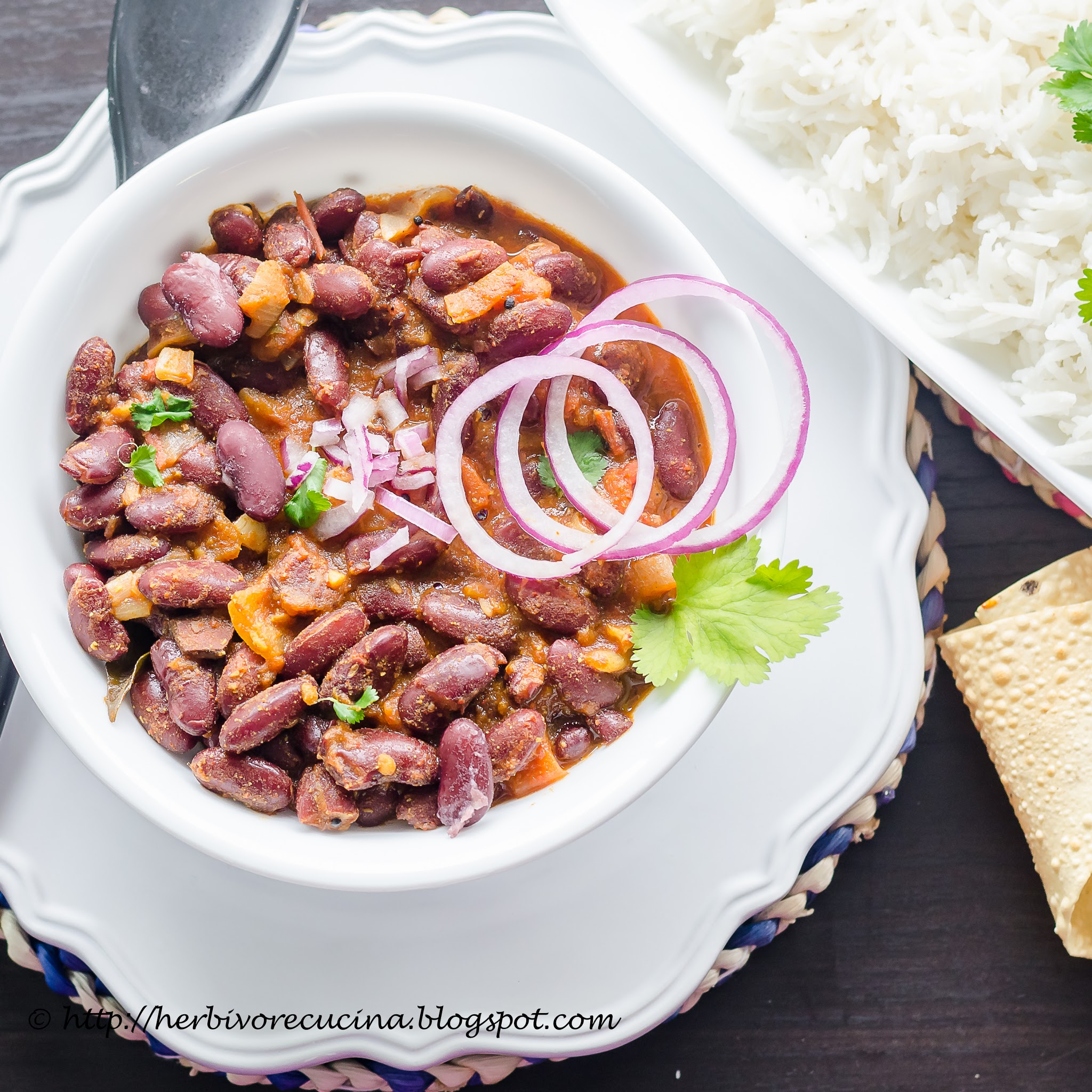 Coming to the dish, rajma masala is one of the staple legumes made in Punjabi households. While I do not completely claim that this version is the authentic version of rajma masala, this is the version I have eaten all my life at my Punjabi friends' houses and out of their lunch boxes. So I consider this the authentic version for me! While other elements in the masala are pretty straightforward, adding amchur gives the gravy a nice sour flavor. A lot of recipes call for anardana, but I was out and I did not add it. However, it did not affect the taste a great deal. I made rajma with steamed rice, a classic combination as many would call it. I also made some vinegar dipped onion rings to go with the meal and papad slowly roasted on a tava completed our meal. Hope you enjoy this dish and do come back to see what I have from the letter S tomorrow!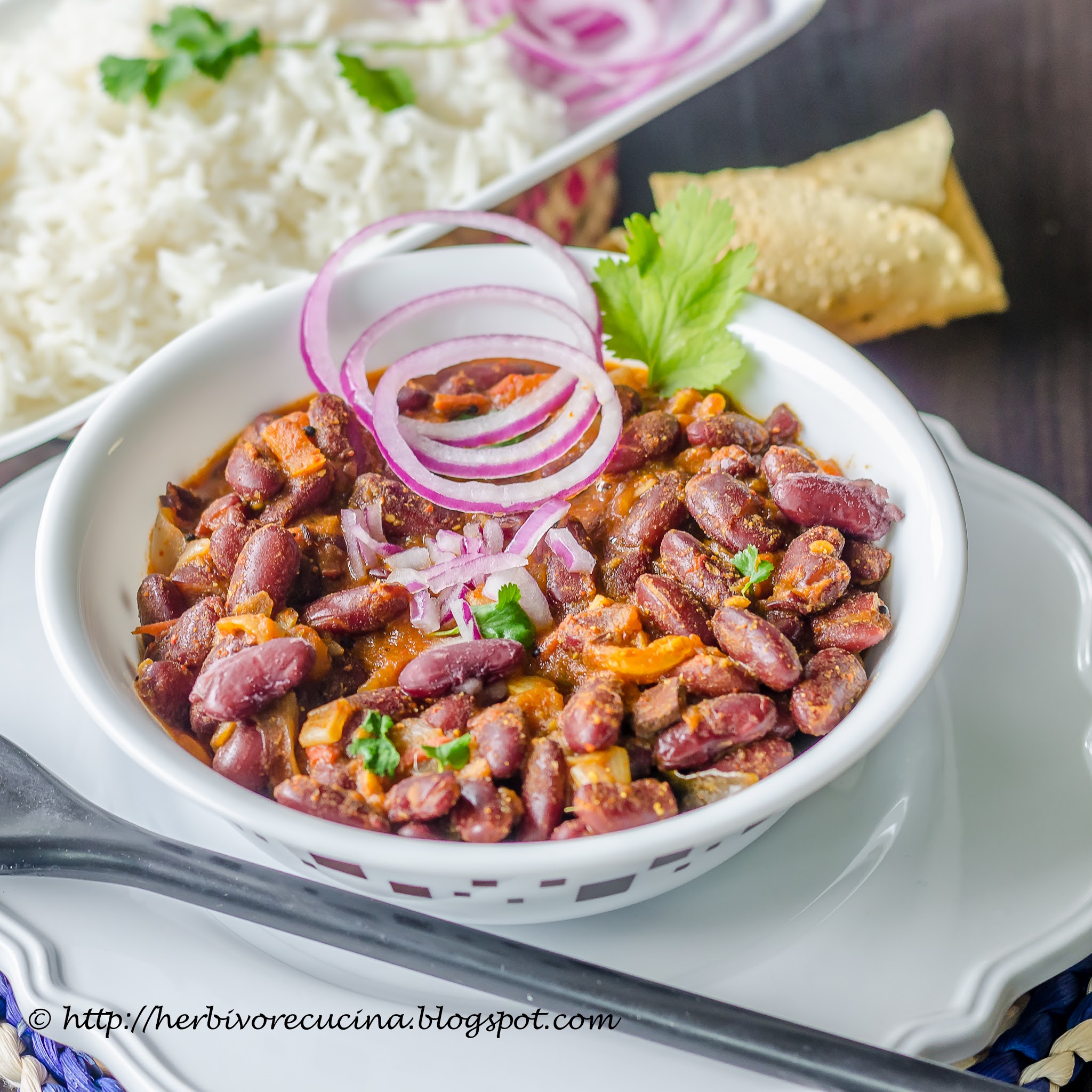 Ingredients


Rajma/ Kidney beans 1 cup
Onion 2 medium
Tomatoes 2 medium diced
Ginger garlic paste 1 tbsp
Minced green chilli 1-2
Mustard seeds 1 tsp
Cumin seeds 1 tsp
Asafoetida a pinch
Bay leaf 1
Oil 1 tbsp
Red Chilli Powder 2 tsp
Amchur 1 tsp
Salt, Lime juice to taste
Cilantro
Method
If using fresh kidney beans, soak them in enough water overnight. Next day, pressure cook or boil them till tender. Cool and drain. If using canned, just drain the water and pressure cook till one whistle.
Heat oil in a pan, add mustard seeds. once they pop, add asafoetida, cumin seeds and bay leaf. Once the cumin pops, add ginger garlic paste and minced green chilli. Cook till the raw flavor of garlic vanishes.
Next, add finely diced onions and cook till soft. Add the tomato pieces and red chilli powder. Cook till the tomatoes become mushy. Then add the boiled rajma and ½ cup water. Season with salt and amchur powder. Cook for 4-5 minutes or till the gravy is thick. Using a ladle, mash some rajma to thicken the gravy further. Turn down the flame and add lime juice.
Season with cilantro and serve with steamed rice or naan. They taste best when the flavor has been absorbed well, so make the rajma atleast a couple of hours before serving.