Spring is Nature's way of saying 'Let's party'
This famous quote by Robin Williams is perfect for today. It is late March and now spring is officially here. There is color everywhere. The plants have varied flowers on them, the markets are filled with fresh vegetables and the days are filled with sunshine till late evening. Fun times are finally here!
The season and weather is perfect to enjoy these spring rolls. Rice paper films stuffed with mixed vegetables, noodles, stir-fried tofu and fresh mint leaves make these amazing rolls. The vegan rolls can be made from vegetables of your choice and tofu that is sauteed in chili oil and cooled. I have used Mung bean noodles, however you can use rice noodles or the regular noodles. Boil them and cool them before making the rolls. For the vegetables, you can use creamy avocados, crunchy carrots and cucumber or some peppers to get a little spicy kick.
The first time I had these rolls was when my Asian friend invited us for dinner and made a ton of these wonderful and filling rolls. She also made an amazing hoisin peanut sauce to go with it and the meal was an amazing time we had. I have been wanting to make these rolls for a while, and finally made them for dinner one night. I made the rolls and a spicy peanut sauce to go with it. You must try it for a week night dinner too. It is time to spring into spring with these colorful and healthy vegan Vietnamese rolls!
Ingredients
For the Rolls
Rice Paper 12
Firm Tofu 1 packet
Napa Cabbage ½ bunch
Carrots 2 medium
Bok Choy 1 bunch
Mung bean noodles 1 cup
Bean Sprouts 1 cup
Fresh Mint leaves ¼ cup
Chili Oil or vegetable oil 1 tsp
Warm Water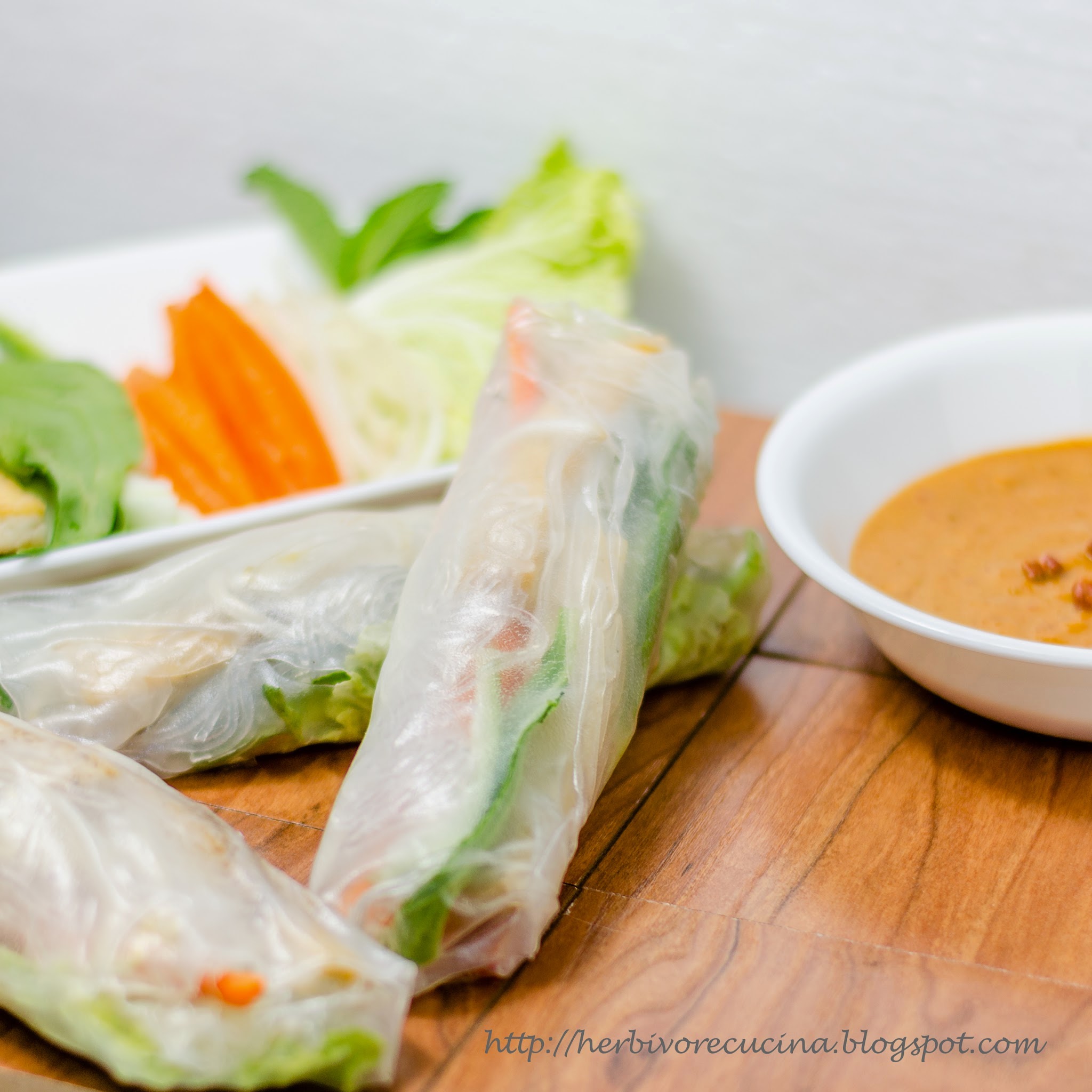 For the Peanut Dipping Sauce
Peanut butter ½ cup
Sriracha Garlic Sauce ½ cup
Minced Garlic 2-3 cloves
Vinegar 2 tbsp
Soy Sauce 2 tbsp
Water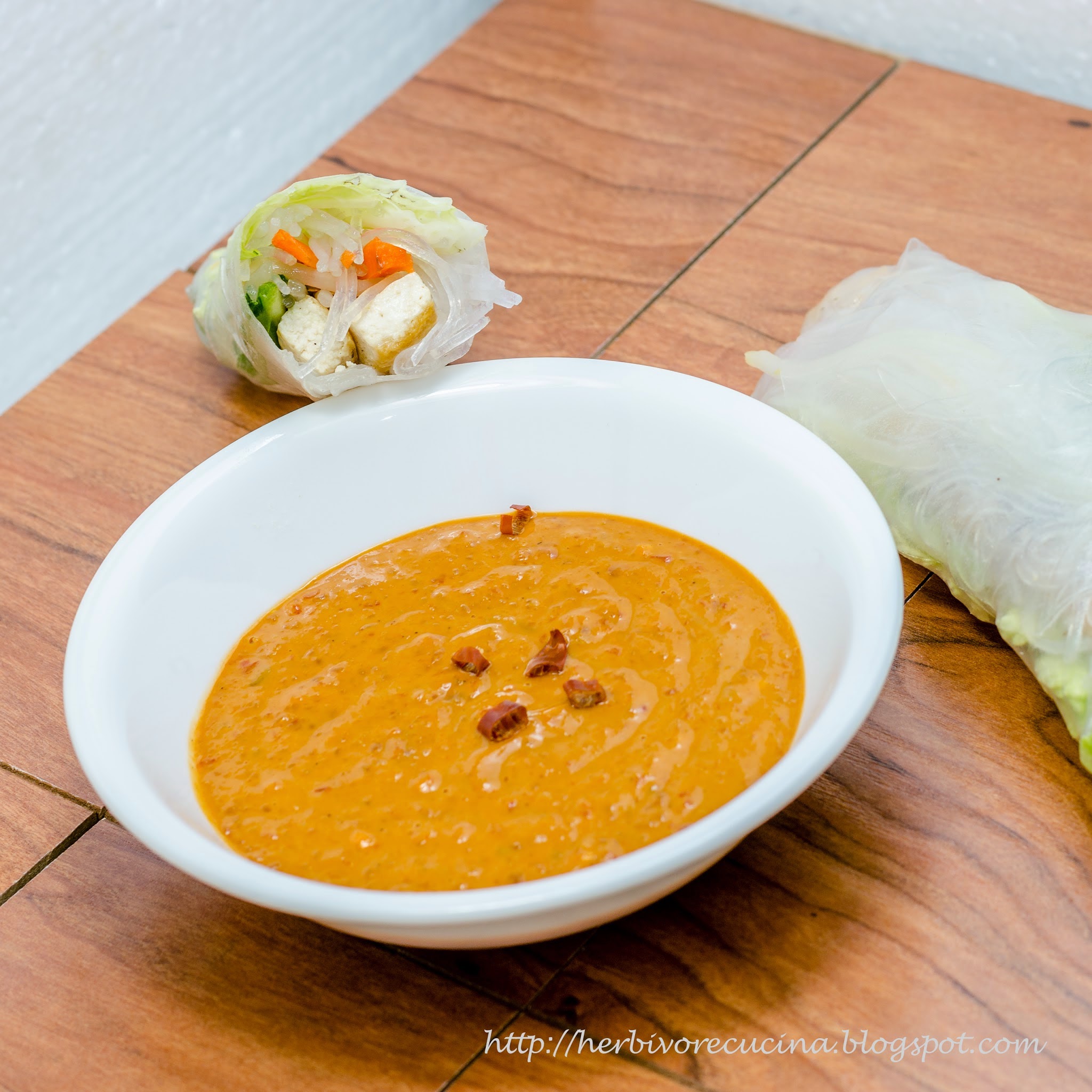 Method
For the Rolls
Remove the tofu block from it's packet and press it between a couple of kitchen towels to squeeze out all the water. Once the water is out, cut the tofu into long square logs of 1 cm thickness. Heat oil in a pan and saute the tofu pieces in it. Add some chinese salt or regular salt-pepper. Ensure that the pieces are golden brown on all sides. Set aside.
Remove the leaves of napa cabbage from the bunch and cut a wedge to remove the thick stalk. Peel and cut the carrots into julienne. Separate the bok choy leaves. Wash and drain the bean sprouts. Cook the mung noodles in warm water with a pinch of salt. You may use any other noodles of your choice. Also, you can replace or add any other vegetables of your choice.
Keep all the vegetables ready before you start making the rolls. These rolls cannot be heated as the rice paper will wilt. To make the rolls, keep all the vegetables and tofu together, heat water and place in a bowl that is wide enough to dip the rice paper.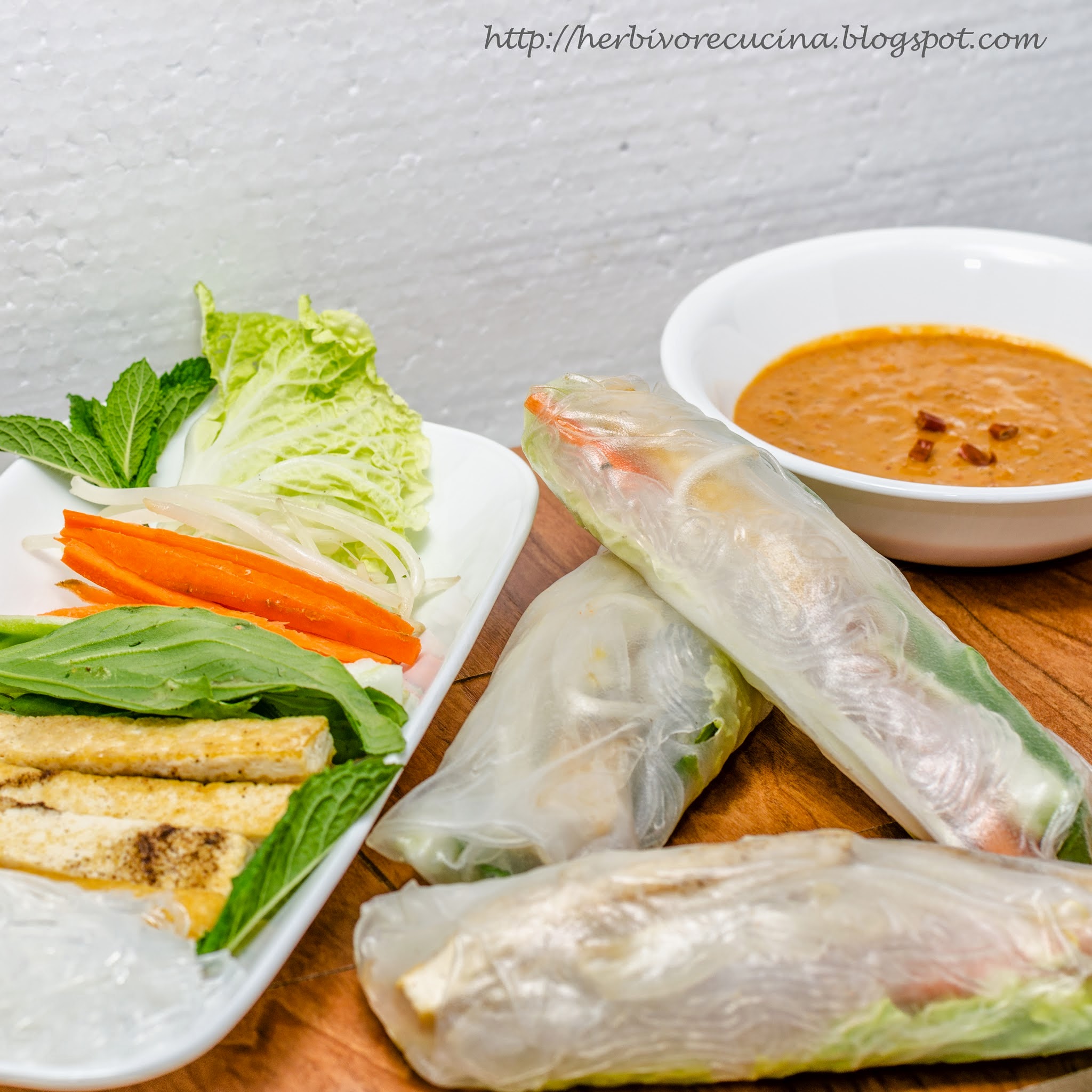 Dip the rice paper in warm water and place it on the working area. Place the cabbage leaf on one side of the paper. On it, place tofu, carrots, bok choy and bean sprouts. Add a couple of mint leaves on it. Mint is the ingredient that brings in the freshness to these rolls. Fold two sides of the rice paper and then make tight rolls from the rice paper.
The rolls can stick to each other, so place a cabbage leaf between two rolls to store. Serve the rolls with the peanut dipping sauce.
For the peanut dipping sauce
In a large bowl, mix peanut butter with some water. Once the mixture is homogenized, add vinegar, sriracha sauce and soy sauce. Add the garlic pieces and mix well. The dipping sauce is ready. You can add some chili oil to make the sauce spicy.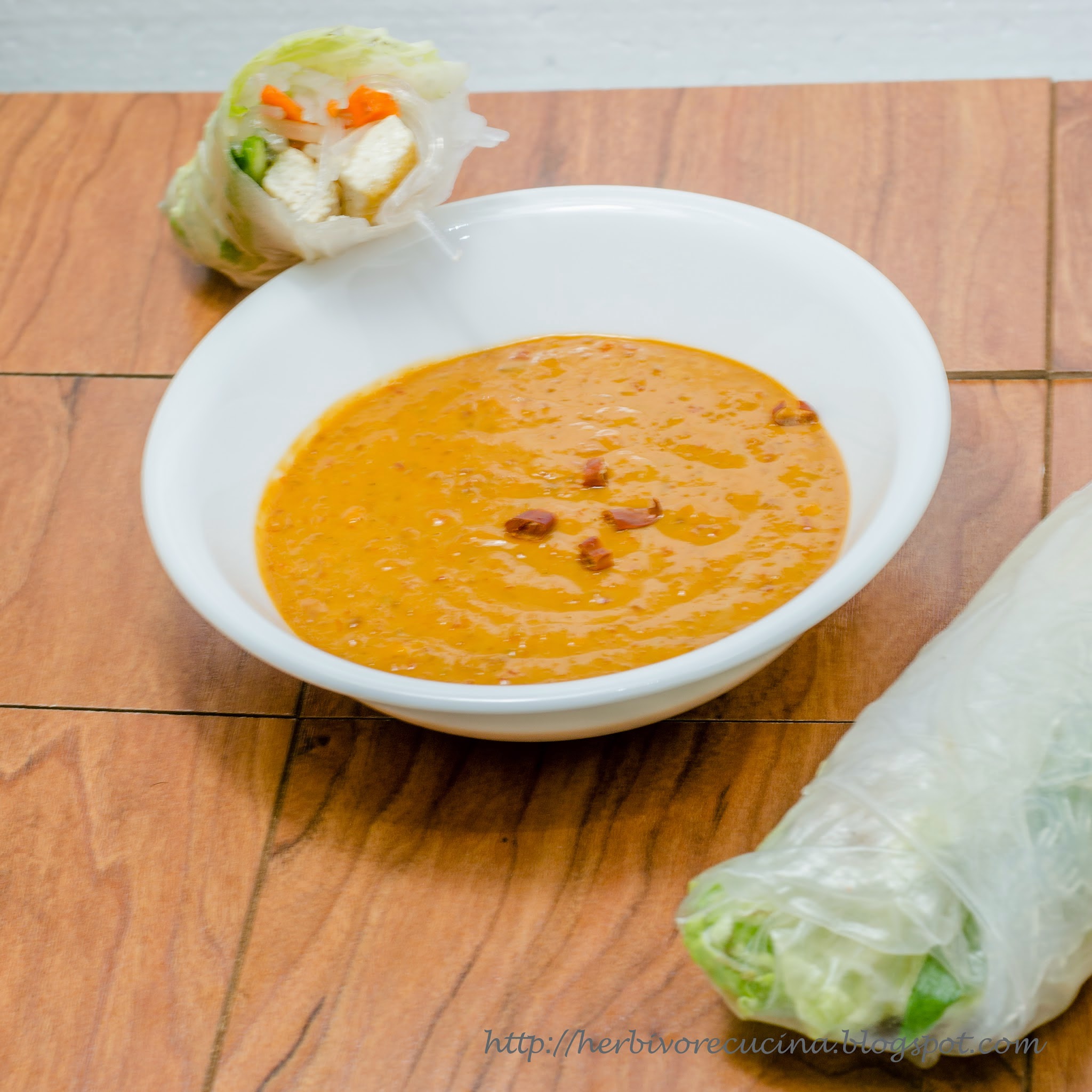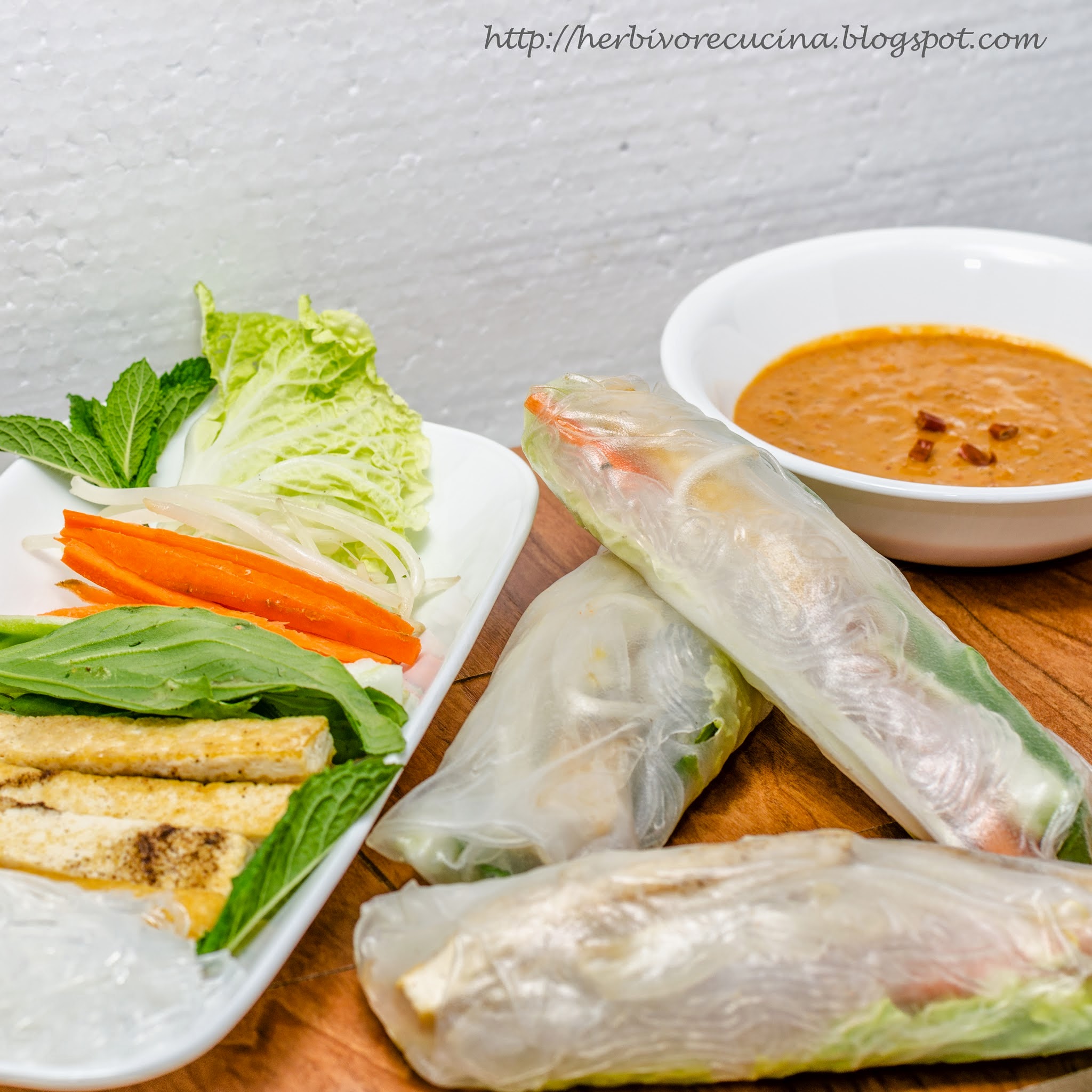 Enjoy it with a bowl of Asian Ginger Broth. A complete meal!!