Blogging Marathon #65 Week 3 Day 3
Theme: Pull Apart breads
Dish: Roasted Garlic Monkey Bread
Today is the last day of the pull apart breads theme and after a sweet bread and a stuffed bread, today it is time for a savory bread. I made a swirl bread and a bread in the form of a laadi pav. Today is another famous pull apart bread in the form of a monkey bread.
The traditional Monkey bread, also called monkey puzzle bread, sticky bread, African coffee cake, golden crown, pinch-me cake, and pluck-it cake is a sweet, sticky, gooey pastry served in the United States for breakfast or as a treat. It consists of pieces of soft bread with cinnamon sprinkled on it and is often served at fairs and other parks. Now, any bread made in the form of a puzzle can be referred to as Monkey bread.
This bread is a really tasty one. While it has the traditional dough to make the bread, the addition of roasted garlic to the dipping oil gives the bread a great flavor. While the garlic roasts and then again when the bread bakes, the aroma fills the home. It is really tasty to eat as well. It can either be enjoyed as a snack with sauce or as an accompaniment to soups and pastas.
Did you notice the board used to put the bread? It is another personalized gift I got in recent days. While the first board was a gift from my hubby with the blog name engraved, this one is from our dear friends. The board comes with the words 'Masterchef Smruti' engraved on it. It is a great honor to get this board from them. Can't wait to try it more often with the personalized knife with the words 'Herbivore Cucina' engraved on it! Thanks a lot Manthan and Nibha for this wonderful present.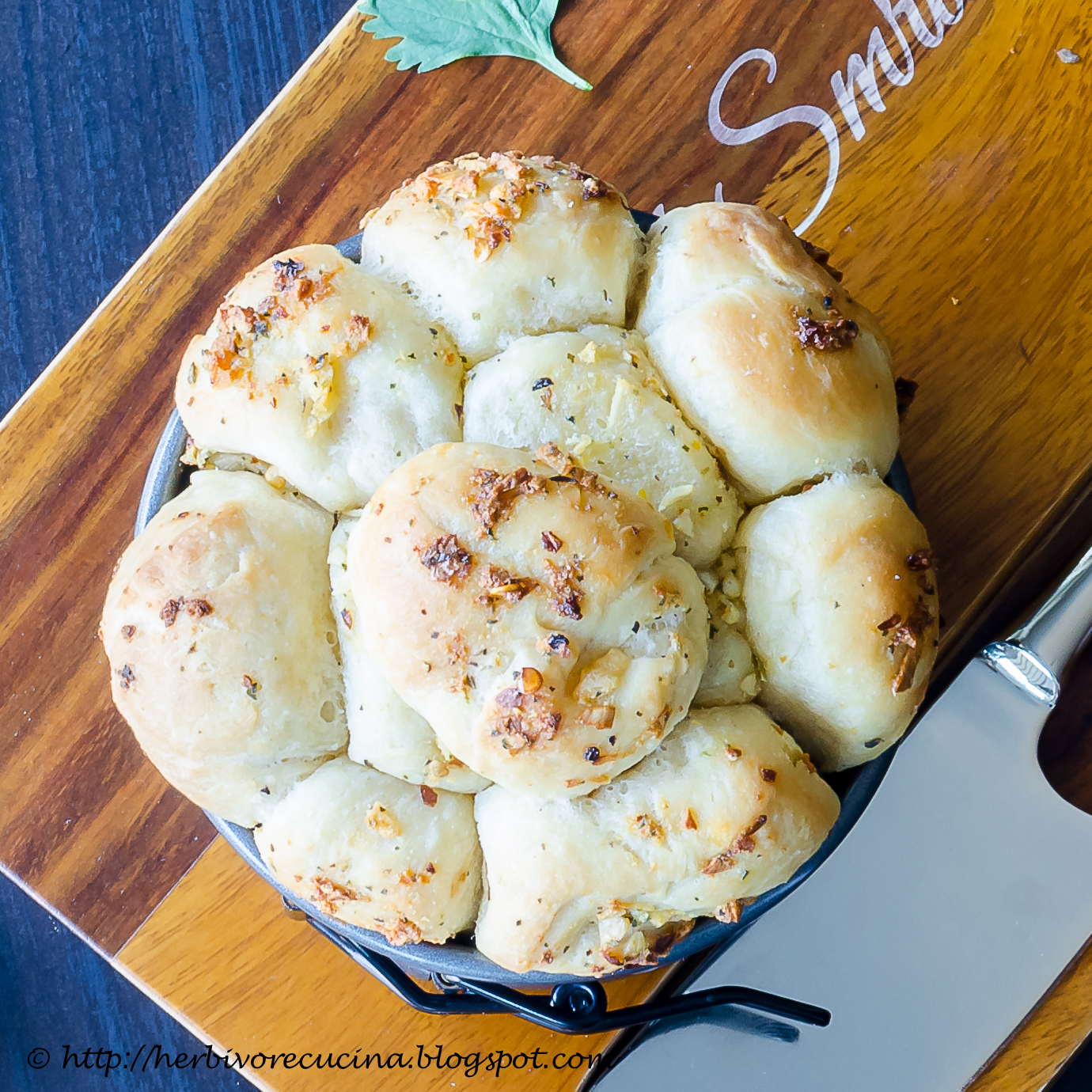 Ingredients
All purpose Flour 3 cups
Active dry yeast 1 sachet (2 ¼ tsp)
Unsalted Butter 3 tbsp
Garlic 2-3 pods
Olive Oil/ Salted Butter 2 tbsp
Italian seasoning 2 tsp
Oregano 2 tsp
Sugar ½ tsp
Water 1 cup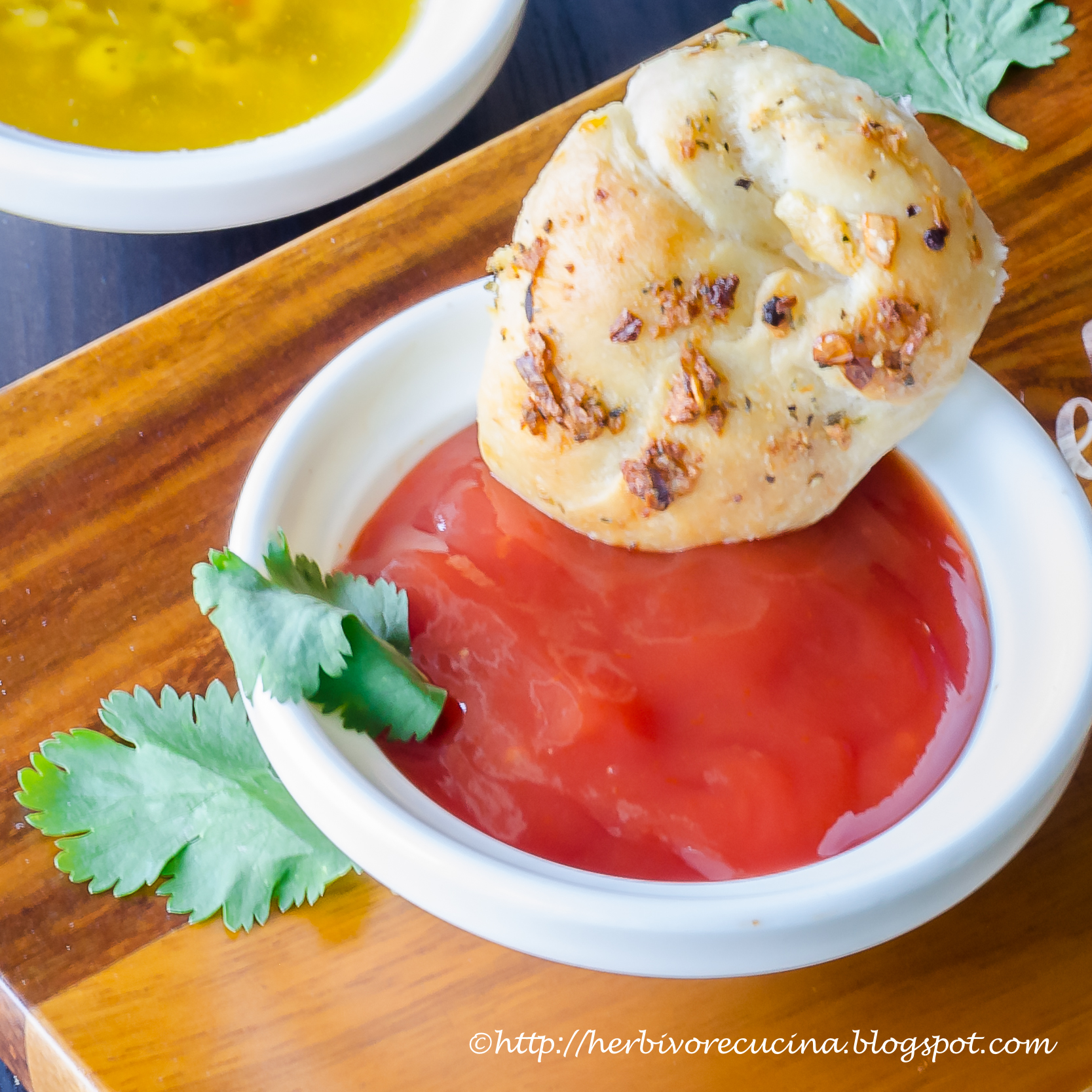 Method
Heat 1 cup water with a pinch salt and sugar. When it is at 110 F (just warm) add the yeast, mix well and rest covered till the yeast blooms.
In a large mixing bowl, add flour and italian seasoning. Mix well. Add the bloomed yeast mixture and softened unsalted butter. Using a stand mixer or with your hands, mix it all together till you get a smooth soft dough. It took me about 15 minutes to make a really smooth dough. Keep the dough covered in a warm place and let it rise for an hour. Line a cake or bread pan with butter or nonstick spray.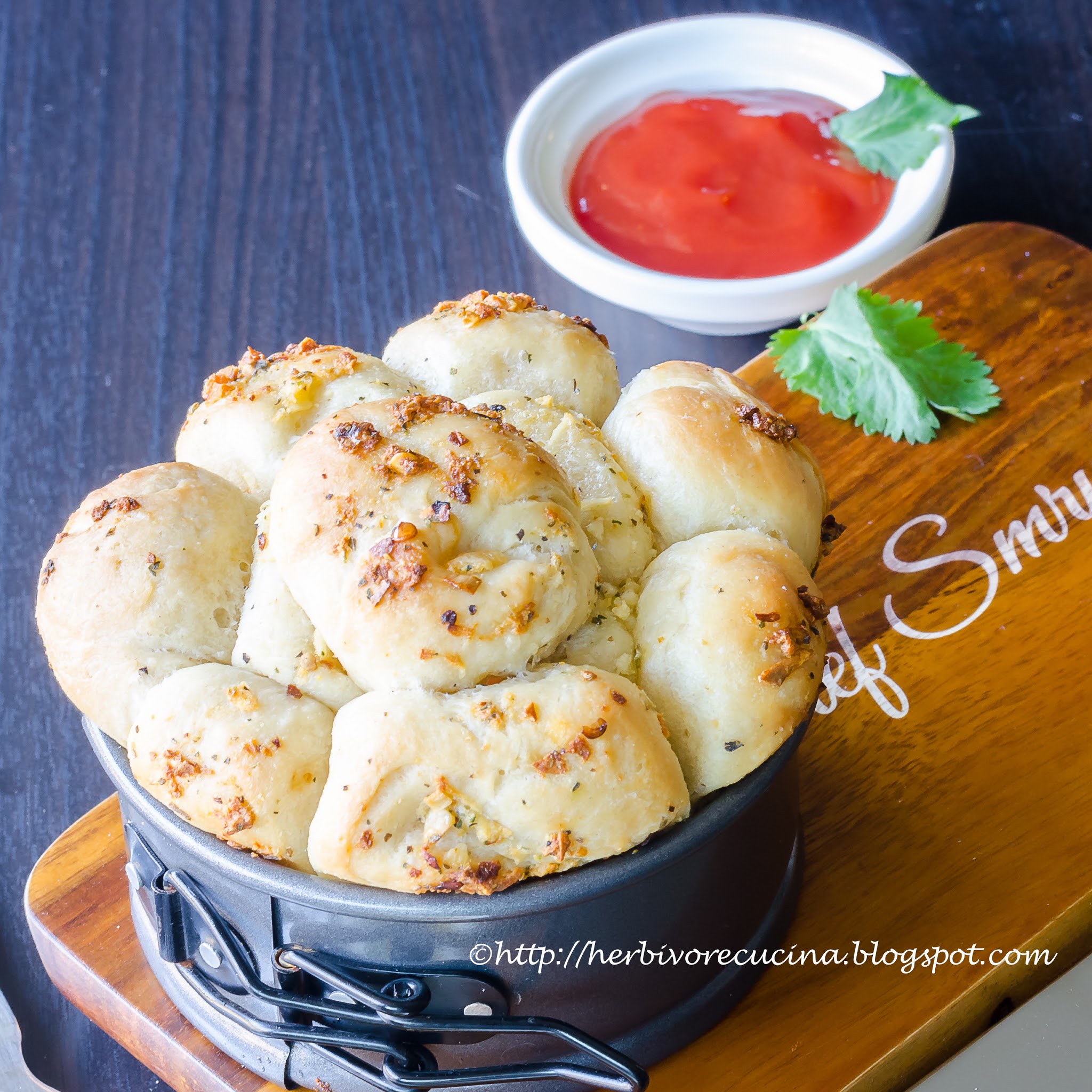 To roast the garlic, line a cookie tray and place garlic pods in it. Add some oil and roast the garlic at 350F for 10 minutes. Cool and mince the garlic. Mix together salted butter/olive oil with minced garlic and oregano. Once the dough rises, knead the dough once again. Make bite size pieces of the dough. Dip each piece in the seasoned oil/butter. Place them in a layer on the pan. Keep adding the pieces till the top is reached. Then, let the bread rise for 30-35 minutes.
Preheat oven to 400 F/ 210 C. Once the bread rises, place it in the oven and bake for 10-12 minutes till the top is a little brown and a toothpick inserted in the middle comes out clean. Enjoy with seasoned oil or tomato sauce. This bread is great as an accompaniment to soups or pastas too!