Scallion pancakes, a simple Asian dish that feels like a fusion of two Indian flat breads: stuffed paratha and laccha paratha. A stuffed paratha, as the name suggests has a stuffing, in this case spring onions/ scallions. A laccha paratha has flaky layers, just like this one! So overall, scallion cakes is very close to Indian flatbreads.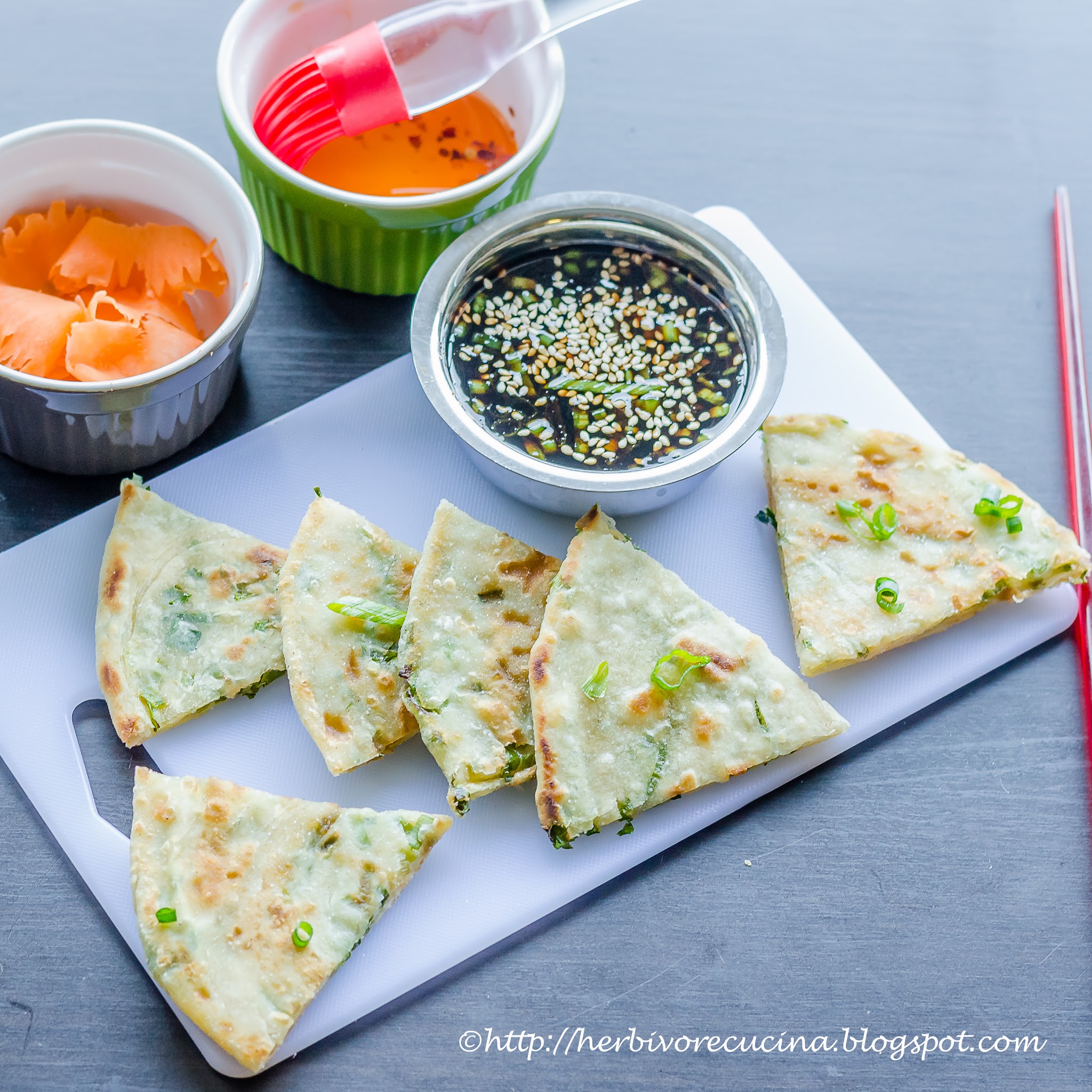 Wikipedia describes it as follows: A scallion pancake is a Chinese savory, unleavened flatbread folded with oil and minced scallions (green onions). Unlike Western pancakes, it is made from dough instead of batter. Variations exist on the basic method of preparation that incorporate other flavors and fillings. Scallion pancakes are served both as a street food item and as a restaurant dish. They are also sold commercially, either fresh or frozen in plastic packages (often in Asian supermarkets).
After having tried these pancakes in different places, I had it on my mind to try them at home. In the last month's edition of Bread Bakers, we took the theme Griddle Breads, and Robin Beck of A Shaggy Dough Story shared her version of the pancakes, I had to try them! 
The recipe is pretty simple and needs just a few pantry ingredients like flour, salt and oil. You need LOTS of scallions, so make sure you bring in a bunch or two. The recipe calls for thinly sliced scallions, an essential step to make sure the scallions do not rip the dough and come out. I used my Herb Scissor to do the job. The scissor is made from great quality steel and comes with five blades. The distance between the blades is just right to get thin slices and not remove the juice out of the herbs. I love this new product and it has made my tasks of cutting leaves and herbs from Cilantro to scallions, chives and mint very easy and guess what, it is dishwasher safe too! I highly recommend this product. Get yours today from here. 
To go with the pancakes, I made a dipping sauce, just like the one described by Robin, and it was awesome. The sauce took the scallion pancakes to a different level altogether! I also made a carrot salad to serve with the dish. I was recently sent a carrot sharpener, YES a sharpener that sharpens carrots to help plating a dish beautifully. Check this link to know more. While the device is good, the carrot it shaves is too thin and I was not able to fold it into a flower. So instead of a flower, I ended up making a salad with salt and vinegar. It tasted amazing too. Ok so now, back to the recipe. I made four pancakes from the amounts in this recipe and boy, we were left craving for more. I suggest you start with double proportions and make a BIG lot of these amazing pancakes!   




Ingredients
For the pancakes
All purpose flour 2 cups
Boiling Water 1 cup
Thinly sliced scallions 2 cups
Sesame Oil or Chili Oil 
Salt 1 tsp
Oil for frying
For the dipping sauce
Soy Sauce 2 tbsp
Rice Vinegar 2 tbsp
Sesame Oil ½ tsp
Ginger root 1 inch, grated
Sugar 1 tsp
Scallions
Toasted Sesame seeds
Method
In a mixing bowl, add the flour and salt. Slowly pour ¾ cup water and bring the dough together. If needed, add extra water. Once the dough is soft, cover with shrink wrap or just place in a bowl and cover with a towel. Set aside for 30 minutes.
Meanwhile, mix all the ingredients under dipping sauce and keep it ready. Wash, dry and slice the scallions. I used a herb scissor, but a sharp knife would be just as good. 
When ready to make, divide the dough into four parts. Cover the three parts again, and using the fourth part, roll the dough into a disc of about 8 inches. Brush some sesame oil or chilli oil (if you like it spicy) and roll the dough jello style to make a log. Spiral the log and flatten to form a disc. This step is key to get flaky pancakes so roll and spiral the dough tight. Roll it out to about 8 inches. Brush some oil and spread ½ cup scallions evenly on the disc. Roll into a jello roll again, spiral and flatten. Roll it to a disc of 6-7 inches diameter. Repeat with remaining three parts of the dough.
Heat an iron griddle or nonstick pan. Spread ¼ teaspoon oil on it and let it heat. Lay one of the pancakes and cook for 2-3 minutes, till brown spots appear on it. Turn it over and cook for another 2 minutes. Transfer to a paper towel, remove excess oil and cut it into wedges. Sprinkle some sea salt or kosher salt if desired and serve hot with the dipping sauce.
I also made a simple carrot salad to go with the pancakes. Using my new carrot sharpener, I sharpened a carrot. Added rice vinegar, salt and some sugar. Set it out in a bowl with some scallions on top.
**One or more products in this post were sent to me complimentary for review purposes. However, all the opinions are unbiased and completely my own.