Blogging Marathon #65 Week 1 Day 3
Theme: Rice dishes
Dish: Schezwan Fried Rice
Indo-Chinese is by far my favorite cuisine. So today, on the last day of week 1 of the Blogging Marathon, I decided to add my favorite rice dish to the blog. When i looked at my blog index, I was surprised I do not have Schezwan Rice on the blog! So finally here it is.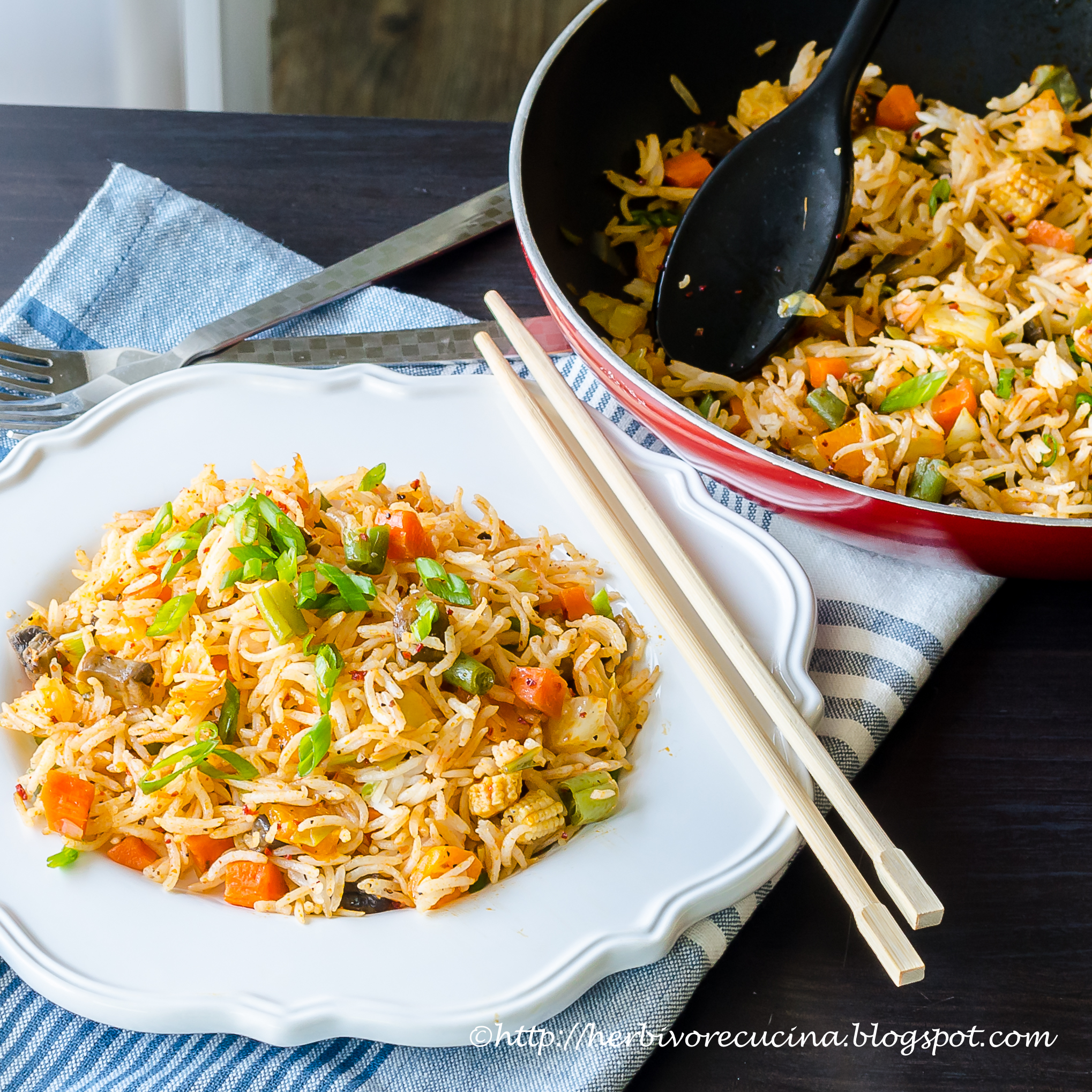 For the people familiar to the Indo-Chinese cuisine, you all know how we have changed and made adjustments to the authentic Chinese cuisine to suit our tastebuds. For the ones who who do not know, here is a small introduction. We Indians love our food spicy, saucy and with an extra dash of oil. So we picked up simple Asian dishes like rice, chow mein and noodles and added our own little tadka of spice to them and came up with a new cuisine; Indo-Chinese.
This cuisine has a lot of schezwan sauce, of course a very different version of it, loads of vegetables and some paneer too. This schezwan rice is no exception. The dish has rice, vegetables of your choice and sauce. I used carrots, french beans, pepper, mushroom, cabbage and baby corn. However, you can add or deduct any vegetable if you want. Also, a lot of restaurants do add green peas, corn and cauliflower. I skipped those, but you can go ahead and add those. The recipe is pretty straightforward with just a few ingredients and takes a few minutes from start to end.

Ingredients
White rice 2 cups
Vegetables 1 cup finely diced
(I used carrots, french beans, pepper, mushroom, cabbage and baby corn)
Garlic 1-2 cloves
Spring onion greens and white ¼ cup
Oil 2 tbsp
Schezwan Sauce 2 tablespoon (Homemade or store bought)
Soy Sauce 2 tsp, Vinegar 1 tsp
Salt, Pepper
Method
Wash and cook two cups rice (can be substituted with brown rice) in 3 cups water and a pinch of salt. Let the rice rest while you prepare for the dish. If you cook the rice at least a couple of hours before making it, it would be great. Wash and dice the vegetables. I used carrots, french beans, colored peppers, baby corn and mushroom. Mince garlic and chop the spring onion greens and whites separately.
In a wide pan, heat oil and the garlic. Sauté till the raw flavor vanishes. Add the spring onion whites and peppers; cook them on high flame for a minute or two. Now add the vegetables in this order: baby corn, french beans, mushroom, green peas, carrots. Sauté for a couple of minutes.
Add the salt, 1 teaspoon pepper and szechuan sauce. Add the rice, mix well and add soy sauce and vinegar. Turn down the flame. Garnish with spring onion greens and serve.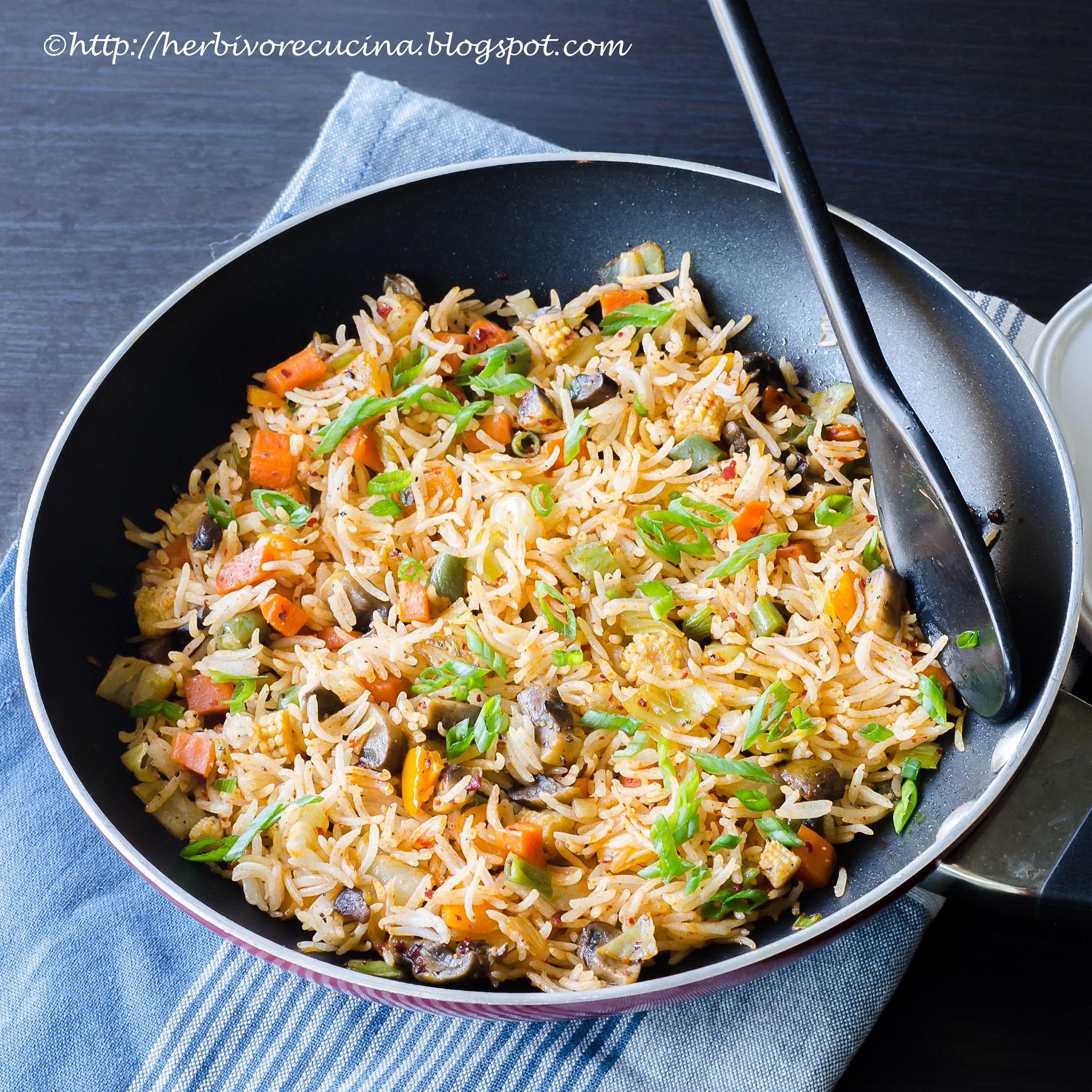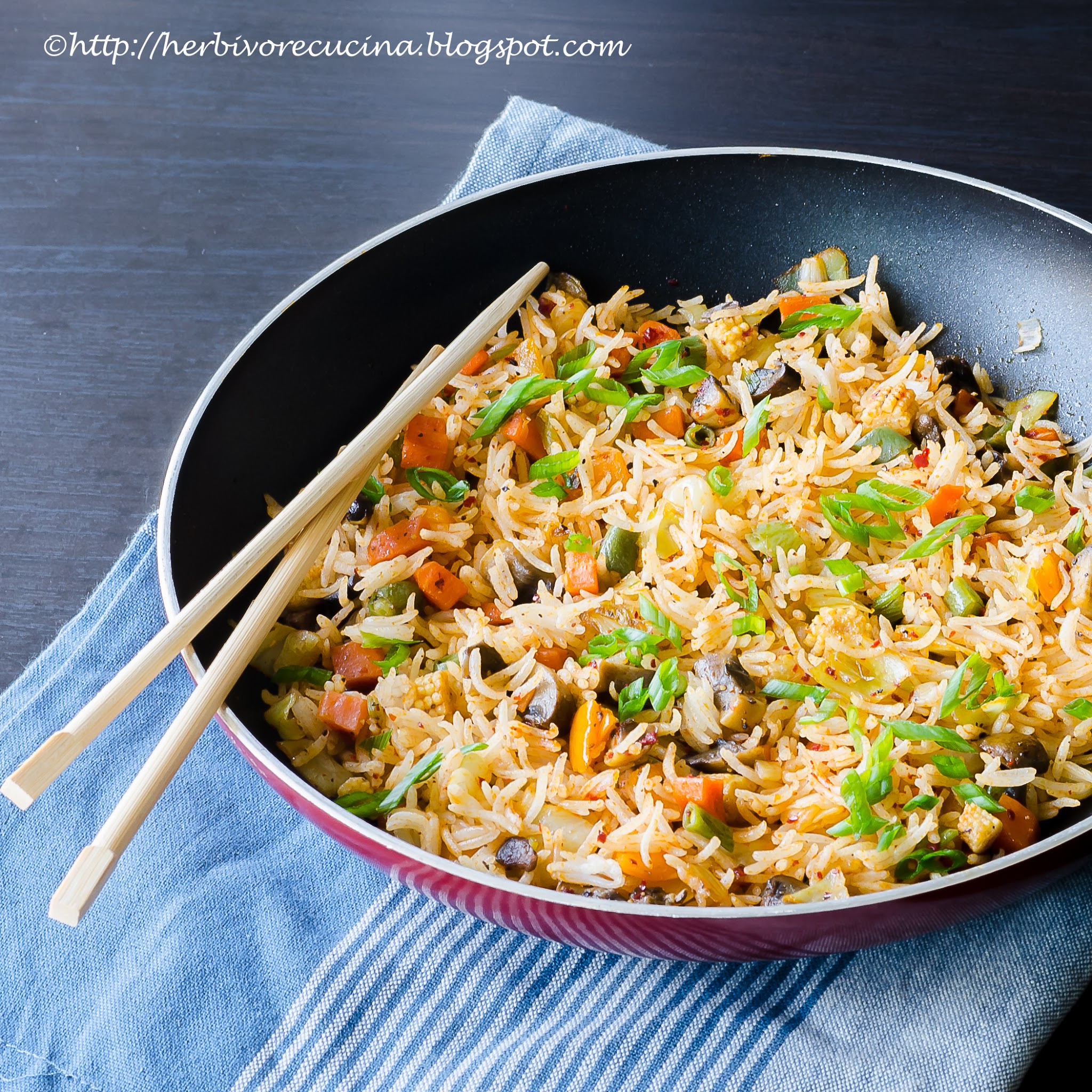 Check out the Blogging Marathon page for the other Blogging Marathoners doing this BM#65