The easiest way to make Mango Popsicles is here! This one needs just three ingredients and a blender. No cooking, no machine needed and absolutely no artificial flavoring!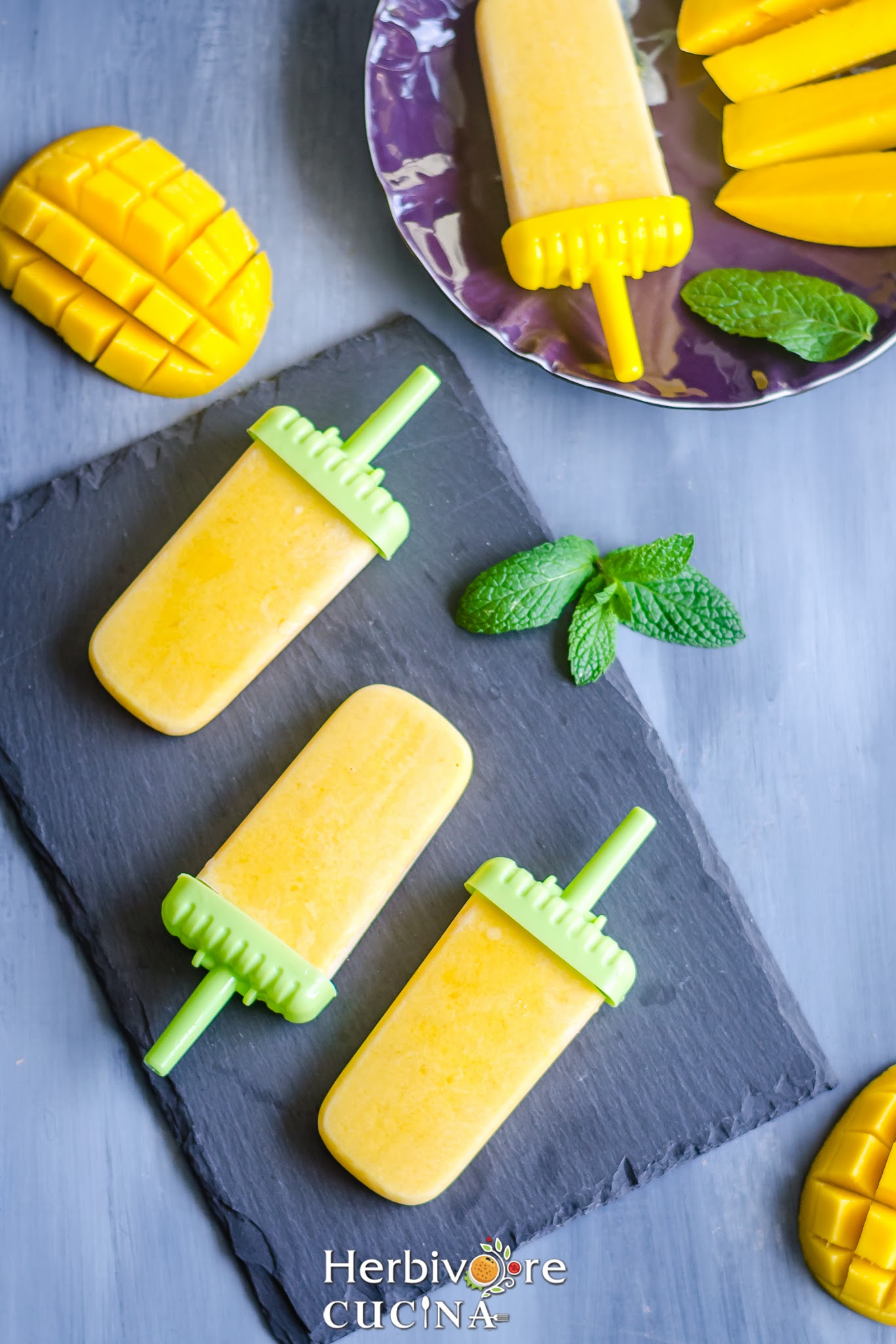 Mangoes are in season and I cannot stop making delicacies using them. Whether it is ice cream, milkshake, cake, aamras, mousse or savory fajeto; I am making everything. Apart from that, I am even gorging on slices of mango just like that!
Such is my passion for the King of Fruits. A few days ago I posted a traditional recipe of Saffron Mango Kulfi, something that takes hours to make. Then I made this super easy recipe that needs just THREE ingredients and 5 minutes to mix. And yes, it is a one bowl recipe; needing just a blender!
The recipe is straightforward; dump everything in a blender, churn and freeze. As the recipe does not have any milk or ingredients that has water, the possibility of the popsicle having ice crystals in them is eliminated. And it is so simple, even your kids can make their own popsicles.
Not a fan of popsicles? Set the same ice cream in a pan and scoop the creamy ice cream into bowls. And when served with a side of mango slices; this ice cream is super awesome.
I made this version two weeks back for the first time. I LOVED it so much, that I have made two lots in the last two weeks. Thank God I have just one set of popsicle mold; I can only make six at a time! Otherwise we would have a sugar overdose at home!
Wonder what I like best about this recipe? It is the fact that this is no cook and yet so creamy and delicious. To make this, I just place pieces of mango in the blender first, churn them and then add the remaining ingredients. Churn it one more time and then all you need to do is wait for the popsicles to set!
The quantity of condensed milk will vary based on how sweet the mangoes are. So first start with ½ cup and go on increasing based on requirement. Plus, I did not add any color in the popsicles, as the mangoes I used vere bright yellow. If you like, add some color and you will get deep yellow popsicles.
Fancy pieces of mango in the pops? Go ahead and add them. Plus, if you like you can add some pineapple too. The popsicles will be amazingly sweet and sour. I have made them once, but never got a chance to shoot them.
Do try these popsicles at home. I am sure they will become your favorite popsicle recipe too! And don't forget to share them with me on Facebook, Instagram or on this space!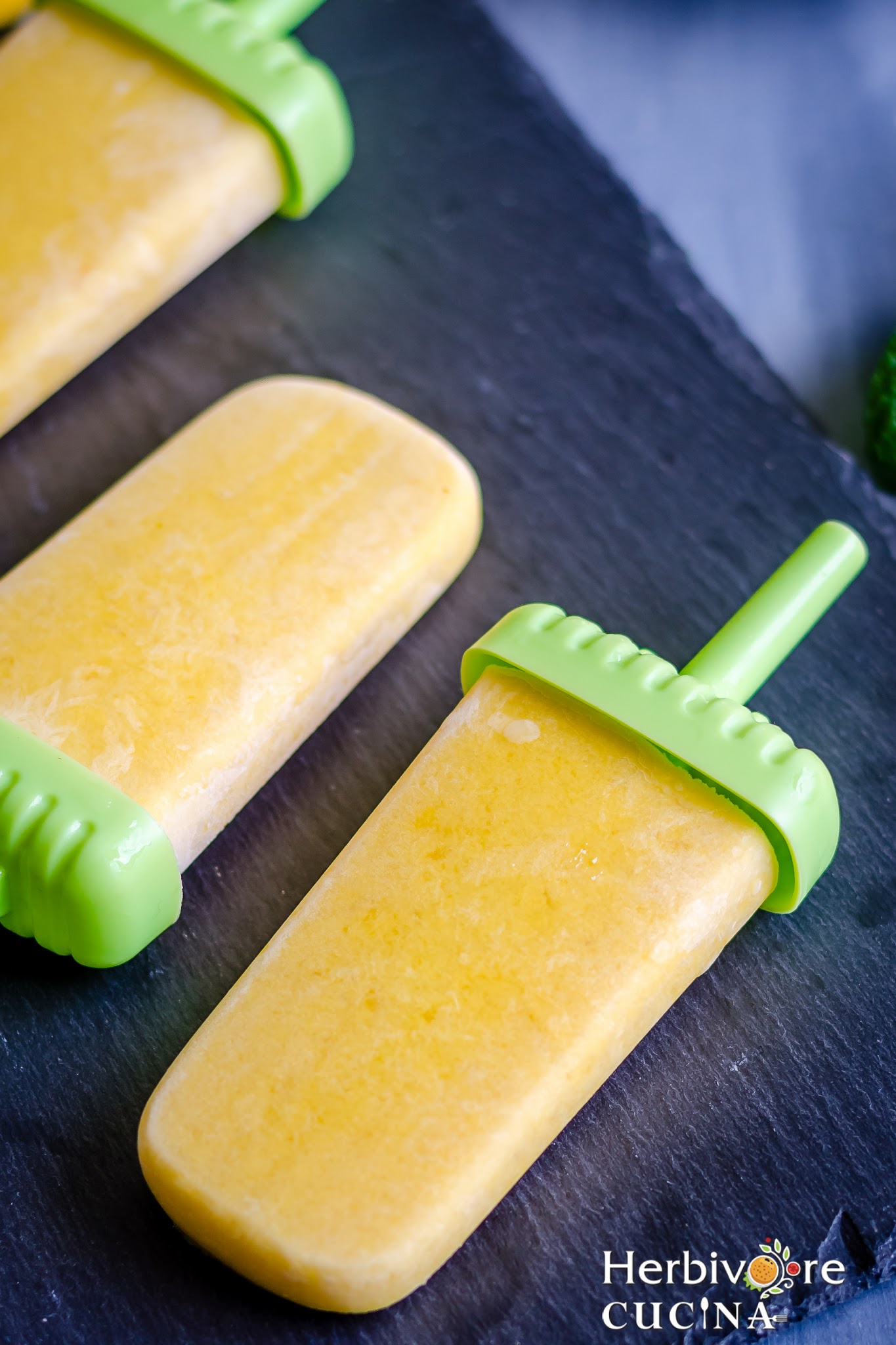 Ingredients
Heavy Whipping Cream 2 cups
Condensed Milk ¾ cup
Mango Puree ¾ cup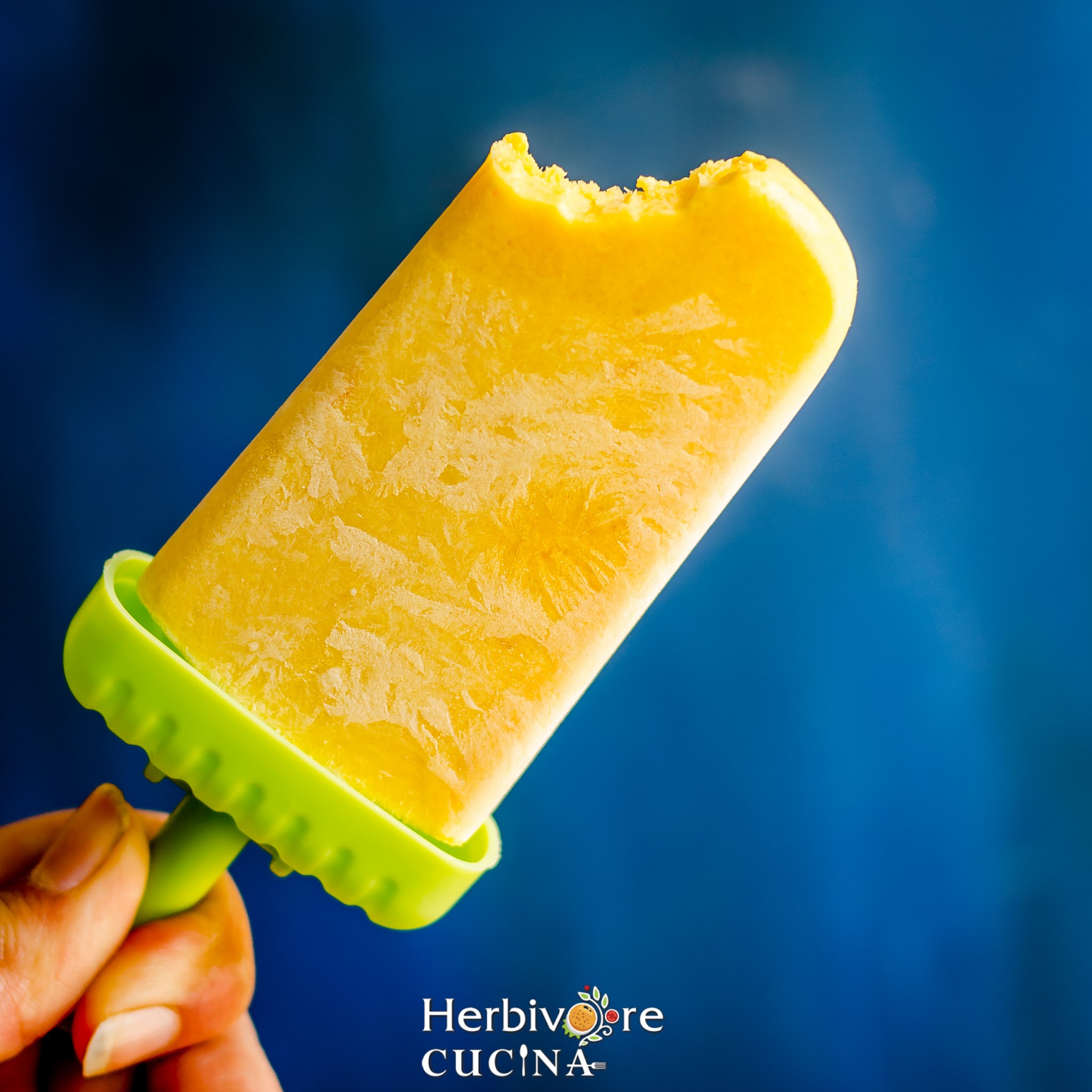 Method
In a blender add all the ingredients and blend for a couple of minutes, till all the ingredients are blended.
Add the mixture to the popsicle molds. I could make 6 popsicles, but it will depend on the size of the popsicle mold you have. Alternatively add to a pan. Freeze for 4-6 hours.
To remove, run under hot water for 20-30 seconds and enjoy!