These are not your regular chocolate cakes. These cupcakes are full of carrots and spices. Are you making these for your Easter brunch?
This Sunday is Easter and I am already in mood for everything Carrots, Bunnies and the like! For the upcoming weekend I made some delicious cupcakes. I started preparing for this cupcake last week. The first step to make these beauties was to get the carrot tops and clay pots ready to use.
Initial Preparation
While it only takes a few minutes to buy the carrots with tops from the Farmer's Market, I decided to grow them at home. I got a bunch of carrots last week and cut the tops. Added some water in a flat plate, placed the carrot heads in them and watched them grow! The only thing required was to change the water each day. In about 5-6 days, I had lovely greens on top of the carrots. You can do that or buy them ready-made. And yes, post the pictures, I made a delicious Pesto with the greens. It tastes delicious and super flavorful!
Coming to the clay pots, I have been meaning to use them for cupcakes and breads for a while. Finally the plan materialized for Easter and I bought myself these cute pots. Now that I own them, I will be using them more often for cakes and breads. While shopping, I saw that Wilton has silicone molds that resemble the clay pots, but I decided to stick with the traditional ones!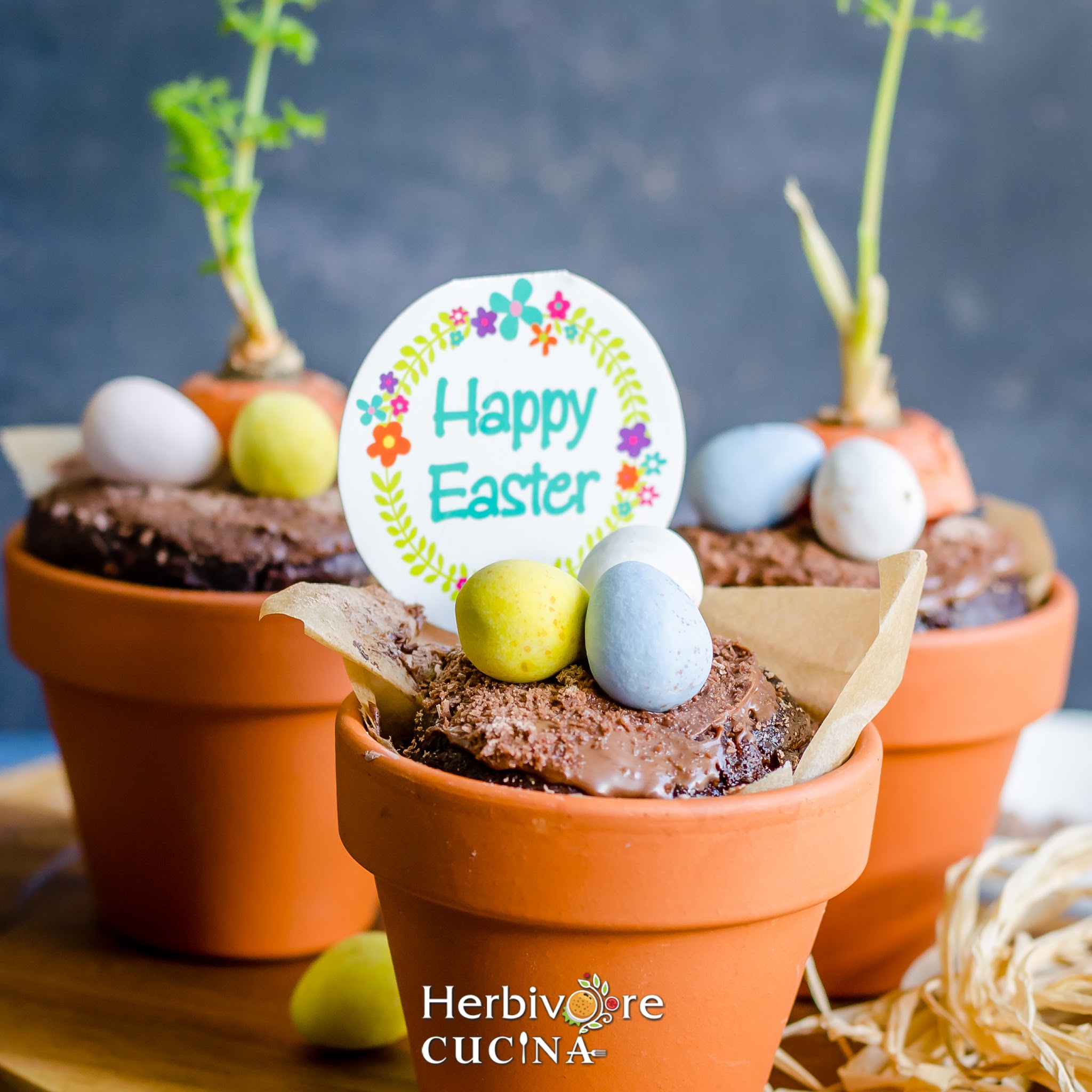 Seasoning the Clay Pots
To season the pots, wash them well and dry them completely. I like to bake them at 350 F/ 180 C for 20-25 minutes before making a cake in them. This way you are sure the pots are perfect and do not end up breaking them with all your batter in them! Let them cool completely before pouring the batter in them.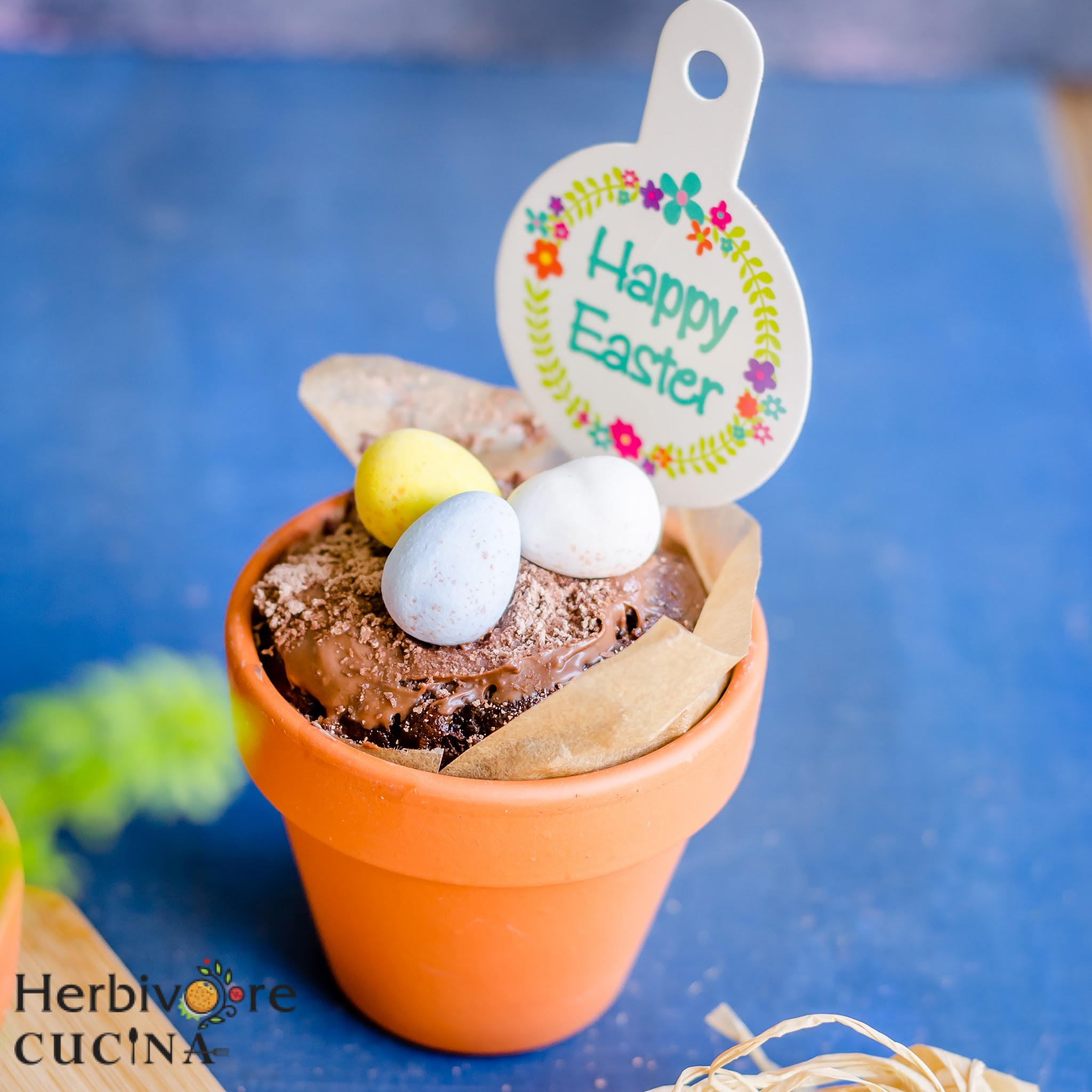 Making the Cake
With all these preparation done,I started with my cake. I used the basic recipe I use for all my chocolate cakes. I just added half a cup of shredded carrots and some cinnamon powder to make it perfect for Easter. Fill the molds upto ⅔rd level and bake them. Because there is carrot in there, it might take a few extra minutes to bake. But it gives a cake that is super moist and full of carrot flavor.
Once the cake is baked, cool it completely and then start the decorating. I used Nutella (a personal favorite) to top this one. You can use Cream Cheese or Whipping Cream too. But I wanted the topping to be basic, given how moist the cake was! So just a tablespoon of Nutella went on top, to ensure my shredded chocolate stuck well on the top. I added that and finally decorated the cupcakes with chocolate eggs and carrot tops.
The cake was almost too cute to eat. I ended up taking pictures for over two hours! After the pictures, I saw that it was really easy to remove the cakes from the pots. The parchment paper did all the work and my pots were clean after I ate the cupcakes. The cakes were super moist, full of carrots and cinnamon and really chocolatey! We had such a great time having these even before Easter is here!
So wait no more, just head straight to the recipe. And do not forget to follow me on Facebook, Instagram and Pinterest to catch all the new posts instantly when they are published.
Ingredients
For the Cake
Allpurpose Flour ¾ cup
Unsweetened Cocoa Powder ¼ cup
Brown Sugar (or white) ½ cup
Milk ½ cup
Vinegar 1 tsp
Baking Soda ½ tsp
Cinnamon Powder 1 tsp
Oil ¼ cup
Carrot Shredded ½ cup
Salt a pinch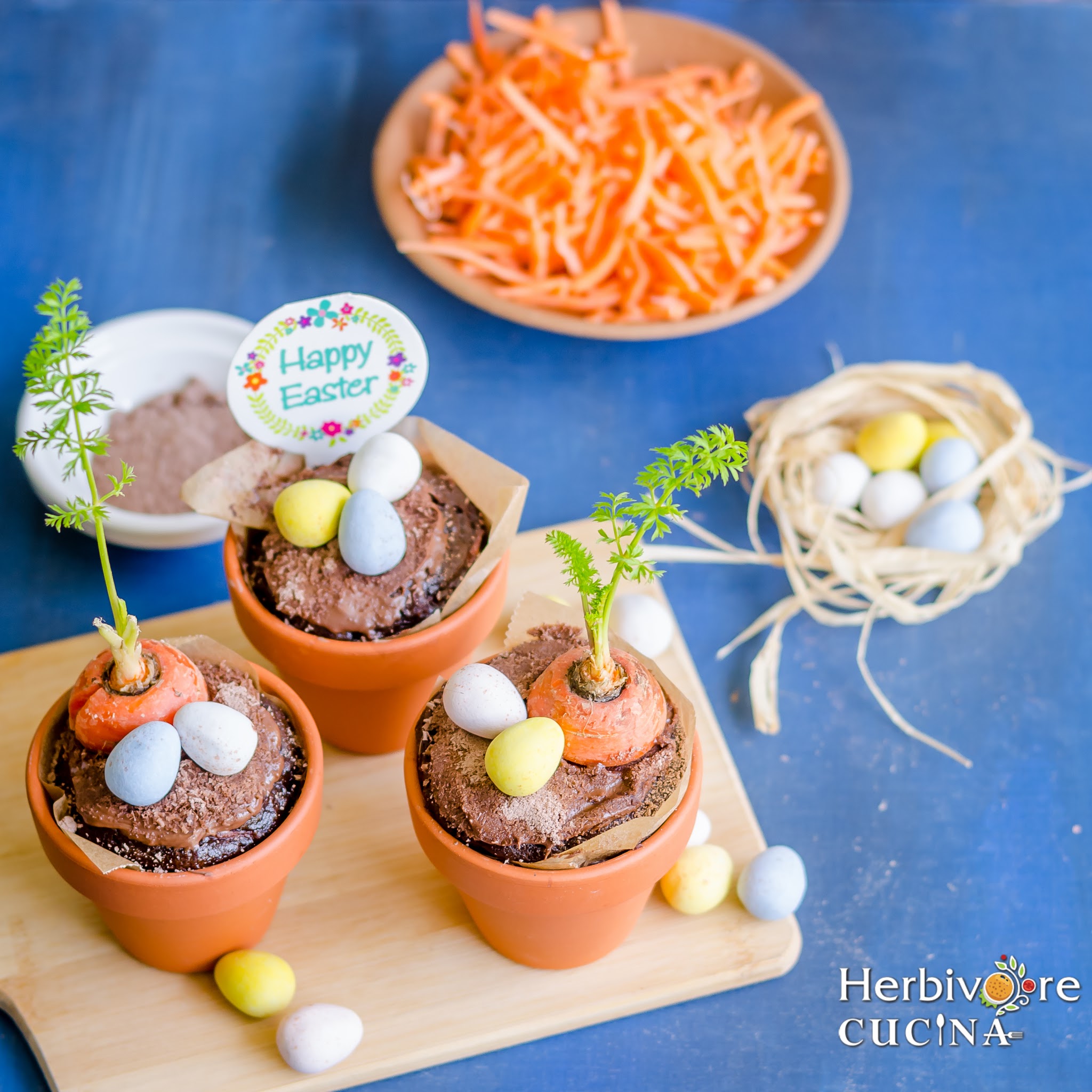 For the topping
Nutella/ Chocolate Hazelnut Spread ¼ cup
Chocolate bar 1 piece
Colorful Eggs a few
Carrot tops (I grew them at home)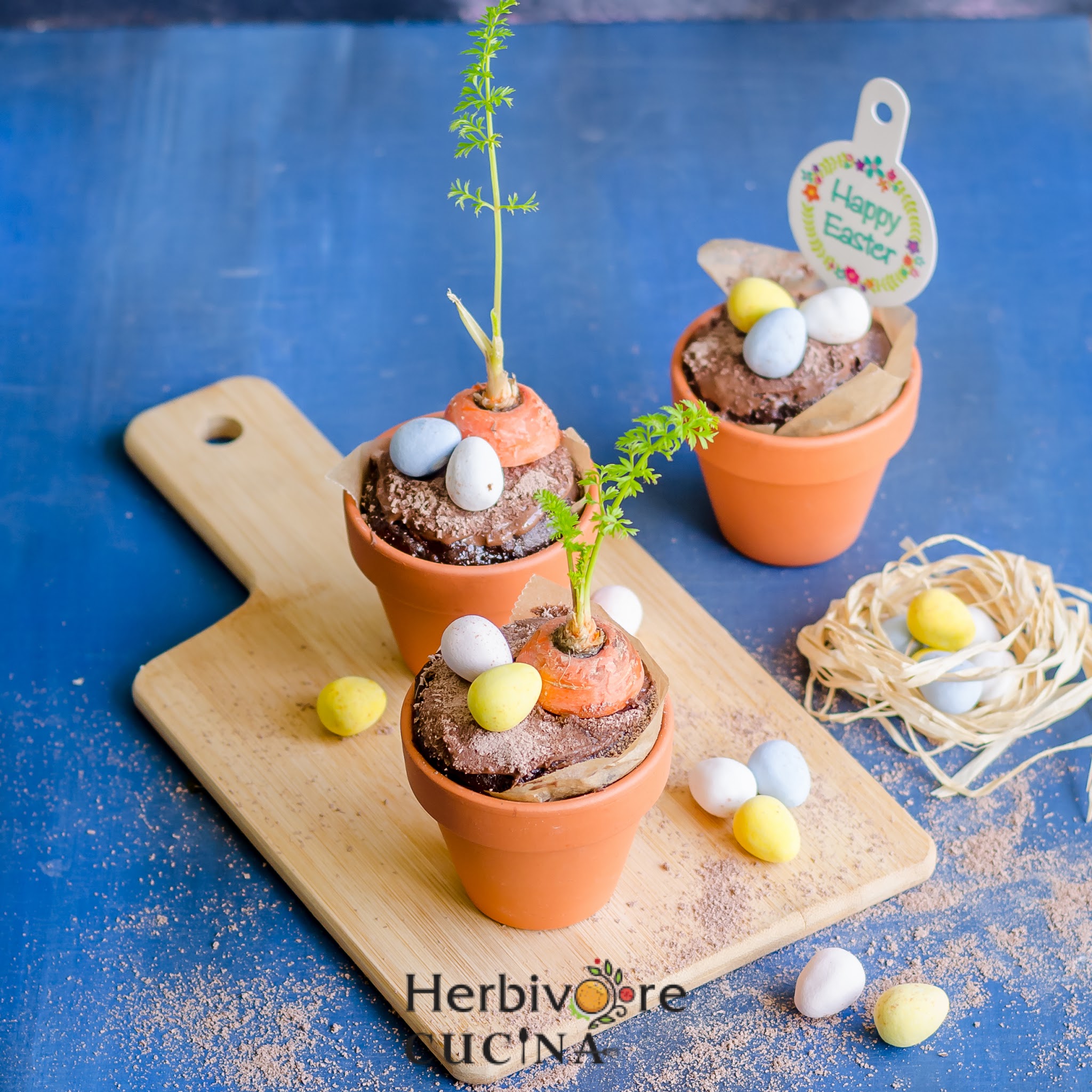 Method
For the Cake
Preheat oven to 350 F/ 180 C. Line six claypots or regular muffin tin with parchment paper. Mix the milk and vinegar and let it stand for ten minutes.
In a bowl sieve together flour, cocoa powder, sugar, baking soda, cinnamon powder and salt. Mix well and sieve again. Set aside.
In a large bowl or the bowl of the stand mixer, mix together milk, vinegar and oil to a homogenous mixture. Add the dry ingredients and fold them all together. Finally add in the shredded carrots and mix together.
Divide the batter equally among the pots/molds and bake for 14-16 minutes, till a toothpick inserted in the centre of the cupcake comes out clean.
Remove and cool completely on a rack. The cupcakes can be wrapped in cling wrap and refrigerated overnight.
To finish the cakes
When ready to decorate, remove the cakes from the refrigerator. Keep the carrot tops and eggs ready. Using a microplane shred the chocolate bar in a plate. Add a tablespoon of Nutella on each cake and spread it evenly.
Turn the cake over into the plate with shredded chocolate and ensure it sticks evenly. Add the carrot tops, Easter eggs and Easter toppings. Serve!