A sparkling drink made from Cranberries and Pineapple. This delicious and easy to make New Years' Eve drink should be on everyone's menu!
2016 has almost come to an end with just ONE day to go! It has been such a wonderful year for my blog. Now that we are closing the year, I wanted to end it with a sparkling drink that is perfect for the New Years' Eve!
As I mentioned in my last post Chocolate Cranberry Cake, 75 bloggers were sent packets of Cape Cod Select Premium Frozen Cranberries. Using them I first made a chocolate cake. Next, I made this sparkling drink. To see many more creative ideas of using these berries, check out the Instagram and Pinterest board from Cape Cod!
New Years' Eve call for some easy to make and yet yummy drinks. And because most parties have a few people who do not consume alcohol, it is always a good idea to have a couple of non-alcoholic drinks on the menu. That was my exact thought the day I made this amazing drink.
Cranberries, a tart and colorful fruit will work really great with another ingredient that is sweet and flavorful. For the longest time I made cranberry with orange and lemons. But this time I wanted to make something new, so I chose Pineapple.
Pineapple has the exact taste and flavor to complement the cranberries. Together, they make a winning combination. Plus, to add some festive cheer, I dunked a couple of rosemary sprigs to the glasses. Together with sparkling water, the drink was perfect and we totally LOVED it!
Parties generally need something that can be prepared before the guests arrive and this one is perfect for that. One can make the cranberry jam and the crushed pineapple before time. So when it is time to serve the drinks, just pour in sparkling water, add pieces of the fruit and a sprig of rosemary. The drink is ready to serve right away!
The color of the drink is amazingly cute because of the cranberries. I had a great time shooting these beauties. The colors in the drink are festive, the flavors bold and the taste is perfect. I did not add any sugar as the pineapple I used was sweet. If you want a sweeter version, either substitute sparkling water with sprite or likewise!! Or add some sugar syrup in the drink.
This post will be the last one for this year, hope you all have a great New Years'. See you all in 2017!




Ingredients
For the Cranberry Jam
Cape Cod Select Premium Frozen Cranberries ½ cup
Sugar ½ cup
Water 2-3 tbsp
Other Ingredients
Pineapple Chunks, fresh or frozen 1 ½ cup
Sparkling water 2 cups
Cape Cod Select Premium Frozen Cranberries ¼ cup
Rosemary twigs 2-3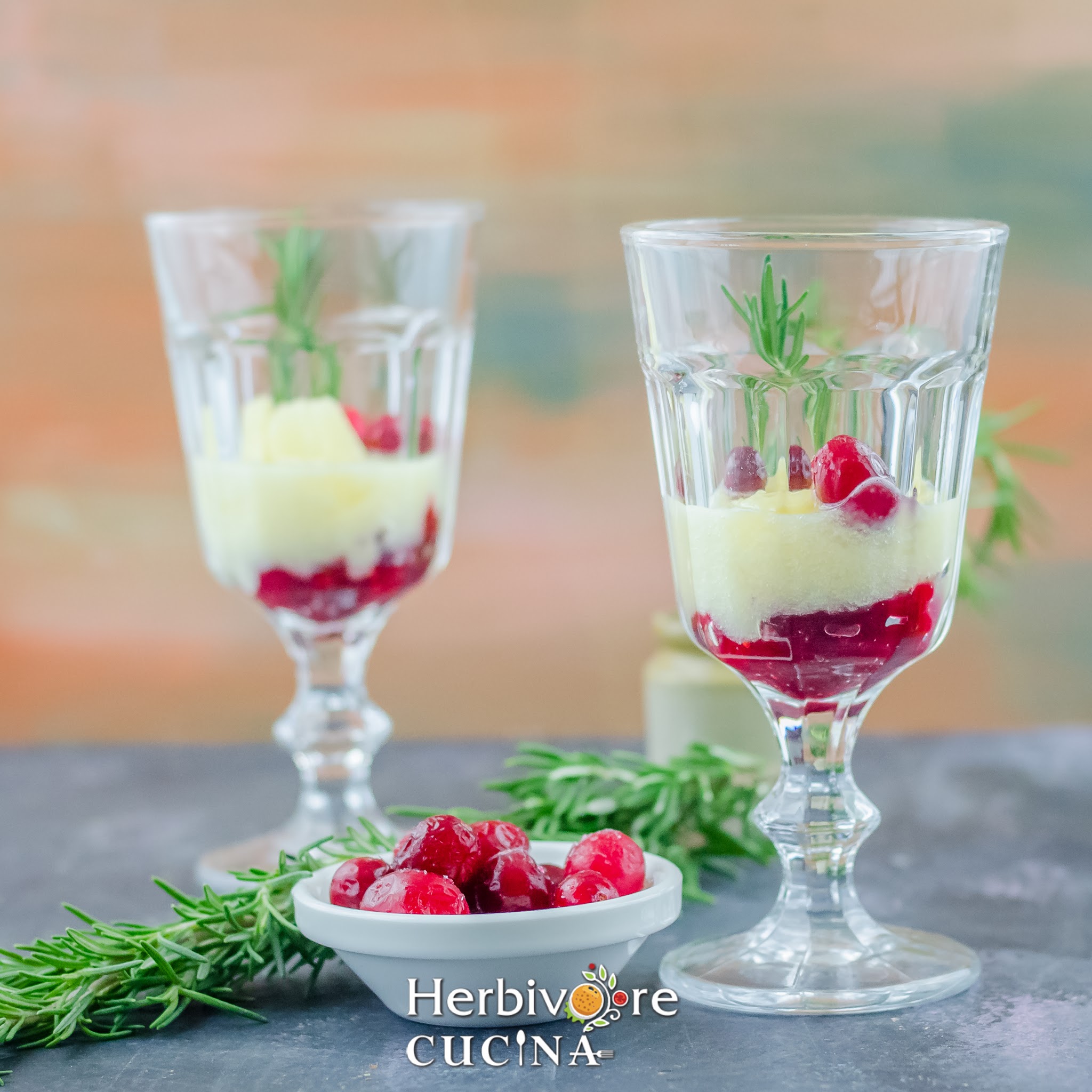 Method
Heat sugar and water in a pan. Add the cranberries and cook on medium flame. Keep pressing the berries to break them and mix them together. In about 5-6 minutes, you should get a thick puree. Bring down the flame and cool to room temperature.
Blend 1 cup of pineapple chunks to a puree. When ready to make the drink, Add the cranberry puree, then the pineapple puree.
Add the sparkling water and mix well. Add ice cubes if desired. Top with Cape Cod Select Premium Frozen Cranberries, pineapple chunks and rosemary. Serve immediately.