The summers are around the corner and lemonade is the perfect drink to do away with the heat. But often, lemonade also becomes the most boring drink with just lemon, mint and sugar. That is when there is a need to have options on the lemonade. Peaches are the right fruit to get that change!
The process of making this sparkling peach lemonade is pretty simple. You need just the same ingredients as a sparkling lemonade and a couple of peaches. The freshness of peach adds to the flavor of mint and lemon. The result is an awesome drink that can be enjoyed throughout summers!
Recently, I was sent a Moscow Mule mug by Advanced Mixology. The mule comes hammered and has a perfect finish. It is perfect if you intend to take a lot of pictures as it does not reflect too much! The weight is perfect. It is not one of those fake mules, copper outside and some trash inside. This mug comes with just copper all over, and I love the shape of the handle. The size is perfect for all your drinks. 16 oz works for most people. That along with the wooden coaster is a great gift too! Get yours here.
So back to the recipe, you can make a jug full of the lemonade from about 6-8 large peaches. Just make the peach and sugar mixture and refrigerate it. Add that to soda, lemon and mint and you have a jug full of light peach colored drink for the summers. For those who would like to enjoy a moscow mule the authentic way, spike the drink with some vodka and it easily becomes an adults party favorite!
Ingredients
Ripe Peaches 3
Sparkling water/ soda 2 cups
Lemon 1 tbsp
Sugar 2 tbsp
Lots of ice
Mint to garnish
Method
Seed and juice 2 ½ peaches with sugar. The amount of sugar should be adjusted based on the sweetness of peaches. Strain the juice and set aside.
If serving in a copper mug like me, freeze the mugs for at least fifteen minutes. Add ice and sparkling water to the mule/glass. Mix in ½ tablespoon lemon juice. Add the peach and sugar concentrate and mix well.
Garnish with peach slices, sprigs of mint and lemon slices. Serve chilled.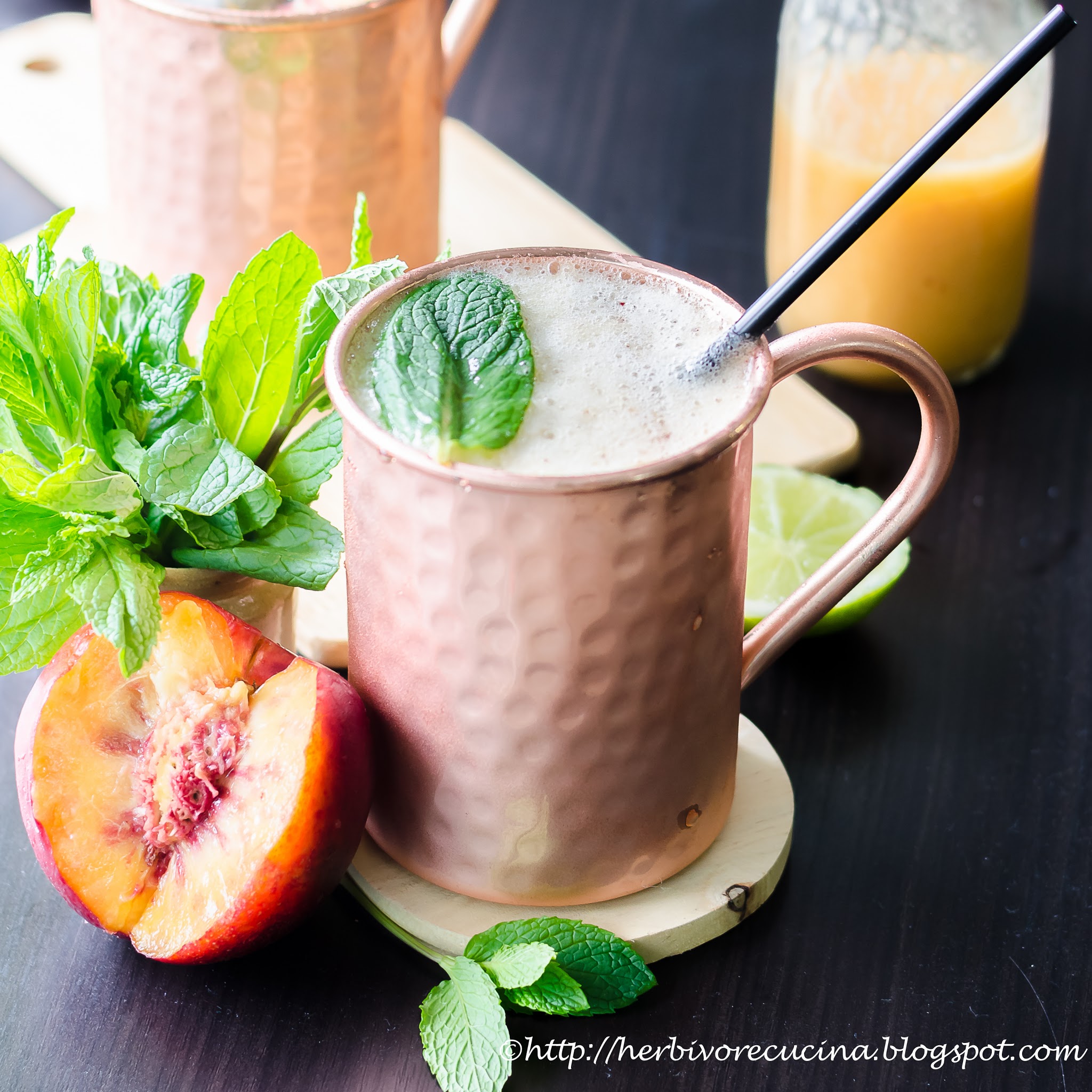 **One or more products in this post were sent to me complimentary for review purposes. However, all the opinions are unbiased and completely my own.