Have you walked into the farmer's market lately and seen those tomato like orange beauties gleaming at you waiting to be picked up? Or those round orange fruits that smell sweet even from a distance? I have experienced that and on reading the board put up on it read 'Persimmon'. Never seen or heard about fruit, I came home and read up about these fall fruits. These fruits generally come between September and December and are of two types: the slightly tart larger ones called Hachiya and the plump sweet Fuyu persimmons.
While the Fuyu ones taste sweet right from the beginning, the hachiya persimmons have to be completely ripe before you eat them, else they suck all the moisture from your cheeks. Once completely ripe, the fruit loses its shape, but they taste really amazing, especially when baked into cakes, breads or puddings. I love the way the bread smells when you add the pulp of hachiya persimmons to the batter and slowly bake the whole thing with spices.
While I have used the hachiya ones, I do not see a reason why fuyu would not give a similar taste and flavor. Also, I added dried ginger powder, cinnamon and nutmeg powder, you can also add cloves powder or black pepper powder to the batter. If your family likes nuts, add some roasted almonds, walnuts or cashews to the batter. Apart from confectioner's sugar on top, you can also add a dash of cream cheese and some persimmon jelly to the cake once baked. Enjoy this spiced version of the cake and make the best of this winter!
Ingredients
Hachiya Persimmon 2-3 ripe
All purpose flour 1 ½ cups
Brown Sugar ¾ cup
Butter ½ cup
Egg 1 medium
Baking soda 1 teaspoon
Baking powder 2 teaspoon
Cinnamon powder 1 teaspoon
Nutmeg powder ½ teaspoon
Dried ginger 1 teaspoon
Confectioner's' sugar ¼ cup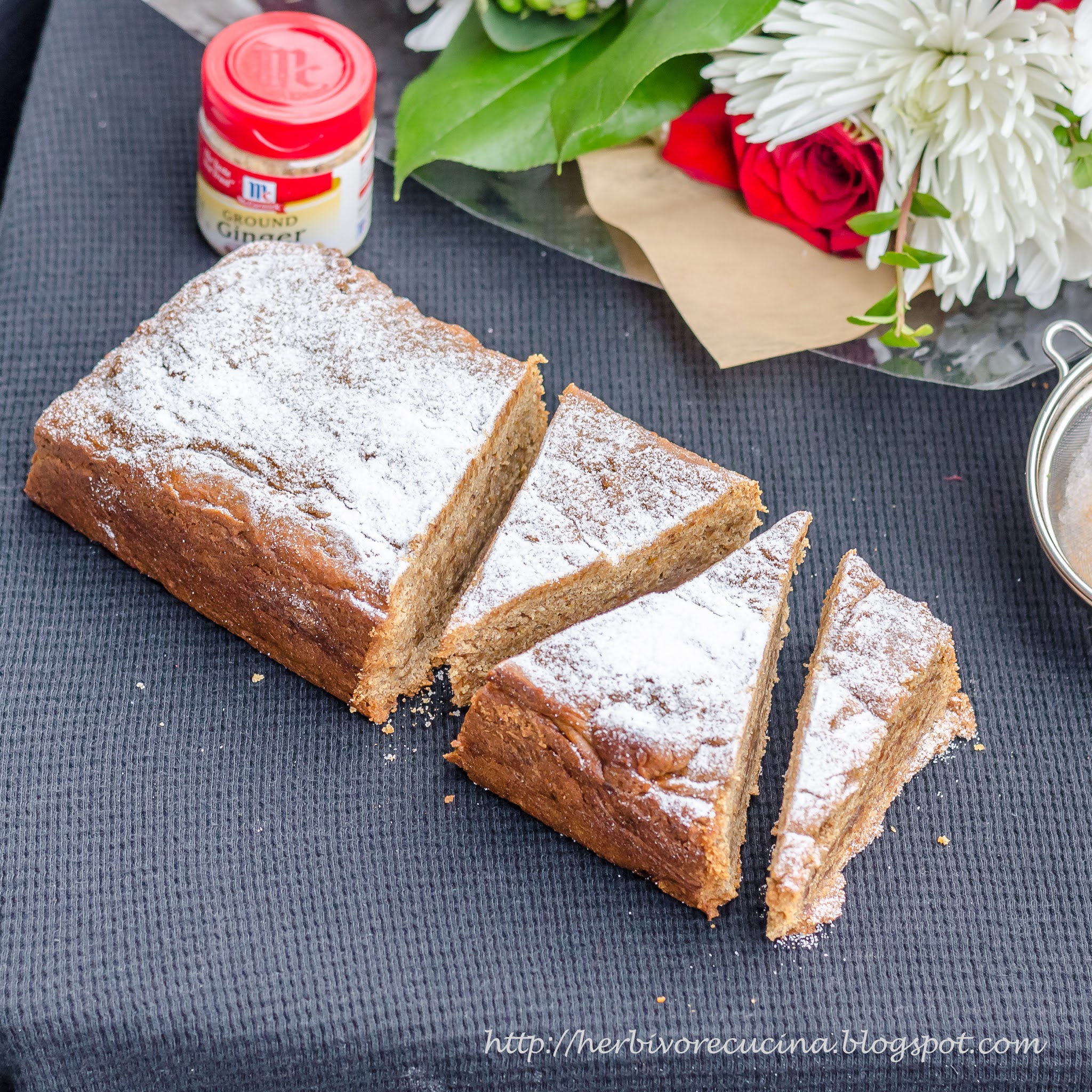 Method
Peel and puree the persimmons and set aside. In a mixing bowl whisk butter and brown sugar using a hand mixer. Once creamy, add the egg and beat well. Next, add the pureed persimmon and combine.
In another bowl sieve the flour along with baking powder and baking soda. Add these dry ingredients to the wet mixture and combine using a rubber spatula. Add the spice powders and homogenize the mixture.
Preheat oven to 350 F/ 180 C. Line a bread mold or bundt cake mold with non -stick spray or oil and add the batter. Tap the mold lightly on the kitchen counter to get an even top. Bake for 35-40 minutes. If the sides become crisp and the centre is wobbly after 5-10 minutes, cover the mold with a sheet of foil and bake well.
After 35 minutes, check if the cake is done using a toothpick. If the toothpick comes out clean, cool the cake for 5-20 minutes and transfer to a wire rack. Let it cool completely and then top it with confectioner's sugar. Also, add a couple of persimmon slices if desired. Serve the cake with some vanilla ice cream or a spoon of cream cheese.