Blogging Marathon #67 Week 1 Day 2
Theme: One appliance, three dishes
Dish: Steamed Dim Sum Buns


Today is the second day of the Blogging Marathon and I am making steamed delights using a bamboo steamer this week. Yesterday I posted a simple Vegetable Dim Sum recipe that is our family favorite. Today, is yet another steamed Asian dish that is also a favorite in the family.


For people who have been to City of Ten Thousand Buddhas in Mendocino, California would know about the Vegan restaurant there. A Buddhist special restaurant that serves yummy Asian cuisine, this place also specializes in steamed buns. The buns are frozen and can be ordered as a take-out. Once home, you just need to steam the buns and they are such a delight! I have been meaning to make these mushroom stuffed buns since a while, finally I made them last week. Just in time for this week's Marathon.


When I looked online for steamed buns, I saw there were two types: one were yeasted and steamed and the other ones were made with just flour and baking powder. The second one looked more like the ones I wanted. So I used this recipe and made the buns. I halved the ingredients and made six buns, a decision that I instantly regretted! I guess even a dozen would be less for us, given the wonderful flavor and taste.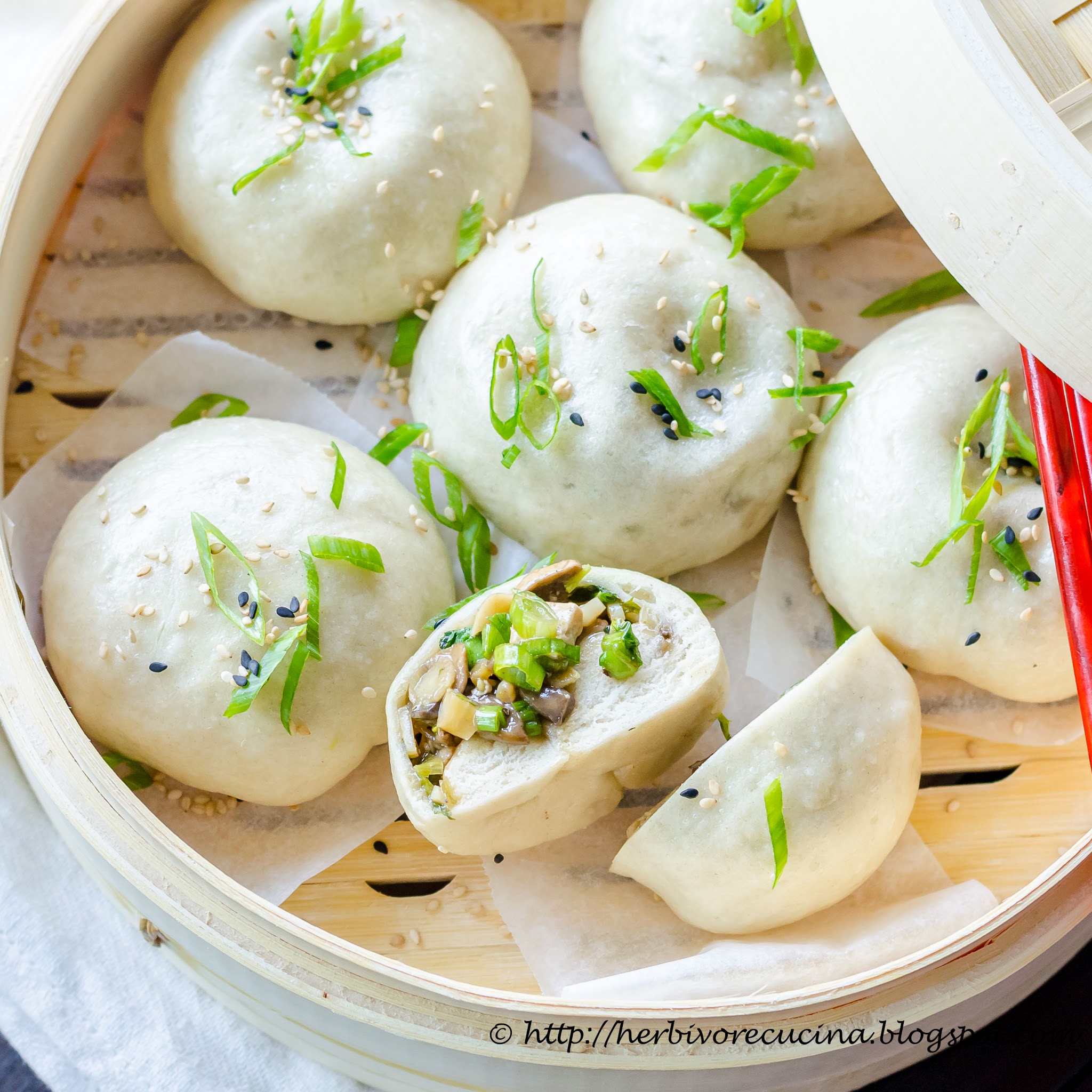 We had the buns with mushroom and it happens to be an ingredient of choice in the family. So I went ahead and made buns stuffed with mushrooms. However, if you want, you can add tofu or other vegetables of your choice. Also, I used chilli oil to impart spiciness into the filling. However, if it is too much to handle, just add sesame oil. These buns are such a delight and they freeze really well too. Again, if you do not have a bamboo steamer, use a steel steamer and steam the buns. The flavor will differ, but they will taste great too.




Ingredients


All purpose Flour/ Maida 1 cup
Baking Powder 2 tsp
Water ¾ to 1 cup
Mushrooms 1 ½ cups
Ginger 1 inch piece
Garlic 3-4 cloves
Cilantro ½ cup
Spring Onions 3-4
Sesame Oil/ Chilli Oil 1 tbsp
Soy Sauce 1 tsp
Vinegar 1 tsp
Salt, Pepper
Toasted Sesame seeds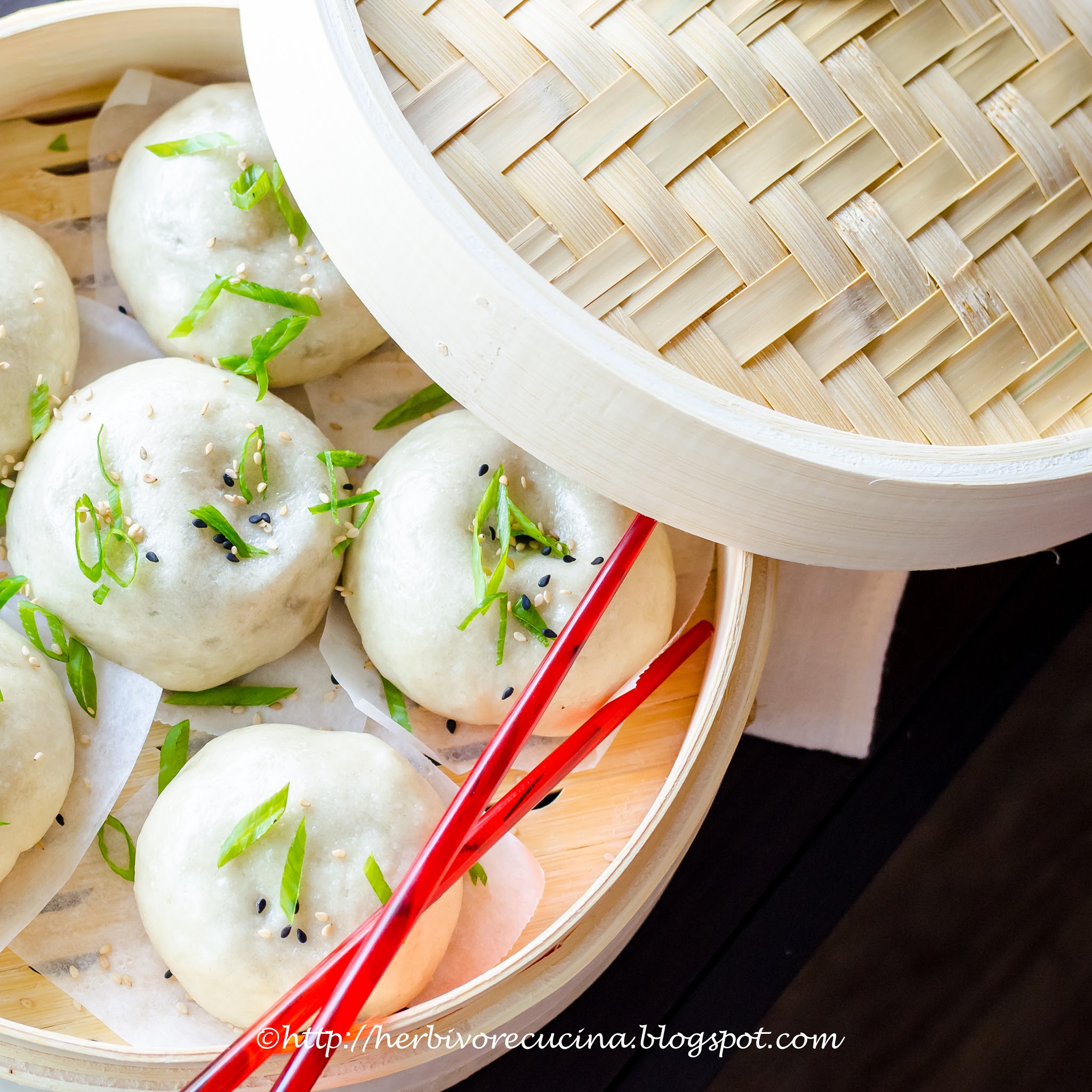 Method


To make the dough, mix all purpose flour and baking powder. Once mixed, add cold water ½ cup at a time. Mix and make a soft dough. You will need between ¾ and 1 cup water. Cover the dough and rest for 15-20 minutes.

Wash and dice the mushrooms. Mince garlic, ginger and finely chop the cilantro and spring onions. Set aside.

In a pan add sesame oil or chilli oil or a combination of both. Add minced garlic and ginger and saute till the raw flavor vanishes. Then add whites of spring onions and mushrooms. Add a teaspoon of salt and a pinch of pepper. Mix well and cook on medium flame till the mixture is dry. Add vinegar and soy sauce, mix and turn down the heat. Once cool, add cilantro and spring onion greens. Mix and set aside.

To make the buns, divide the dough into six parts. For each part, roll to a disc of 4-5 inches. Place ⅙ the filling and roll to a smooth ball. Place the ball on a piece of parchment paper. Repeat for all the dough and keep the balls covered with a moist cloth. This is how they look before steaming.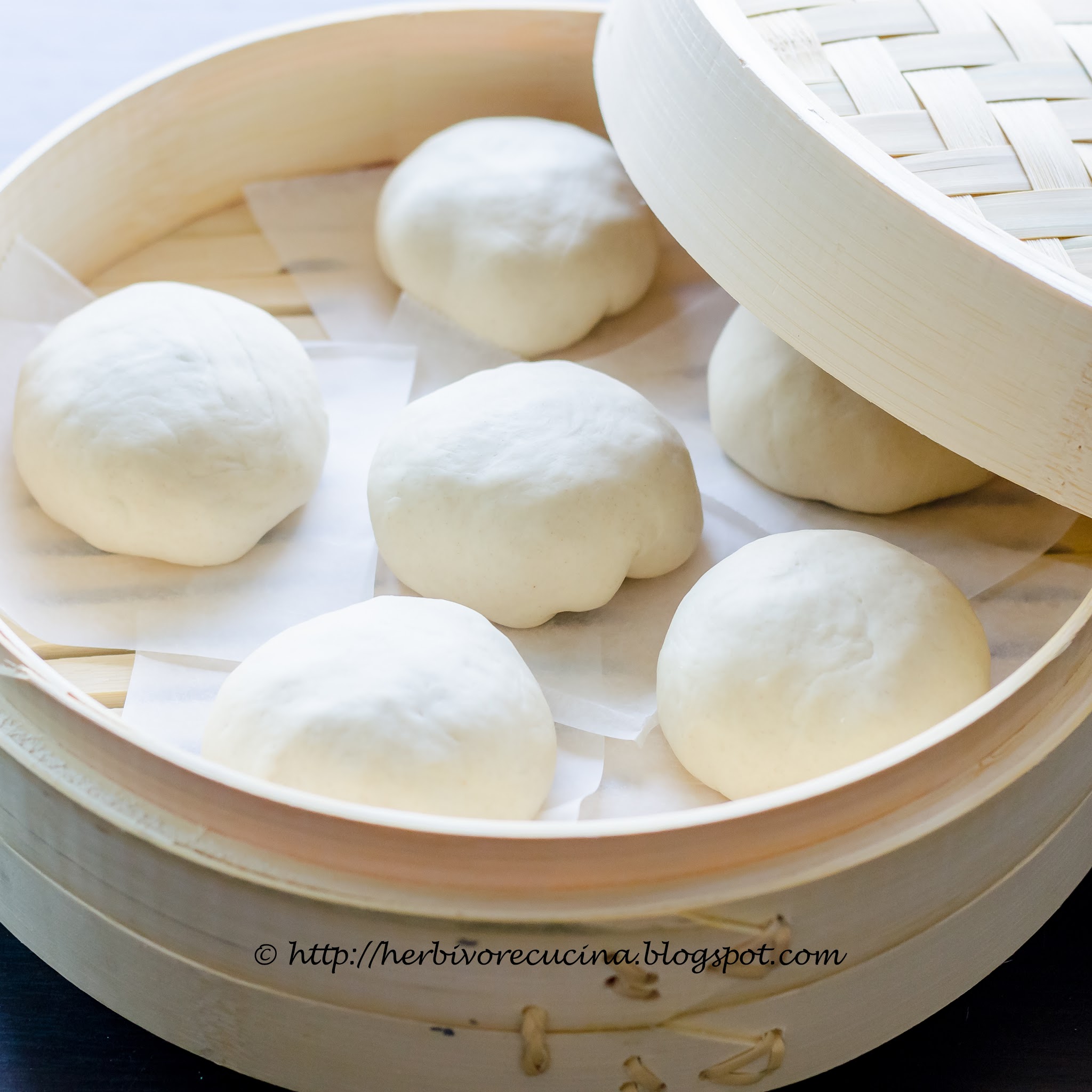 To steam, place a bamboo steamer in a pan and fill water till it is one inch deep. Bring to a boil and place the buns and cover quickly. Steam for 8-10 minutes. Serve warm, topped with toasted sesame seeds and chopped spring onion greens. They taste best with hot sauce and sweet chilli sauce. If you happen to make them in advance, cool them after steaming and freeze the buns. To serve frozen buns, steam them for 2-3 minutes and serve.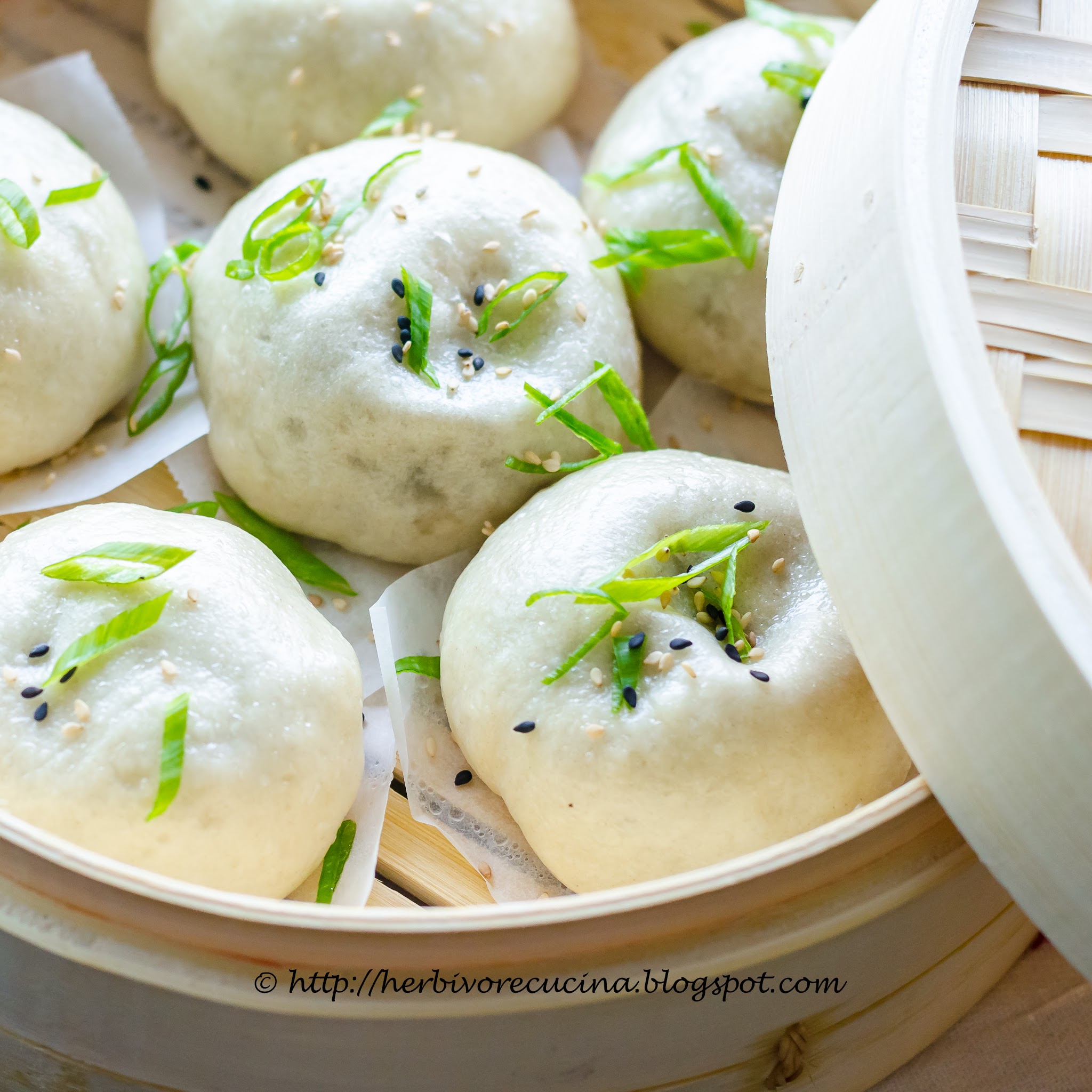 Check out the Blogging Marathon page for the other Blogging Marathoners doing this BM#66