Blogging Marathon #67 Week 1 Day 3
Theme: One appliance, three dishes
Dish: Easy Lemon Souffle from here


Today is the last day of this week's Blogging Marathon and for my theme of using an appliance to make three dishes. Over the last two days I posted two savory dishes; Steamed Dim Sums and Mushroom stuffed Steamed Buns. For the last day, I wanted a sweet delight.


To decide on a recipe, I looked online and found a ton of cakes that were steamed. However, my steamer is 10 inches and that big a cake would be too much to finish between the two of us! There was no way I could make a smaller one in this steamer as the batter is added directly to the steamer basket! So I settled for a smaller portion dish, a Lemon Souffle steamed in the basket. This recipe is from Food Network.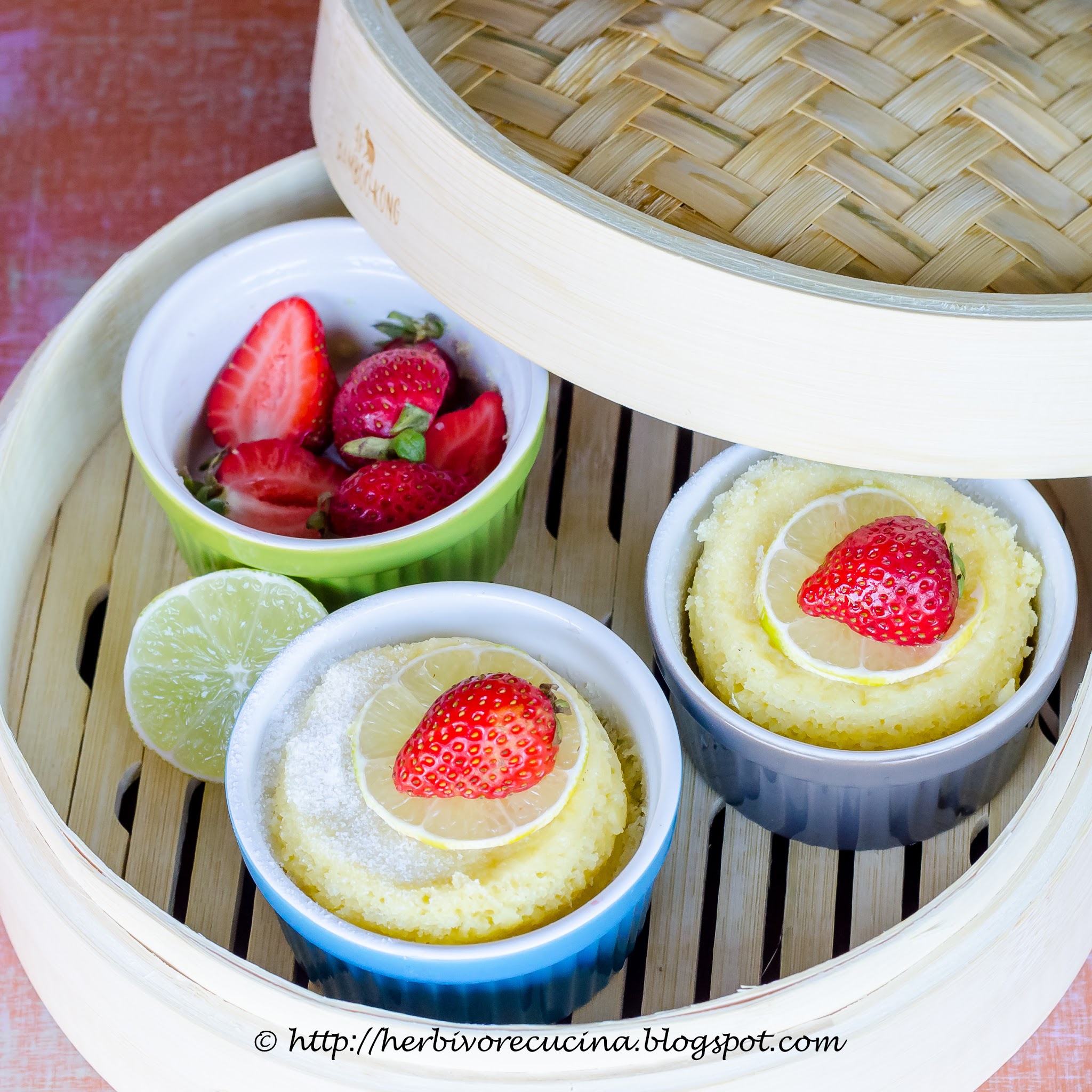 The beauty of the dish was that it would yield four ramekins and that seemed to work well. We enjoyed one souffle warm on the day I made them and the remaining on the next day sprinkled with sugar and topped with fruits. Both the versions tasted really great! The beauty of the dish is also in the ingredients. It does have sugar and flour, but NO butter or oil! Only required butter is to line the ramekins. Plus, it uses no heavy cream or the like, making it really light and airy. We thoroughly enjoyed this steamed dessert.




Ingredients


Milk ½ cup
Allpurpose Flour ⅓ cup
Sugar ¼ cup + 4 tbsp
Eggs 2 separated
Lemon Zest 2 tsp
Lemon Juice 3 tbsp
Lemongrass 2-3 inch stalk
Ginger 1 tsp
Pinch of salt
Oil/butter to grease
Berries to serve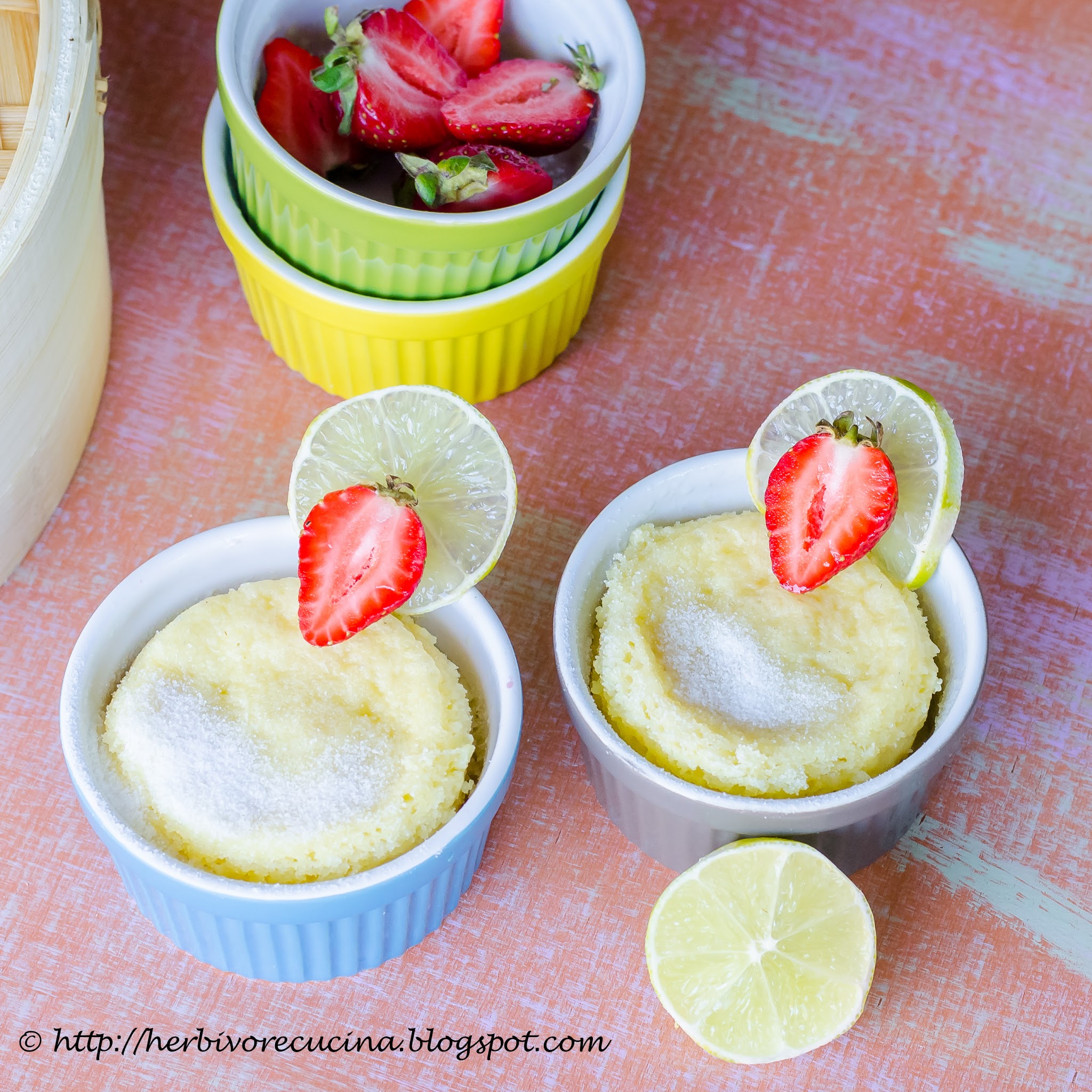 Method


Separate the eggs and get the yolks and whites to room temperature. Simmer milk to a light boil, add lemon zest, ginger and lemongrass. Let the mixture simmer and turn down the heat. Strain and let it come to room temperature.

Mix flour, salt and ¼ cup sugar in a bowl. Set aside. Beat the egg yolks and lemon juice till thick and pale. Once done, add the dry ingredients and mix well. In another bowl, add the egg whites and beat with 2 tablespoon sugar till you get soft peaks. Slowly fold in the whites into the other mixture, ⅓rd at a time.

Place the bamboo steamer in a pan and add water till it is below the base of the basket. Bring the water to a simmer. Line four small ramekins with butter/oil and sprinkle ¼ tablespoon in each ramekin. Swirl the ramekin and evenly coat the sides and base. Divide the souffle mixture among the four ramekins and place them in the steamer. Quickly cover and steam for 25 minutes, keeping the water at simmer. Do not bring the water to a vigorous boil.

Remove and serve warm or cold. I served each of them with a slice of lemon, strawberry and some sprinkled sugar. It tasted awesome that way!
Check out the Blogging Marathon page for the other Blogging Marathoners doing this BM#67