This shop has been compensated by Collective Bias, Inc. and its advertiser. All opinions are mine alone. #ReimagineYourCereal #CollectiveBias
Confused between smoothie and cereal for breakfast? Combine the two and enjoy a wholesome breakfast with this Smoothie bowl. Plus this one is Vegan and full of fruits!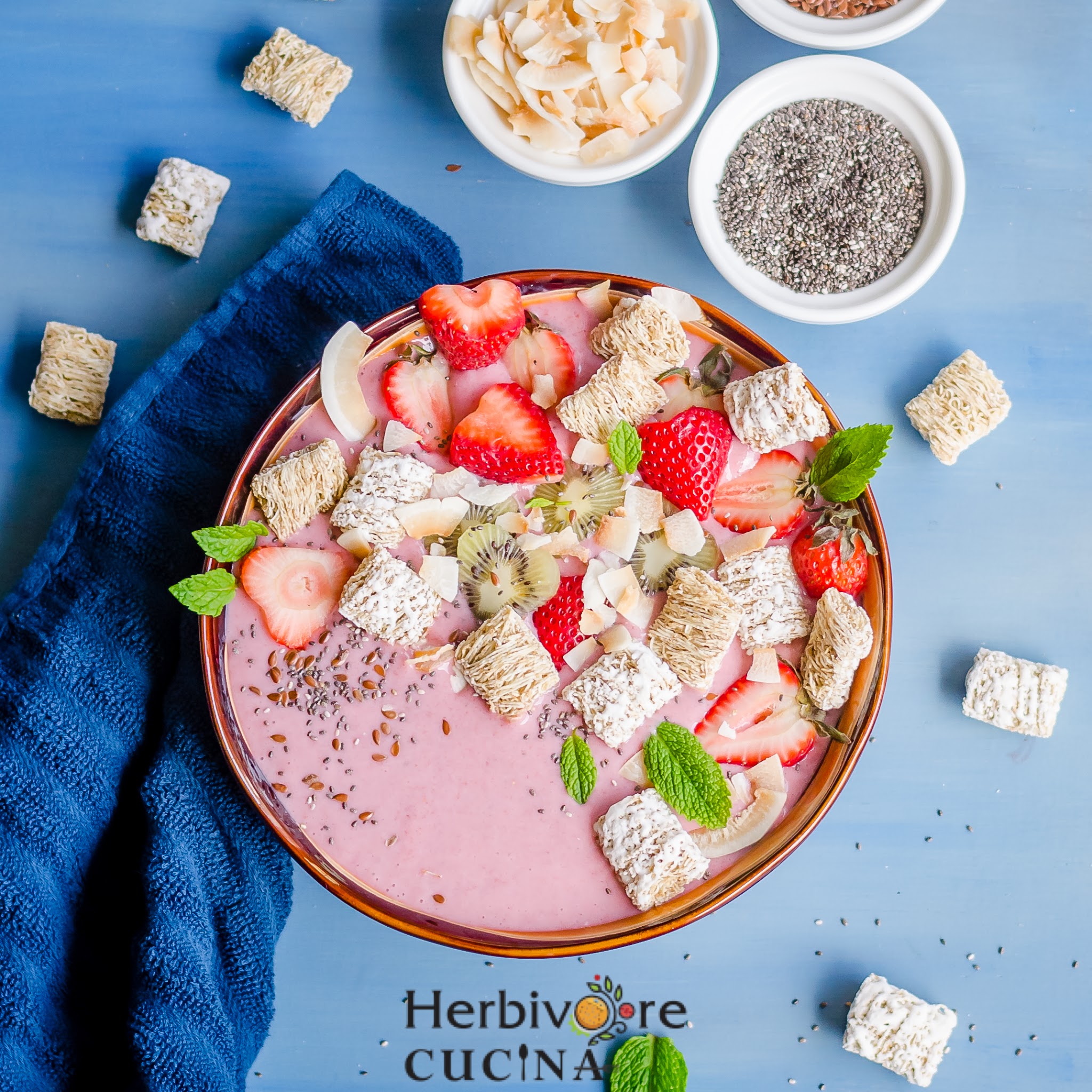 Strawberries are in season and on every trip to the Farmer's Market I end up with a TON of them. While I use some in cakes, icecreams and roasted strawberries, I like to make smoothies and milkshakes with the rest.
This weekend we went strawberry picking. So now I have a box full of big sweet strawberries that we picked! It was such a fun activity, picking the fruits of our choice. I brought home a lot of strawberries and some other organic vegetables too. Picked up sweet potato for the first time! I have never made anything from sweet potato except using it in Undhiyu. Looking forward to some interesting recipes using that.
Another trip I made this weekend was to Target. I had to pick up a few things for the coming week. I was looking for some tasty breakfast options. That is when I saw Kellogg's Cereals on the aisle and that they are now priced at $2.99 for a BIG box! Plus there are so many options from Kellogg's: Froot Loops (17 oz), Frosted Flakes (19 oz), Rice Krispies (18 oz), Frosted Mini Wheats (24 oz) and Apple Jacks(17 oz). I picked up Froot Loops and Frosted Mini Wheats. Remember they are also $2.99 on target.com. Get yours soon!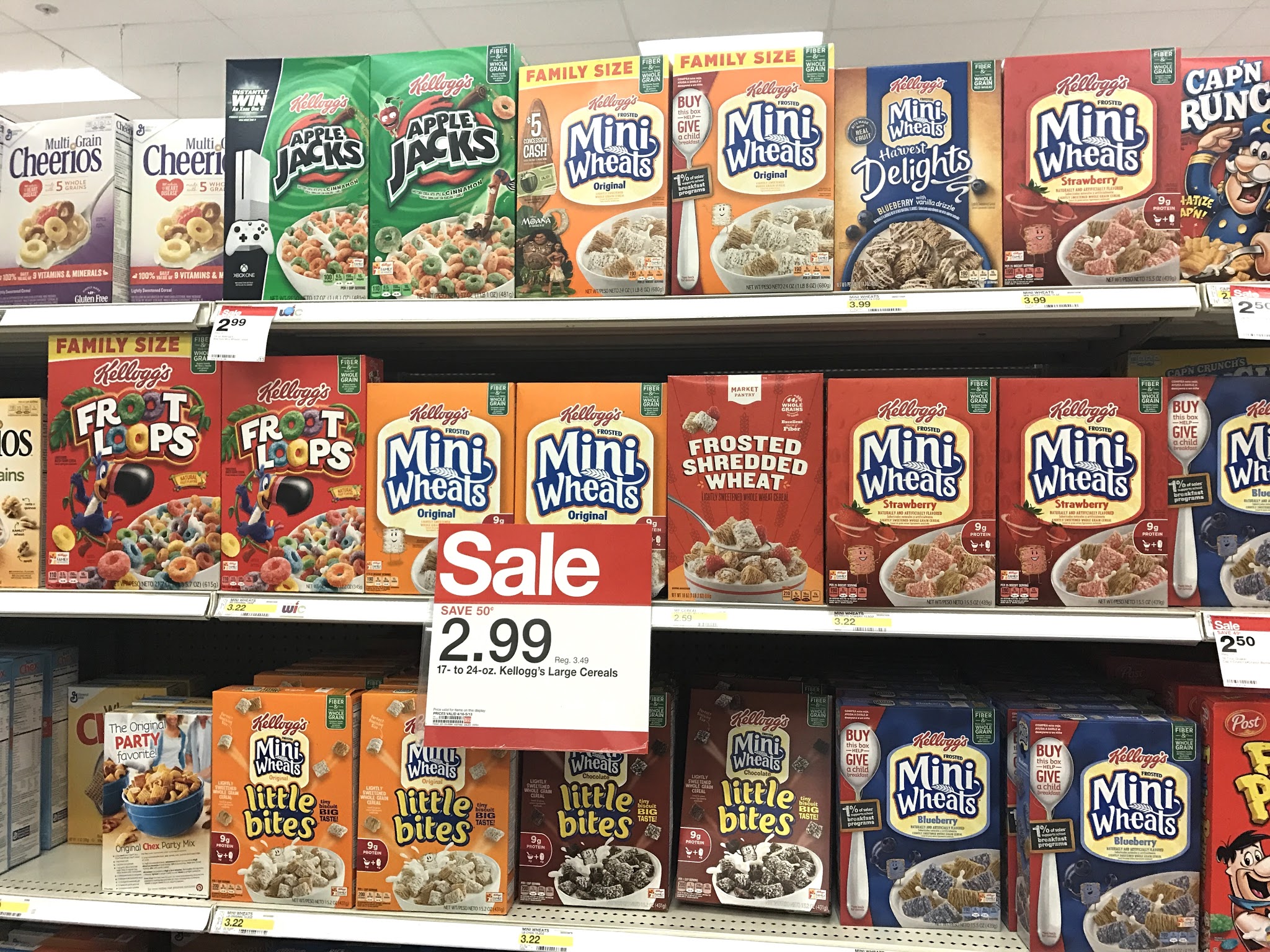 Now with the fruits and cereal stocked in the kitchen, I had to make something delicious for Sunday breakfast. I was torn between a fresh strawberry smoothie and enjoying the Frosted Mini Wheats with milk. So I decided to combine the two and have a wholesome breakfast!
Generally I make a smoothie using coconut or almond milk. Plus, I like to decorate my smoothie bowl with a lot of toppings. Sometimes if the smoothie is not thick enough, the toppings tend to drown. This time I added some Kellogg's Frosted Mini Wheats in my smoothie. Not only did they give the smoothie a great texture; they also reduce the amount of sugar needed in the smoothie. With a few Frosted Mini Wheats added as topping, you can get a complete breakfast.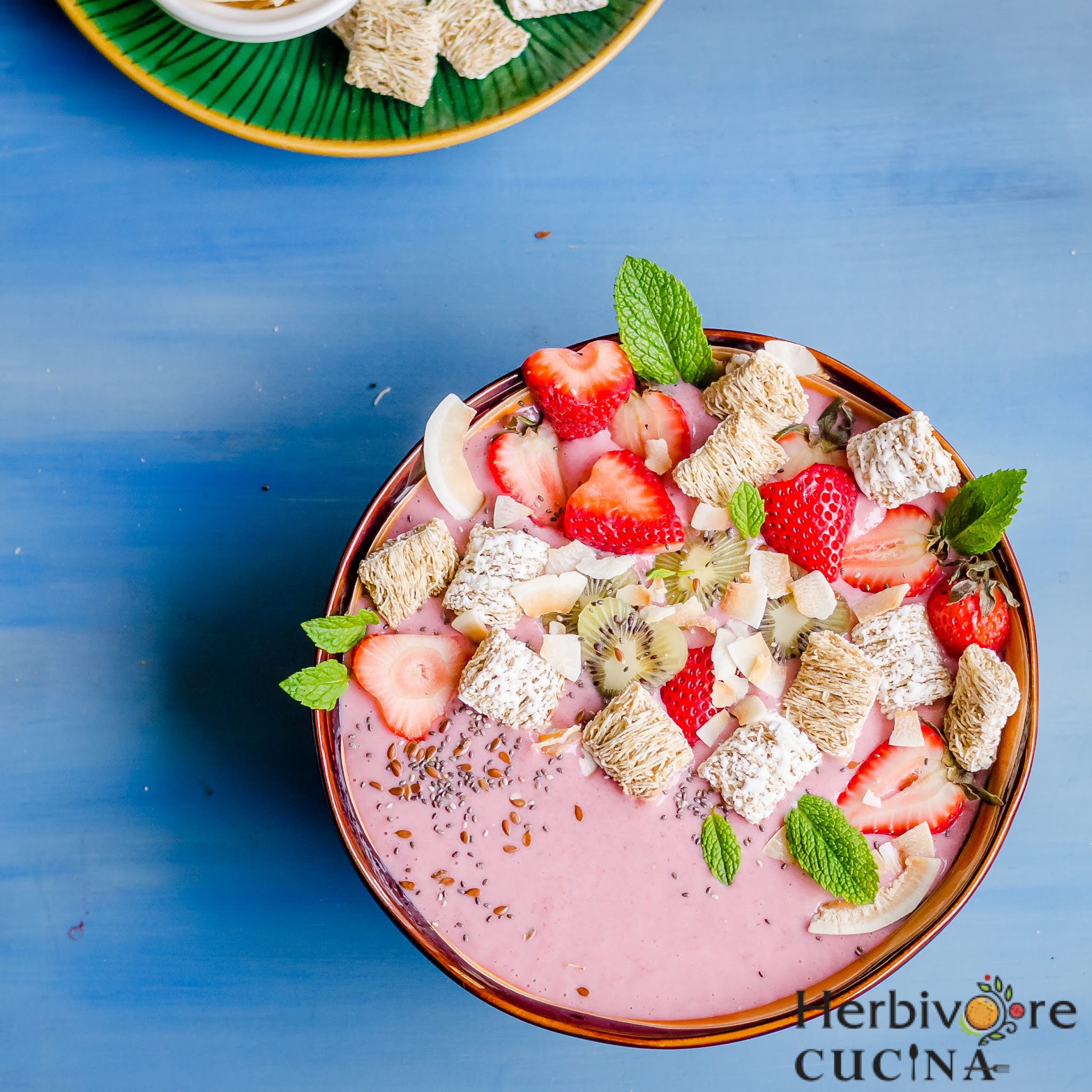 This breakfast option works really well for kids who do not like to eat their cereal. This way you can include it in their smoothie and they will never even realize! The pink color of strawberries is always so attractive that kids and adults reach out for the bowl without having to remind them!
Looking for more ideas using these boxes of cereal? Head straight to this hub for more inspiration and ideas!

Variations
I have tried the same recipe using almond milk and Kellogg's Froot Loops too. The combination is super, especially given that almond milk is thinner and the Froot Loops convert it to a super thick smoothie.
Do not have strawberries in the refrigerator? Go ahead and add any berries of your choice. The smoothie will taste super awesome with that too.
The toppings for this smoothie can be customised as per your choice. Add chia if you like, leave out flax if you do not. Want to add more berries on top? Go ahead and do that. Fancy a banana on top too? Add that too! The toppings can be changed each time to make a new combination.
Ingredients
Strawberries 8-10
Banana 1 medium
Kellogg's Frosted Mini Wheats ½ cup
Thick Coconut Milk 1 cup
Honey ½ tbsp
Toppings
Strawberries 2-3
Kiwi 1 medium
Kellogg's Frosted Mini Wheats as required
Chia seeds 1 tsp
Flax Seeds 1 tsp
Toasted Coconut 2 tsp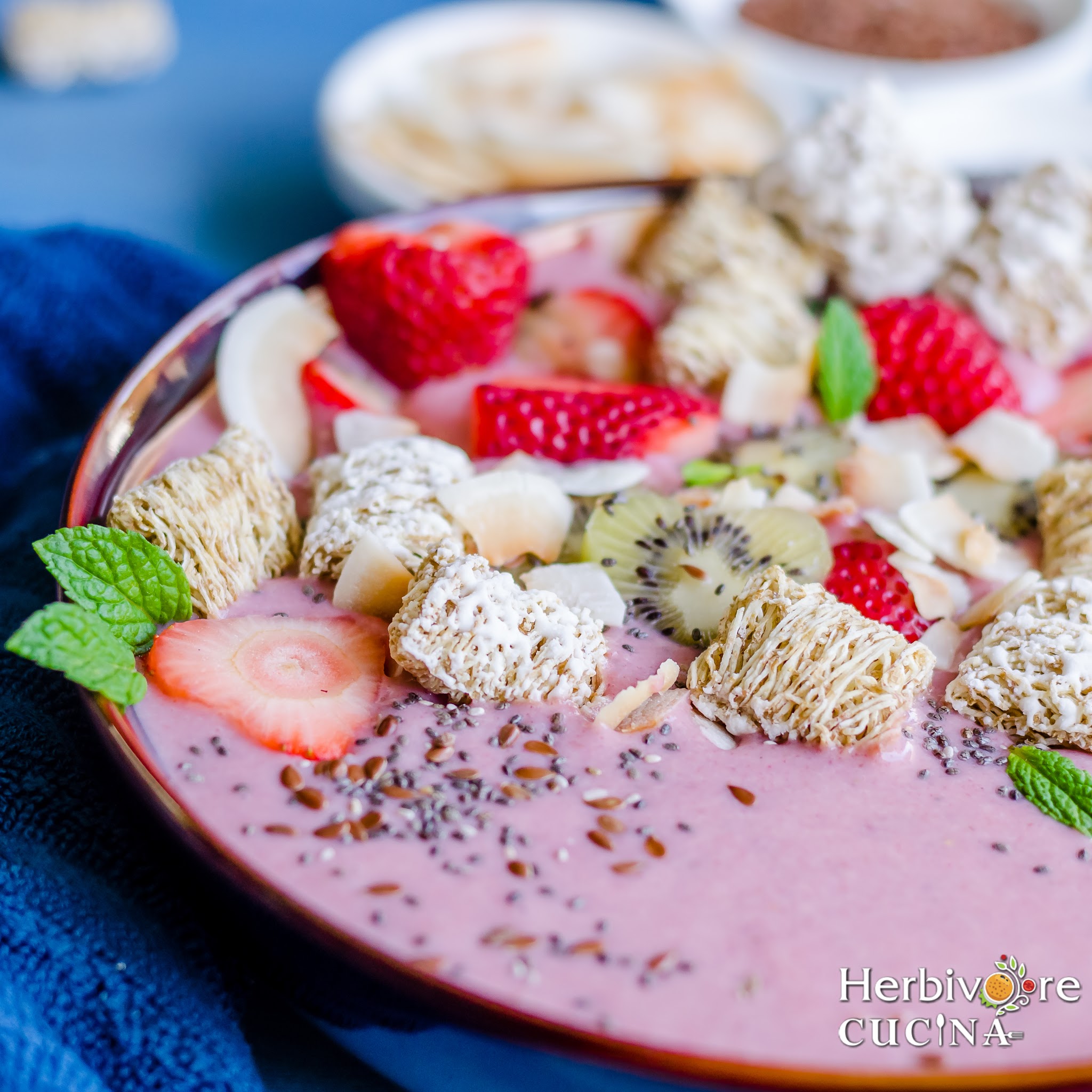 Method
Slice and freeze the strawberries and banana for 30 minutes.
Remove from freezer, add Kellogg's Frosted Mini Wheats, Honey and Coconut milk. Blend till smooth.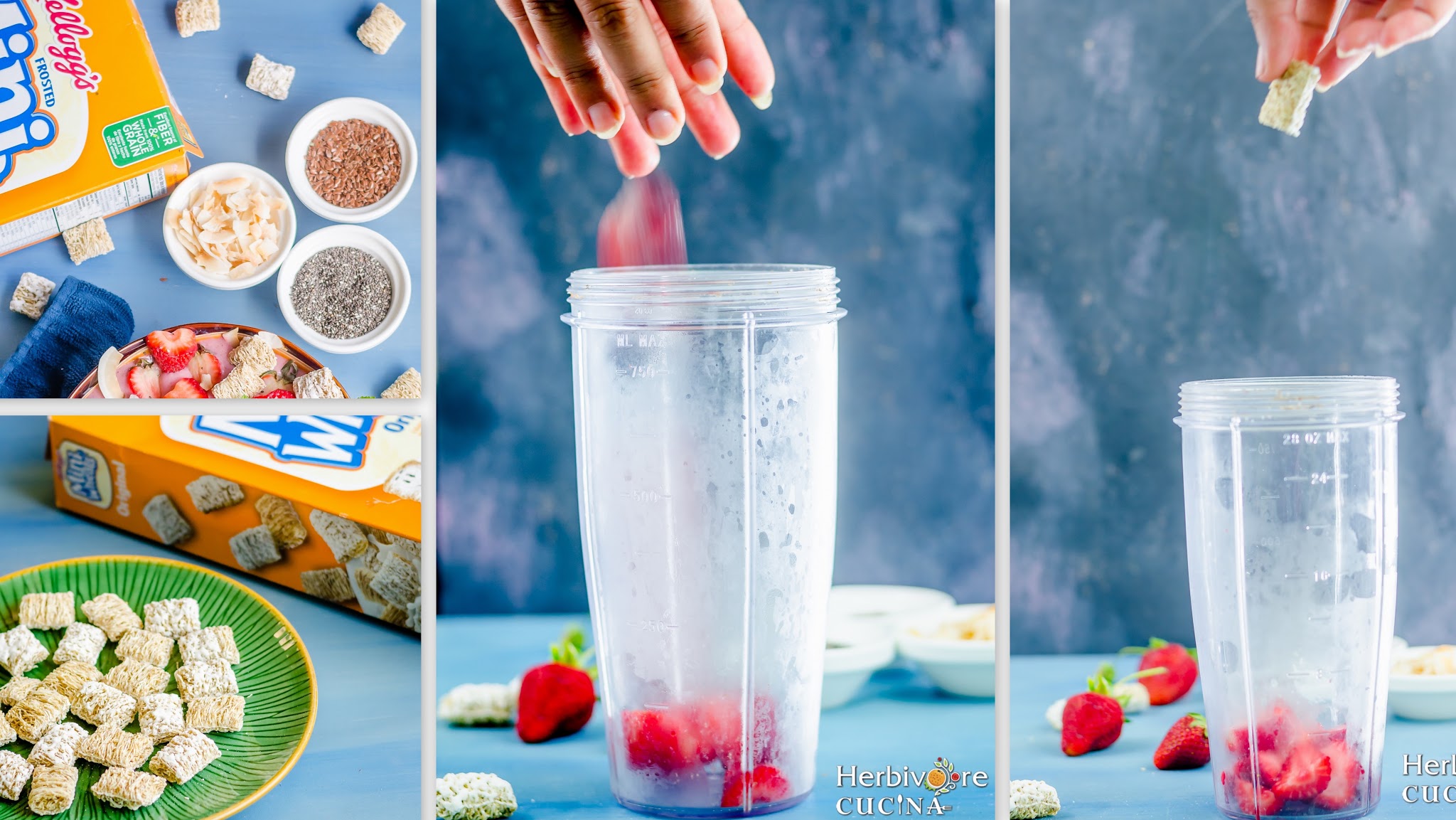 Transfer the smoothie to a bowl. Top with sliced strawberries and kiwi. Also add Kellogg's Frosted Mini Wheats, Chia Seeds, Flax seeds and Toasted Coconut. Serve cold.