Instant Coconut Ladoos; balls made from 5 ingredients that come together in UNDER 10 minutes! These are great for any festival or celebration!
Some of the links below are affiliate links, meaning, at no extra cost to you, I will earn a commission if you click through and make a purchase.
The Indian festival of Ganpati is around the corner. In no time we will be bringing home idols of Ganesha and celebrating the festival in all it's glory with sweets, pujas and festivities. I always like to make Indian sweets to celebrate and this year is no different. I am ready to make some sweets to please the Elephant God and this is the first one!
Inspired by the popular drink Strawberry Colada and keeping in up with the current festive season, I cooked up these Strawberry Colada Balls for Lord Ganesha. These are quick to make and need only a handful of ingredients found commonly in any pantry. The end result is always yum! The recipe takes just 10 minutes and EVERYONE should definitely try it!
Ingredients to make the Ladoos PERFECT each time


This recipe calls for only a handful of ingredients and is made using a few easy steps. For something so simple, you would not want to go wrong for sure. Here are a few tips I learnt over the years while making these ladoos. They will ensure the end result is PERFECT each time.
First, use a packet of desiccated coconut that is not too old. This form of shredded coconut lasts longer than the fresh one, but can become smelly. Watch out for that before you start the recipe.
Lightly roast the coconut without browning it. Browned coconut has a distinct after taste and does not bind well into balls. So keep an eye on the coconut while it roasts.
These balls are made using strawberry syrup. Easily available in grocery stores and on Amazon, this syrup is used to sweeten milk, ice creams and the like. I generally have a bottle at home and I used that. In case you like another flavor like Khus or Rose, feel free to substitute that for strawberry syrup. The recipe will work just fine.
Adding a pinch of pink color is totally optional in the recipe but can work well if the brand of strawberry syrup is pale pink. Add only a drop or two to avoid getting a super deep color. Skipping it is okay too!
I added a little bit of cardamom powder to get an Indian flavor. If you do not like it, skip it. It does add a LOT of flavor to the recipe so I like to use it each time.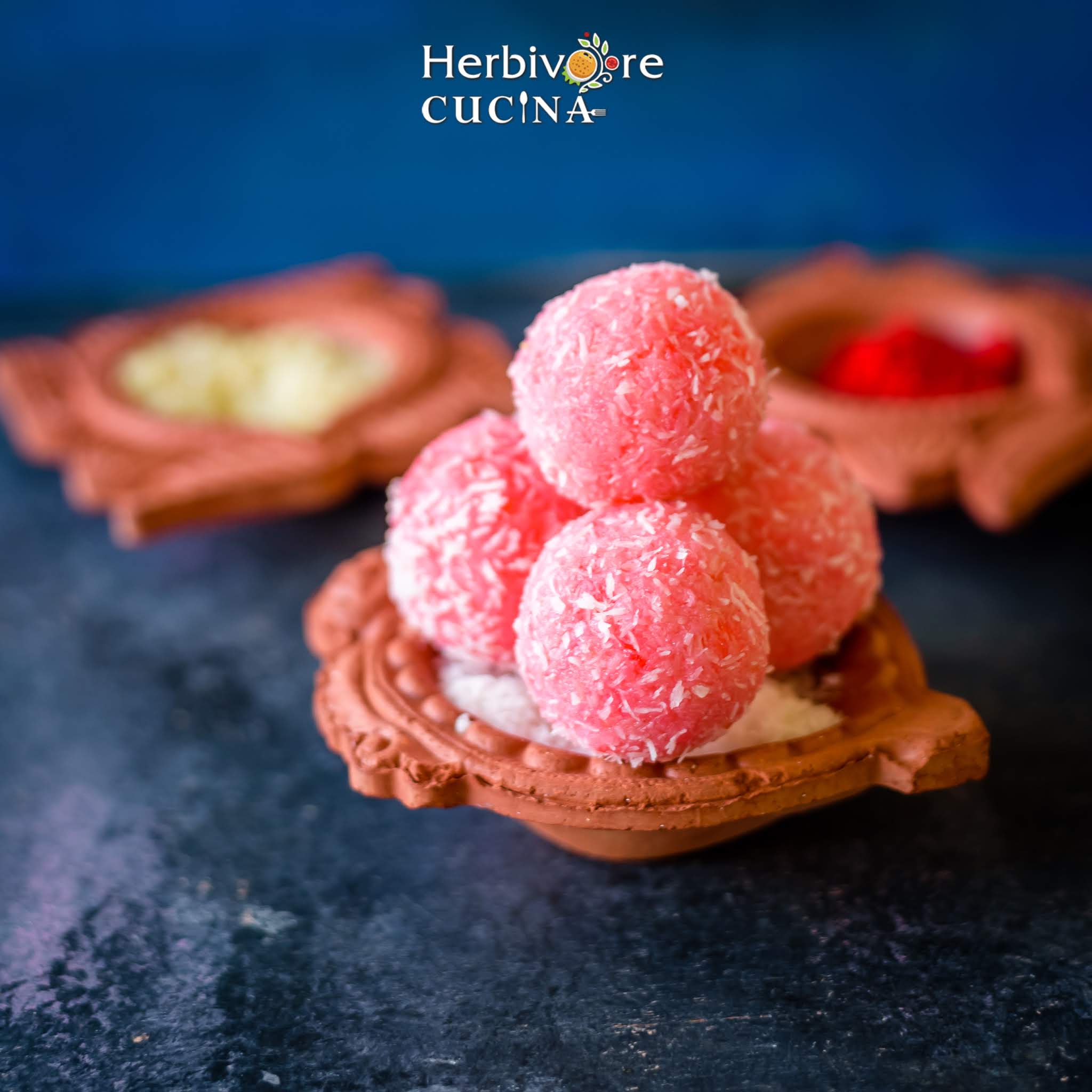 Making and storing these Ladoos


The method to make these ladoos is really simple. Ready in just 10 minutes, this is one of the EASIEST Indian sweets for sure. With just some precautions as mentioned above, you can get a BIG batch in no time.
Once the mixture of coconut and strawberry is ready, there are plenty of options to shape them. Use a mold and make cute modaks of the mixture, roll them into balls and serve coated with more coconut, make balls stuffed with jam or nuts or just make bars of the mixture. The possibilities are endless!
As these balls have condensed milk in them, they are best refrigerated. While they will not go bad in a couple of days on the kitchen counter, I like to refrigerate them to keep them fresh for a longer time.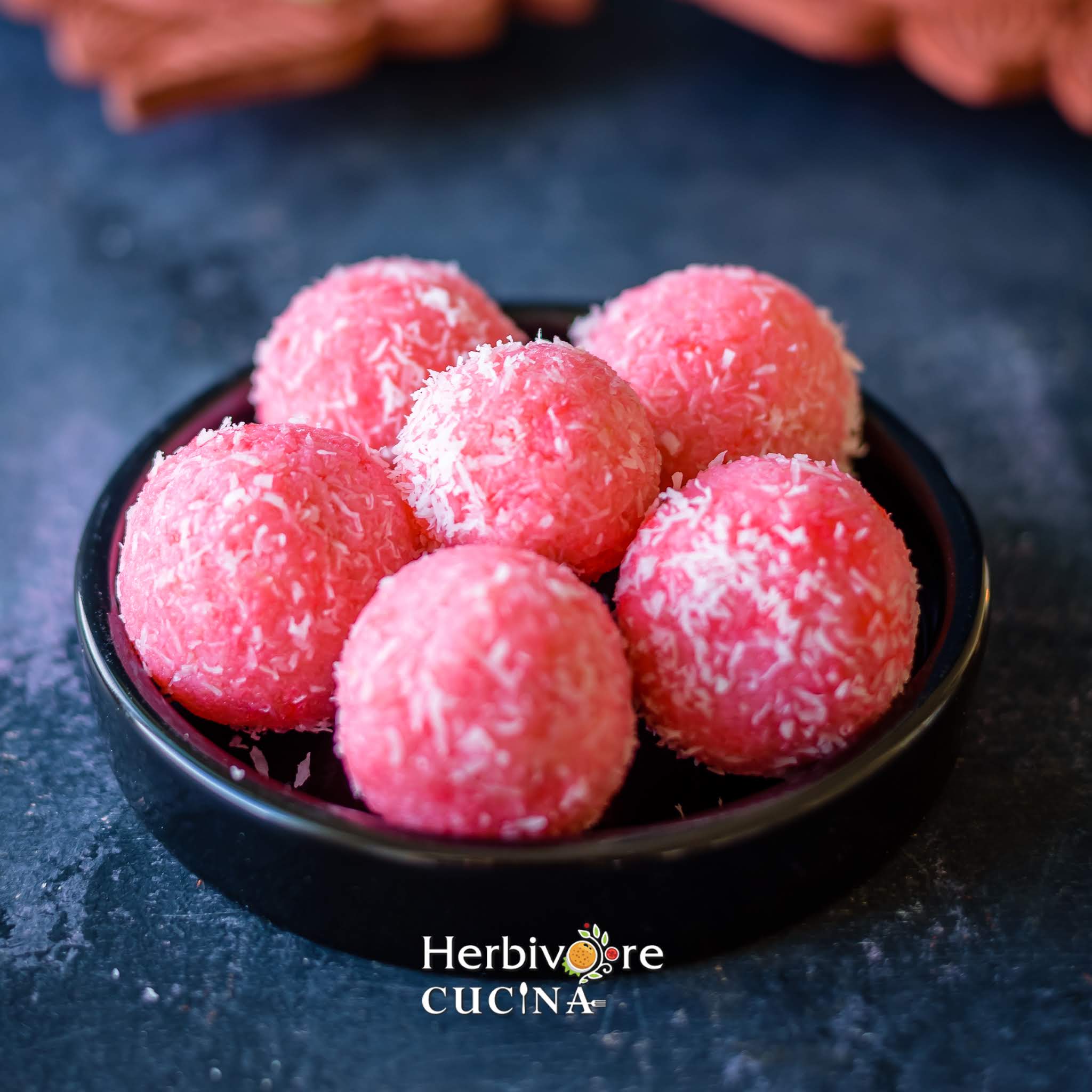 Love Indian sweets? Then you must try one of these:
This post has been updated from the recipe archives in 2019.




Ingredients
Desiccated Coconut 2 cups
Sweetened Condensed Milk ½ cup
Strawberry Syrup 2 tsp
Cardamom Powder 2 tsp
Ghee 1 teaspoon
Method
Heat ghee in a pan. Set aside 2 tablespoon coconut and add the rest to the hot ghee. Cook it for 2-3 minutes, stirring to ensure it does not stick or turn brown.
Add Sweetened Condensed Milk and Strawberry Syrup to the roasted coconut. Mix well and cook for about 4-5 minutes till it all comes together as a thick ball.
Next add in the Cardamom Powder and stir. Turn down the flame and let the mixture cool for a few minutes.
Let the mixture be cool enough to handle with your hands. Grease hands with ghee and take 1-1.5 tablespoon of the mixture and shape it into a ball. Repeat for all the mixture.
Roll the freshly made ball in desiccated coconut. Keep the balls in an airtight container in the refrigerator.
DISCLOSURE: WE ARE A PARTICIPANT IN THE AMAZON SERVICES LLC ASSOCIATES PROGRAM, AN AFFILIATE ADVERTISING PROGRAM DESIGNED TO PROVIDE A MEANS FOR US TO EARN FEES BY LINKING TO AMAZON.COM AND AFFILIATED SITES.