Satisfy your sweet cravings with this INSTANT Peda recipe. Made in the microwave, these take under 30 minutes from start to finish!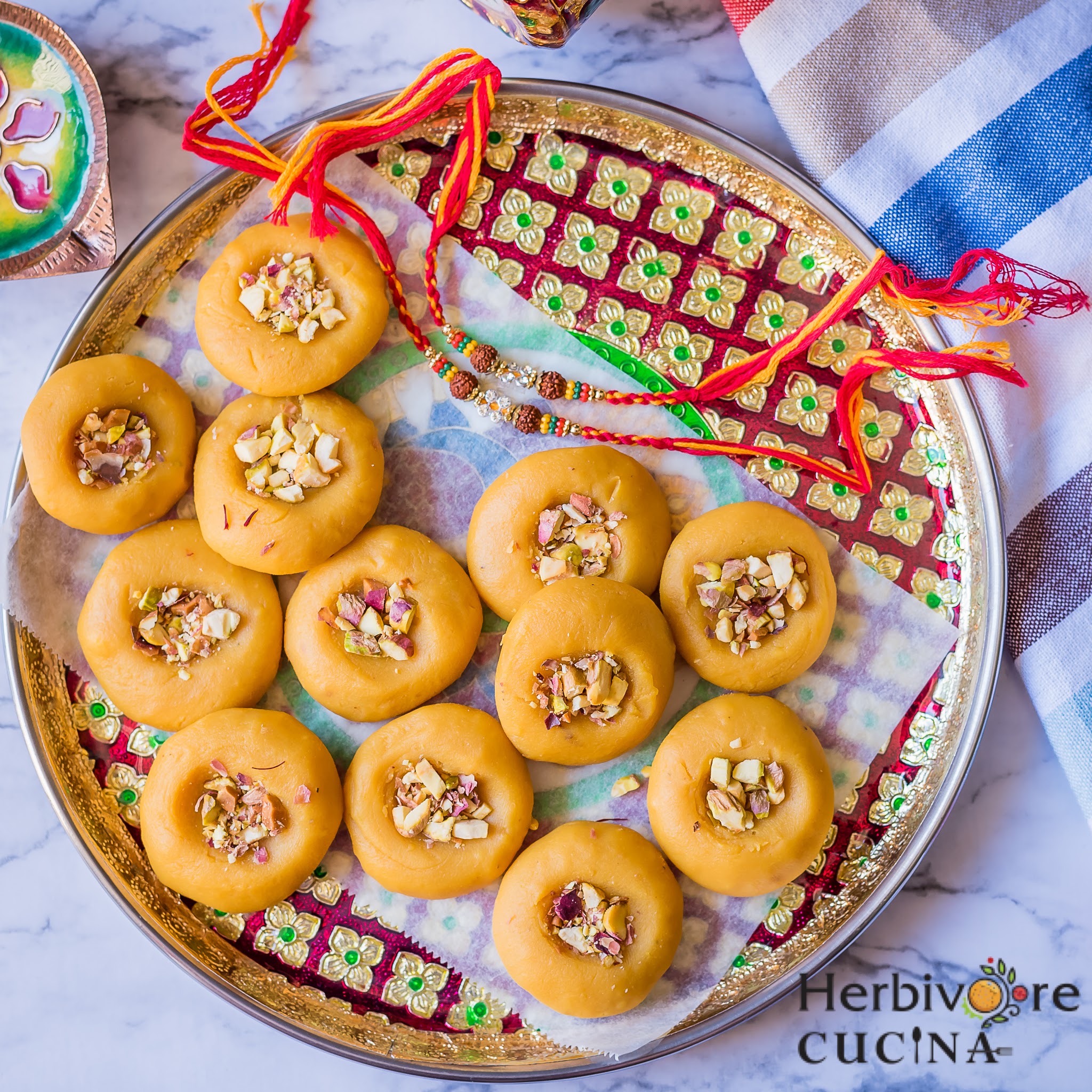 I can barely believe that we are almost past July already! It has been such a busy month with the blog, summer activities and trips. And by the end of this month we have reached the month of Shravan according to the Hindu calendar. This also means we will now have all our festivals lining up.
First up is Rakhi, one of the festivals that binds brothers and sisters far and near. According to the Indian traditions, the sisters tie twines called 'Rakhi' on their brothers' wrists and the brothers promise to protect their sisters. Though I do not have a sibling, I have always had the fondest memories with Rakhi; given that my first cousin is really close to me. He has always been there for me, and I have never felt the need to have a sibling!
Having celebrated Rakhi together since childhood, 'sending' a rakhi after moving to US was rather saddening. Now with a few years behind me, I am still convincing myself that I shall plan my India trip once during Rakhi and relive the wonderful moments again! Until then, it is sending rakhi and all my wishes to him each year.
Wondering why I am talking of Rakhi? It is because the festival is about 13 days away now and it is time to start thinking what you are going to make for your loved ones that day.
This year, I decided to make the easiest and yummiest peda recipe for Rakhi. Though I made this lot and we have our tummies full, I am going to make another larger lot of these pedas this Rakhi. The first reason; they are super delicious and we love them, and the second reason is that they come together in under 30 minutes and do not need any stove top cooking. Plus, they need just a few pantry essentials that are definitely easy to find.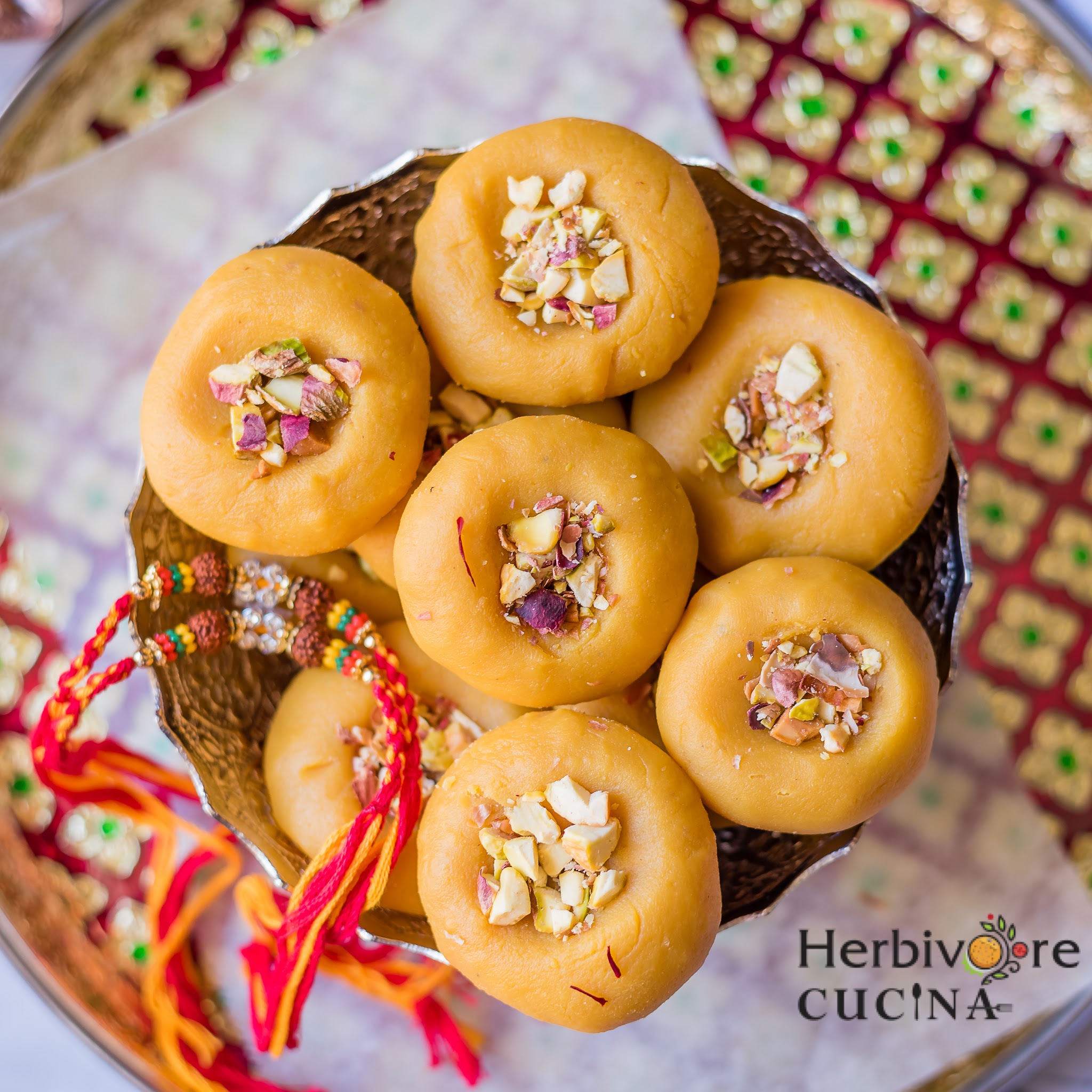 I made these pedas for Diwali last year and we have been enjoying them pretty often since then. Finally, I was satisfied with the result and shot them recently. And they make perfect sweets for Rakhi and all other festivals too!
Here is a little something about these pedas
These golden yellow rounds of goodness are made from milk powder, an ingredient that can be stored for a while unlike fresh khoya or milk. They have condensed milk in them, another ingredient that can be stored in the pantry.
Apart from the milk powder, condensed milk and unsalted butter all other ingredients are optional. If you like the plain white pedas, just eliminate the kesar and milk part and you have them ready. Fan of chocolates? Add cocoa powder instead of saffron infused milk and you have chocolate pedas ready!
I made these rather quickly in the microwave. Mine took about 5 minutes to cook but the timing will vary depending on the make and power of the microwave. So keep a close watch and no not leave the mixture unattended.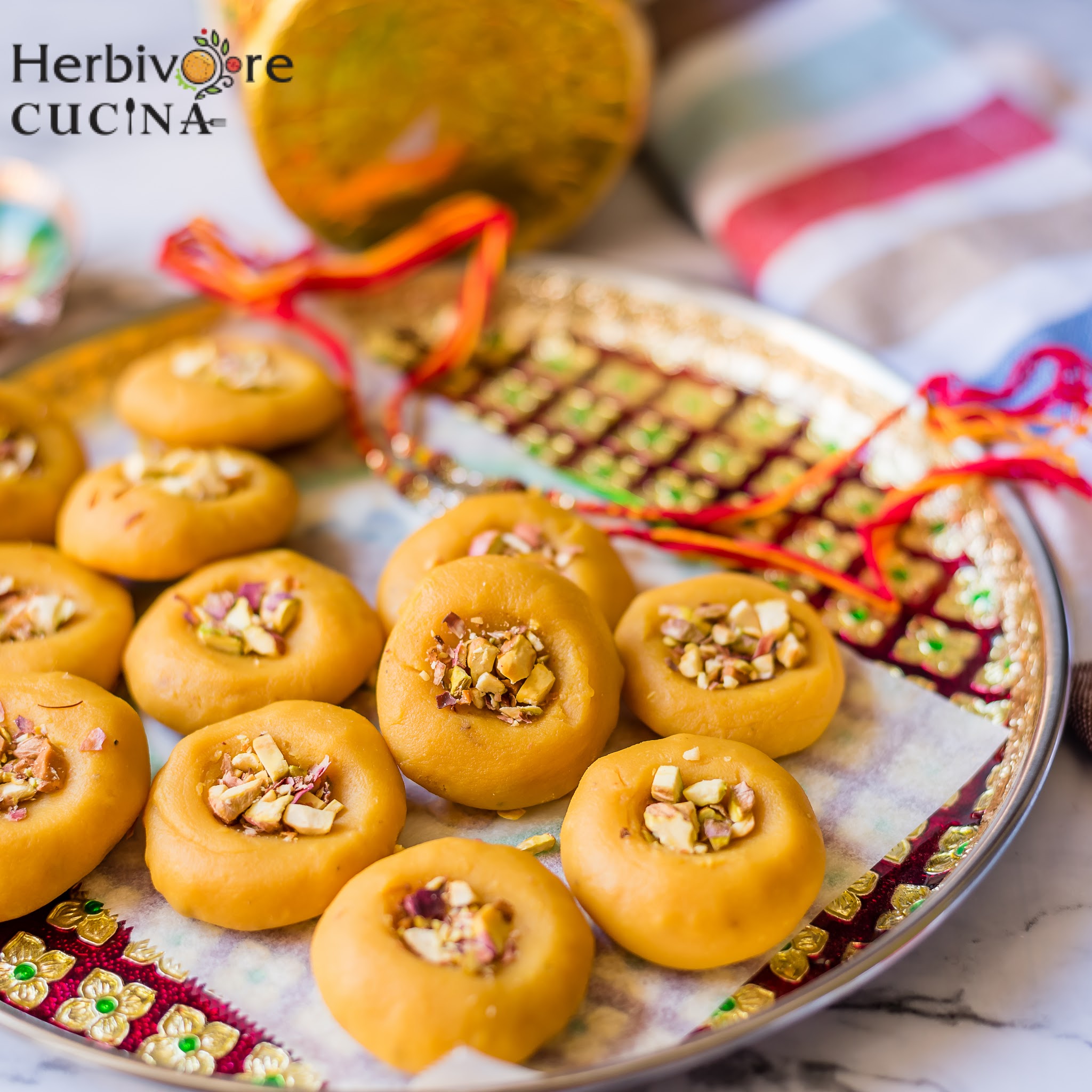 Want to make the same on a stove top? No issues, just mix everything in a pan and cook on medium flame till the mixture comes together and leaves the sides. Again, keep a close watch, making sure you do not burn the mixture.
This is now my go-to recipe to make some sweet in a jiffy. And I love how a couple of variations can bring up a new flavor all together! If you are looking for more sweet options, try this Bombay Ice Halva, Instant Ricotta Rasmalai, Lonavala's Chocolate Walnut Fudge or The BEST Instant Jalebi!
Ingredients
Milk Powder 1 cup
Sweetened Condensed Milk ½ cup
Ghee/ Unsalted Butter 3-4 tablespoon (room temperature)
Powdered Cardamom 1 tsp
Milk 1 tbsp
Saffron a pinch
Pistachio 2 tablespoon diced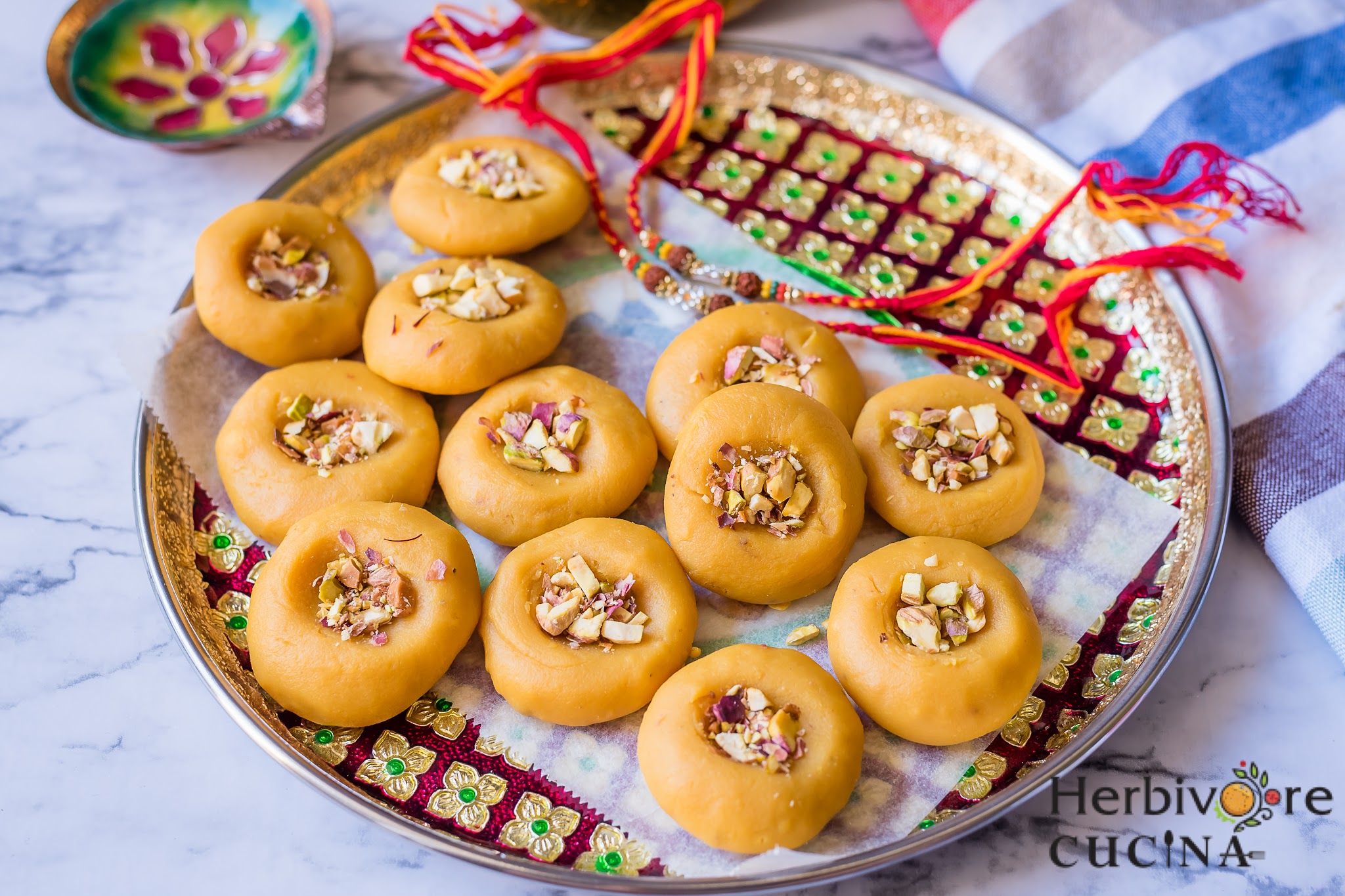 Method
In a small bowl heat the milk for 30 seconds in the microwave. Add saffron strands and set aside.
In a bigger bowl add milk powder, condensed milk and 3 tablespoon ghee or unsalted butter. Mix well and microwave for 1 minute. Remove, mix and repeat 4 more times.
If it looks too dry, add ½ tablespoon ghee or unsalted butter. Also add the saffron infused milk and cardamom powder. Mix well.
Microwave for another minute. By then all the ingredients should come together and the mixture should leave the sides of the bowl. If not, microwave for one more minute. In all, I needed 5 minutes to make it. It will depend on the power of the microwave so be careful.
Remove the mixture from the microwave and let it rest for 10 minutes, till you can handle it with bare hands.
Apply a little ghee or butter on the palms and take a tablespoon of the mixture. Roll into a ball and flatten it. Press your thumb in the centre and place diced pistachios.
Refrigerate in an airtight container for upto a week.
Want more sweets? Try this Gujarati Magaj / Magaz, Kesar Kheer | Saffron Rice Pudding , Corn Flour Halva | Karachi Halwa, Baked Churma Ladoos or Baked Sutarfeni.