Blogging Marathon #66 Week 4 Day 1
Theme: Recipes from a region: Rajasthan
Dish: Baked Churma Ladoos
Today is the beginning of the last week of this month's Blogging Marathon, and my theme for the week is Regional Recipes. If you have been following the Marathon and my blog, you know I did the states of Gujarat, Maharashtra, Punjab and Tamil Nadu for the Mega Marathon in April. Here is a round-up, in case you missed it.
This week I foray into another state of India, and this happens to be my favorite state of the country. I am referring to the colorful, flavorful and definitely wonderful state of Rajasthan. When most people discuss food from this state, they think it is full of ghee, oil, sugar and calories. While the notion is not completely wrong, today's lifestyle demands a healthier version of the age old recipes. So in this week, I promise you three guilt free (some people would call it lesser guilt) recipes from the state. These recipes are traditional, but made in a healthy way without compromising on the taste.
For the first day, I would have started off with a main course or appetizer like the other weeks and ended the week with a sweet. However, today, sweets first. The simple reason is that Herbivore Cucina is 2 years old today and so my blogging experience. I published my first post, Cupcake Handvo exactly two years ago. While the anxiety of pressing the publish button has gone down over this period, the excitement of posting and the curiosity of number of views each morning is still the same. I will be doing a separate post with a cake and the celebration, I decided to add a traditional sweet on this day to make is special.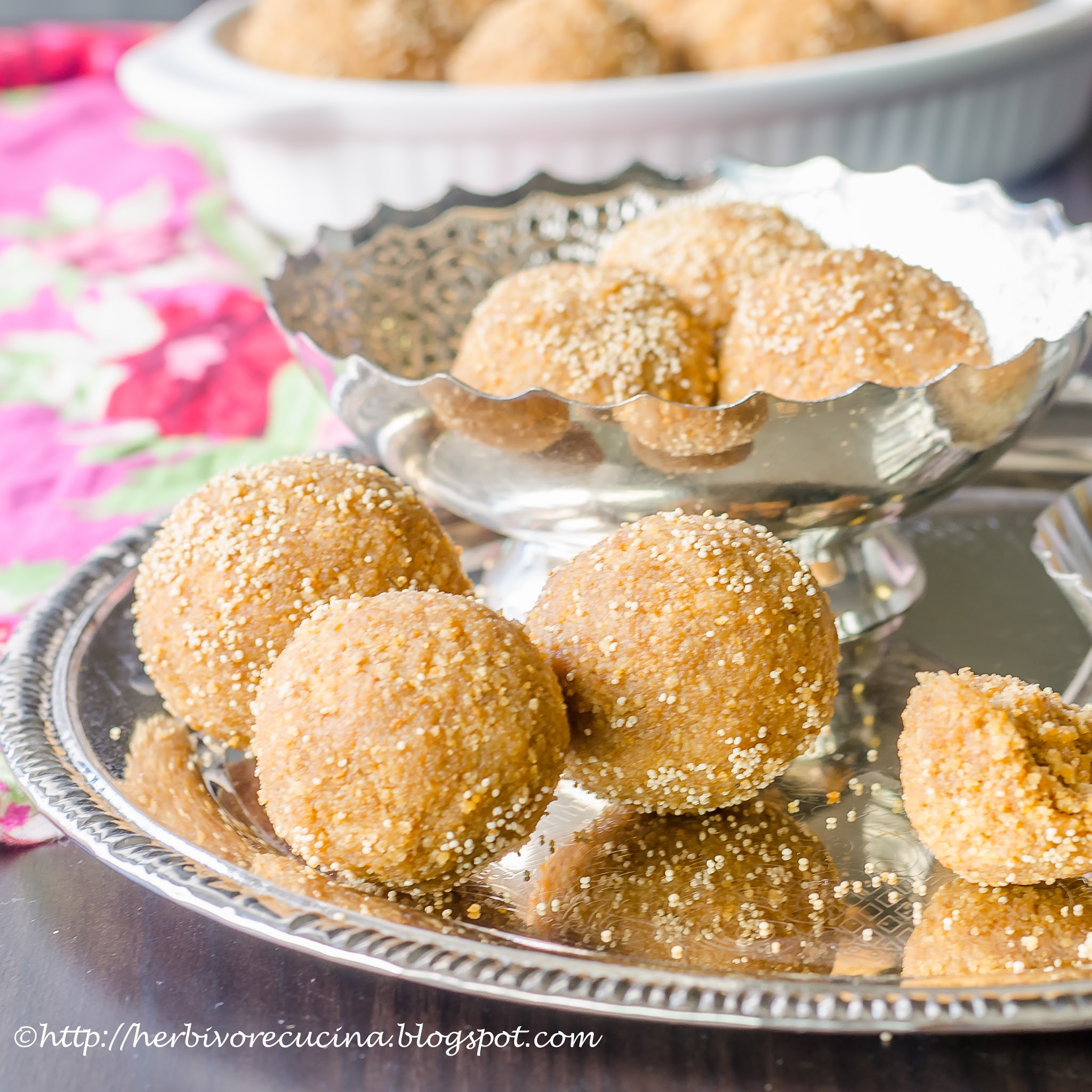 So today is a recipe of a traditional Rajasthani sweet, the good old Churma Ladoo in a healthy way. The recipe has three parts; one is making dough, frying the dough balls and finally blending in jaggery and ghee. While adding the ghee in the last stage remains the same as the traditional recipe, we can do away with the frying part of the method by baking the dough balls. This eliminates a lot of oil or ghee and the result is a little less guilty ladoos. This recipe will come especially handy for Ganpati, which is just around the corner. These churma ladoos are Ganpati favorites in our family. So glad we can now enjoy a couple of more ladoos, and feel less guilty about them!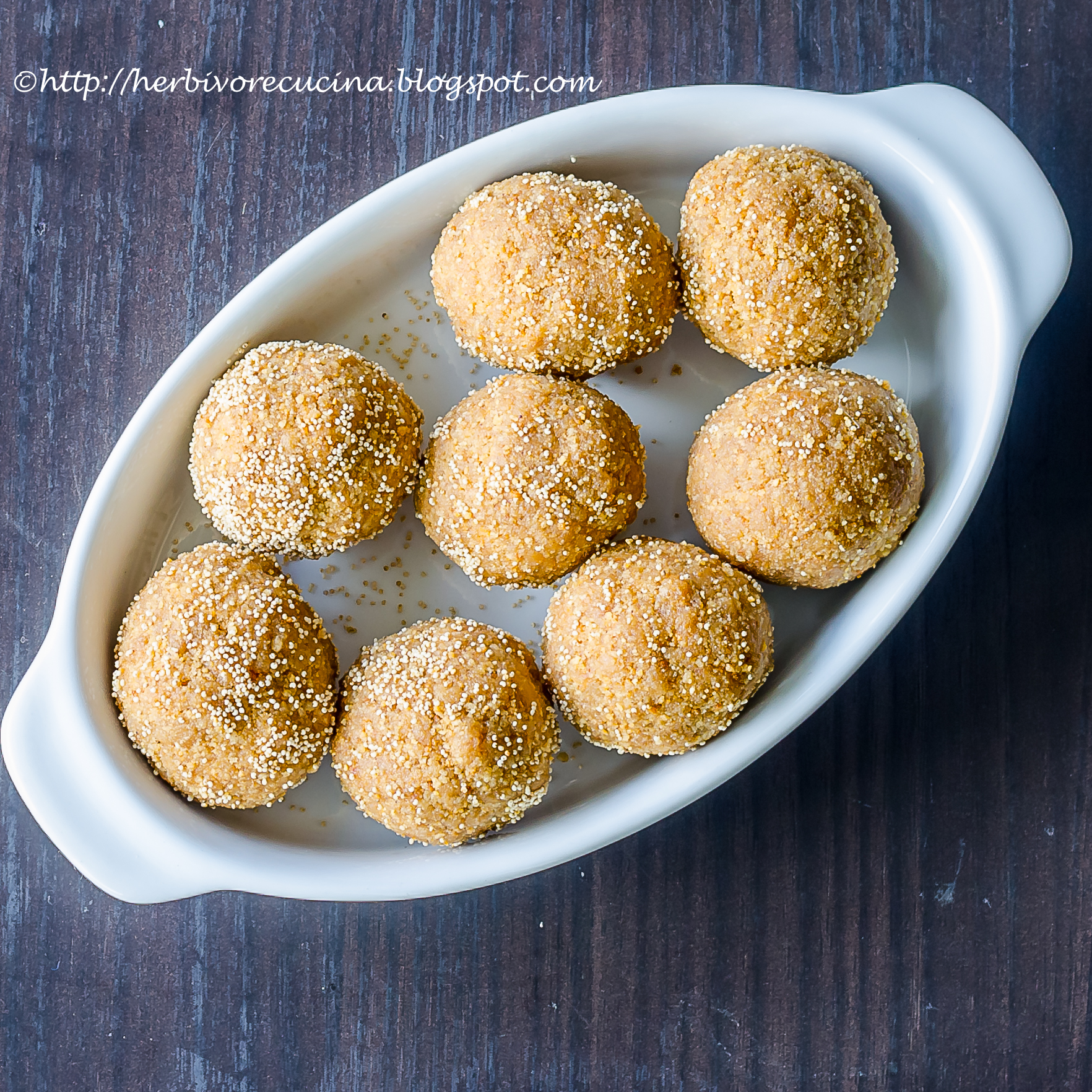 Ingredients
Wheat Flour 1 ½ cups
Semolina/ Rava ¼ cup
Oil 2 tbsp
Water ½ cup
Jaggery ½ cup
Ghee ¼ cup
Nutmeg a pinch
Cardamom 2-3 pods
Poppy seeds (optional)




Method
Put wheat flour and semolina in a mixing bowl, add 2 tablespoon oil. Using ½ cup water knead a dough that is fairly hard. Do not over-knead, just make sure the flours come together. Use some more water if required. Then, using a small portion of the dough, shape it into small log with your palms. Repeat for the entire dough. I could make about 8-10 small sized muthiya using this proportion.
Preheat oven to 350 F/ 180 C. Line a tray with a baking sheet or parchment paper. Place the dough logs and bake them for 20 minutes, till they are slightly brown. Turn them over and bake for another 20 minutes. Once they are evenly brown and are hard, remove and let them cool completely.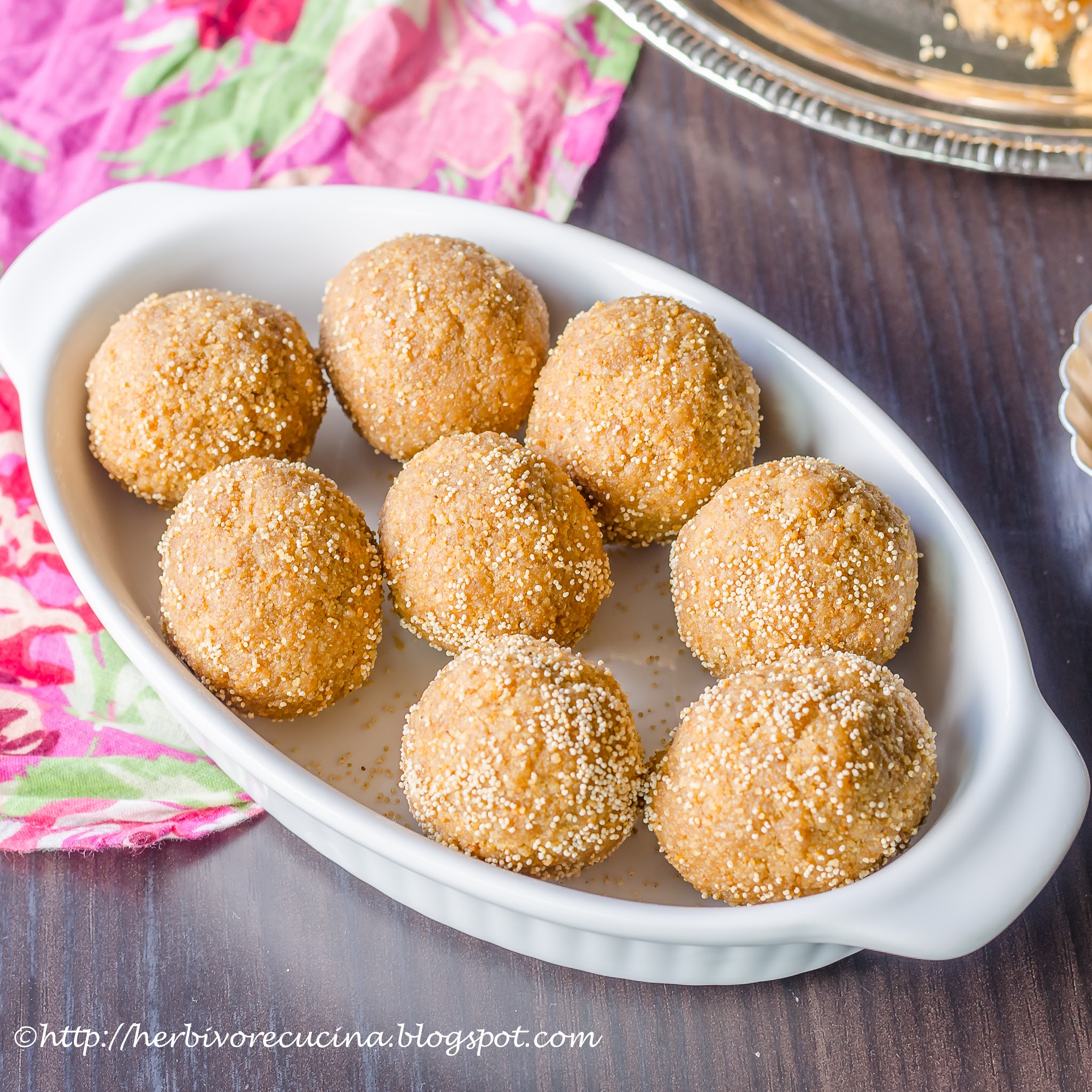 Once the dough balls are cool, grind them to a fine powder using a food processor or mortar pestle. Sieve the powder through a fine sieve and regrind if required. Meanwhile, heat ¼ cup ghee and once it melts, add jaggery. Only heat till the jaggery melts and do not over-cook else the ladoos will be chewy. Add powdered cardamom and nutmeg powder to the churma and slowly add in all the ghee jaggery mixture and mix it all together.
Apply little ghee on the palms and shape the mixture to balls. In a plate, place a handful of poppy seeds. Roll the ladoos in the seds till the poppy seeds stick to it. Alternatively, you can also add poppy seeds to the mixture and roll out the ladoos. Enjoy baked ladoos, a little less guilt compared to traditional ones. I have made the fried ones too, check them here.
Looking for more sweet recipes? Check out these: Bombay Ice Halva, Churma Ladoo, Corn Flour Halva | Karachi Halwa, Dudhi (Lauki) Barfi, Gudpapdi | Sukhdi, Instant Microwave Kesar Peda.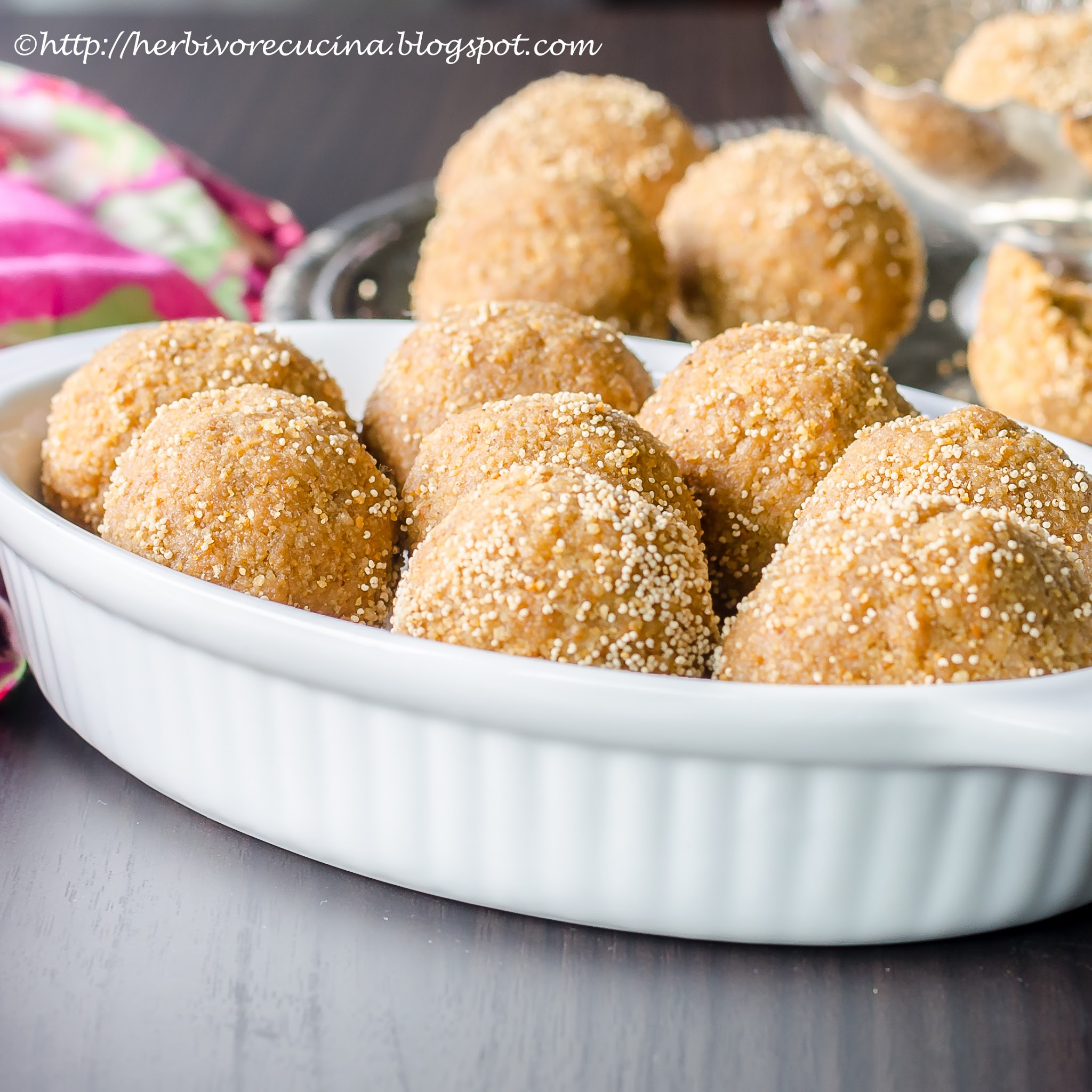 Check out the Blogging Marathon page for the other Blogging Marathoners doing this BM#66