Tomorrow is Ganesh Chaturthi and all the excitement is building up. Though I am not in the midst of it in Mumbai, friends and family make sure we do not miss anything by sharing enough photos and videos on all possible mediums of communication, Whatsapp, SnapChat, Facebook and Twitter. Technology has made it all so simple, but still we miss the fun back home.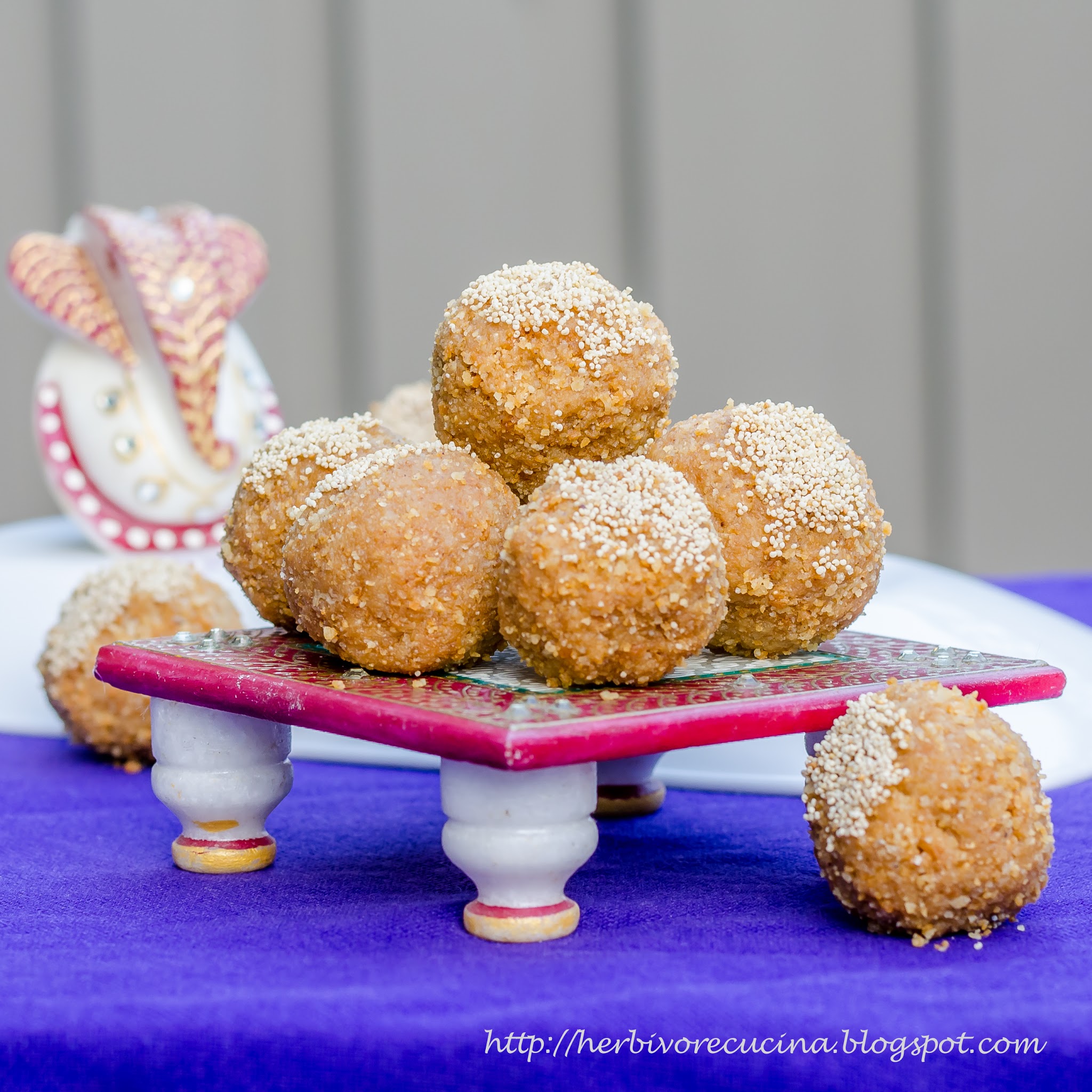 The different sweets made for the Elephant God each day, decorating the Aarti Thali and doing Aarti every evening with friends and neighbors. After ten days of all this comes the day when we used to head out to Juhu Beach to witness the visarjan of all Ganesha idols, big or small. The atmosphere would be filled with a sense of celebration and a little sadness that the festival has ended and Bappa will come back almost a year later. Here in US, we miss out most of these things, but I am glad we have friends who bring home the idol and we all get to celebrate in our own small way.
Generally on the first day people make Churma Ladoos for Ganesha, as it is believed to be his favorite sweet. Churma is essentially made from wheat flour, adding semolina and/or gram flour is optional. While most people use ladoo aat a or a slightly coarsely ground wheat flour, you can make ladoos out of the regular flour too. The sweetness in the ladoos can be got either from sugar or jaggery, mainly determined by family preferences. I have always had the jaggery ones which my mother and grandmother used to make, so I have used the same. However, if you prefer sugar, you can easily substitute it. Then again, the traditional method is to fry them in ghee, however some people fry it in oil too. I have added nutmeg and cardamom powder to the churma, you can also add dry fruits to it. A final topping of poppy seeds not only enhances the look, but also provides great taste and texture. This recipe is enough to make 15 bite sized ladoos or 8-9 large ones.
Ingredients
Wheat Flour 1 ½ cups
Semolina/ Rava ¼ cup
Gram Flour/ Besan ¼ cup
Oil 2 tbsp
Water ½ cup
Jaggery ½ cup
Ghee ¼ cup
Nutmeg a pinch
Cardamom 2-3 pods
Poppy seeds
Ghee/Oil to fry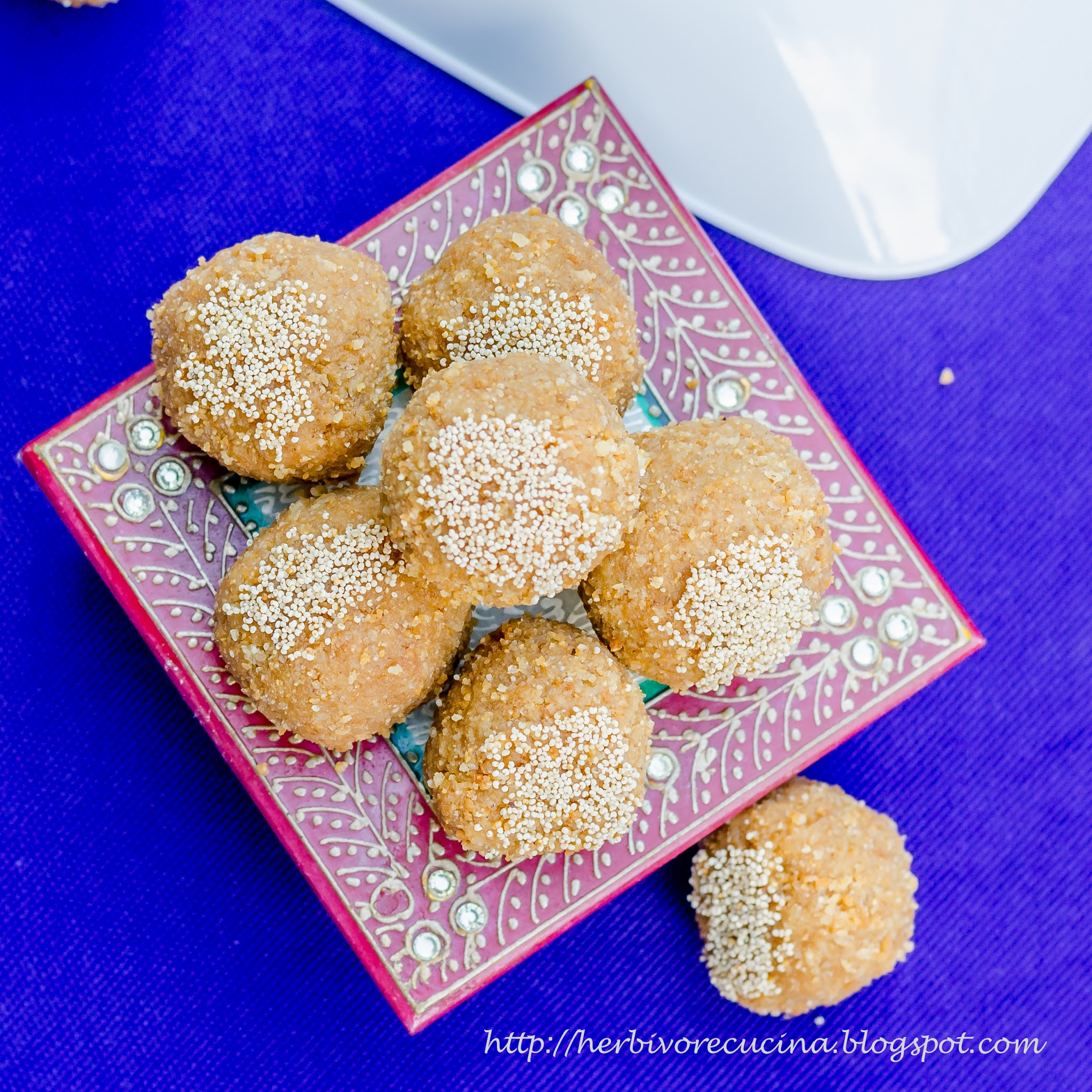 Method
Put wheat flour, semolina and gram flour in a mixing bowl, add 2 tablespoon oil. Using ½ cup water knead a dough that is fairly hard. Do not over-knead, just make sure the flours come together. Use some more water if required but do not use too much. Then, using a small portion of the dough, shape it like a muthiya or small logs with your hands. Repeat for the entire dough. I could make about 7-8 small sized muthiya using this proportion.
Next, heat ghee or oil to fry the muthiya. The traditional way is to use ghee, however certain families now use oil too. Once the oil/ghee is medium hot, drop in muthiyas. Fry them on medium heat so that they are cooked thoroughly from inside and do not remain chewy. Once cooked in about 6-7 minutes, remove and drain on kitchen towel. Make pieces out of them and let the pieces cool.
Once the muthiya are cool, grind them to a fine powder using a food processor. Sieve the powder through a fine sieve and regrind if required. Meanwhile, heat ¼ cup ghee and once it melts, add the jaggery cut into pieces. Only heat till the jaggery melts and do not over-cook else the ladoos will be chewy. Add powdered cardamom and nutmeg powder to the churma and slowly add in all the ghee jaggery mixture and mix it all together.
Apply little ghee on the palms and shape the mixture to balls. When done, roll it in a small plate of poppy seeds. Alternatively, you can also add poppy seeds to the mixture and roll out the ladoos. Store them in an airtight container and enjoy!
For more recipes to celebrate Ganpati, check these out: Kesar Malai Modak recipe using Ricotta Cheese, Cute Strawberry Coconut Modak or Sugar-free Dry Fruit Modak