An easy to make recipe for Ganpati; this Rava Modak needs a few ingredients and comes together pretty easily. Filled with a sweet coconut filling, this is AMAZING, I promise!
We have been celebrating Ganpati in full swing for the last few days. We have a few more days to go before the Elephant God departs for this year. While he is still here, let us make something YUMMY for him.
For those who do not know about the festival, Ganpati is a God we worship and we celebrate a festival for ten days each year. People get home or make an idol of the Lord and place the idol in their house, worship Him for 10 days with flowers, yummy sweets and lots of decoration.
Though it has been a few days since the festival started, I made this lot for offering at a friends' place, so I decided to shoot it and post it here. I was juggling between saving it for later and posting it today; but decided to post it instantly! Probably a few readers will be able to make it this year! So the post is made, shot, offered and written really quickly to ensure it makes it on time.
What is MODAK?


Modak is the sweet that is made in almost every household to offer to the God. It is made in various ways for the Elephant God as it is considered his favorite! The festival of Ganesha ends with an offering of 21 modaks to the almighty!
There are various types of modaks; fried, baked, steamed, no cook and what not! I have been updating the blog with a couple of recipes each year, it is amazing to see how the list is growing. If you would like to see the different versions; check these out:
After all these types, I wanted to make something different this past weekend. So I converted the well known Indian dessert Sheera to modaks. Sheera is a sweet dish made from roasted semolina. I started off with a similar recipe and added some sweet coconut in the middle.
The filling I made was from jaggery and coconut and given that it would be sweet, I skipped adding sugar to the semolina cover. The sweetness was balanced well in the entire modak and we LOVED it.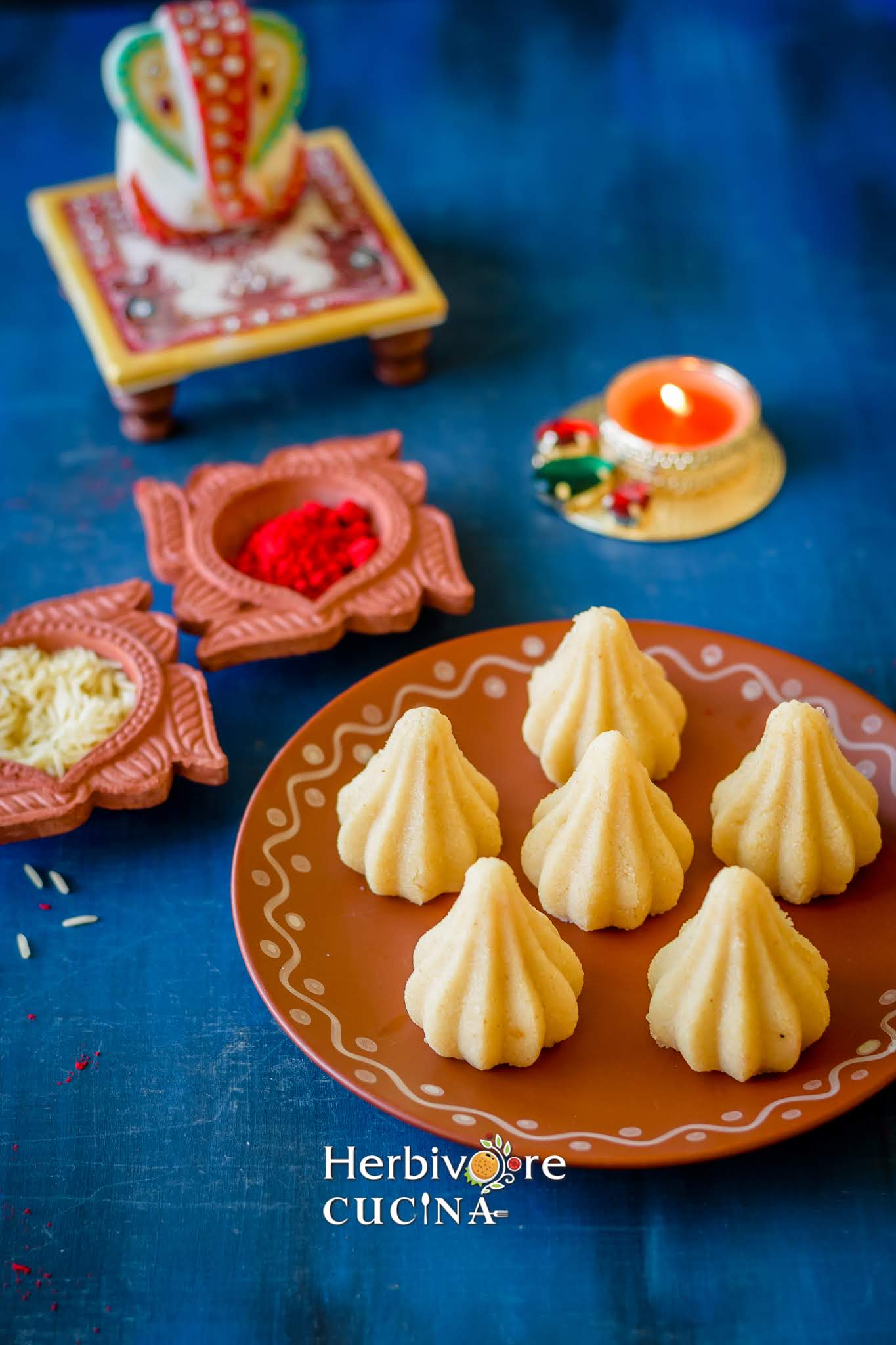 Variations
I made a simple version with no additions to the rava. Adding saffron strands or flavors like rose or cardamom is also a good idea. Add some sugar once the milk is boiling if you would like a sweet cover. However, balance with the filling sweetness to achieve the right mix.
The filling can be modified by adding dessicated coconut instead of fresh, adding some poppy seeds or extra nuts like cashews and raisins.
Making these is fairly simple and there is little to mess up in the recipe. However, just make sure the jaggery does not become super hard while making the filling. It is the worst to make it all and not be able to bite into it!
These modaks can be made before hand and refrigerated. They taste amazing at room temperature so it is best to remove from the refrigerator a few minutes before having it.
If you are making these for any other occasion, you can convert the same into ladoos or pedas. It is all about the shape; the taste will be just as great however you make it!
Here are the sweets I made over the weekend to offer. The other recipes included in the photo are:


Ingredients
For the filling
Fresh Coconut ½ cup
Jaggery ¼ cup, crushed or cubed
Ghee/Clarified Butter ¼ tsp
Cardamom Powder ⅛ tsp
Almonds 2-3, minced
For the cover
Fine Semolina/Rava ½ cup
Milk ½ cup, room temperature
Water ½-3/4 cup
Ghee/Clarified Butter 2 tsp
Cardamom Powder ⅛ tsp
Salt a pinch
Method
For the Filling
In a pan add the ghee and heat. Once it melts, add jaggery and coconut. Let the jaggery melt for a couple of minutes. Do not cook it for too long else the filling will become hard.
Add cardamom powder and almonds, mix well and turn down the flame. Transfer to a plate and set aside.
For the Cover
In the same pan that the filling was made, add the rava/semolina. Dry roast for 7-8 minutes on medium flame, till it becomes aromatic. Transfer to a plate.
In the pan add milk and ½ cup water. Heat the two for two minutes on medium flame and then add 1 ½ ghee and salt.
Mix well and bring to a boil. Once it boils, slowly add the roasted semolina and keep mixing till it all thickens up. It takes about 7-8 minutes to thicken. If it feels very hard, add some more water. The amount of water depends on the rava and each time you might require little extra or less water.
Once the mixture thickens, turn down the flame and remove in a plate. Let the mixture cool a little till it can be touched by hand.
Grease your palms with some ghee and knead the mixture to a smooth dough. Also grease the modal mold and keep ready. Divide the coconut jaggery filling in 8 parts.
Pinch a small piece of the semolina mixture and press it in the mold. make sure it covers the sides. Then place a coconut jaggery ball and seal using the semolina mixture.
Remove from mold and repeat to make the remaining modaks. I could make a 8 medium sized modaks from the quantity mentioned above.
Enjoy immediately or refrigerate and enjoy for 4-5 days.