When chocolate comes together with a handful of yummy ingredients you get a YUMMY recipe for Ganesha. These chocolate modaks are easy to make yet addictive!
I cannot imagine Ganesh Chaturthi is almost here. One of the BEST celebrated festival in Mumbai, we love to sing dance and have lots of fun during this ten day festival.
Along with all the fun and frolic; there are a LOT of sweets. Offering sweets made specially for the Elephant God is always on everyone's mind. And modak is the sweet that is made the MOST to celebrate.
Modak is a traditional Indian sweet made from various ingredients. There is a steamed version made from rice flour and coconut, a fried version made using similar ingredients and multiple variations made using mawa, milk, coconut and a ton of other ingredients.
Every year I make a few types of modaks and post them here. It is awesome to see the collection build and here are some of my favorites:
Why Chocolate Ricotta Modak?
This year I wanted to make something different and delicious. So I made a recipe FULL of chocolate. It has been on my mind for a while. So glad I finally made it this year.
Chocolate modak is made using one of the most versatile ingredients; Ricotta Cheese. This ingredient works well for all kinds of sweets and is a great replacement for Indian Mawa. It has a great crumbly texture and it can be mixed with any flavors to make it delicious. Chocolate goes really well with ricotta and makes the recipe yummy.
Ricotta cheese is one of my favorite ingredients to work with. It goes well with savory recipes as well as sweet. Plus, it is easily available in US, at grocery and specialty stores. I generally have a tub in my refrigerator through festive season. It helps make some yummy recipes for all Indian festivals.
Variations
I made chocolate modaks using the recipe. However adding just saffron strands or ground cardamom also works to make them. Some folks like to add some milk powder for a richer flavor, but I like to stick to milk.
The same recipe can be used to make pedas. If you do not have the modak mold or are making these delights for Diwali or Rakhi; use the dough to make round pedas and press them down with an almond in the centre. They taste equally yummy.
With just a little preparation before time, a handful of ingredients and a NO FAIL recipe, an sure you will make these Modaks this year for Ganesha. Looking for more recipes for Ganesh Chaturthi? Check this post: Ganesh Chaturthi Recipes.
Ingredients
Ricotta cheese 1 tub (32 oz)
Sweetened Condensed Milk 1 can (14oz)
Unsweetened Cocoa Powder ¼ cup
Milk 2 tbsp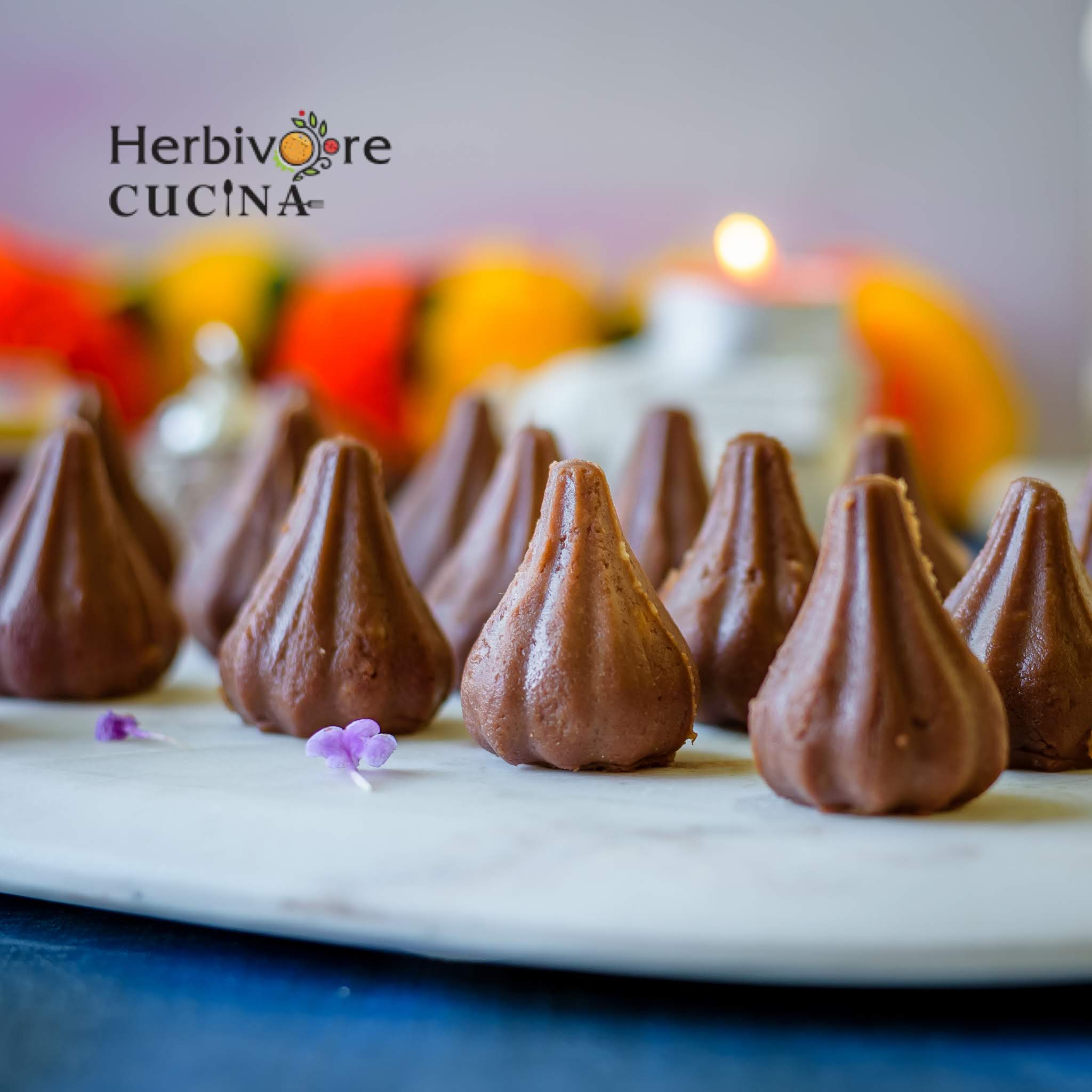 Method
In a heavy bottom pan add the ricotta cheese and set it on medium flame. Cook the cheese for about 25-30 minutes, till all the water evaporates and you are left with a crumbly cheese similar to Indian Mawa.
The same can be done in the microwave. Place a bowl of ricotta cheese in the microwave for 4 minutes. Remove, mix and repeat the process 3-4 more times till the water evaporates.
Next add sweetened condensed milk, milk and cocoa powder to the cheese and mix well. Let the mixture cook on medium flame for about 15 minutes or until it becomes thick.
Remove a teaspoon of the mixture on a plate and let it cool. If the mixture feels dry, it is cooked to the right consistency. Turn off the heat and let the mixture cool for some time, till you can handle it with your hands.
Once cool, knead it a little to remove any particulate matter. Now to shape, you can either make flat pedas or use a modak mold and make modaks out of the mixture. Store in the refrigerator and enjoy for up to a week.