A traditional offering to Lord Ganesha, these steamed Rice Flour dumplings stuffed with sweetened Coconut mixture are super delicious!
The festival of Ganesha, the elephant God just came to an end yesterday. It is one of the festivals that is LOVED by every Mumbaikar. I believe that once you witness Ganesha in Mumbai, it is difficult to compare with other cities. Every year, I want to go back to celebrate the festival in India.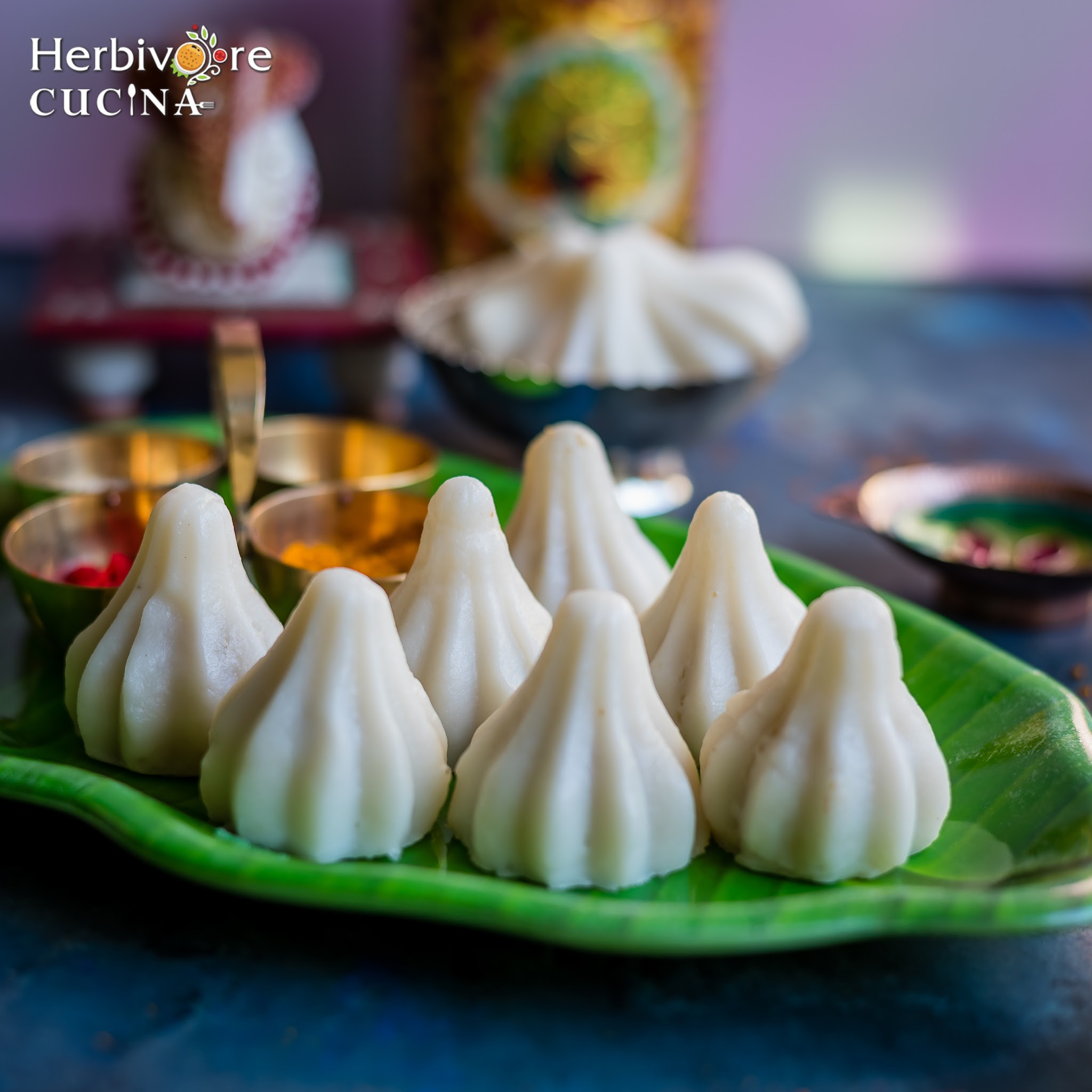 However much I miss my hometown on festivals like these, I am glad to be in a part of US where every Indian festival is celebrated with a lot of preparation, glamour and enthusiasm. We have a friend who used to bring home an idol of Ganesha for many years; and now in an effort to go eco-friendly, we make the idol at home using terracotta.
This year we went a step further and made a colorful temple to seat the God. It was a great experience doing it all from scratch! Now that every preparation from idol to temple was in place, I decided to make a different sweet for each day; that makes it 10 sweets in 10 days!
While I did make a few from the blog; like Sweet Saatha, Kesar Malai Modak and Baked Churma Ladoos, this time I made and shot these steamed modaks. The recipe does look intimidating at first, but if you have made Rice Flour Khichu or Rice Flour Idiyappam | String Hoppers before; it is pretty much a breeze!
Every time I post a recipe from a cuisine that resembles a completely different dish from another cuisine; I am forced to think how different cultures use similar ingredients to make such delicious recipes! This recipe is one of those! Why? Read on to find out.
Traditional Steamed Modaks v/s these
I have had steamed modaks in India, those beauties that are shaped with hand and stuffed with coconut, jaggery and nuts. However, I am no expert at that and I have friends who wanted a simpler version of the dish. It is strangely satisfying to see how well the experts fold the modaks with minimum effort. For beginners, it might be a BIG challenge as getting the modaks of similar thickness all over is not so easy.
So I ditched the traditional approach and made the same modaks using a mold. They look even, are easier to make and almost no fail as there is little chance of them bursting on steaming.
Simple steps to make Ukadiche Modak
Coming to the recipe, let's break it down to simplify the process. First, the name of the sweet is Ukadiche Modak; the former word meaning steamed in Marathi, a local Indian language and the latter word is to describe the shape of the sweet.
This recipe has three main parts; the outer cover, the filling and the steaming process. The outer cover is essentially just rice, water and salt; only important thing being the proportions and method to bring it together. The filling can be modified from the one I have here; based on what you like. The steaming process is similar to any dumplings or dhokla steaming; hot water that does not touch the base of the utensil that holds the modaks.
Here is a small observation from across cuisines. Gujaratis use steamed rice flour to make a spicy and savory dish called Rice Flour Khichu. The dough is made in boiling water and then balls made from the steamed dough are cooked further by steaming. I have had a South Indian dish Rice Flour Idiyappam or String Hoppers; an amazing recipe similar to that of khichu, but not spicy at all. These steamed rice noodles can be made savory or sweet. And now another version of steamed rice flour that is stuffed with sweet coconut.
Ingredients (For 12-13 modaks)
For the Filling
Grated Coconut fresh/frozen 1 cup
Jaggery ½ cup
Cardamom Powder 1 tsp
Almonds, cashew nuts and raisins ¼ cup
For the Cover
Rice Flour 1 cup
Water 1 ¼ cup
Ghee/Clarified Butter ⅛ tsp
Salt a pinch
Method
To make the Filling
Add grated coconut in a thick bottom pan and heat on medium flame. Let the coconut cook for about 3-4 minutes. Then add grated jaggery and mix well. The jaggery will melt because of the heat, keep stirring to avoid it from burning.
Once all the jaggery melts and the coconut mixture thickens, add slivered almonds, cashews and raisins. Also sprinkle the cardamom powder and mix well.
The mixture should be dry to touch. It takes about 10-12 minutes from start to finish. Turn down the heat and set aside.
To make the Cover
Heat 1 ¼ cup water in a pan. Add a pinch of salt. When the water comes to a boil, add ghee and mix well.
Now add the rice flour, stirring vigorously to ensure no lumps are formed. Cook for 3-4 minutes on medium flame, till the rice flour and water come together as a dough ball.
Turn down the flame and transfer the dough to a plate. Cool for sometime, such that it can be handled using bare hands.
Once cool, knead the dough well for 4-5 minutes. Divide it into 12-13 equal size parts.
To Assemble and Steam
Before you start to make the modaks, prepare the steamer with 2 cups of water. I like to use a thick bottom pan with a sieve on top. Let the water come to a boil while you make the modaks.
To use a mold, line the mold with some ghee. Place a dough ball in the mold and line the surface evenly with it. Make a cavity in the middle, and fill it with the coconut filling. Seal the base with the leftover dough.
Repeat for all the modaks and set them aside. Just before placing them on the steamer, brush some water on top.
Arrange the modaks on a steamer, leaving some space for expansion. Steam for 14-15 minutes for modaks of medium thickness. Thick outer covering will take longer to cook.
Remove and add a drop of ghee on top. Enjoy!