Gulab Jamuns; soft, succulent and melt in mouth dumplings, floating in saffron and cardamom flavored syrup. One of the best Indian sweets made with a surprising ingredient!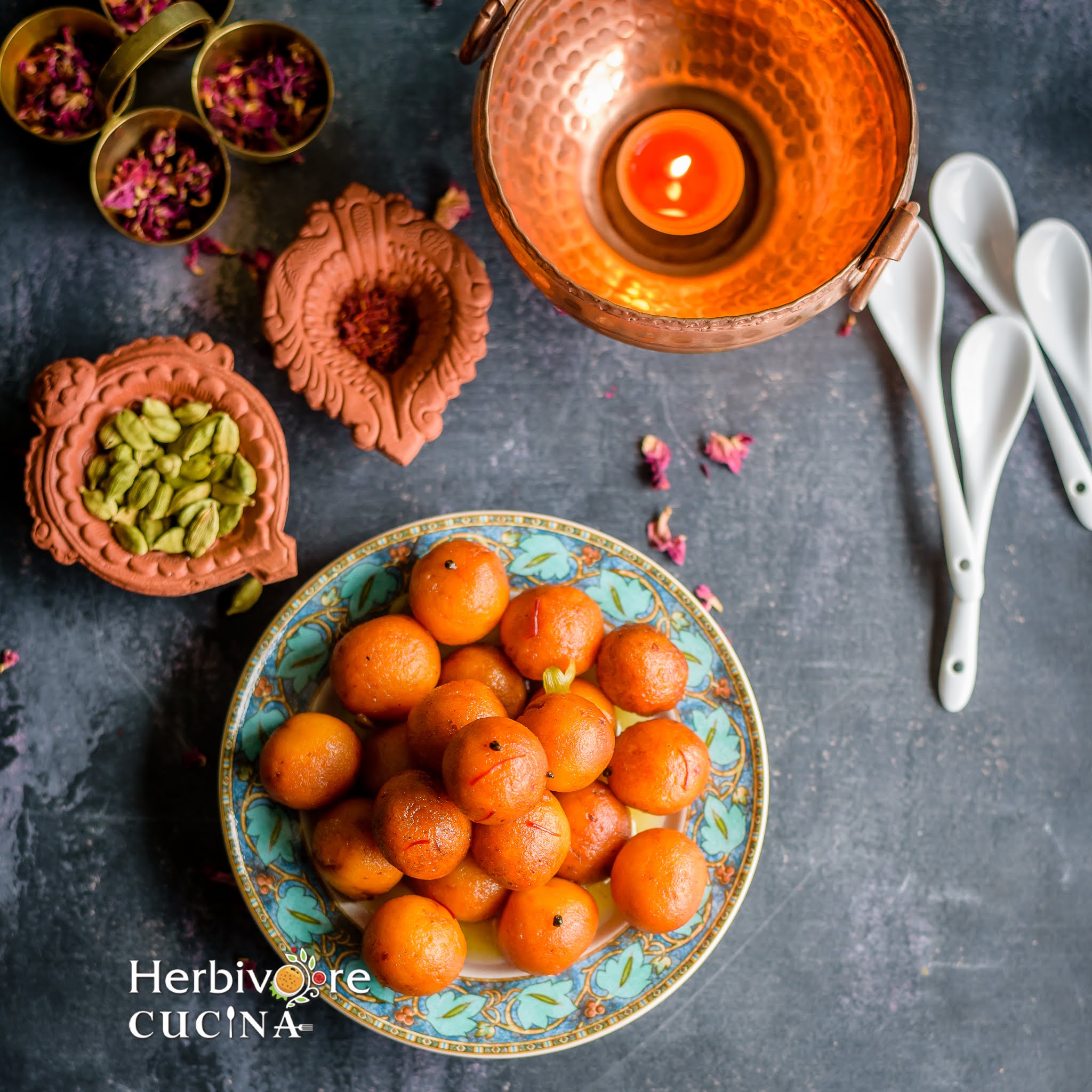 Hello folks! I have been away for over a month and finally I am back to blogging! Over the last month or so we have been super occupied with moving into our first house and setting it up. I have been knee deep in moving and spending time with family for a few weeks. That kept me away from blogging; but close to other things I love!
The new home is now our abode, family is back to India after making some super awesome memories that will last a lifetime! And now, it is back to this space; my little space that lets me write about the recipes I cook, the cuisines I try and the small tricks that make cooking less tedious and more fun.
In the chaos that happened, an important day passed us by. The day I started the blog was this week and it is now FOUR years that I have been posting here. To celebrate all of the wonderful that went by this part month, here is a sweet that we LOVE at home.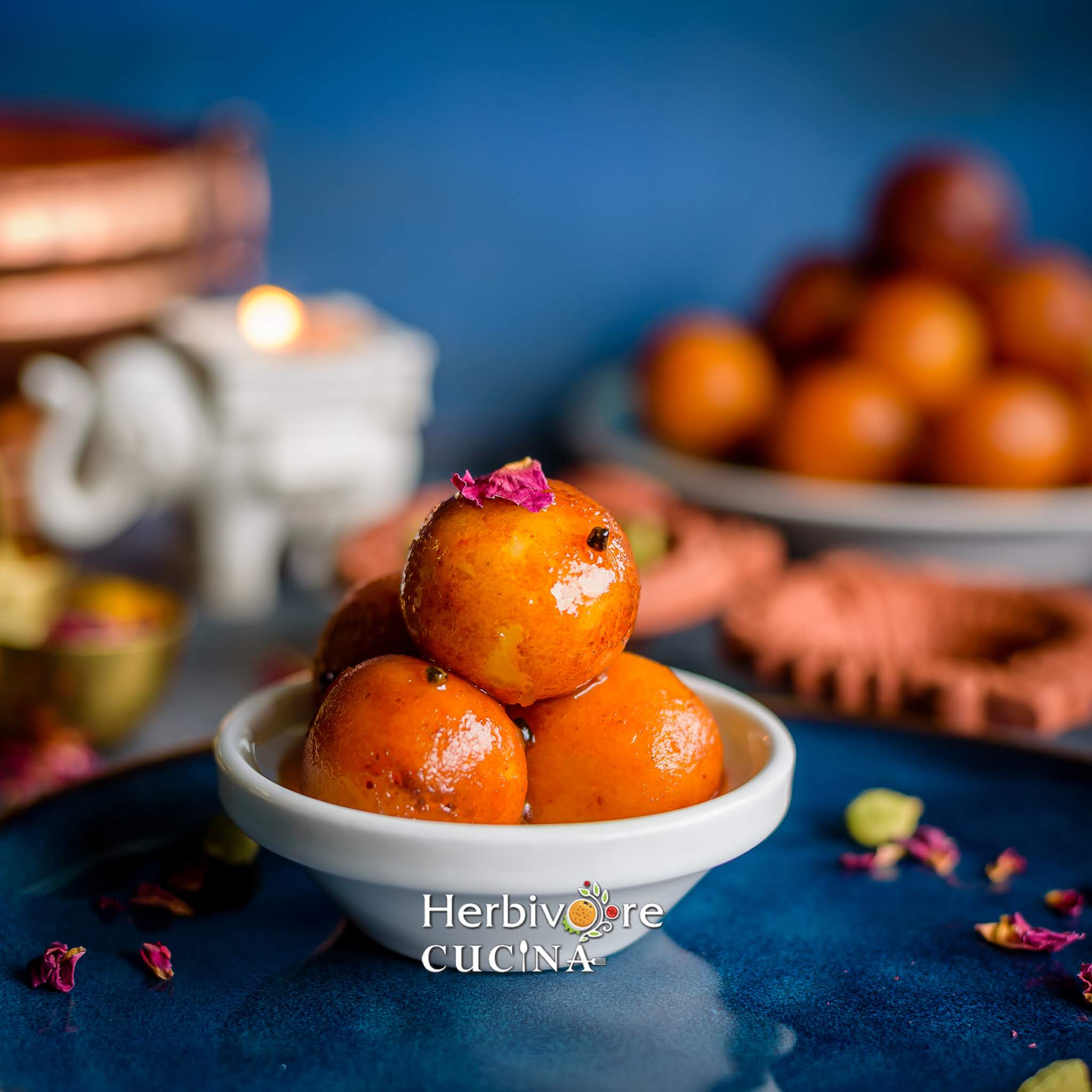 Gulab Jamun, a yummy Indian dessert that is on the favorites list for almost EVERYBODY! Rounds of mawa or milk powder fried in ghee or oil and dunked in sugar syrup and enjoyed warm or cold. We LOVE it best with a scoop of Vanilla Ice Cream!
The traditional recipe to make it is by using mawa or milk powder. However, I LOVE to use Ricotta Cheese in my kitchen and it gives some awesome results. Over the last few years I have used Ricotta Cheese in the following recipes:
So you see how much we love that cheese! It works great in sweet and savory recipes. It has such a great texture and super versatile in all recipes. This time I used it to make Gulab Jamuns and they turned out SO GOOD; I am not going back to any other recipe again!
Gulab Jamun is one of our family favorite recipes! Whether it is a family get together or a festival, we LOVE it each time. Sometimes served as a sweet dish with dinner or with a scoop of ice cream as dessert.
Though it takes a while to make them, they are super yummy and we can finish them all in NO TIME! Especially when you make them of a smaller size thinking you can enforce portion control. Those are the times I am guilty of eating too many of the mini ones 🙂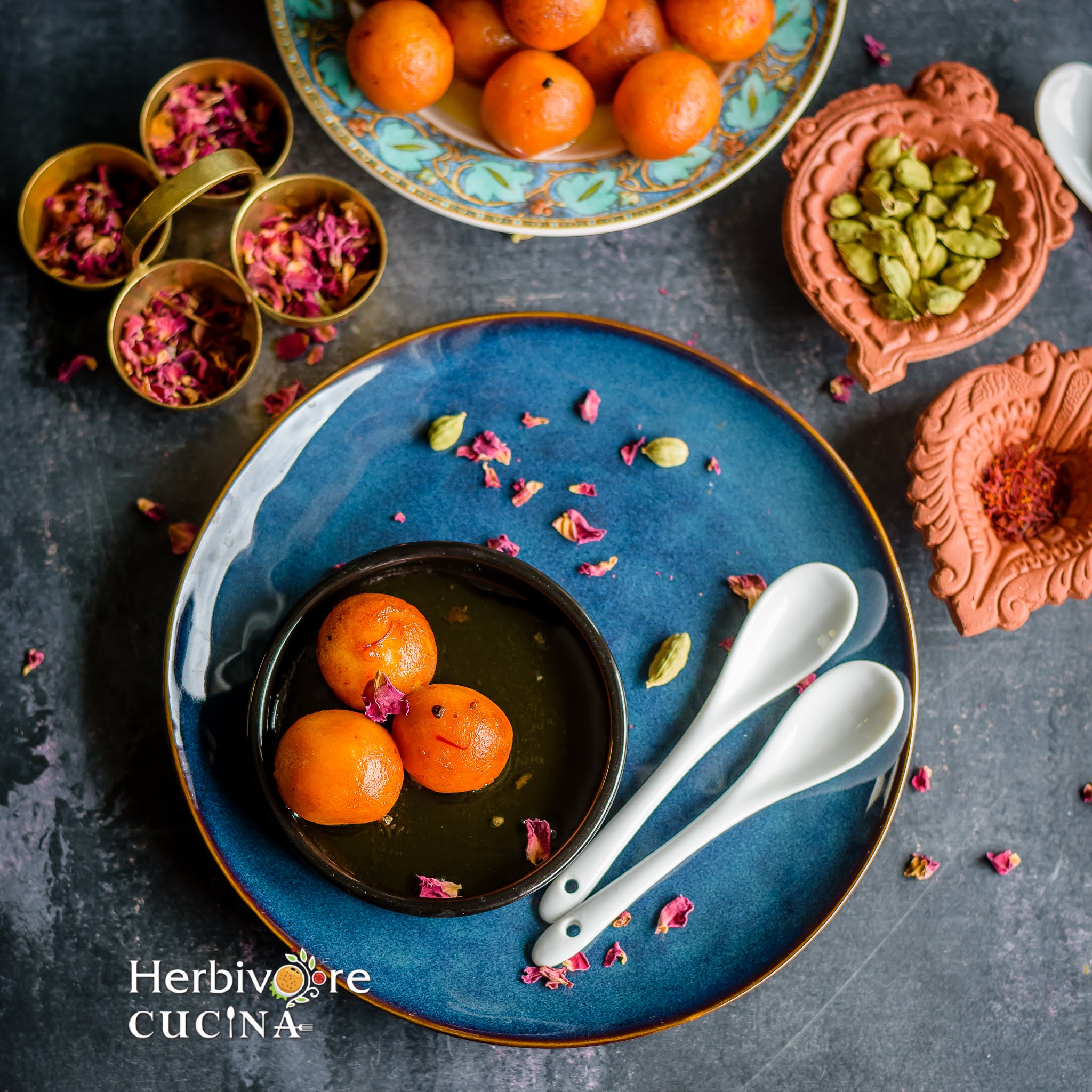 Coming to the recipe, I made these with ricotta cheese. This cheese helps make them easily and this recipe never fails. In this recipe I added some maida or allpurpose flour and a few other ingredients. These ingredients are needed to perfectly cook the gulab jamuns. A pinch of baking soda is important to make them nice and soft. Cardamom seeds and saffron in the jamuns is optional, but they make the jamuns delicious!
The most important part of the recipe is the sugar syrup. Made with just a few ingredients, the thickness of the syrup determines the success of the recipe. So make sure the consistency is right. It is pretty simple, just needs some patience to get it right!
Once the syrup and the ricotta cheese balls are ready, all that is left is to mix them and let the balls soak the syrup. And an AMAZING dessert is ready for your party! So read on and see how to make them perfectly each time!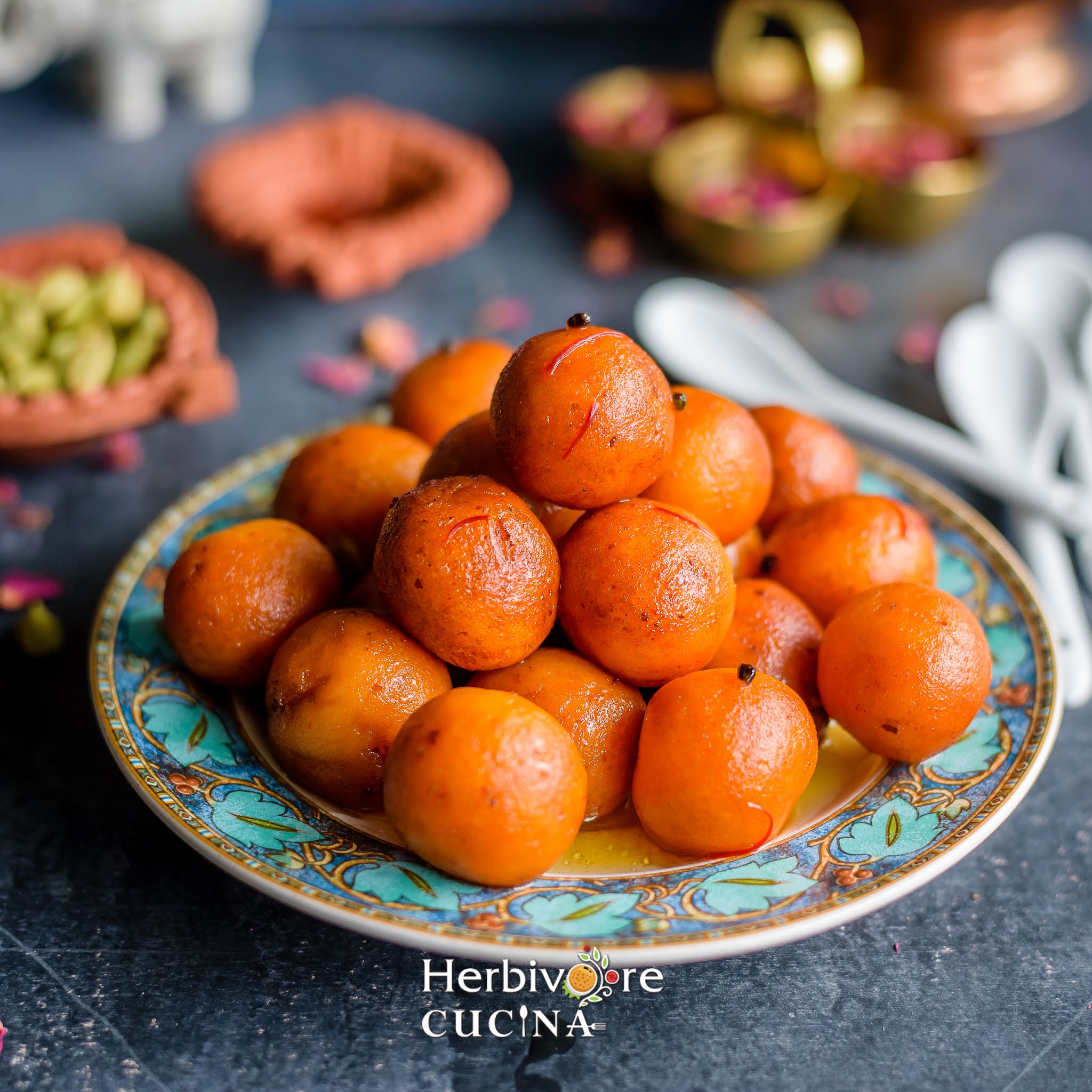 Pin for Later
Ingredients
For the Jamun
Ricotta Cheese 2 cups
Allpurpose flour/Maida 2 tbsp
Baking Soda ⅛ tsp
Milk 2 tsp
Cardamom Seeds ¼ tsp
Saffron Strands a pinch
Oil/ghee to fry
For the Syrup
Sugar 2 cups
Water 1 cup
Cardamom Seeds ¼ tsp
Saffron Strands a pinch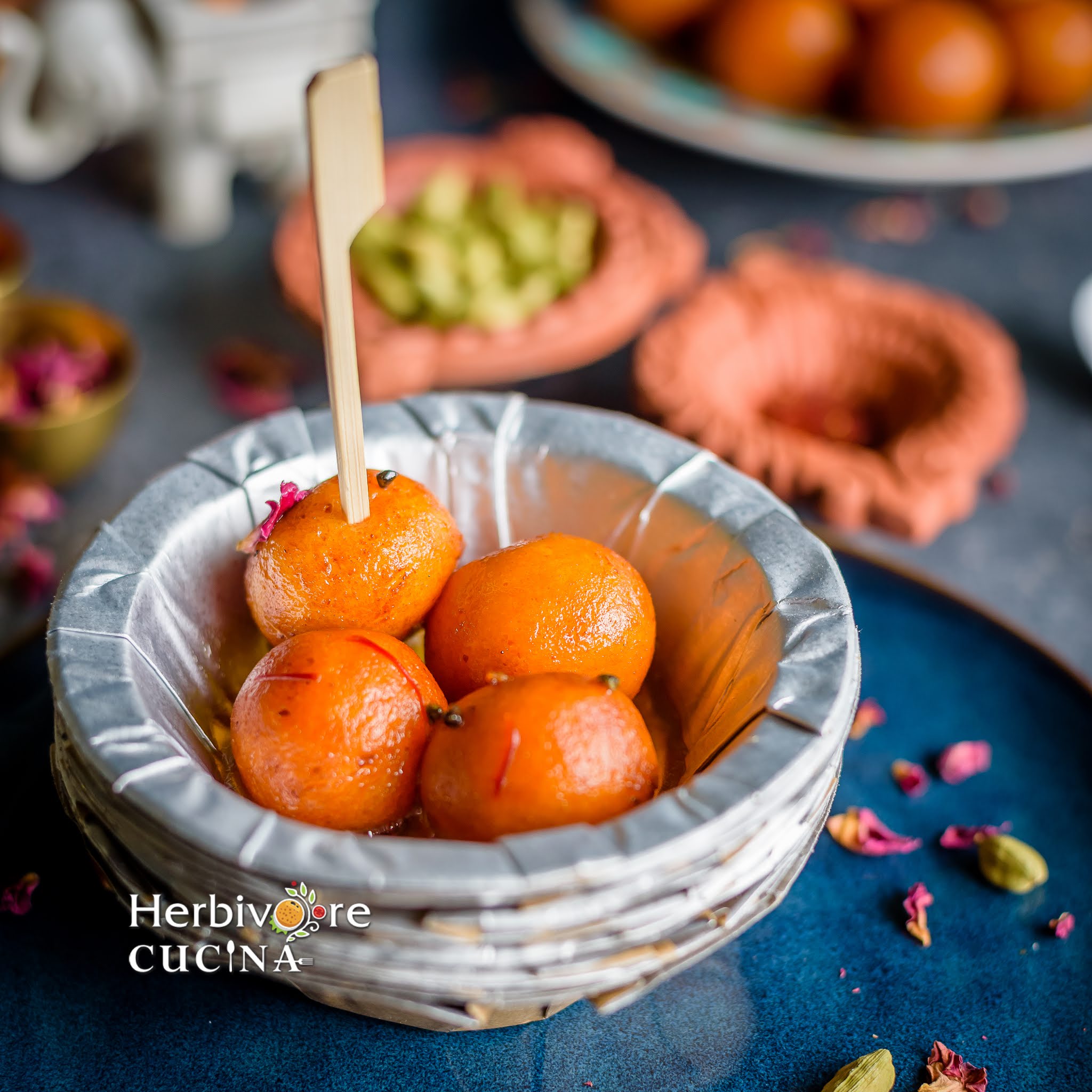 Method
In a pan add ricotta cheese and cook on medium flame for about 20-25 minutes. This should result in a dry crumbly mixture. Alternatively, microwave the ricotta cheese 5-6 times; for 1 minute each time.
Let the mixture cool. Knead it using your palms for a few minutes; till it is smooth and grain free.
Add all purpose flour, baking soda, cardamom seeds and saffron. Mix well and knead to form a soft dough. Add a couple of drops of milk to make the dough moist. You might not need the entire milk, so add as needed.
Once the dough is formed, set aside for a few minutes. Meanwhile, heat water and sugar for the syrup till the sugar melts and the syrup is thick. Add cardamom seeds and saffron strands, let simmer for a few minutes and turn the heat down.
Start making small balls of the ricotta mixture. Ensure there are no cracks, use milk if needed to make the balls smooth.
Heat oil or ghee in a pan. Fry the ricotta balls on medium flame till the balls are golden brown. Remove and dip in the syrup. Let the gulab jamuns absorb the syrup and serve warm or cold.