Spanakopita is a Greek savory pie made from spinach and feta cheese. This is served as an appetizer at dinner. This puff pie is similar to the traditional spanakopita but made healthier by replacing feta cheese with ricotta cheese. Also, to enhance the taste, I have added Sweet corn kernels. These kernels give us something t o bite on, as spinach and ricotta are both really smooth.
A simple recipe that requires just a few ingredients and is easy to make. A healthy dish made from puff pastry which has just a teaspoon of butter and is enriched with spinach and ricotta. This dish can be served as breakfast or as an appetizer for dinner. It also comes handy for those sudden evening hunger pangs!!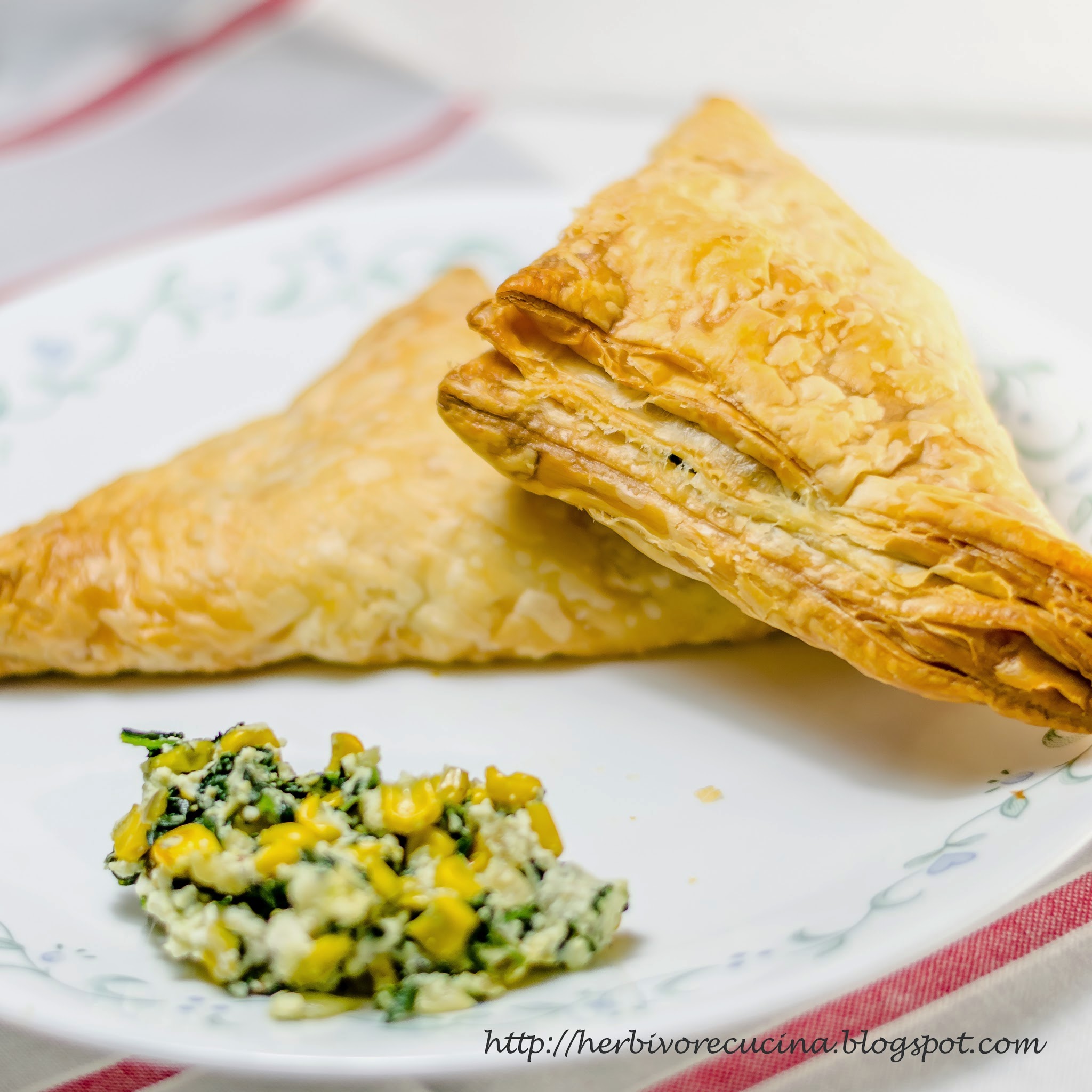 Ingredients
Puff Pastry sheets
Spinach 1 cup
Sweet Corn kernels ½ cup
Ricotta Cheese ½ cup
Italian Seasoning 2 tsp
Salt, Pepper, Lime Juice
Butter 1 tsp
Method
Thaw the puff pastry on the kitchen counter as per the instructions on the packet. It generally takes 40-45 minutes to thaw the pastry sheets. Wash and shred the spinach. Transfer to a mixing bowl, add a pinch of salt and set aside for 5-10 minutes. After 10 minutes, squeeze out all the water from the spinach and lay it on the kitchen towel to dry.
In a pan, heat butter and add the corn kernels. Let them cook for about five minutes and then add in the dry spinach. Mix well and season with salt, pepper, lime juice and Italian Seasoning. Let the mixture cook for 5-6 minutes on medium high flame to ensure it becomes dry , and then turn down the flame. Let the mixture cool a little bit. Crumble the Ricotta cheese and add it to the cooled mixture and mix well.
Preheat oven to 350 F/ 180 C. Lay the puff pastry sheet on a rolling board and roll it out to a square of 8 inches. Place the filling on half the pastry sheet and fold over the other side to form a triangular or rectangular puff. Using water, milk or egg wash seal the edges properly. Repeat for all the puffs and lay them on a baking sheet or a baking tray lined with cooking spray or oil.
Bake the puffs for about 20-25 minutes till the top is brown in color and crispy and flaky. Remove from the oven and serve immediately. These puffs taste best when eaten directly after making them. If left for a while post baking, they might tend to get little soggy. In case you have left them for a while and want to serve them, reheat them only in a preheated oven. Heating them in a microwave will completely ruin the crispy texture!
Serve with your choice of Hot Sauce or Mayonnaise. Enjoy these healthy puffs for breakfast or as a snack.
Wondering what to do with the remaining puff pastry sheets?? Try these easy to make Khari Biscuits or these Sweet and Savory Pinwheels.