Fresh Zucchini flowers stuffed with cheesy herb filling and baked to perfection. This low calorie version of an Italian Classic recipe is a keeper!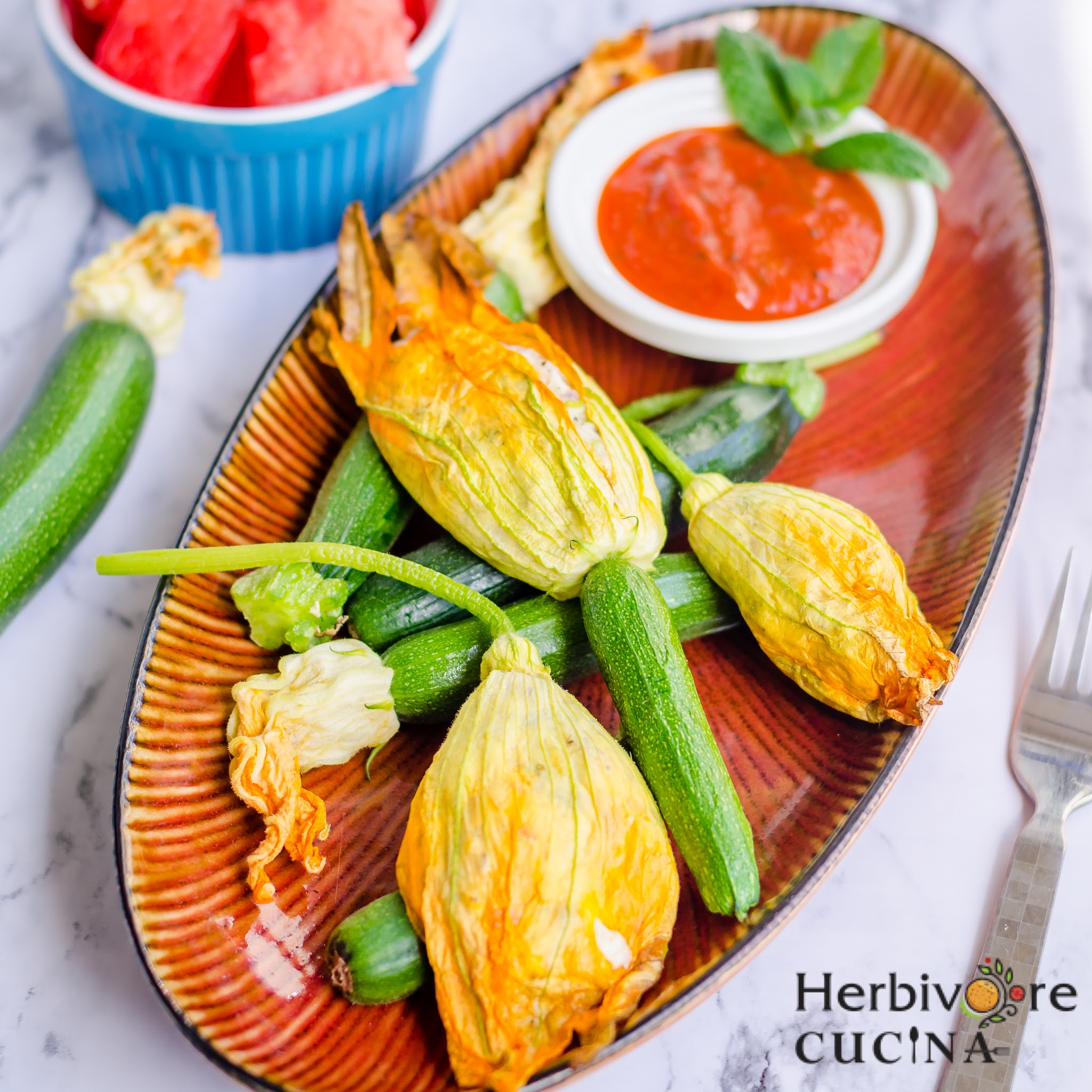 Every year I start small container garden in Spring. While herbs, peppers, mint, lemongrass and cilantro are planted every year, I try a couple of new vegetables every season. This time I decided to grow Zucchini, Broccoli and Eggplant. And boy, they are growing really well.


I decided to plant Zucchini Squash not as much for the zucchini themselves as for the blossoms. We have enjoyed an Italian version of Deep fried Zucchini blossoms stuffed with cream cheese and cottage cheese. For a long time we wanted to try a BAKED version at home.
So while the plant slowly grew big and started bearing buds, we waited for some healthy bright flowers to make an appearance. Sure enough, they started blooming in May and we are enjoying them and the baby zucchinis so often now!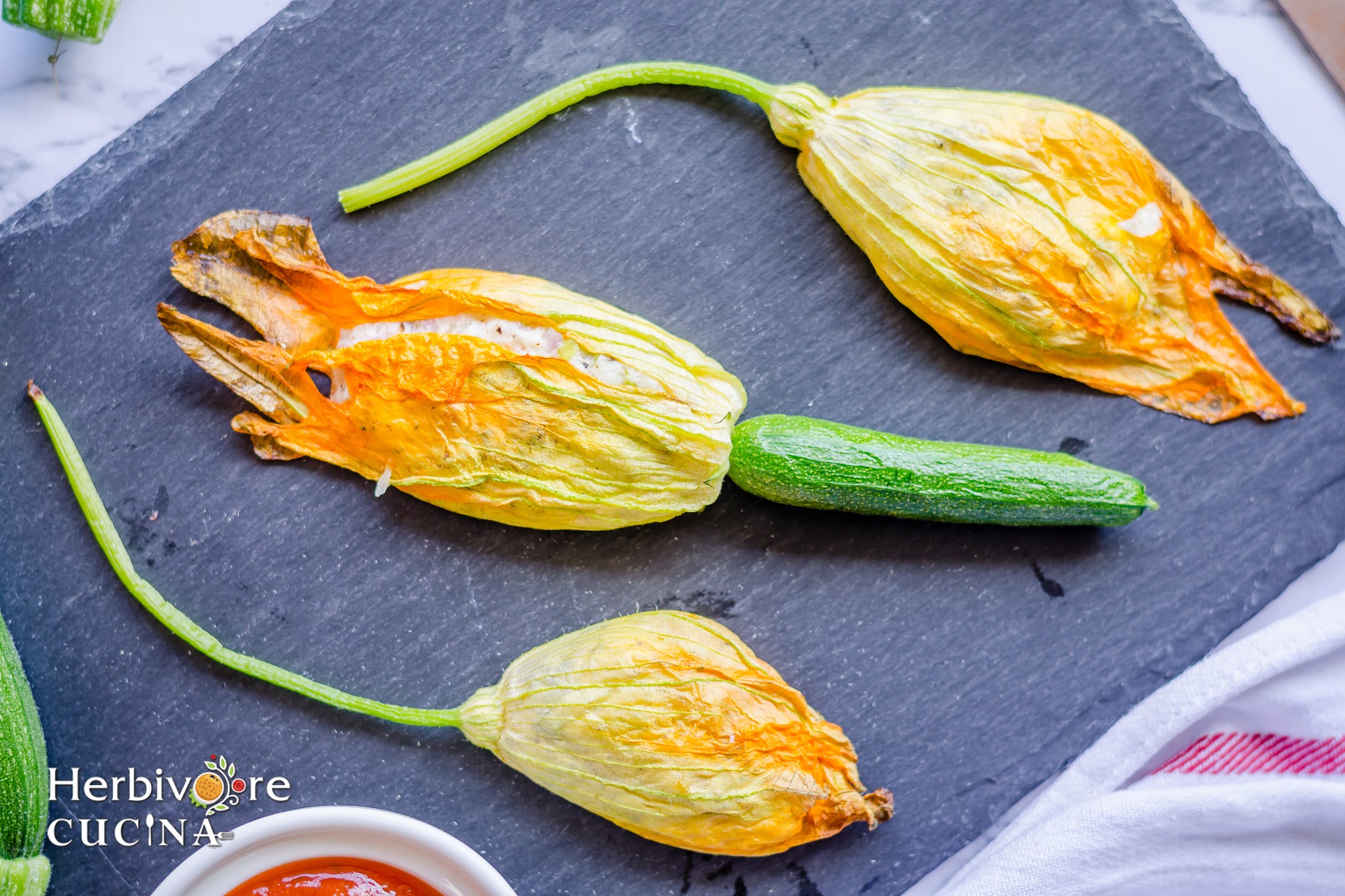 While the only dish I have had using the blossoms is this stuffed version, I believe Eastern India also have a pakora recipe made from these blossoms. Now I have that in mind, can't wait to try them with my next lot of flowers.
I have an unlimited supply of these flowers until spring, but if you do not have these, do not worry. I have seen many Farmer's Markets sell bags full of these flowers. Just make sure you use the flowers the same day as you buy them. It is recommended to consume the flowers in under 24 hours after harvesting.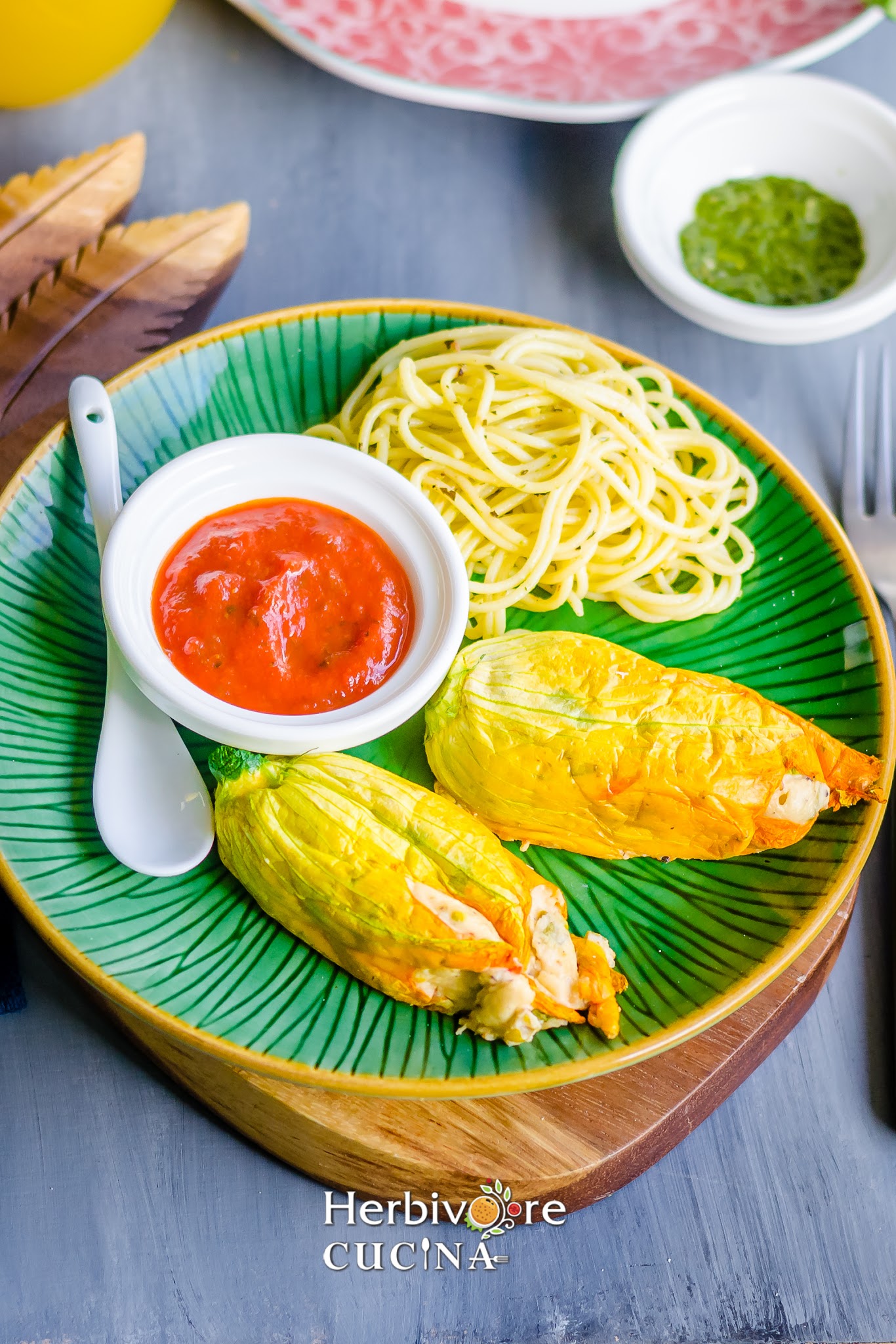 The first time I had zucchini blossoms was in an amazing place in Boston. The Italian restaurant had these on their menu and I could not resist them. They were deep fried and all the cheese oozed out the moment you cut them. The taste was spectacular and the flavors really bold. I have been wanting to make them since. Finally, with these blossoms in full bloom, I made them recently!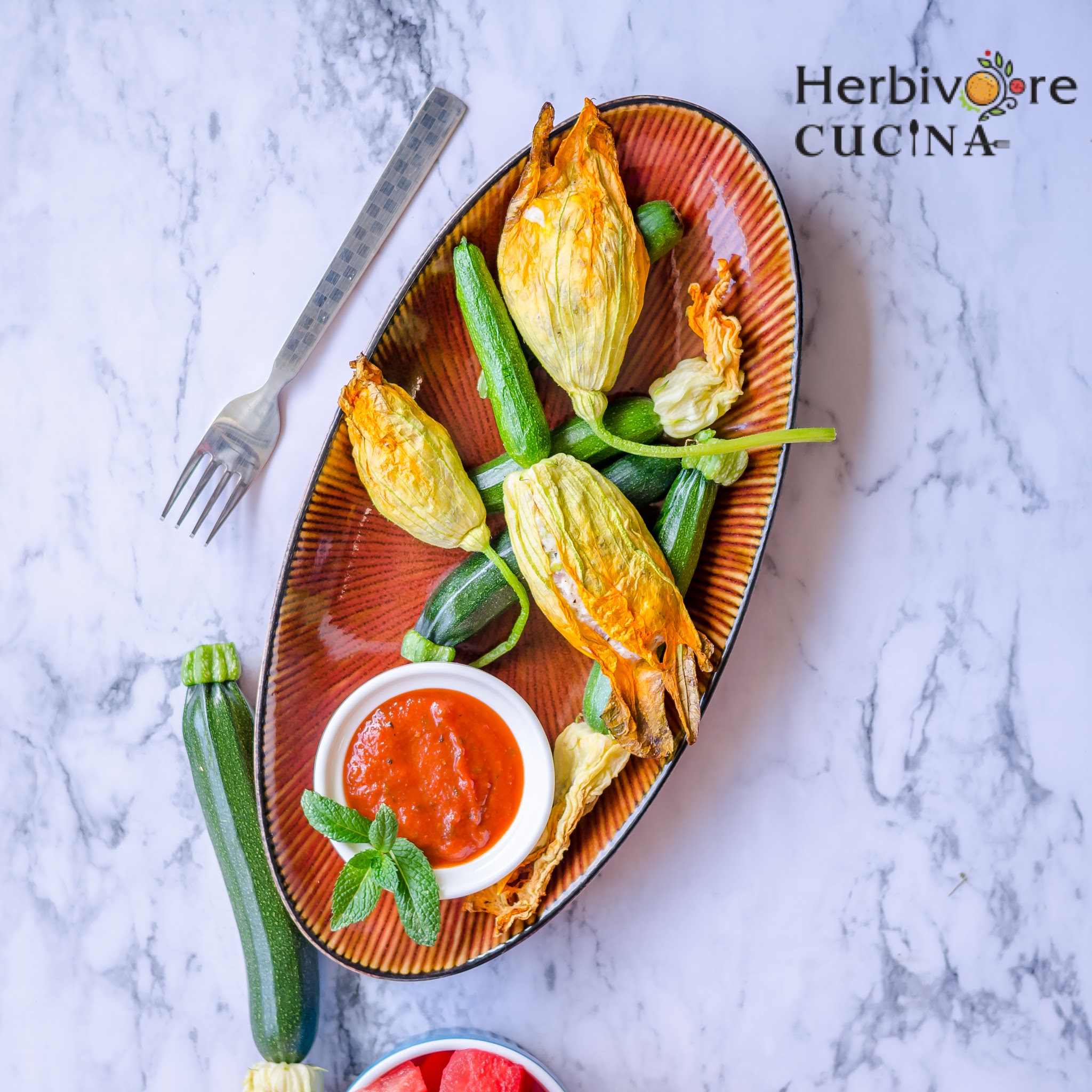 Variations


I stuffed these blossoms with a combination of cottage cheese and cream cheese. However, you can choose one or the other depending on what you like. Plus, make changes to the garlic, onion and spices with a different filling if you like.
Another big change is that I baked these instead of frying. You can go ahead and fry them. Just make sure you wrap them really well to ensure the filling doesn't ooze out. Coating the flowers with breadcrumbs or panko helps to seal the filling in there.
If you have small flowers, piping the filling into the flowers works really well. I like to do that to avoid spreading the stuffing all over the flowers. It works like magic!
I can't wait to make yet another batch of these and a big batch of fried blossoms!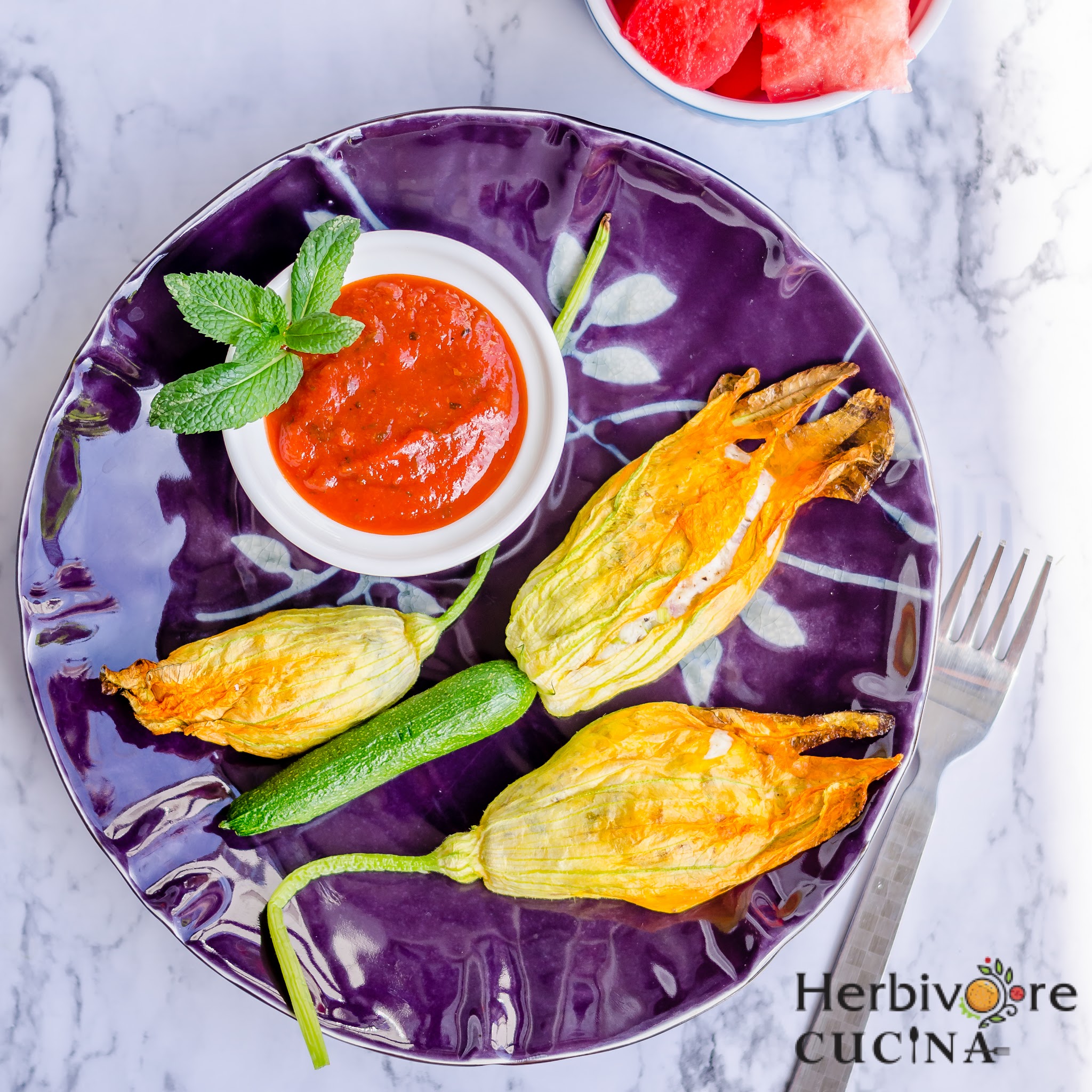 Ingredients
Zucchini Blossoms 3-4
Cream Cheese 2 tbsp
Cottage Cheese 2 tbsp
Mozzarella Cheese 2 tsp
Garlic 2-3 cloves, minced
Onion ½ cup, diced
Basil 2-3 leaves, minced
Oregano/ Italian Seasoning ½ tsp
Chilli Flakes ½ tsp
Olive Oil 1 tsp
Salt and Pepper to taste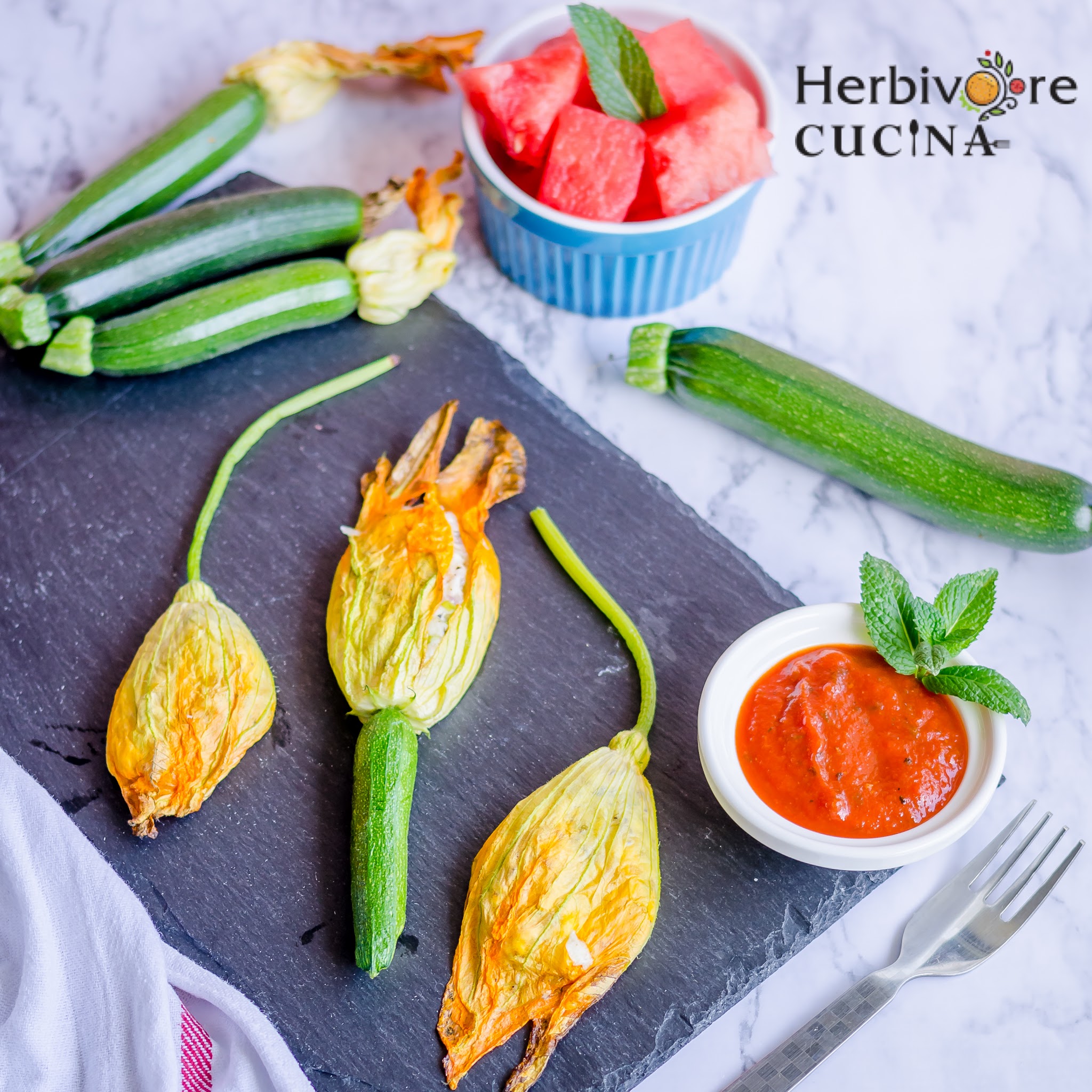 Method
Wash the flowers and remove the green parts. Wash in cold water and store in the refrigerator between paper towels.
When ready to make, first heat oil and add garlic. Sauté till fragrant and add the onion. Sauté for a couple of minutes and turn down the flame.
Once cool, add the cream cheese, cottage cheese, mozzarella and mix well. Finally add the basil leaves, oregano, chilli flakes, salt and pepper. Mix everything well.
Preheat oven to 400F/ 210 C. Fill each blossom with the filling. Ensure to keep some room to fold the edges. Push down toward the base with a spoon.
Twist the tops and seal. Place in a baking tray lined with parchment paper. Bake for 15-20 minutes or till the edges start to darken; turning them over once in between.
Remove and serve with Marinara Sauce on the side.