Today is the last day of the auspicious Ganpati festival. Over the last nine days I prepared different sweet treats, some from the blog, rest coming up soon. One of the simplest treats I made was these Wheat Flour Modaks. The festival is incomplete without these sweet treats. Making nine different kinds of modaks is not very easy. So on days when you are pressed for time, give this one a shot!
The recipe is essentially wheat flour halwa, shaped as modaks. This makes it really easy to serve and pretty too. Not to mention, this method helps achieving portion control you get by limiting to one modak. Though it is pretty difficult to limit to one! This idea was my mom's, when I asked her for ideas for making different kinds of modaks. Apparently, some people make a big batch of halwa and press it down in plates. Once set, they can be cut into pieces and served. I used the same method and instead of cubes, I molded them in modaks.
The whole recipe needs just six ingredients that can be easily found in any pantry. Wheat flour, ghee and jaggery are not uncommon in any kitchen. Then, the remaining three ingredients can be used or omitted based on availability and preference. I love to add almonds and poppy seeds for a little texture, cardamom gives a distinct flavor to the modaks. However, one may add or choose to omit these ingredients.
From start to finish, these modaks can be made in under 30 minutes! While it takes just 8-10 minutes to cook the flour and jaggery, the remaining time is taken up in cooling the mixture and molding the modaks. The recipe yields 12 modaks in 1 cup flour. The same proportions can be used to make halwa that is served as an Indian sweet. We shall enjoy these and wait for next year to make some more interesting sweets for Ganpati!
Ingredients
Wheat Flour 1 cup
Jaggery ¾ cup
Ghee ½-3/4 cup
Cardamom Powder 1 tsp
Almond and Pistachio 2 tablespoon powdered
Poppy Seeds 1 tsp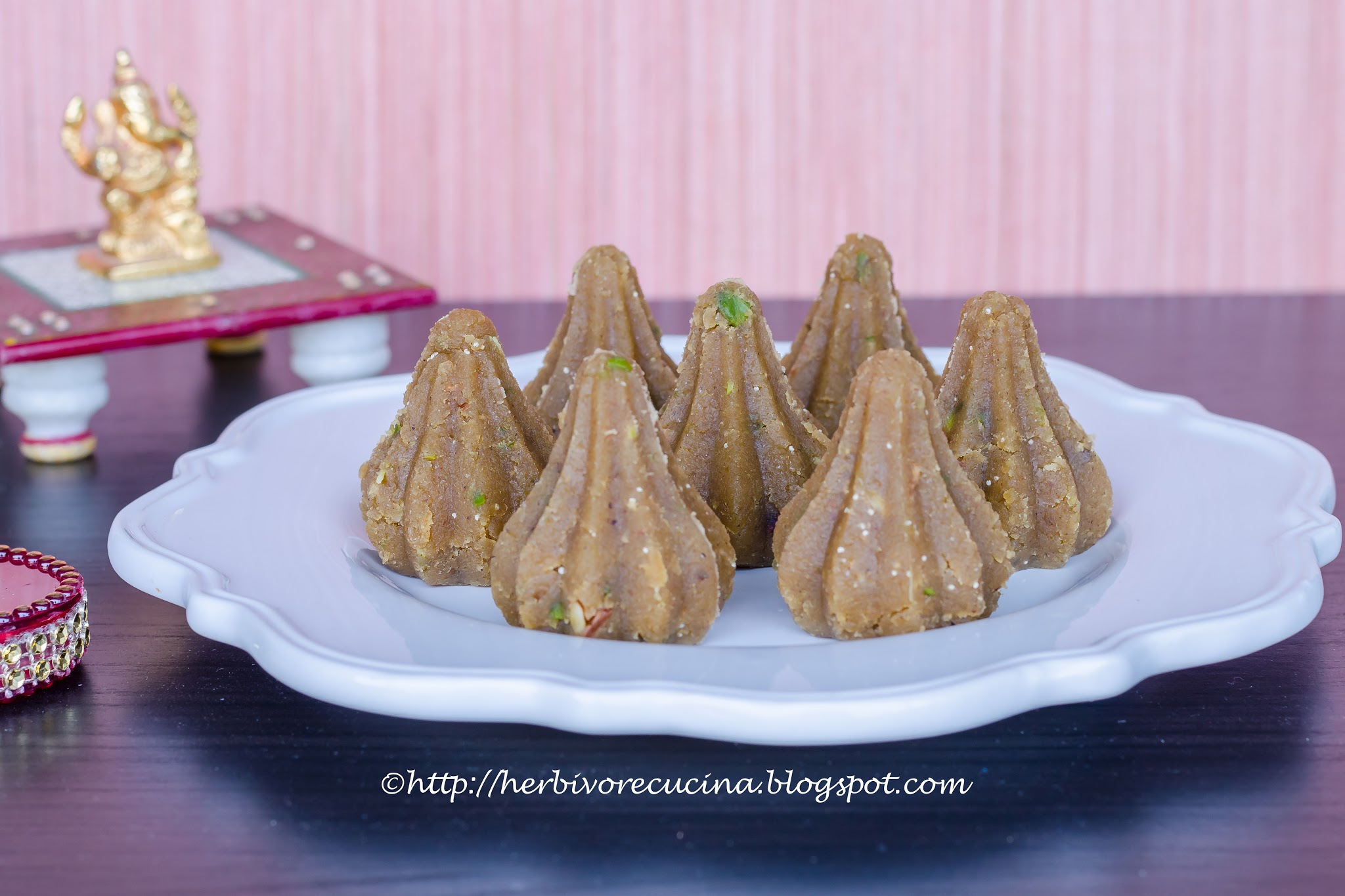 Method
In a pan heat ½ cup ghee. Once the ghee is molten, add the flour and roast on medium flame till it is darker in color and fragrant. Keep stirring to ensure the flour does not stick to the bottom. If it becomes dry, add some more ghee, a teaspoon at a time.
Meanwhile, in a thick bottom pan heat a cup of water and add jaggery. To melt the jaggery quickly, cut it to small bits. Heat the mixture till the jaggery is molten, do not boil it.
Once the two mixtures are ready, add the jaggery to the cooked flour and quickly mix it in on medium flame. Add ghee if needed. Keep stirring till the mixture starts to come together as a ball. Once it does, turn down the heat and add cardamom powder, almond and pistachio powder and the poppy seeds. Mix well and cool till it can be handled with bare hands.
Line a modak mold with molten ghee. Press the halwa in it and unmold. Repeat till you finish off all the mixture. I could make 12 modaks from the given proportions.