Enjoy your next Summer picnic or party with these Baked Spring Rolls. Easy to make, super delicious and perfect as a finger food, it is difficult to stop eating these!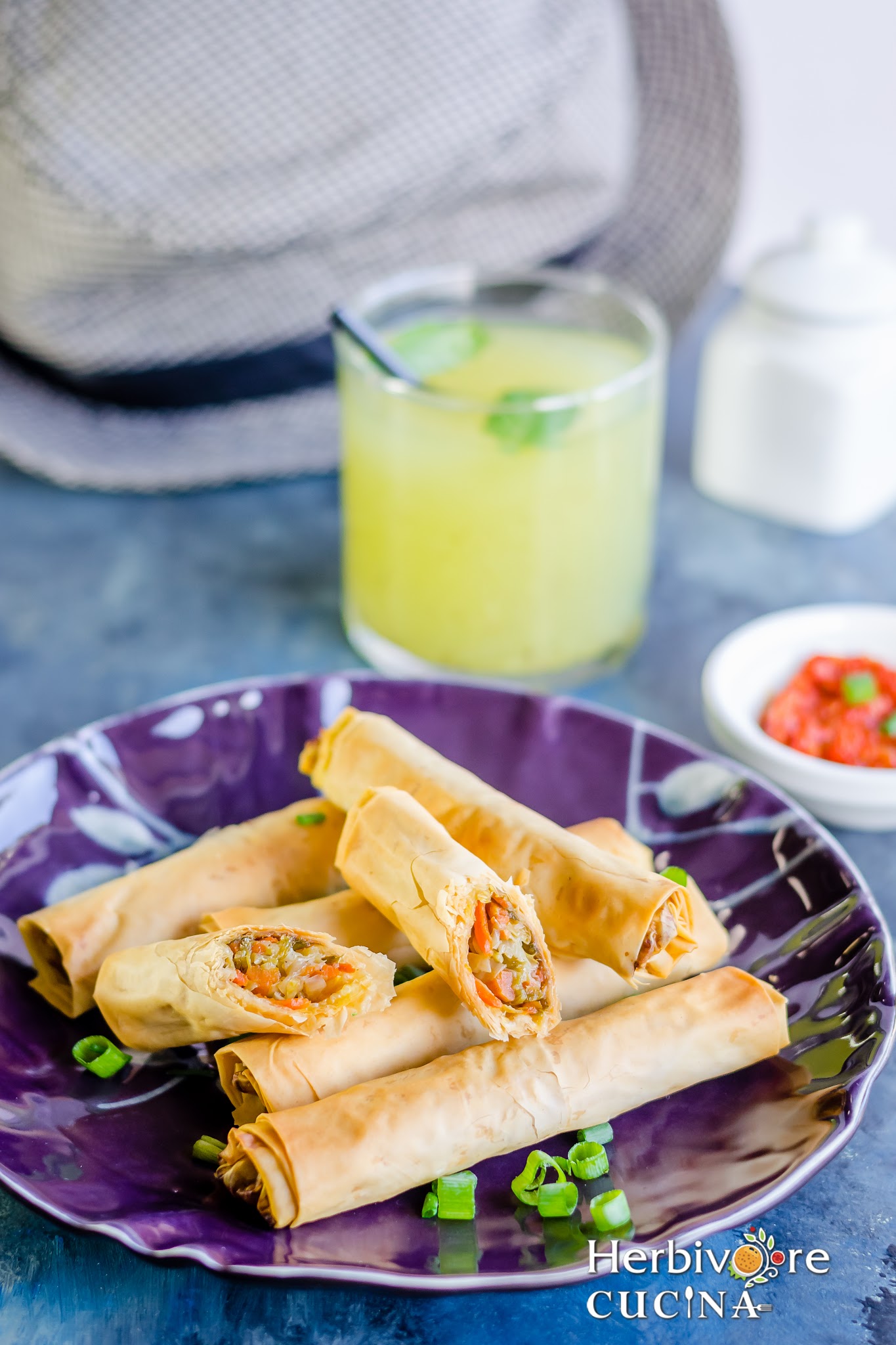 Summers mean picnics, barbecue parties and road trips. As the days get warmer and longer, it is fun to get out and enjoy. During the summers we generally plan atleast one road trip every month. Besides we sometimes do an impromptu picnic in the park or on the beach.

When planning what all to take for a picnic, food is always the most discussed topic. Ensuring you take everything that will not spill, will not spoil in a few hours and is healthy and delicious. Sandwiches, theplas, cookies and chips are perfect for every picnic. But when you are planning an outing every weekend, it might get boring.

For any picnic the planning needs to be really meticulous. The plates, bowls, glasses and cutlery needs to be in place. Then the paper napkins, trash bags and other small things need to be taken care of. When you have so much to plan, you need recipes that are simple to make and do not need too much time preparing.

One of my favorite dishes for picnics is this one. Spring rolls that are stuffed, rolled and baked make the perfect party food. The recipe is super easy, needs ingredients that one will generally have in the pantry and are non messy to eat. I like to make them small so that they do not need to be cut before serving.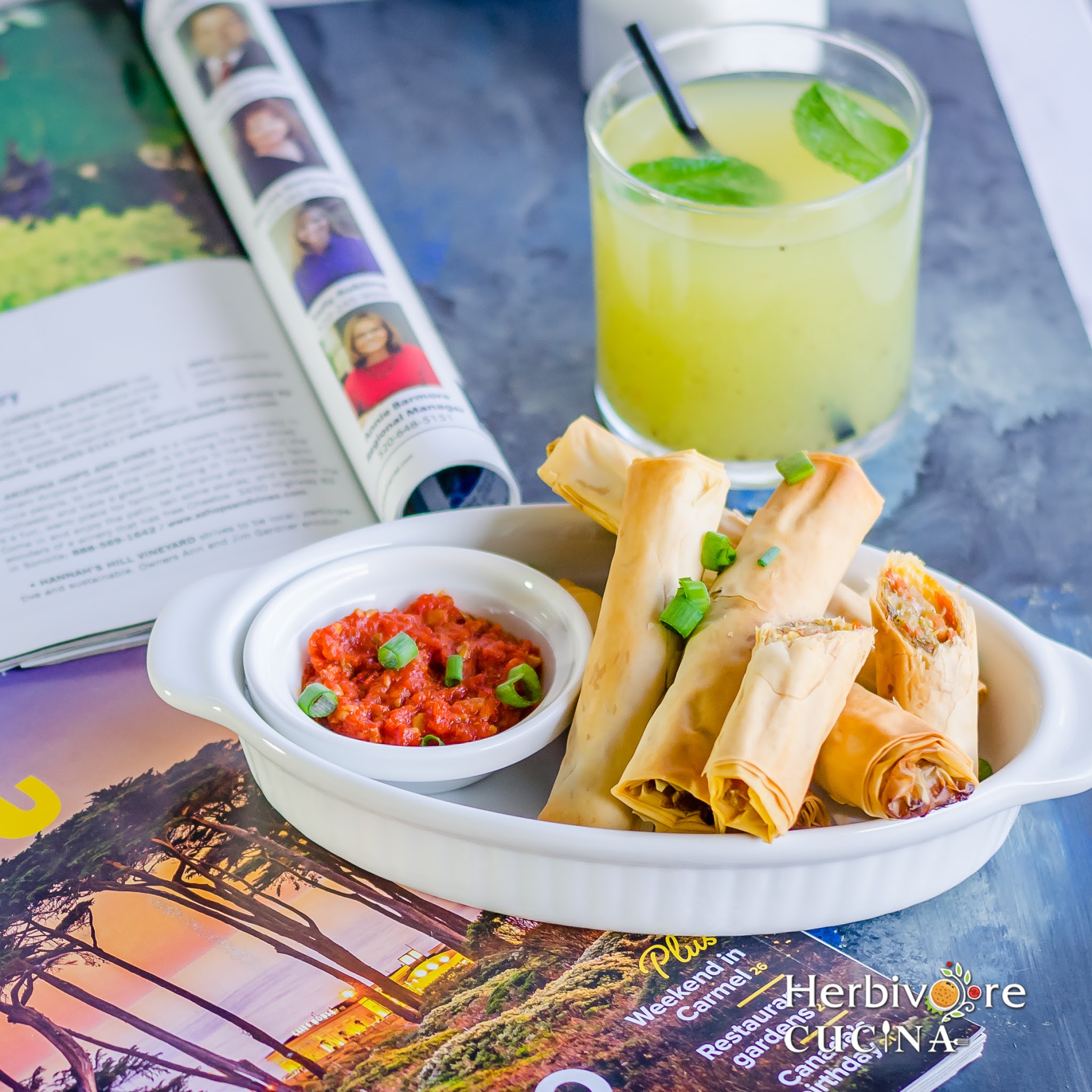 The spring rolls we enjoy at restaurants are the large ones, cut into pieces and served. These mini versions taste just like that, but they are perfect for parties and picnics. If you like to batch cook, you can roll a lot of these rolls and freeze them. When you want to enjoy them, just thaw and bake them. Alternatively, you can bake them and freeze too. Then all you need to do is heat them for a couple of minutes before serving. However, these rolls taste awesome at room temperature too. That way, it makes them perfect for trips os picnics.

This recipe is pretty straightforward. All you need is phyllo sheets, vegetables of your choice and some sauces. With just 30 minutes in hand, you can make a whole batch of these. The maximum time needed is to fold these bundles of deliciousness. If you can get your kids to help you, it will be super quick!

Pack these rolls in a box and take some home-made or store bought schezwan sauce. The rolls are not very spicy and so they are perfect for the kids. For the adults, there is a spicy dipping sauce to make it awesome!
Variations
These rolls are made with mixed vegetables. I used carrots, french beans, cabbage and peppers. However, you can also add thinly sliced celery, broccoli or bokchoy. Alternatively, you can make the same rolls using avocado. The rolls are super awesome and fun to make.
I have used store bought phyllo sheets. If you do not want to do that, you can make your own egg roll wrappers by using all purpose flour, salt, water and oil. Some people prefer whole wheat dough and that works well too.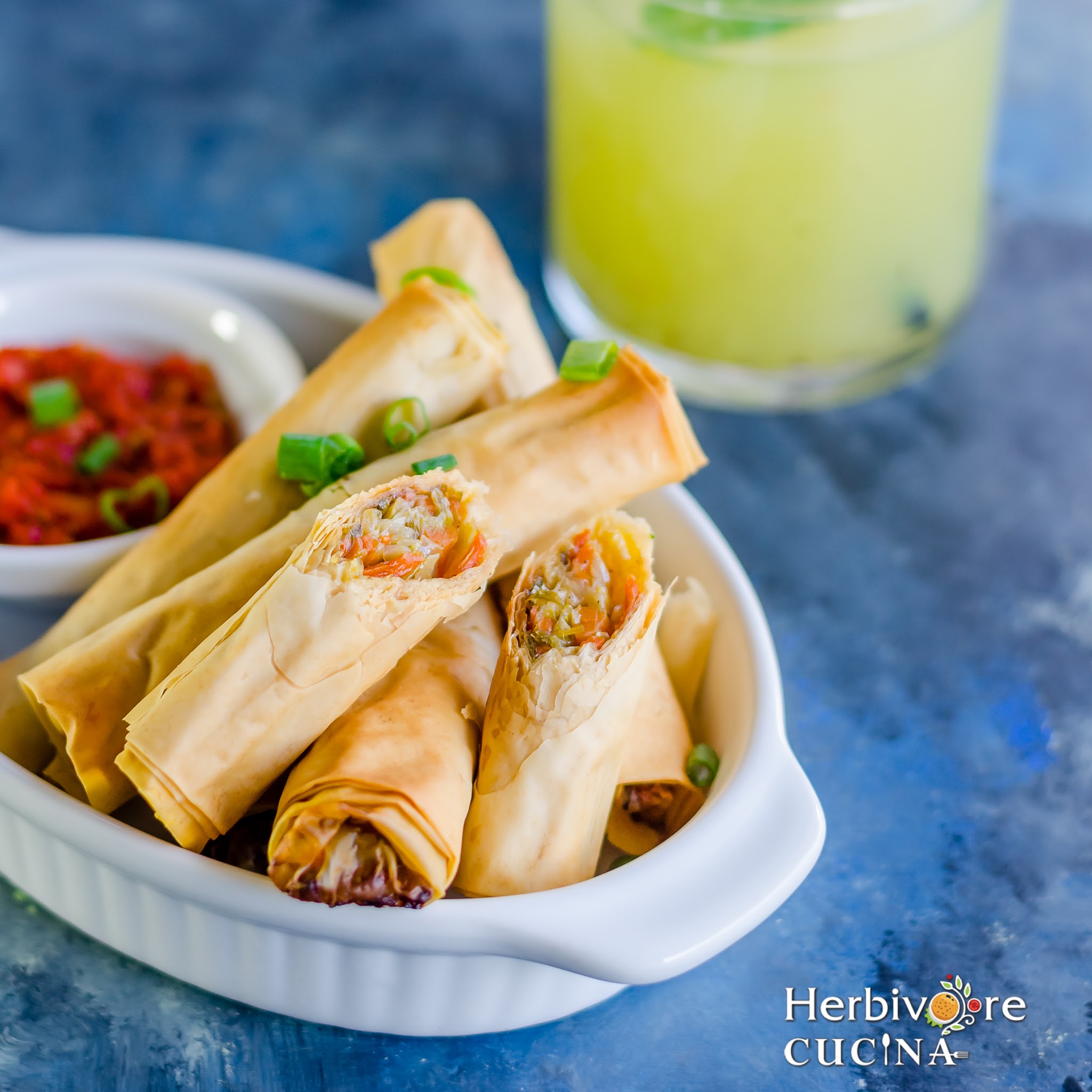 Finally, the same recipe can be made by frying. I like a baked version better, but if you prefer a fried one, just follow all the steps till baking and then fry the rolls. The spring rolls will be equally delicious and crisp. Just make sure you drain the rolls well and they do not have too much oil on top.
Hope you enjoy this baked version of one of the most famous Indo-Chinese dishes and come back tomorrow for yet another picnic recipe!
Ingredients
Phyllo Sheets 5-6
Carrot 1 medium, julienne
Cabbage ½ cup, shredded
Spring Onion whites and greens 4-5, sliced
Green Pepper ½ medium, sliced
French Beans 3-4, julienne (optional)
Soy Sauce 1 tsp
Vinegar ½ tsp
Oil 2 tbsp
Salt and Pepper 1 tsp
Schezwan Sauce to serve
Method
Thaw the phyllo sheets as per package instructions. Set aside.
In a pan heat ½ tablespoon oil and add spring onion whites and pepper. Cook for a minute and add carrots, french beans and cabbage. Cook for 2-3 minutes and turn down the flame.
Add spring onion greens, soy sauce, vinegar, salt and pepper. Mix well and cool to room temperature.
Preheat oven to 350 F/ 180 C. Place a sheet of phyllo dough on the working surface and brush some oil on the edges. Add a tablespoon of filling on one end. Roll tightly and seal the edges.
Brush oil on top and place the rolls on a baking tray lined with parchment paper.
Bake for 20-22 minutes, till golden brown. Turn over once after 10 minutes. Once golden brown, remove and serve with homemade or store bought Schezwan Sauce.