Green papaya salad is a spicy salad made from shredded unripe papaya. It is of Lao origin but it is also eaten throughout Southeast Asia. Locally known in Cambodia as bok l'hong, in Laos astam som or the more specific name tam maak hoong, in Thailand as som tam, and in Vietnam as goi du du. Som tam, the Thai variation, was listed at number 46 on World's 50 most delicious foods compiled by CNN Go in 2011.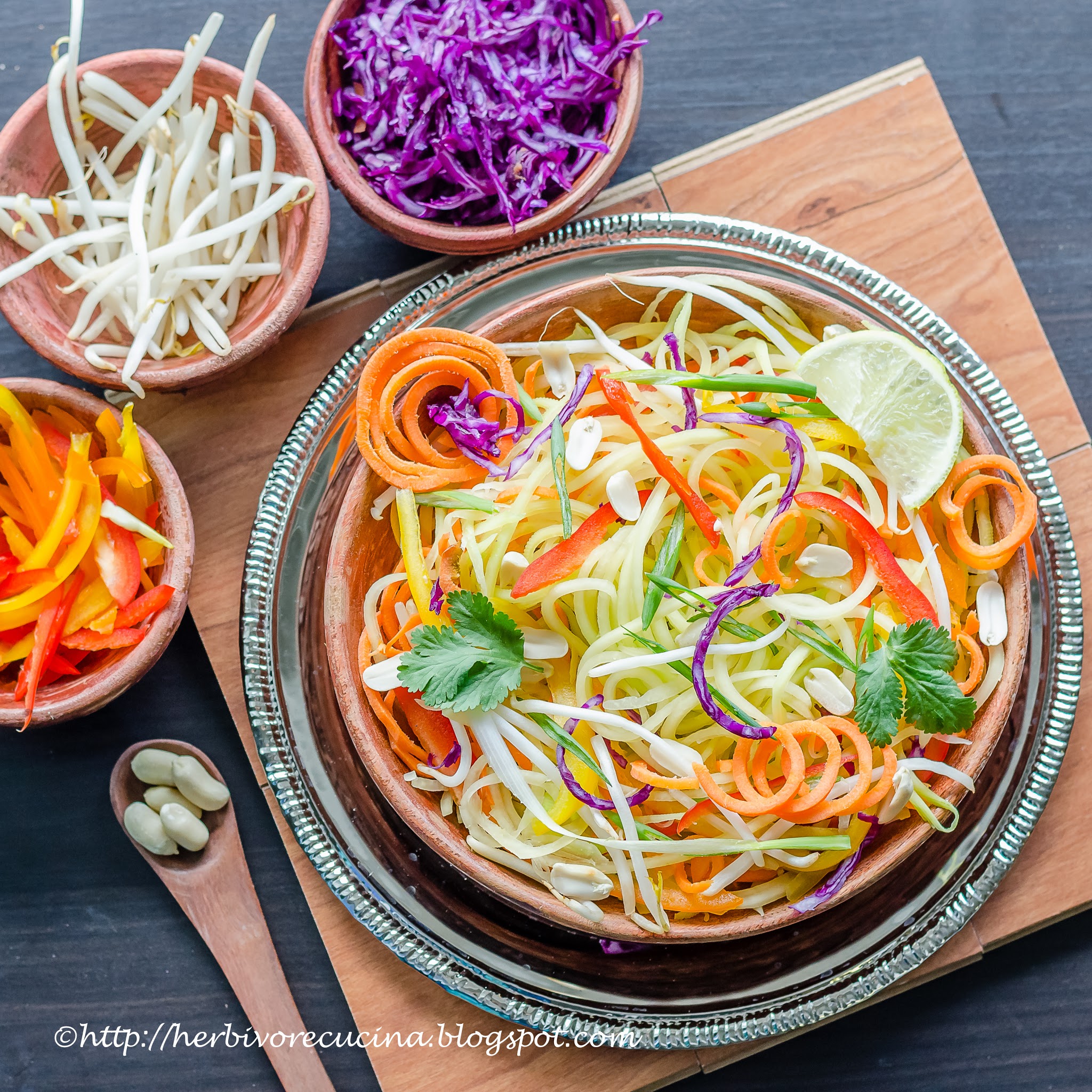 Simple yet vibrant mix of vegetables and sauces, this papaya salad can be made within minutes, and I promise; it vanishes within seconds! If you like to start your dinners with a salad and then have the main course, make a bowl each for your family members, but if you are like us; who can eat salad as a main course dish, make a big batch. Two of us devoured the entire bowl of salad for dinner last night! Just had a simple noodle dish along with our salads. And we could have had more for sure! So make a big batch, and you sure will enjoy the meal.
Coming to the technique of making the salad. The process is as easy as 1-2-3. Visit your farmers market to grab colorful vegetables, spiral or julienne the vegetables, make the dressing and combine it all! While a lot of recipes online suggest you use a julienne maker to strip the papaya, I personally feel that a spiralizer does the job in lesser time. There are three different types of spiralizers: the simple hand-held spiralizer, a horizontal spiralizer and a vertical one. In this recipe I used a horizontal spiralizer.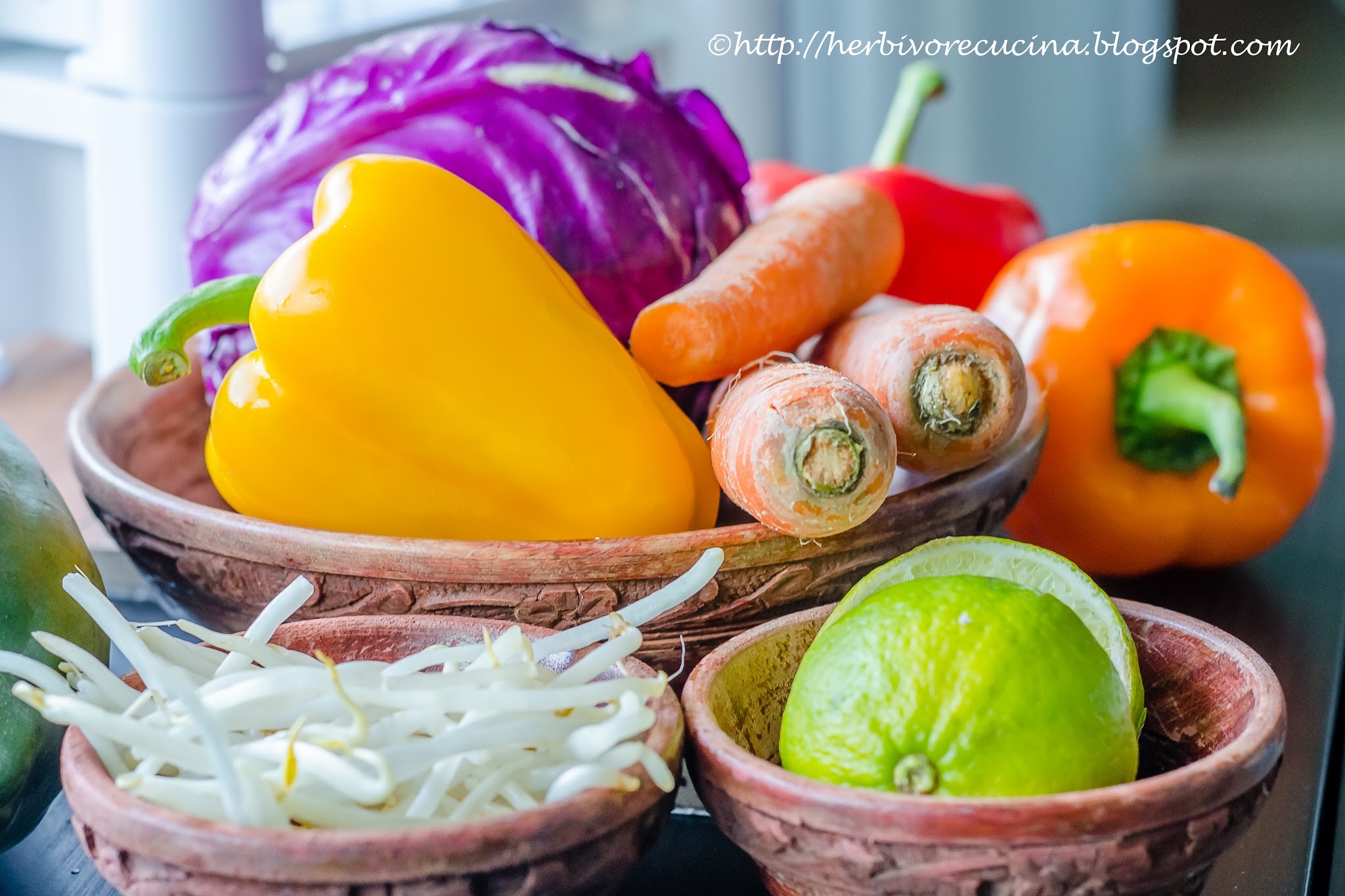 Brieftons sent me a 5 blade spiralizer to help ease cutting and cooking. I loved the idea of having a spiralizer at home, and used it immediately to make this dish. The standing spiralizer comes with five blades: angel hair, fine shredding, crude shredding, flat blade and the curly fries blade. The construction of the spiralizer is nice and solid, the blades are sharp and using it simplifies the task to a great extend. Cleaning is super quick and the machine comes with slots to store 2 blades in the base. Couple of cons of the spiralizer is the lack of space to keep the remaining blades and the bad suction of the base that does not hold the spiralizer in place while you use it. Apart from that, it does the job pretty quickly. I prefer this over the vertical and hand-held spiralizer, for the ease of operation. Get yours from amazon here.
While I have used papaya, peppers, cabbage, carrots, bean sprouts and scallions in this recipe, you can feel free to replace any of the vegetables except one, the raw papaya; else the salad will no longer be a papaya salad :p Also, being a vegetarian, I did not add fish sauce or oyster sauce, but you can surely add that if you eat it. For those who do not like garlic, leave it out from the dressing, not very much change in the taste and flavor. Hope you enjoy this salad and it becomes a regular in your kitchen like it has in ours!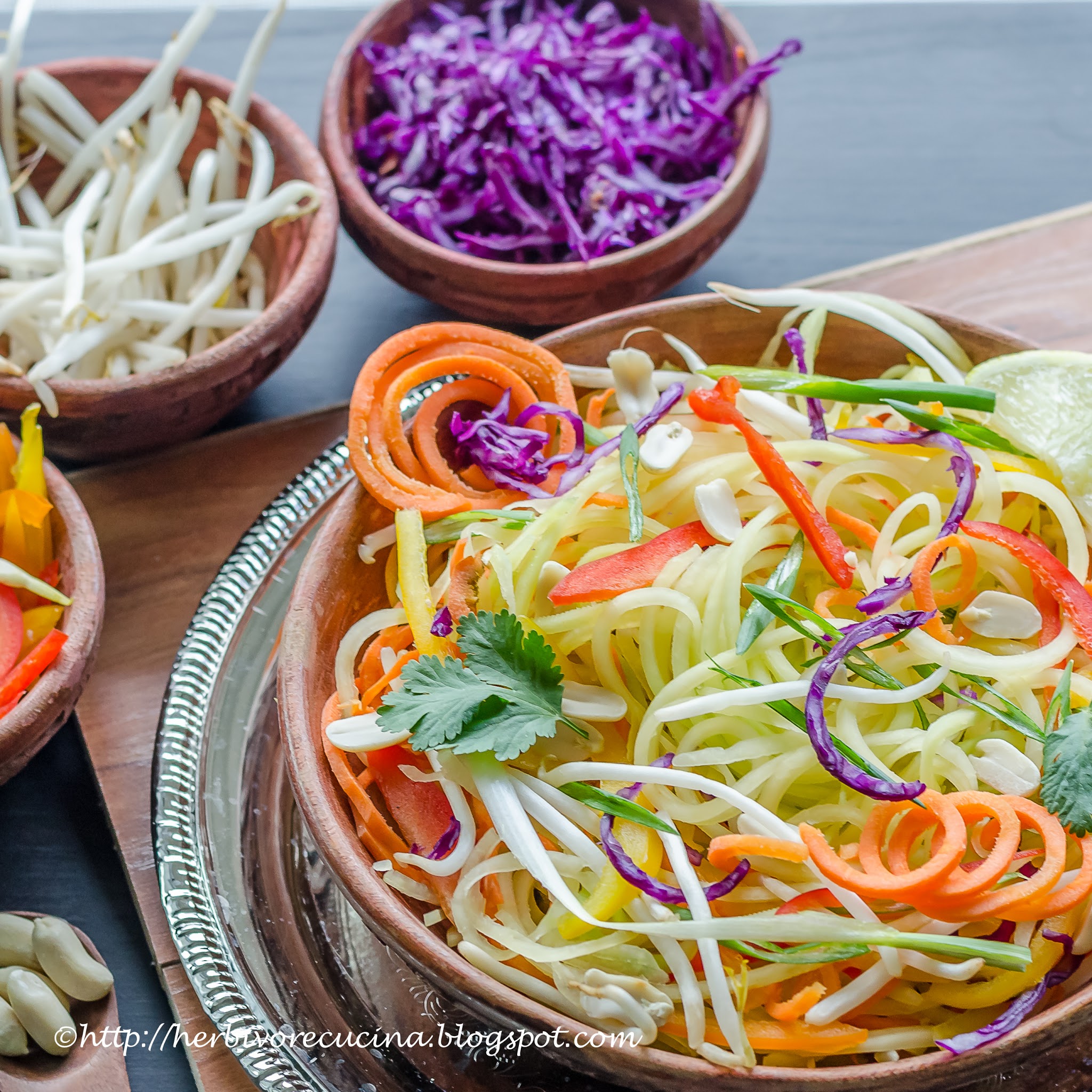 Ingredients
Raw Papaya 1 small
Peppers/Capsicum ¼ of each color
Purple Cabbage ½
Carrots 2 large
Scallions 2-3 stalks
Bean Sprouts ¼ cup
Cilantro
Roasted Peanuts ¼ cup
Lime wedges
For the Dressing
Olive Oil 2 tbsp
Chili Oil 1 tbsp
Vinegar 1 tsp
Soy Sauce 1 tsp
Minced Garlic 2 pods
Sugar, Salt, Lime Juice
Ground peanuts 2 tbsp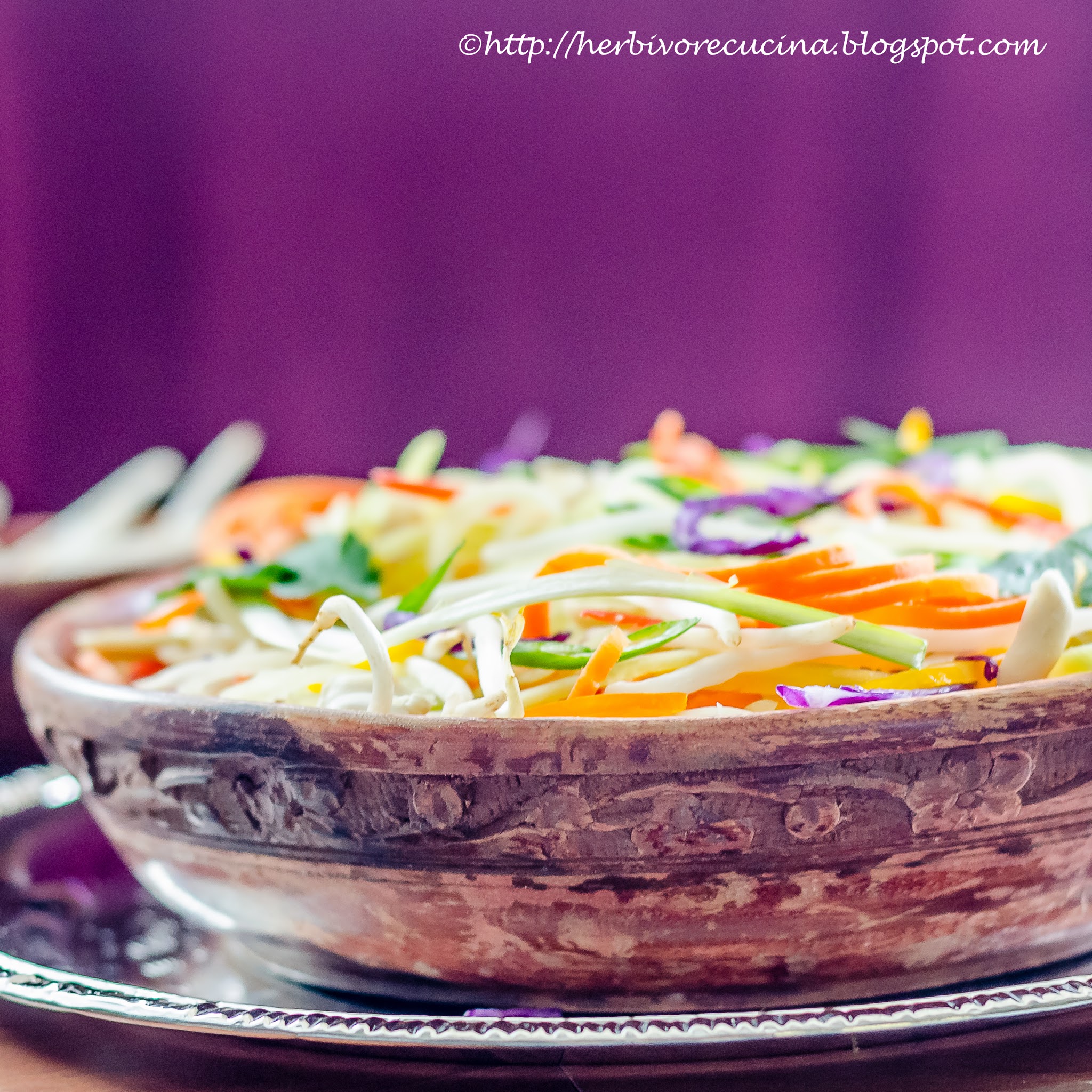 Method
Mix all the ingredients of the dressing except ground peanuts and set aside. Peel the papaya and carrots. Using a spiralizer, spiral out half the papaya, carrots and cabbage. I used the 3 mm blade, but you can use a thinner or thicker blade as per your preference. Set aside. If you do not have a spiralizer, use a julienne maker and make thin juliennes of papaya and carrots. Deseed the peppers and slice them into thin slices. Also cut the white portion of the scallion into thin strips. Wash and keep the bean sprouts ready.
When ready to eat, mix the vegetables in a mixing bowl. Add the dressing, lime juice, ground peanuts and blend it all in. Remove in serving bowls/ plates; top with cilantro, a wedge of lime and ground peanuts. Enjoy!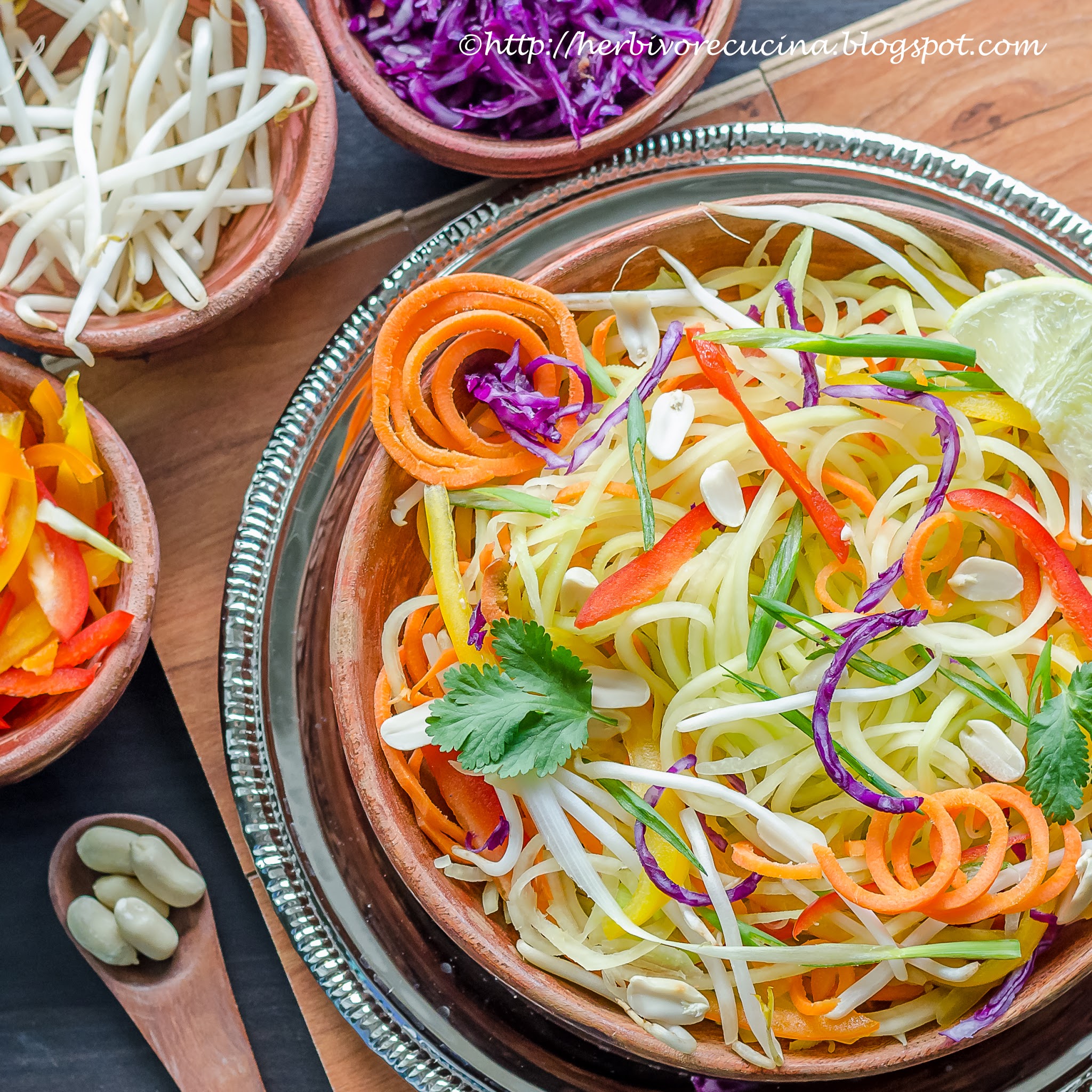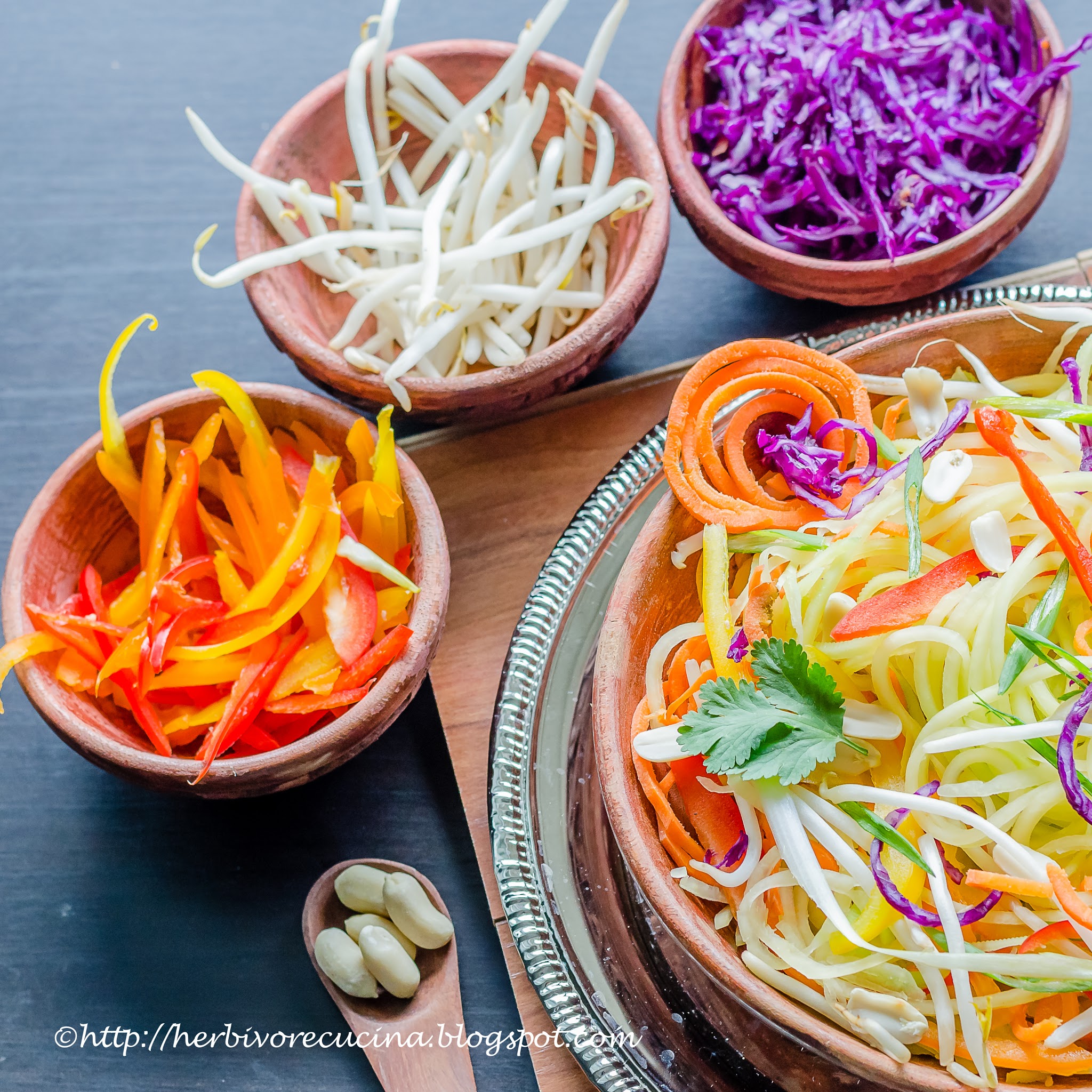 **One or more products in this post were sent to me complimentary for review purposes. However, all the opinions are unbiased and completely my own.