Blogging Marathon# 63 -Journey through the cuisines: Day 21

State: Tamil Nadu
Dish: Ulundu vadai | Urad dal Vada


A new week, a new state in the month long Blogging Marathon. I can't believe it is the last week and we have just six more days to go. Not to forget it is going to run from U through Z. When I started listing down the recipes I was going to make, I was terrified of this week as the letters were such. But soon I narrowed down to recipes from the state of Tamil Nadu that could easily fit the criteria!
Today is the first day and the letter is U. While hunting for recipes from the state that begin with U, I came across multiple recipes with one common ingredient: Urad dal. Of course we all know that a lot of recipes from Southern India contain Urad Dal, idli, dosa and loads of paniyarams. But apart from these, there is one dish that happens to be my favorite and it never made it to the blog. It was of course Urad Dal vada or more traditionally known as ulundu vadai. So finally it is up and I am super happy!!
The ingredients of the vadai is pretty straightforward: Urad Dal with spices and ingredients of your choice. The options for add-ins are: Shallots, coconut, peppercorns, curry leaves, cilantro, green chilli and ginger. One can pick the ingredients they like and leave the rest. The taste is great with any combination of these ingredients. A firm believer that onions and shallots are interchangeable, I learnt while making the Tamil Nadu fare that the taste is phenomenally different when shallots are used. Pretty glad to learn that!
While making the ulundu vadai, I went all out and added all the ingredients listed above; maybe because I seldom make fried things and so I wanted to have it all in one go! The vadai tasted really good and we enjoyed them with a lot of Sambhar and Cilantro Coconut Chutney.
Ingredients
Urad Dal 2 cups
Shallots 1-2 medium
Ginger 1 inch
Green Chilli 2-3
Shredded coconut ¼ cup
Black peppercorns 1 tsp
Curry Leaves 3-4
Cumin seeds 1 tsp
Cilantro ¼ cup
Salt
Oil to fry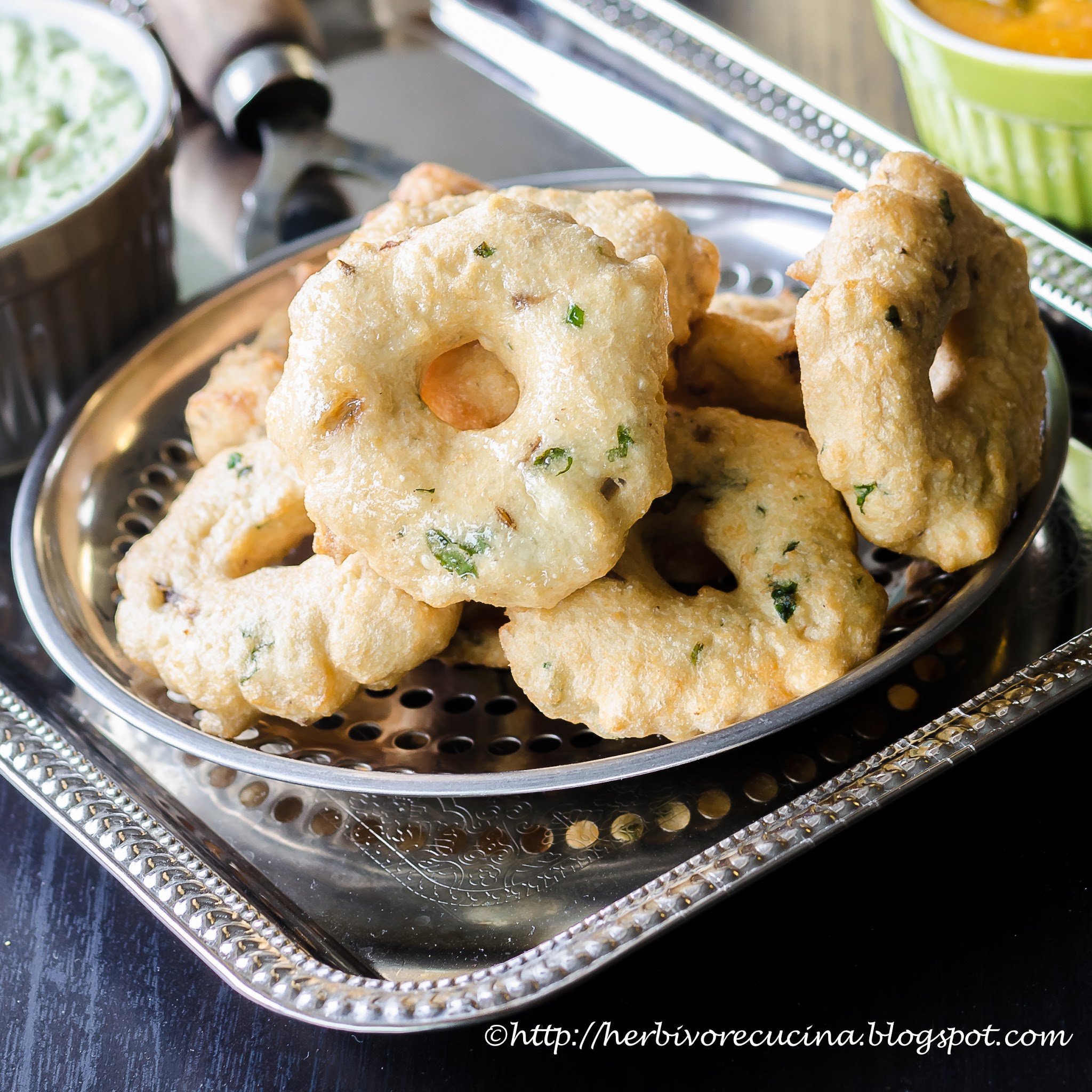 Method
Wash and soak the urad dal in 2 cups water for 4-5 hours. Once it is soaked, drain and grind the dal along with ginger, green chilli. Use as little water as possible. I made the batter a little coarse, but you can make it super fine too.
When ready to make the vadas, mix salt, lightly crushed peppercorns, coconut , diced shallots and roughly chopped cilantro, cumin seeds and curry leaves. Make sure the consistency is right, as too thin a batter will make vadas soaked in oil and thick batter will make vadas that are too hard.
Heat oil to medium. I tried multiple ways to shape the vadas; on an upside down plate, bowl, wet fingers and what not! Finally this technique worked: Place a small amount of batter on a ziplock bag. Make a hole using wet fingers. Wet your fingers and transfer the vada onto your fingers. Slowly drop the vadas in hot oil and fry till golden brown.
Serve warm with Sambhar or Tomato Rasam and Cilantro Coconut Chutney.