Blogging Marathon #68 Week 4 Day 6
Theme: Rice Dishes
Dish: Undhiyu Pulao


Today is the last day of this week's Cooking Carnival. After hopping from one cuisine to another, I am finally posting a Gujarati recipe. Undhiyu as most of you would know is the most loved Gujarati dish. Though it takes forever to make it, the end result makes it all worth it! A wonderful combination of fried dumplings (muthiya), seasonal green vegetables, root vegetables and lots of garlic and cilantro; we generally make truck loads of this dish and enjoy it over a couple of days.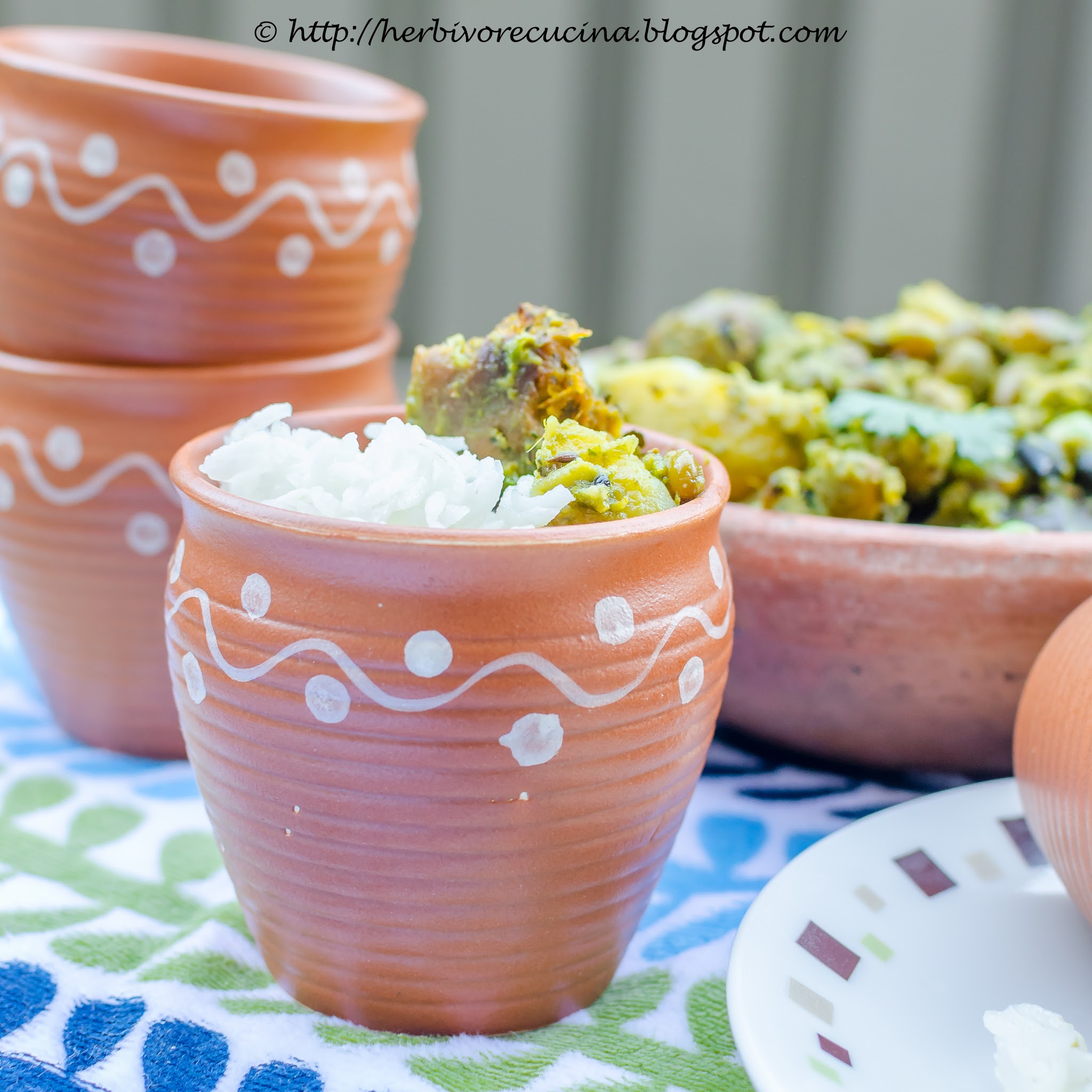 While the natural accompaniment with undhiyu is either puris or roti, basmati rice and undhiyu taste really good too. Generally the two are served separately, but I remember having a combined version at one of the Gujarati weddings (yes, every wedding in winter HAS to have Undhiyu on their menu!). I loved that version of combining rice and undhiyu in clay kulhads and steaming them just enough to heat them.

Since then, the first day I make undhiyu we enjoy it the traditional way; shrikhand, roti and the vegetable itself. On the next day, undhiyu is converted to the rice dish and served in kulhads. I have seen matka biryani, chole and rice in kulhads and this seems like a Gujarati's take on those dishes. While I used matkis to make it, one can easily use ramekins to make them. Steaming them is an easy way to go about the recipe, but baking them is an alternative if you have to make a bulk. The dish is best enjoyed straight out of the steamer or oven. Hope you enjoy this recipe and yes, come back on Monday for the last category in our month long Cooking Carnival.


Ingredients


Undhiyu 1 cup
Basmati Rice 1 cup
Cilantro to top

Method


Keep the undhiyu ready as per this recipe. I like to prepare it a day in advance so the flavors blend really well.

On the day when you are making the pulao, pressure cook one cup of basmati rice till almost done. Do not make it very mushy. Fluff with fork and set aside.

Heat water in a pressure cooker or large pan. Place a steamer and keep ready. To assemble the pulao, use any small size bowls or glasses or kulhads. Add a layer of rice, then a layer of undhiyu. Repeat depending on the size of the container. Once it is almost full, place the containers on the steamer and cover. Steam for 8-10 minutes and remove. Serve immediately. Alternatively, the layers can be made in an oven proof ramekins and bake for 10-12 minutes at 350 F/ 180 C.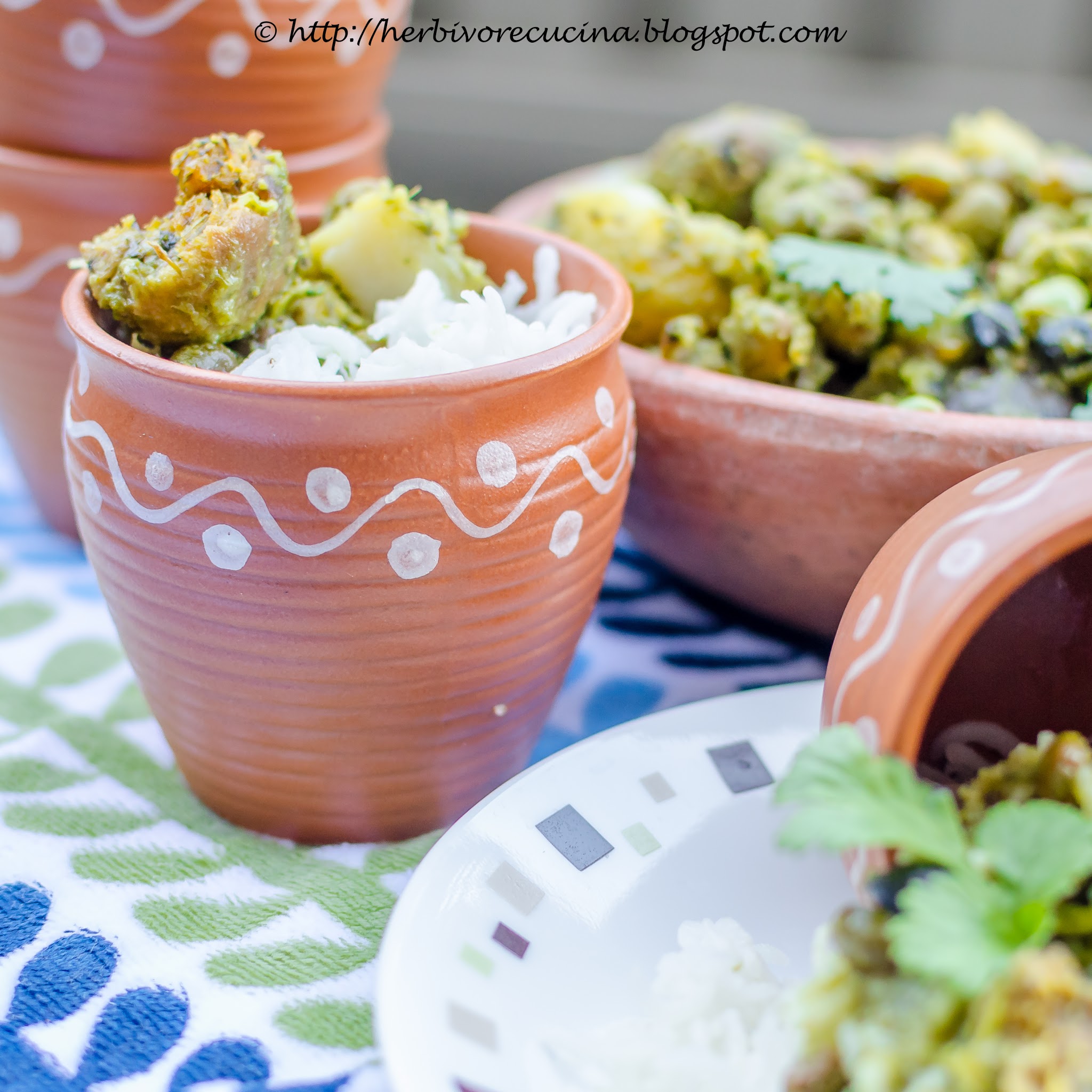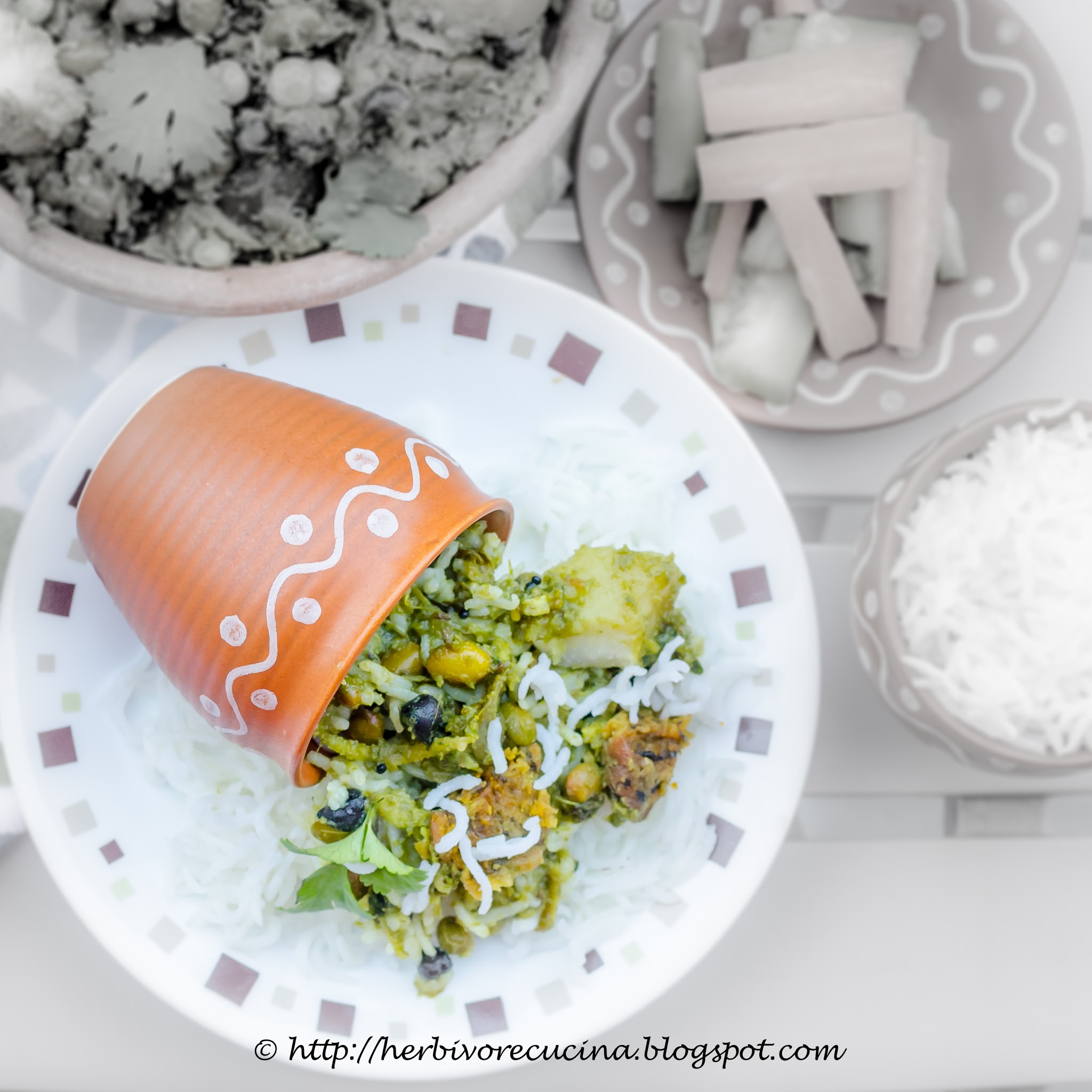 Check out the Blogging Marathon page to see what the other Blogging Marathoners are doing for BM# 68