The word Frozen yogurt or FroYo reminds most people of Pinkberry, the famous chain selling this delectable dessert here in US and now in other parts of the world as well. This cousin of the ice cream is an excellent dessert to have, even better if it can be made at home! Frozen Yogurt is tart in taste and generally has lesser calories than the traditional ice-cream. It can be enjoyed with toppings like chocolate, fresh fruits or boba; or had just without anything on it. Both ways, it is extremely yummy.
This recipe is a simple one to make a vanilla flavored yogurt, and can be suitably modified to add flavors to it. Just three essential ingredients and a couple of optional ones; and the dessert is ready in a jiffy. Served in a home-made chocolate cup, this Vanilla yogurt is just a perfect dessert for any dinner party, especially with the holidays coming up!!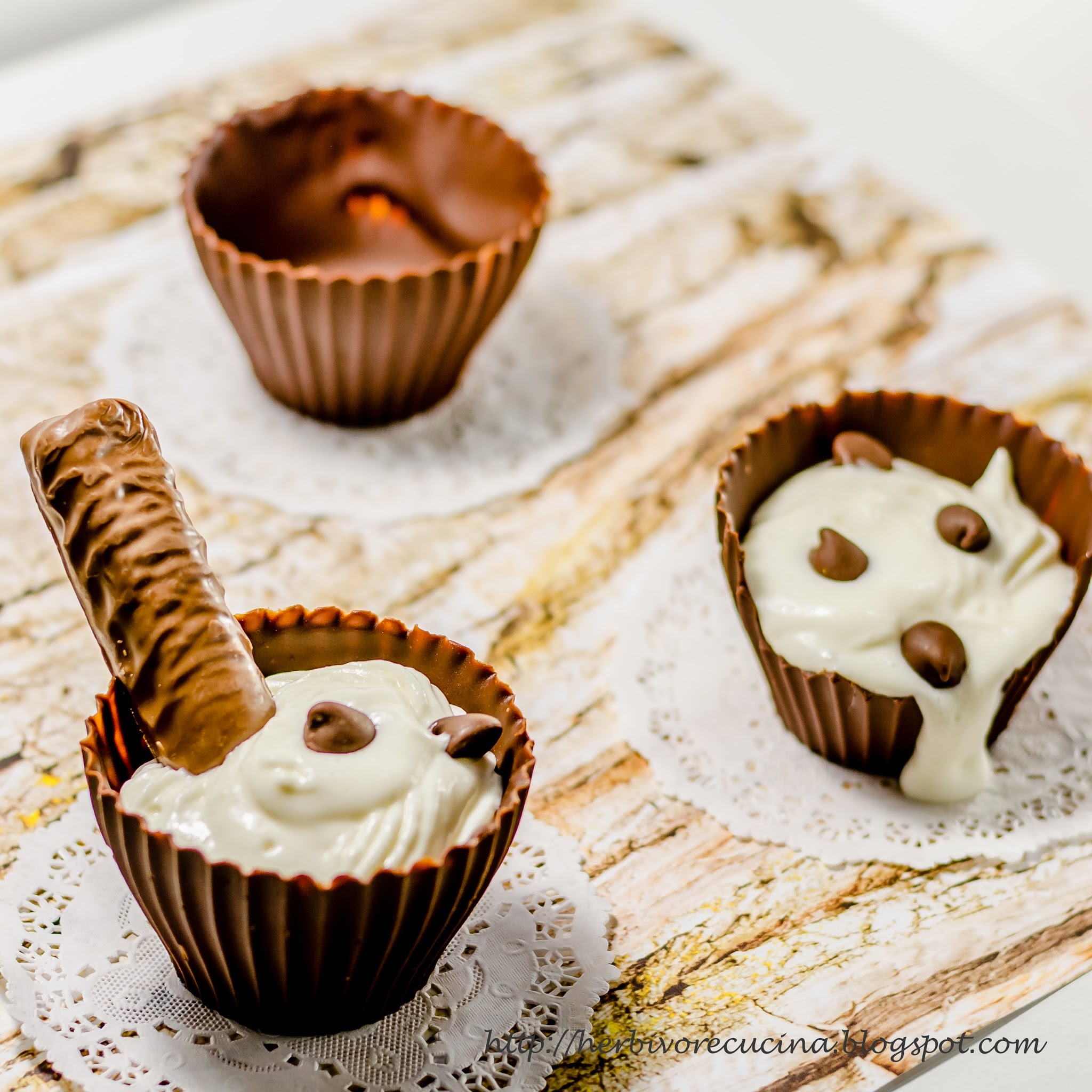 Ingredients
For the Yogurt
Low fat Sour cream 1 cup
Confectioners' Sugar ½ cup
Pure Vanilla Extract 1 ½ tsp
For the Chocolate Cup
Dark Chocolate 1 cup
Method
To make Yogurt
In a mixing bowl add sour cream and sugar. If you want a very creamy yogurt, substitute with full fat Sour Cream. Mix with a hand blender till the mixture homogenizes. Add the Vanilla Extract and blend again for a minute. Refrigerate the mixture for at least 45 minutes to an hour before serving.
If you want to make a flavored yogurt like chocolate, add a teaspoon of Chocolate sauce along with the vanilla extract. Adding a fruit jam instead of the vanilla extract gives a fruity yogurt.
To make the Chocolate Cup
In a microwave safe bowl, add the chopped dark chocolate (I used Ghirardelli's bitter-sweet chocolate bar). Melt it in the microwave for 40-60 seconds and remove. Mix well and if it does not melt completely on mixing, heat for another 30 seconds. Remove from microwave and homogenize the chocolate. Keep aside for a minute and then pour 2 teaspoons in a silicone cup. Using a pastry brush ensure that the chocolate is covering the inside of the cup completely and evenly. Pour out any excess chocolate.
Let the mold rest on the kitchen counter for a few minutes, and then pop it into the freezer. After freezing it for 15-20 minutes, remove and slowly loosen the mold from the chocolate. Flip over the silicone mold carefully, and the out comes the chocolate mold!! This mold can be used to serve Frozen yogurt or even fresh fruits with whipped cream.
To assemble the dessert
Take the chocolate cup and pipe in the yogurt. Add chocolate chips or any other topping of your choice. I added a twix to complete the Vanilla and Chocolate combination!! Enjoy 🙂