Easy to make Vegan Panna Cotta; this Strawberry and Vanilla flavored dessert is the recipe you need for your parties and beyond!!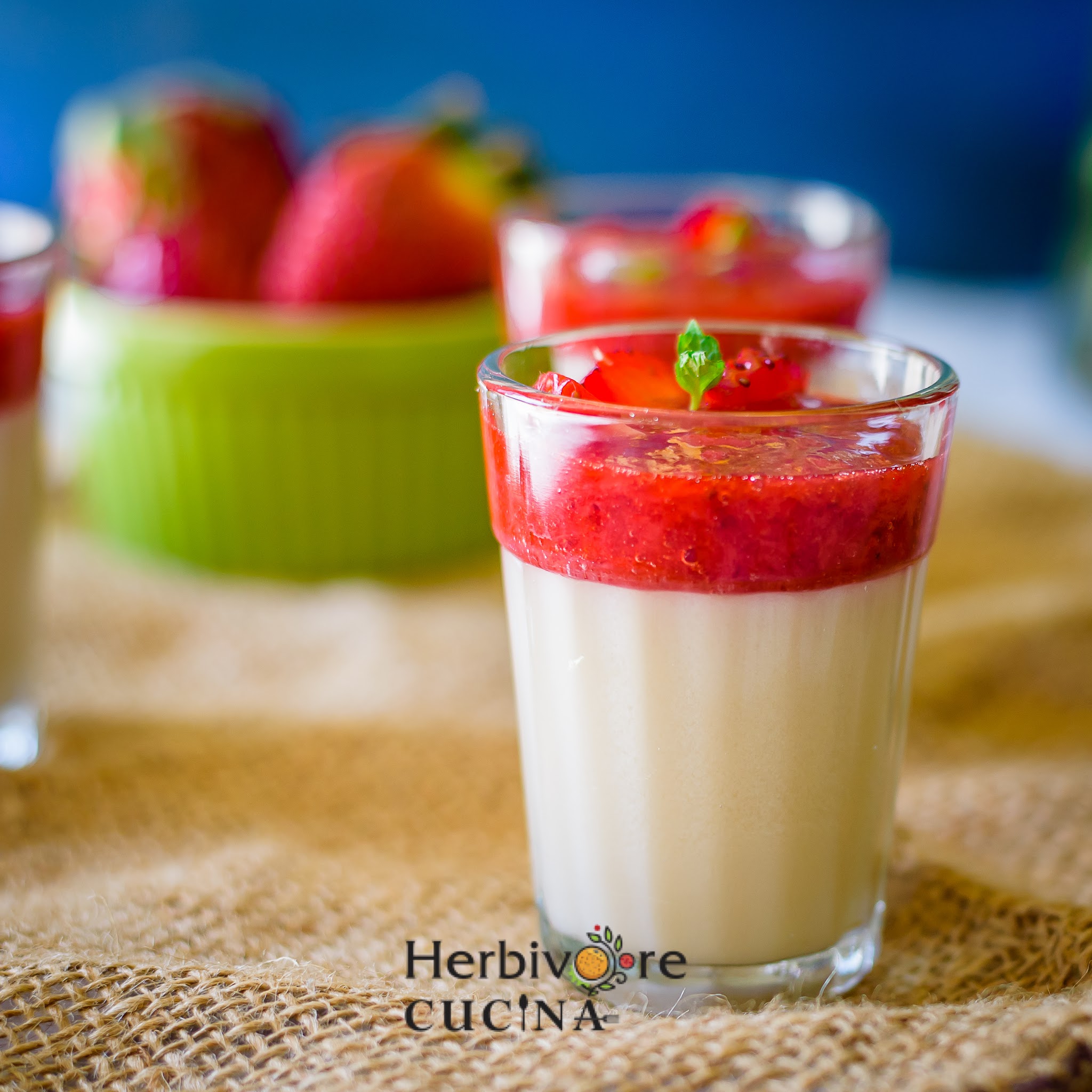 We are quickly approaching Spring and I cannot wait to have my heart's content of fresh strawberries. These berries being my favorite, I love to make recipes that use them. Plus, at this time of the year the berries are super sweet and most recipes made using the may not even need a sweetener!
This post is really special for me and the blog. This happens to be my FIVE HUNDREDTH post on the blog! I cannot believe I published 499 vegetarian recipes already and still have a long of pending posts!
For the 500th post I wanted to make something delicious. I was planning a cake and an ice cream and then I was planning a round up of my favorite recipes from the blog. Finally I decided to post a dessert that was yummy and easy to make.
This Panna Cotta is VEGAN, SUGAR FREE, GLUTEN FREE and CARRAGEENAN FREE. The starting point of this recipe is So Delicious Almondmilk with Cashew. This is a super delicious alternate to regular milk and has only 50 calories or less per serving and is light tasting and smooth. Available in three flavors; Unsweetened, Original and Vanilla; these are made with 7 ingredients or less.
I love this in my coffee and in making vegan desserts. I got the Vanilla flavored So Delicious Almondmilk with Cashew on my last trip to Walmart and decided to make this yummy dessert using it.
Vegan Panna Cotta?


Panna Cotta is on my favorites all the time. Traditionally made from heavy cream, this dessert is super rich and heavy. But you can now make a light version with this recipe. Each time I plan to have Panna Cotta at a restaurant I have to confirm if it has gelatin. The most common ingredient used to set the dessert, gelatin is not consumed by vegetarians. However, vegetarian substitute for gelatin is agar agar; a perfect setting agent to use in vegetarian desserts.
To make a light version, I skipped the regular sugar and substituted it with maple syrup. I got a BIG bottle from Canada some time back and it seemed like the ingredient I wanted to use to sweeten my dessert. This dessert is really good for parties or for date night. It can be made in advance and taste best when refrigerated for a few hours. Plus, made quickly with a few ingredients; this one can be whipped in hardly any time and is loved by most people.
I topped the Panna Cotta with a delicious Strawberry Sauce. I made that using just three ingredients and it complements the Vanilla flavored Panna Cotta perfectly. The slight tart and sweet sauce looks pretty on the Panna Cotta and makes it even more yummy.
Variations
I made my dessert with Vanilla flavored So Delicious Almondmilk with Cashew. However, if you have the Original flavor, add your favorite extract to flavor it. Plus, you can use coconut milk or the like to make the Panna Cotta.
Agar agar can be easily found in most grocery stores. However, gelatin can be used to make the dessert if you consume it.
Not a fan of strawberry? Top your Panna Cotta with your favorite fruit puree. If you like, add vegan chocolate chips or granola on top. You can even leave out the topping and serve the Panna Cotta as is.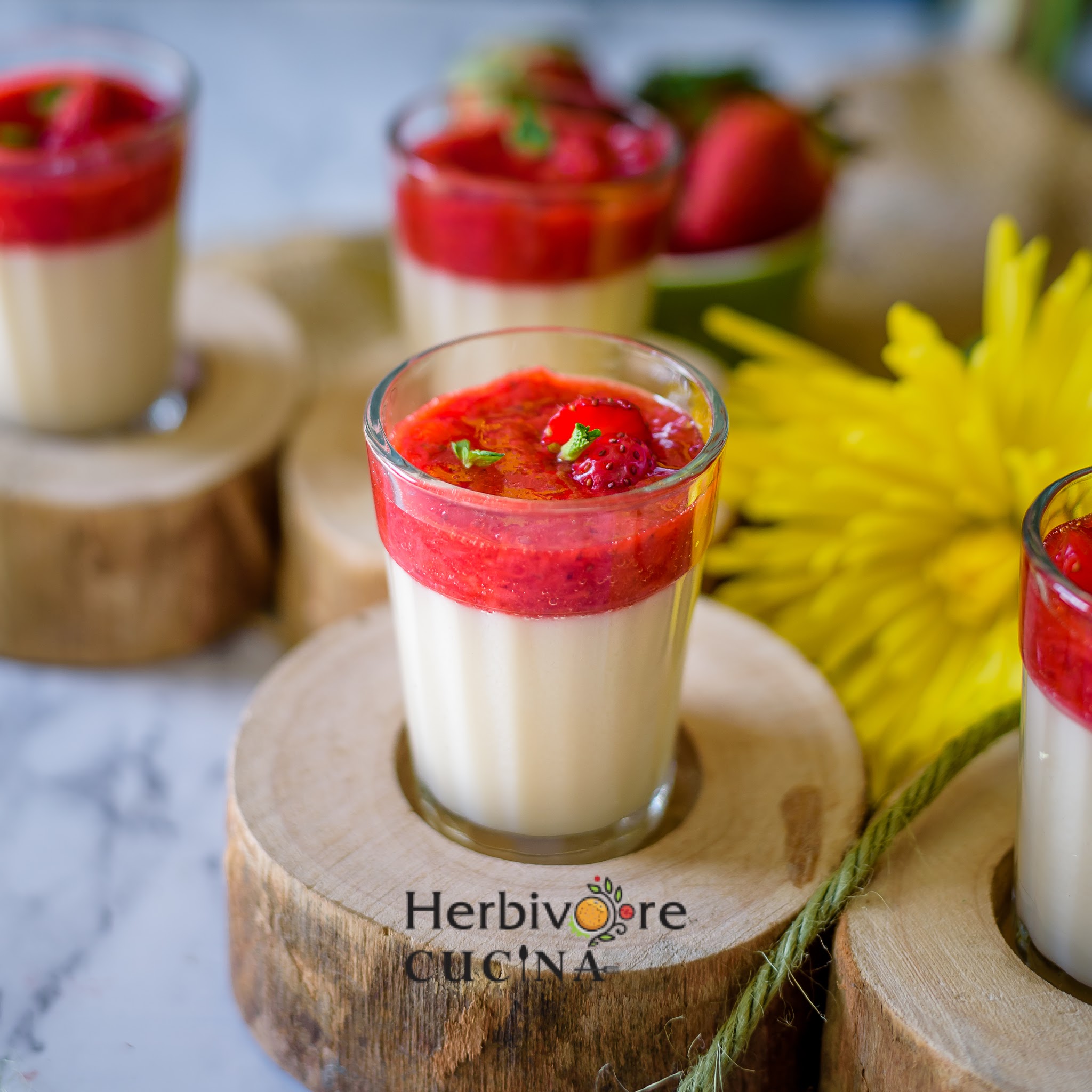 I made these in my favorite cutting chai glasses. Any mason jar or bowls work well for the recipe. You can also make them in ramekins and overturn it in a plate to serve. It looks pretty chic and perfect for date night!
Now with all the information above, head straight to your closest Walmart and grab a bottle of So Delicious Almondmilk with Cashew and make the recipe. Here is an Ibotta Rebate for your purchase: So Delicious Almondmilk with Cashew.
Ingredients
For the Panna Cotta
So Delicious Almondmilk with Cashew 2 cups (Vanilla flavor)
Agar Agar 2 tsp
Maple Syrup 2 tbsp
Cornstarch 1 tsp
For the Strawberry Sauce
Strawberries 8-10
Maple Syrup 2 tbsp
Water ¼ cup
Pin for Later
Method
To make the Panna Cotta
In a bowl mix together cornstarch and ¼ cup So Delicious Almondmilk with Cashew.
In a pan heat the remaining So Delicious Almondmilk with Cashew for 4-5 minutes on medium flame. Do not boil. Once heated, add the maple syrup and agar agar powder. Mix well. Add the cornstarch and milk mixture and mix vigorously.
Let the milk heat for another 5-6 minutes till the agar agar mixes into the milk and the cornstarch is homogenous.
Transfer the mixture to 5-6 small bowls or shot glasses. Remember to sieve the mixture before pouring. This ensures the result is a smooth panna cotta; free from undissolved agar agar and cornstarch.
Cool completely and refrigerate for 2-3 hours till the panna cotta sets.
To make the Strawberry Sauce
While the panna cotta chills, make the sauce. To do so, wash and hull the strawberries. Cut into pieces.
In a pan heat together the strawberries, water and maple syrup. Cook on medium flame till the berries are mushy. Use a masher to mash the berries well.
Once the sauce thickens, turn down the flame and let the sauce cool.
To serve
Spoon some sauce on all the panna cottas and top with some diced berries. Add some mint leaves if desired.