This shop has been compensated by Collective Bias, Inc. and its advertiser. All opinions are mine alone. #VeggieNewYear #MorningStarFarms #CollectiveBias

All your breakfast favorites come together PERFECTLY in this sandwich. Easy to make and needs just a few pantry essentials! Need any more to WOW your family?
January is coming to a close, how is everyone doing on this year's New Year resolutions? For those of you who decided to include plant based recipes in your diet, I hope you have been able to stick to the resolution!
A lot of readers have told me they are able to get meatless lunch and dinner but struggle for breakfast. Sausage, eggs and recipes made using meat and eggs is what they enjoy and cannot find a replacement for these that is meatless. Today, I have a breakfast recipe that has become a family favorite lately! And it will soon be your favorite too!
If you are looking for as-is meal solution for breakfast, lunch or dinner; this post is tailor made for you! MorningStar Farms® Sausage Patty, available at Walmart makes a great addition to any meal. These are not just for vegetarians; they are for everyone! Get your favorites from their products on Walmart Grocery by clicking on the image below!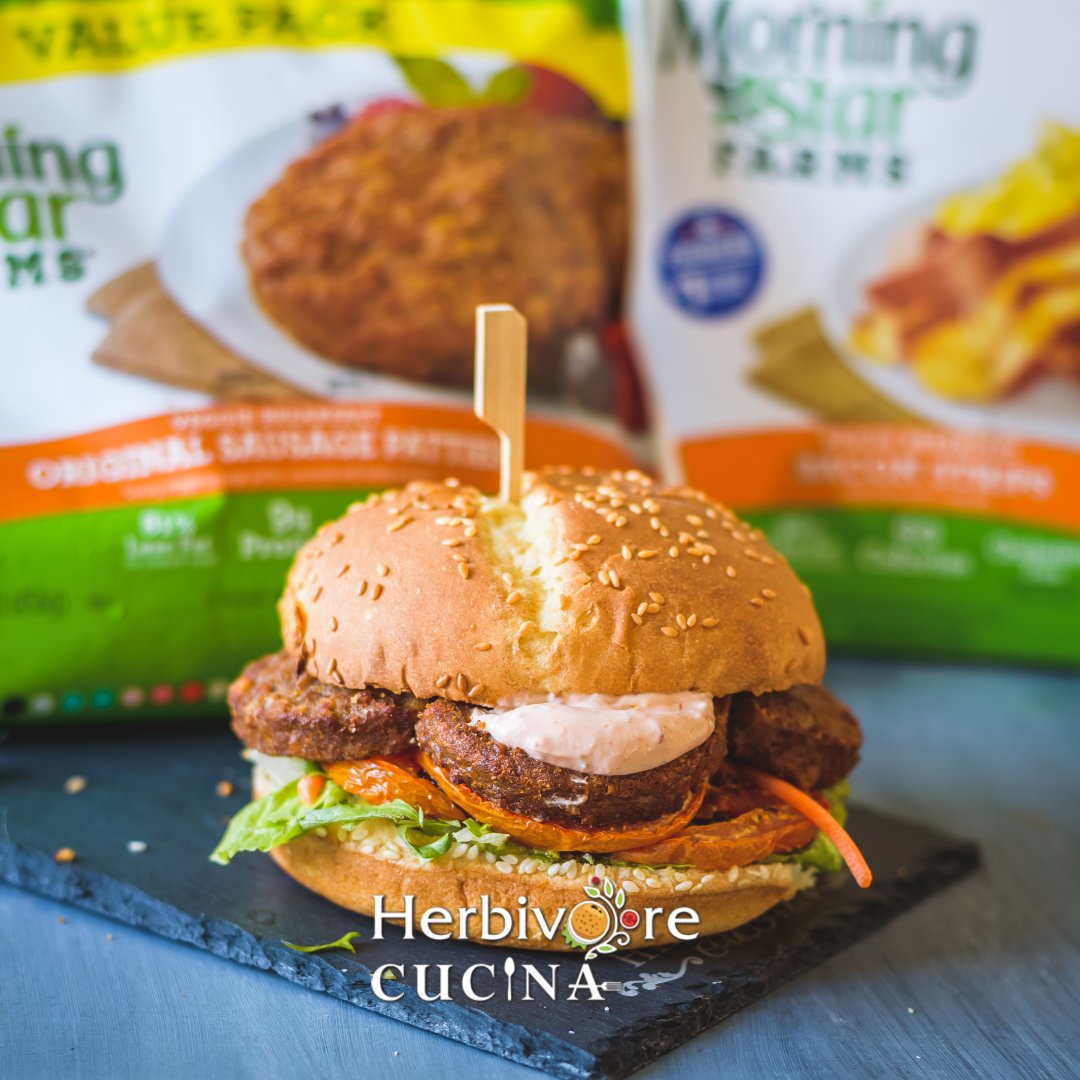 What is in this breakfast sandwich?
If you ask anyone for their favorite breakfast recipe; it will be among the following: sausage, bacon, eggs, yogurt, potatoes, tomatoes and bread. I picked a few ingredients from the list and put together a sandwich that is delish and easy to make.
I picked these ingredients and matched them to make a flavorful sandwich. Yogurt, tomatoes and veggie sausage patty go in my sandwich, along with basil pesto and greens.
Yogurt is a breakfast classic and it combines with hot sauce in this recipe! Plus, who can go wrong with oven roasted tomatoes? We love our tomatoes roasted with minimal spices and just a little olive oil. I used these to complete the sandwich and the result has been YUM!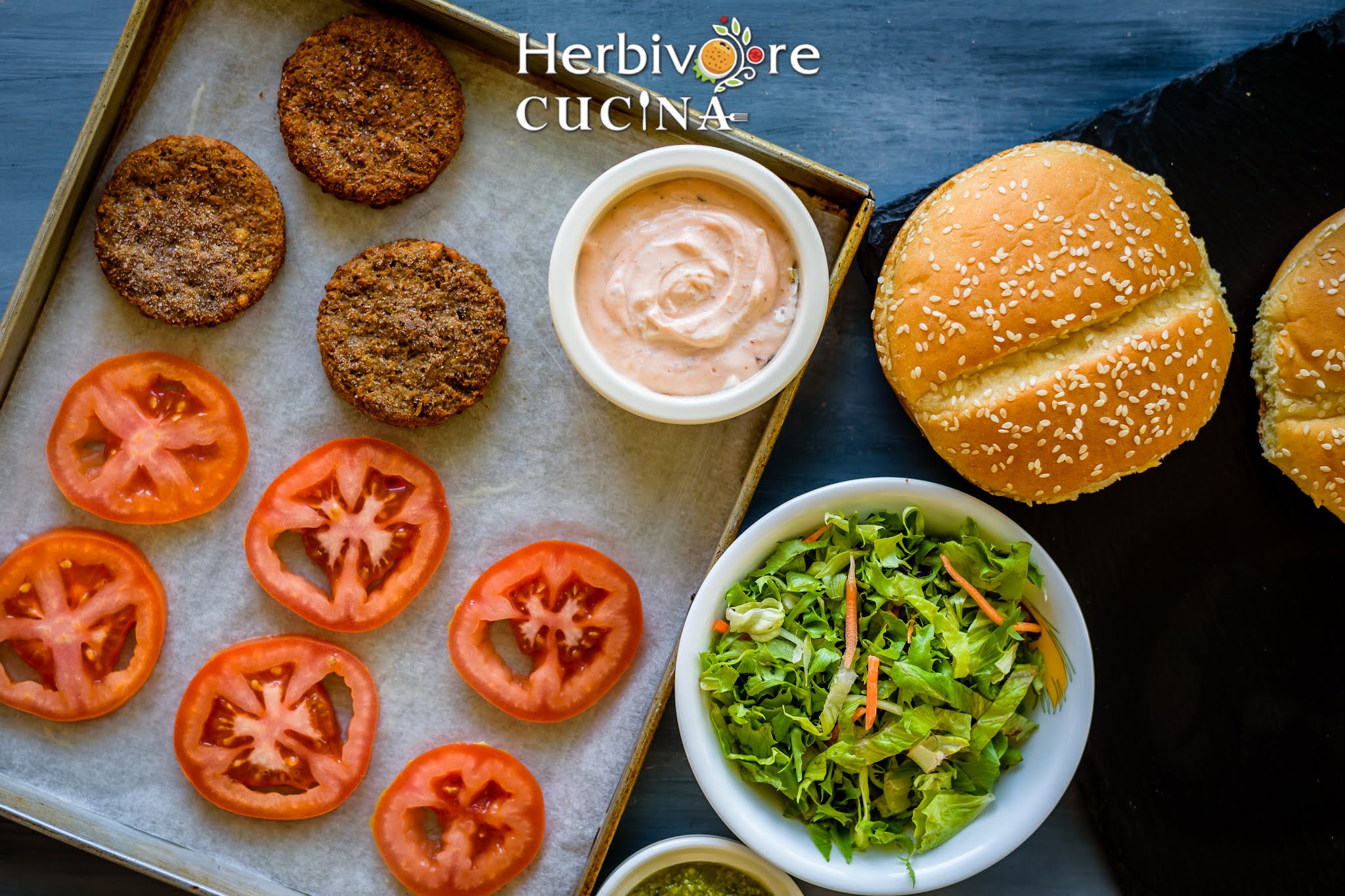 Variations
In this recipe I used MorningStar Farms® Sausage Patty. However, if you check out your Walmart Grocery app you will see that MorningStar Farms® has a lot of options. Pick your favorite patty to build the sandwich.
I used mixed greens here, but feel free to use spinach, lettuce or a combination of your favorite greens. Basil Pesto is ALWAYS in my freezer and that is what I used for this one. The freshness from basil always makes the best sandwiches.
I skipped the cheese and mayonnaise in this recipe and used just Greek yogurt. It was perfectly creamy, and I did not miss either of the ingredients in my sandwich.
Another important part of the recipe are the Oven roasted Tomatoes. I used Roma as they are super flavorful. Use green tomatoes or heirlooms. They have a little more moisture and will take longer to grill. Thick slices are yummy but take forever to grill. ¼ inch slices work perfectly for us!
Ingredients
Bread 2 (burger buns, ciabatta bread or any other breakfast bread)
MorningStar Farms® Sausage Patty 4
Salad Greens ½ cup
Basil Pesto ¼ cup
Greek Yogurt ¼ cup
Hot Sauce 1 tsp
Roma Tomatoes 2
Oregano ¼ tsp
Salt ½ tsp
Pepper Powder ¼ tsp
Olive Oil ½ tsp
Method
Preheat oven to 350 F/ 180 C. Slice Roma tomatoes into ¼ inch slices. Place them on a baking tray lined with parchment paper. Sprinkle salt, pepper and oregano on them. Add some olive oil on the slices.
Place MorningStar Farms® Sausage Patty on the baking tray as well. Bake for 10-12 minutes; till the patty is crisp. Remove patty from the tray and continue to bake the tomatoes till the tomatoes lose all the moisture (about 30 minutes in all).
Meanwhile, mix in hot sauce with yogurt and set aside. Keep pesto ready. Grill a breakfast bun of your choice and keep ready.
To assemble the sandwich, place the sandwich bread. Spread pesto on the slice, add salad greens. Next place a few slices of oven roasted tomatoes, two MorningStar Farms® Sausage Patty and Spicy Yogurt. Spread pesto on the other slice and place it on the yogurt.
Enjoy immediately or pack for a quick breakfast at work or school!