Sweet, Spicy and colorful; this Virgin Margarita has everything you need to get through summer! Plus a beautiful SUNRISE in a glass!
Mangoes have been on my menu almost everyday now. Whether it is mango based chia pudding or mango kadhi or just chopped mango pieces for lunch, they HAVE been there!
After all the mangoes I have been eating lately, I wanted some in my drink too. That is how I came up with this mango drink. But I did not want a typical smoothie or juice or the like. I remembered how my friend used a magic potion to convert orange juice to a sunset! The magic potion is called Grenadine, a simple flavored syrup that is available in most grocery stores and alcohol stores.
I have used grenadine in a lot of orange drinks since I had the wonderful drink she made. Lately I started using it with mango juice too; given the similarity in color. However, mango and grenadine almost always overpowered the sweetness of the drink. So I added some Jalapeño, and boy it did work like magic!! The combination was perfect balanced and the pepper worked wonderfully to cut through the sweetness of mango.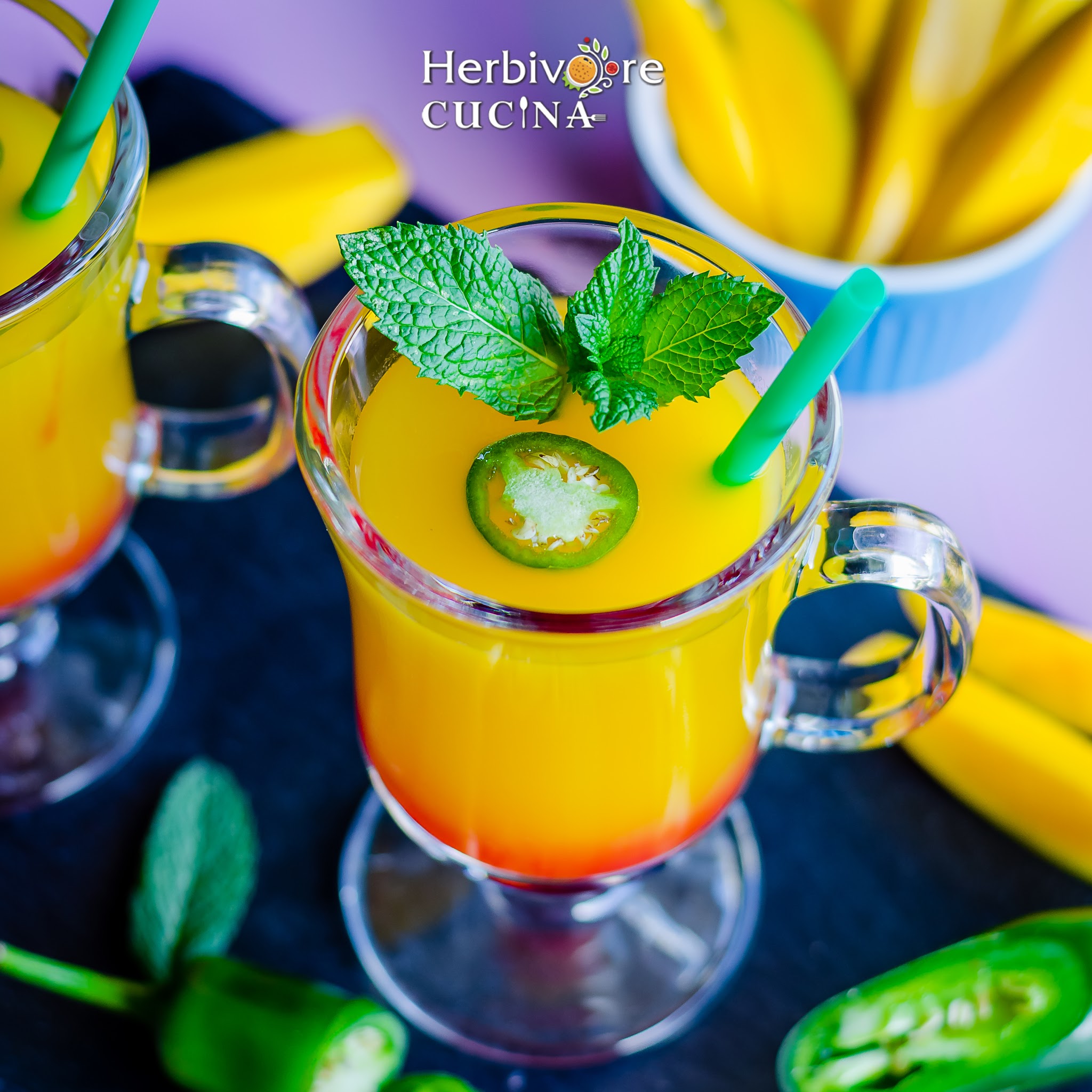 Since then, I have made this drink several times; sometimes for us, sometimes for a party and very often for just a quick drink to sustain in the summer heat! With just five simple ingredients, the drink comes together in under 5 minutes. It is just muddle, stir, mix and go!
Wondering what makes the layers in the drink? It is all thanks to the difference in densities of orange/mango juice and grenadine syrup. The red colored magic potion is heavier and settles below the juice. That is how you get different colored layers at first. When you mix them all, you get a beautifully colored mango drink with hints of jalapeño and mint!


Variations


This is a virgin version, but adding a hint of alcohol to make it a REAL Margarita works well too. I have had friends over who did that to this drink, and they say it was amazing!
This recipe works really well with juices that are pulp free. The pulp and grenadine do not compete to settle at the bottom of the glass, thus making the layers more clear. Homemade and store bought juices can be used. I make this with fresh mango juice (mango pieces and water combined and churned) while they are in season. Then I use the packaged juices.
Not a fan of mango? Use orange or pineapple. They give a beautiful 'sunrise' too! And if you like your food either sweet or spicy, leave out the jalapeño. Though I would say you should try it once, you can cut the sweetness of the juices by using a small amount of lemonade too.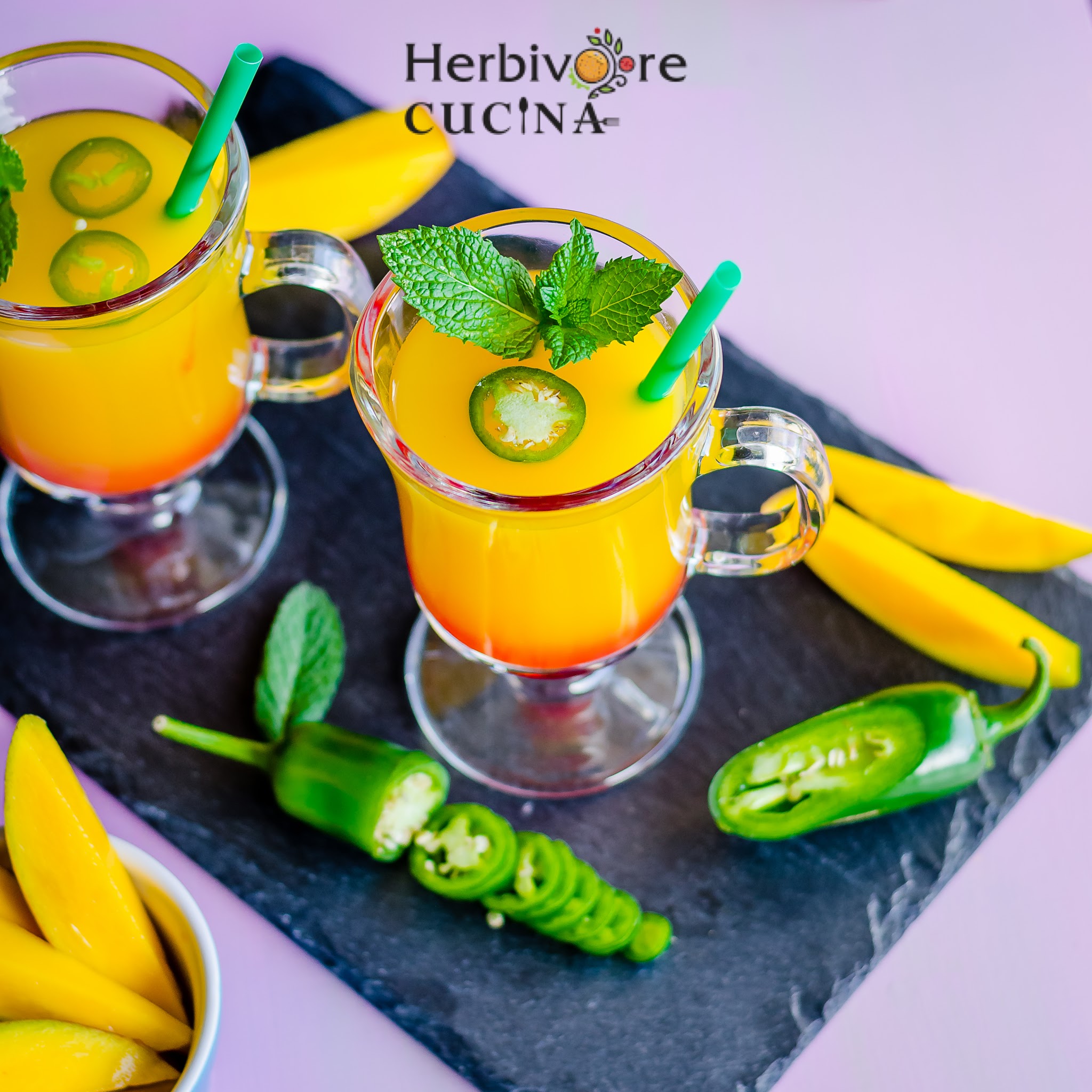 Ingredients
Mango Juice fresh or store bought 2 cups
Grenadine Syrup 2 tbsp
Mint leaves a few
Jalapeño ½ sliced
Sugar or honey (if desired)
Ice cubes
Method
In a cocktail shaker or tall glass muddle 2-3 mint leaves and 3-4 slices of jalapeño. Add Mango Juice, sugar (if using) and ice cubes. Mix well.
Pour into two glasses. Slowly pour a tablespoon of grenadine syrup in each glass and watch how the sunset emerges! Top with extra mint leaves and jalapeño. Enjoy!