Blogging Marathon# 63 -Journey through the cuisines: Day 23
State: Tamil Nadu
Dish: Wheat Rava Sakkarai Pongal
While drafting this post, I cannot believe it is almost the end of this Marathon with just three days to go! Today's letter W was on my mind for a very long time. I thought I would make a sweet dish to balance all the savory things I posted in the last couple of days. I came across Ashoka Halwa from the state and it had wheat flour, but it was not the best recipe to post as a wheat halwa I thought.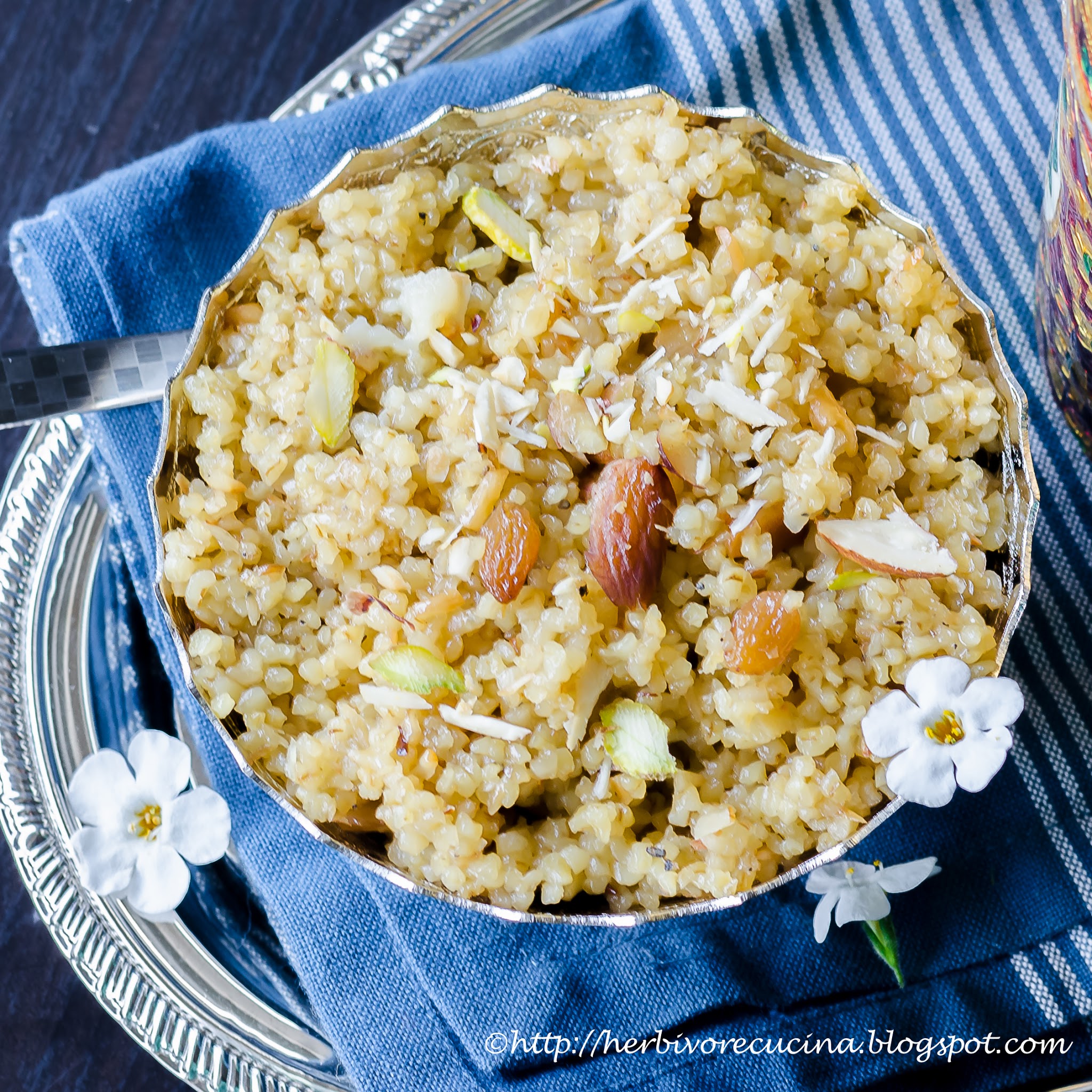 After some research I found that Godhumai is the Tamil word for broken wheat and I knew I had my dish. Godhumai pongal was a very popular dish and I found it on multiple blogs. I picked an idea from here and another from there, but largely I followed this one. Another reason to make this dish was that Tamil Nadu cuisine would be incomplete without a pongal recipe!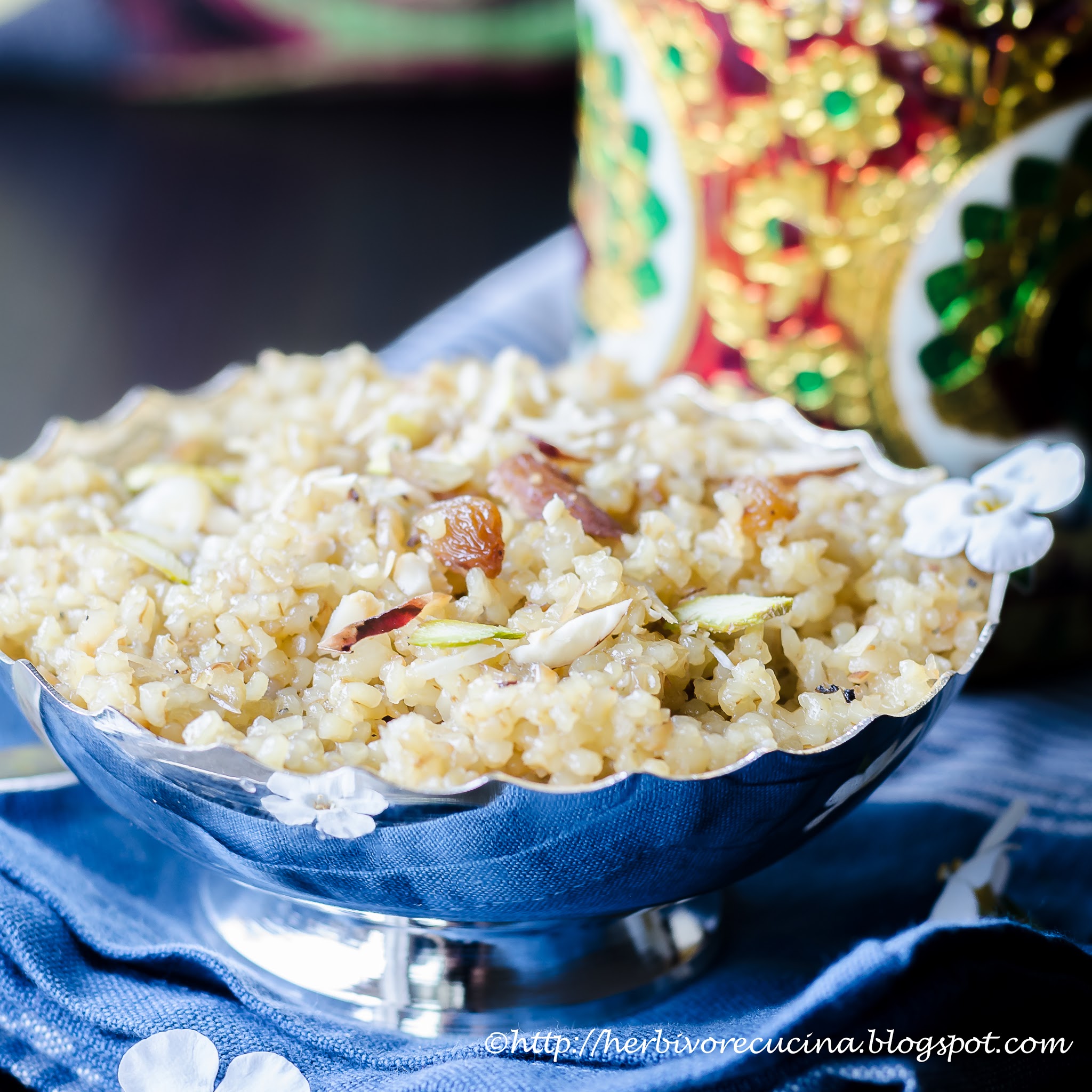 In Gujarat, we have a very popular sweet dish by the name Lapsi. The word lapsi means broken wheat and it is also the name of the sweet dish made from it. On reading about Tamil cuisine, I realized it is a similar dish, just made with added green gram dal. So I quickly got out all the ingredients and made the pongal. This is the first pongal I made and we were pretty glad with the result. It turned out rather well. 
The recipe calls for pretty straightforward ingredients; broken wheat, dal, jaggery, ghee and dry fruits of your choice. From start to finish, it just takes about 10-15 minutes and you get a bowl full of yummy sweet pongal!
Ingredients
Wheat Rava/ broken wheat 1 cup
Green Gram Dal ¼ cup
Water 3 cups
Jaggery 1 cup
Cardamom powder a pinch
Cashew Nut, pistachio, raisin, almond a few
Ghee/ clarified butter 3-4 tbsp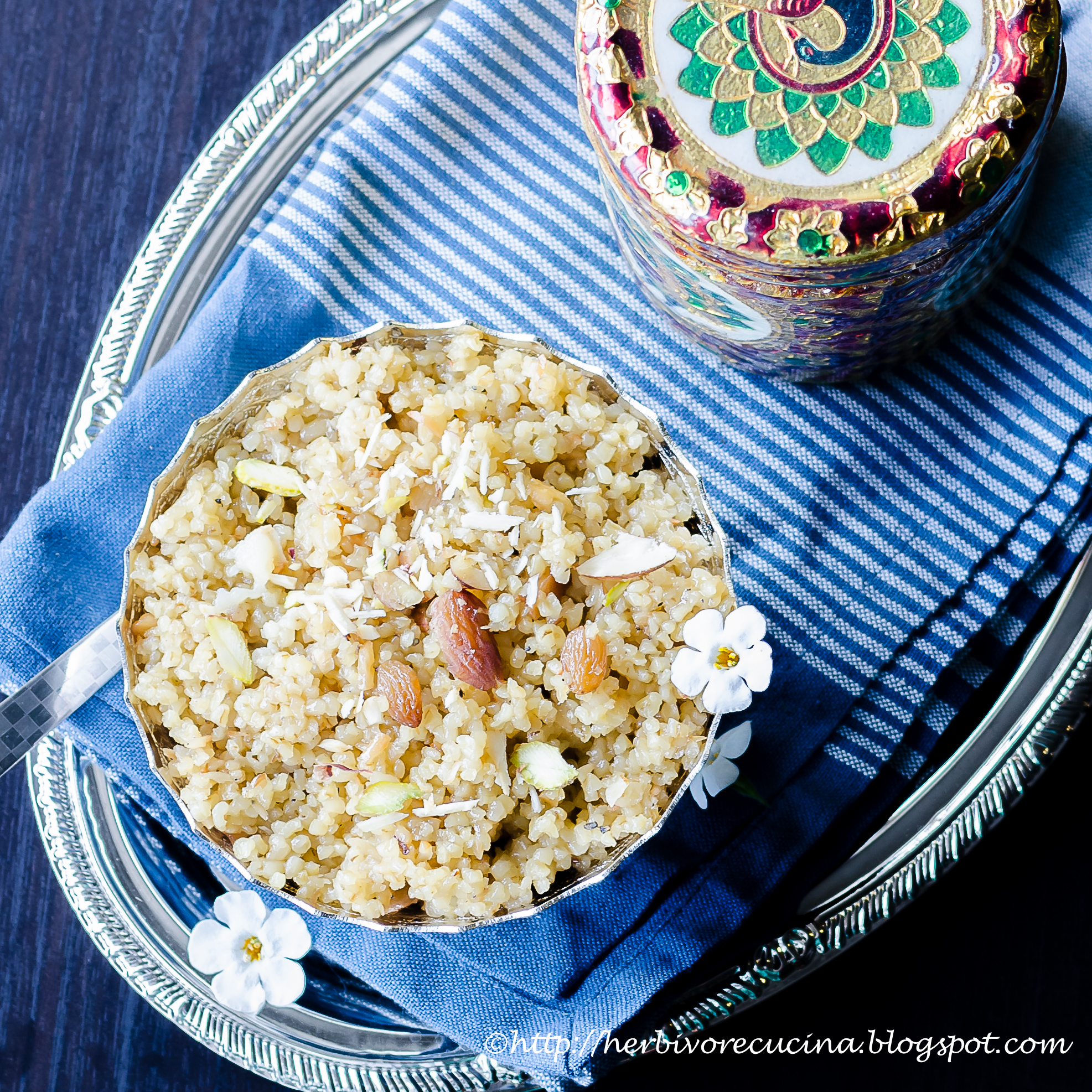 Method
Pressure cook rava and gram dal in 3 cups of water. Once cool, mash it a little and set aside.
Cook the jaggery in a tablespoon water till it reaches a hard ball consistency. Once done, add the rava and gram dal; mix well. Cook the mixture for 4-5 minutes and then add cardamom powder and turn down the flame.
Heat ghee in a small pan, add the raisins and slivered almonds, pistachios and cashews. Fry till golden brown and then add it into the pongal. Mix well and serve warm.