Biscotti can be broken up into two words, Bis or 'Two' and Cotti or 'Cooked'; thus Biscotti is a cracker or cookie that is baked twice. I had not tasted this delicacy till I landed in the US. I was a trip to Boston, where I had the best Biscotti ever at Mike's Pastry. They have a wide range of Biscotti in various flavors like Almond, Cinnamon, Chocolate, Chocolate-dipped and Coconut to name a few!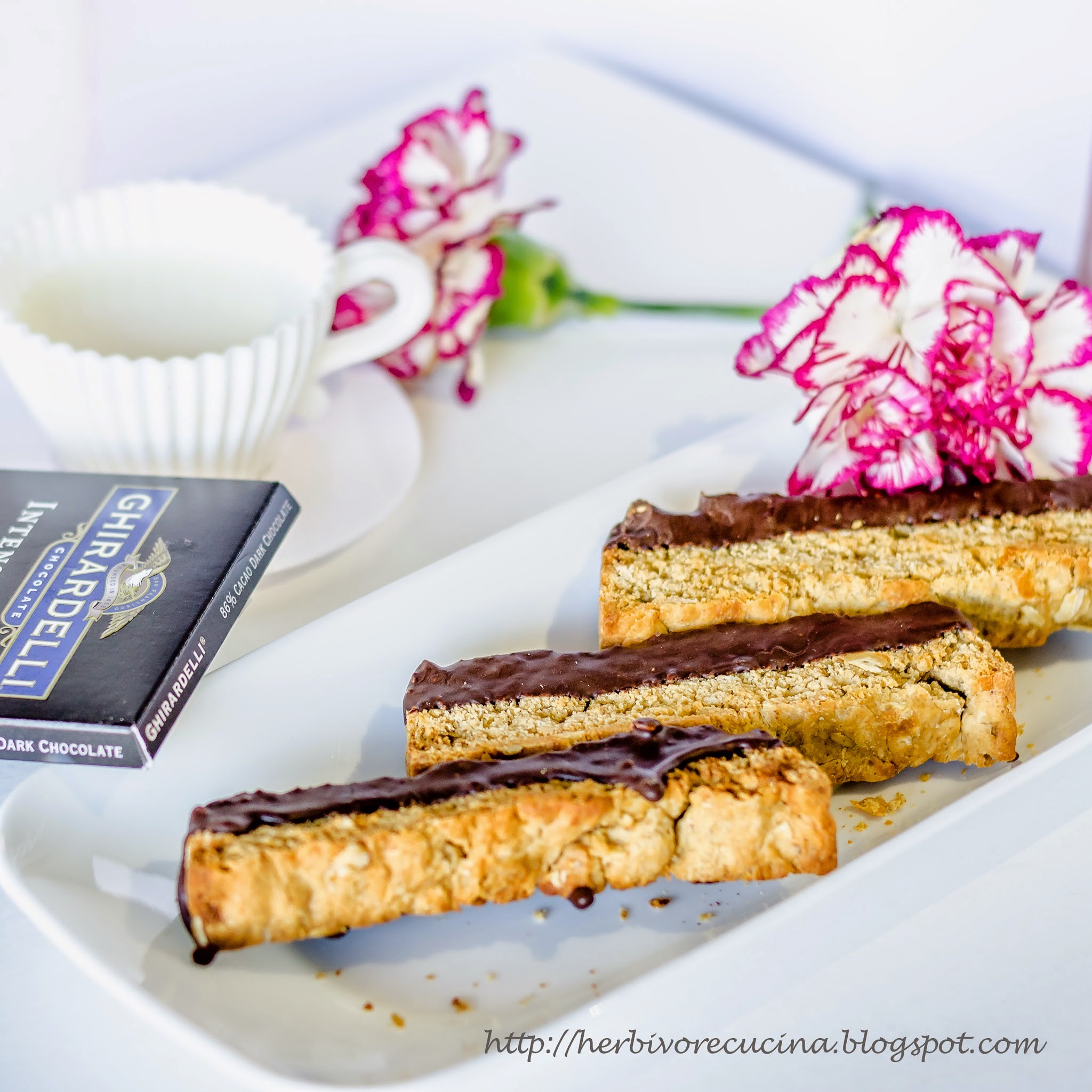 I completely loved this delicacy and thought I should try these at home. Not wanting to use All-purpose flour, I replaced it with Whole-Wheat Flour and Old Fashioned Oats. Also, not wanting to use eggs in the recipe, I used some yeast to make the bread rise; in combination with Baking powder. The result was truly amazing, and yummy! I then dunked the Biscotti in Ghirardelli Dark Chocolate, however, it is absolutely optional.
Simple to follow recipe, this Biscotti is made from simple pantry ingredients that need no special effort to collect. Biscotti is twice baked biscuits which makes it pretty dry and non-perishable. It can be stored for days and enjoyed thoroughly with a glass of milk or Coffee.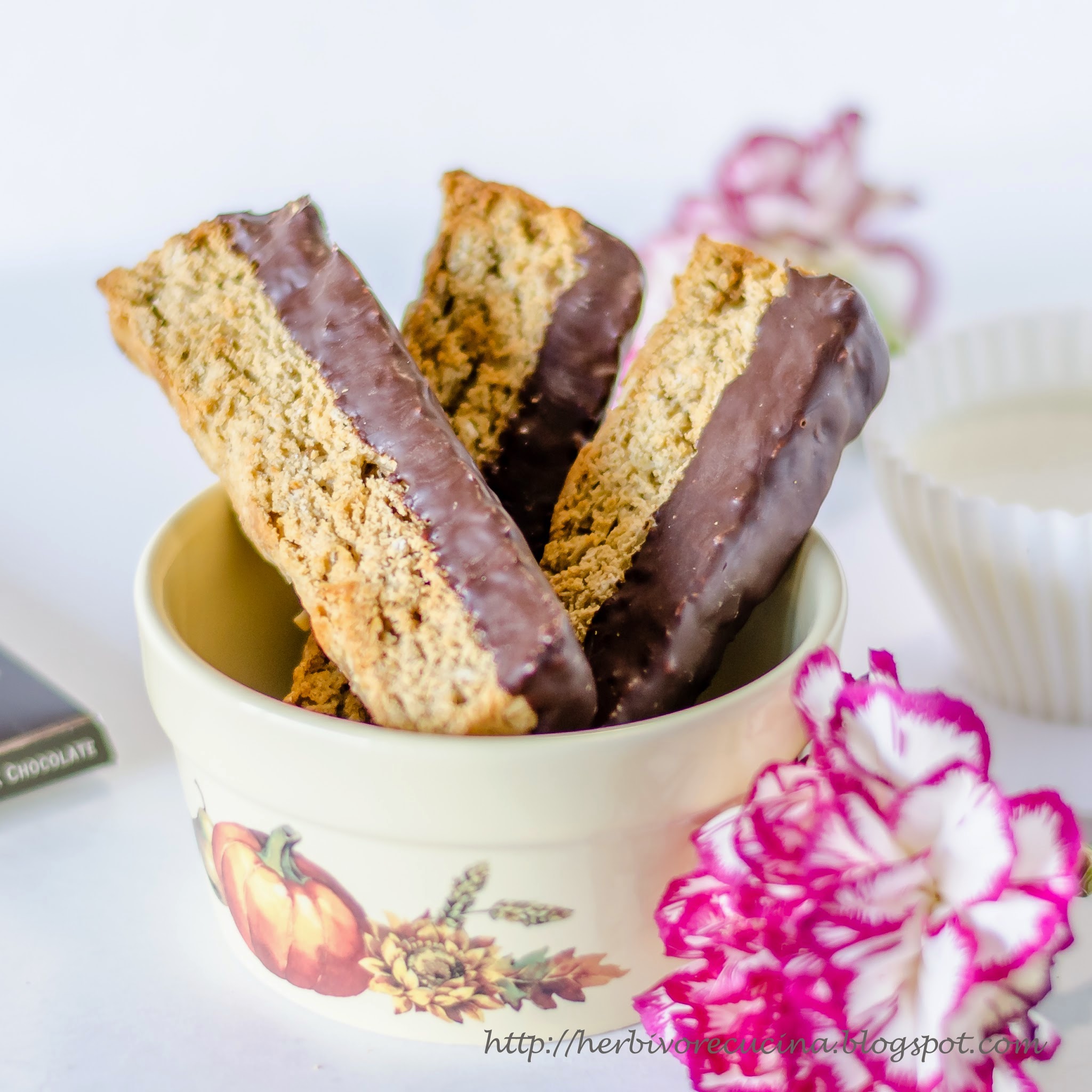 Ingredients
Whole wheat Flour 2 ½ cups
Old Fashioned Oats 1 cup
Baking Powder 1 tsp
Rapidrise Dry Yeast 2 tsp
Olive Oil 2 tbsp
Salt 1 tsp
Sugar 2 tbsp
Cinnamon Powder 1 tsp
Ghirardelli Dark Chocolate ½ cup
Method
In a cup of warm water, add Yeast, 1 teaspoon sugar and salt. Let the mixture stand for ten minutes till it foams. In a large mixing bowl, mix flour, Oats, salt, Olive Oil, Baking Powder and Sugar. Pour the frothy yeast mixture into this mixture and make a soft dough. Add little water if required and knead well. The mixture may be sticky at first, knead it well till it converts to a soft dough.  Apply oil over the dough and place it in a large bowl, cover it with a moist cloth and let stand for 45 minutes. 
Preheat oven to 400 F/ 200 C. Take the raised dough and punch it down. The dough need not be doubled in size as we do not want a very fluffy bread. That is also the reason we have taken less yeast compared to the traditional amount. Roll the dough into a log shape and place it in a greased bread pan. Sprinkle some oats on the bread if you like.
Bake the bread after 15 minutes for 20-25 minutes. The top of the bread should be nice and golden. Remove the bread from the oven and let it rest in the bread pan for five minutes. Then, transfer the bread to a cooling rack and let the bread cool. Once cool, make thin slices of the bread and lay them flat on a baking tray greased with little oil. Sprinkle cinnamon powder on it and place the tray in a preheated oven at 400 F/200 C.
Bake the Biscotti for 15-20 minutes till they are golden brown and crisp. Remove from tray and cool them completely. Take the Ghirardelli Dark Chocolate in a microwave safe bowl and microwave on high for 30 seconds to 1 minute till it is completely molten. Take each Biscotti and dip it halfway into the molten chocolate. Rest the biscotti on a wire rack till the chocolate solidifies. Transfer to an air-tight container and store. 
Enjoy Biscotti with a cup of milk or coffee! Yummy food at it's best.
P.S: Ghirardelli is not sponsoring this post or providing any promotional benefits to me. The recipe will work just as good with any other chocolate of your choice.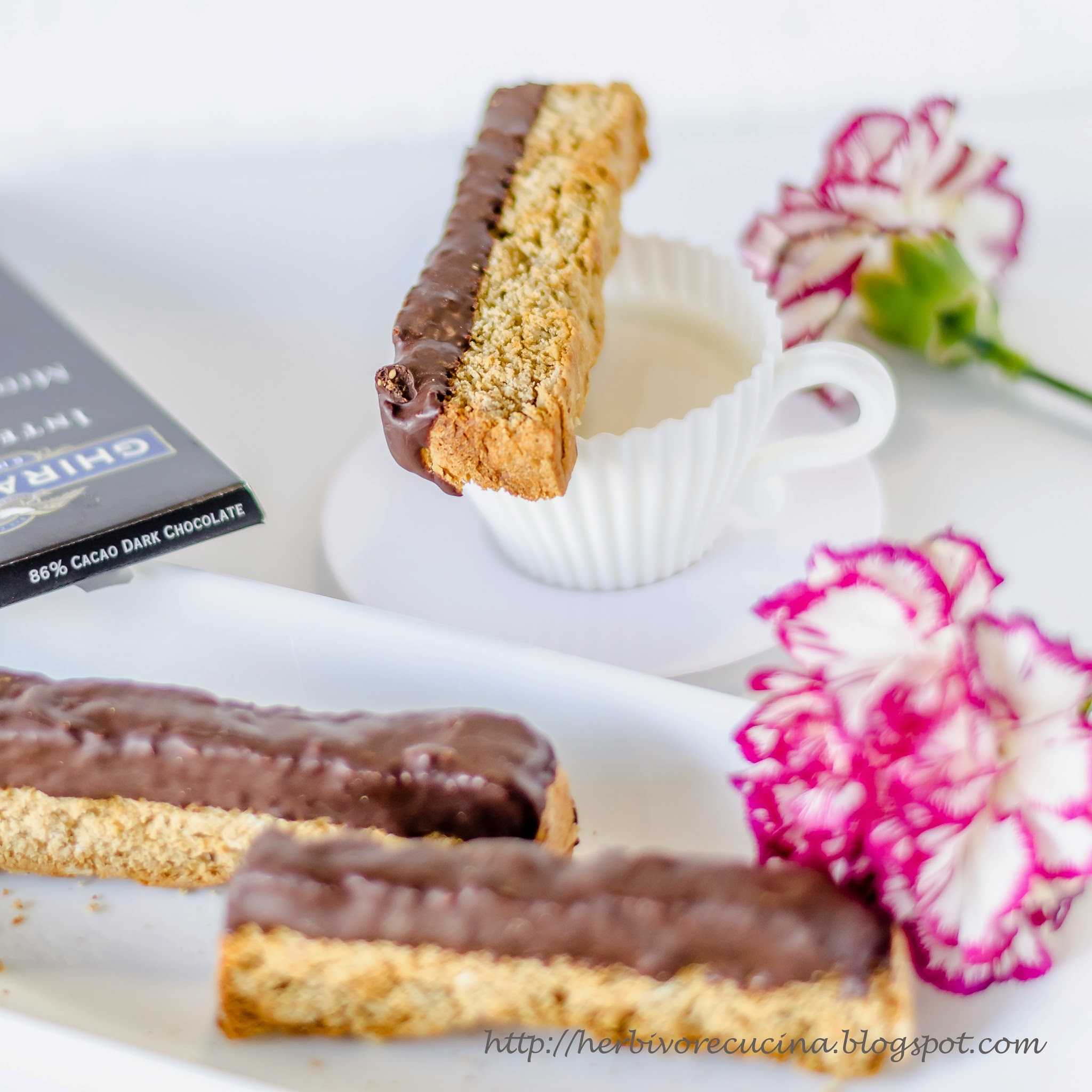 Sending this recipe for the 'Let's cook for Mother's Day' with Simply Food.