I am back from a month long vacation and I am so shocked to see that we are almost in December. 31 more days and it is time to bid good-bye to 2015. Can't wait for 2016! So many hopes, expectations and unfinished tasks for the coming year. Also, we are almost into Christmas and it is time to put on my baking hat. So here is the first recipe from my kitchen for the upcoming holiday season: Whole wheat banana walnut bread.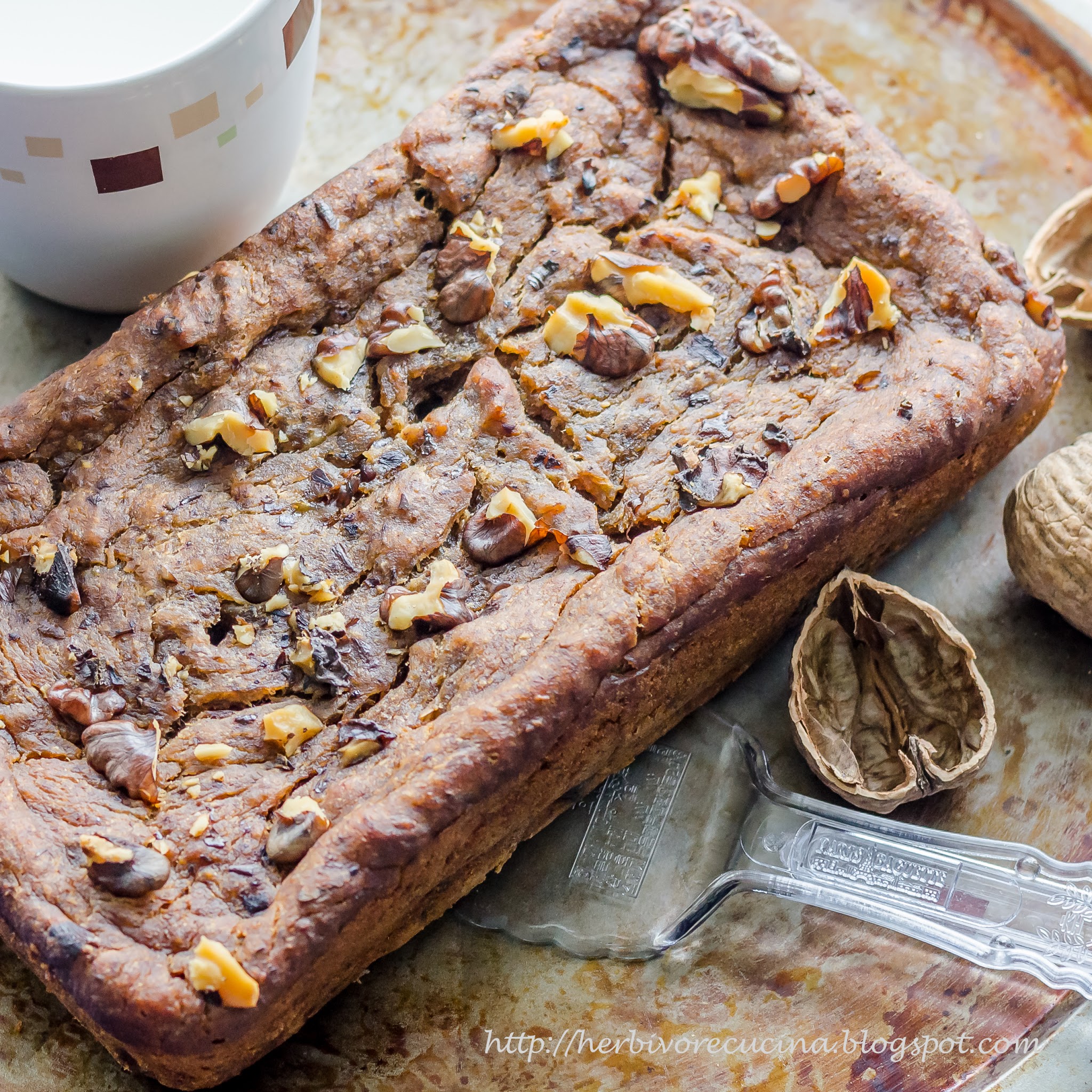 This recipe is particularly close to my heart because I have been wanting to make a bread or cake from whole wheat instead of all purpose flour and I finally made it. Not only was the cake healthy, it had a very earthy flavor which we all loved. This cake is eggless and butter free. The addition of yogurt and chia seeds makes up for the egg and vegetable oil in place for butter. Honey and ripe bananas are used to sweeten the cake.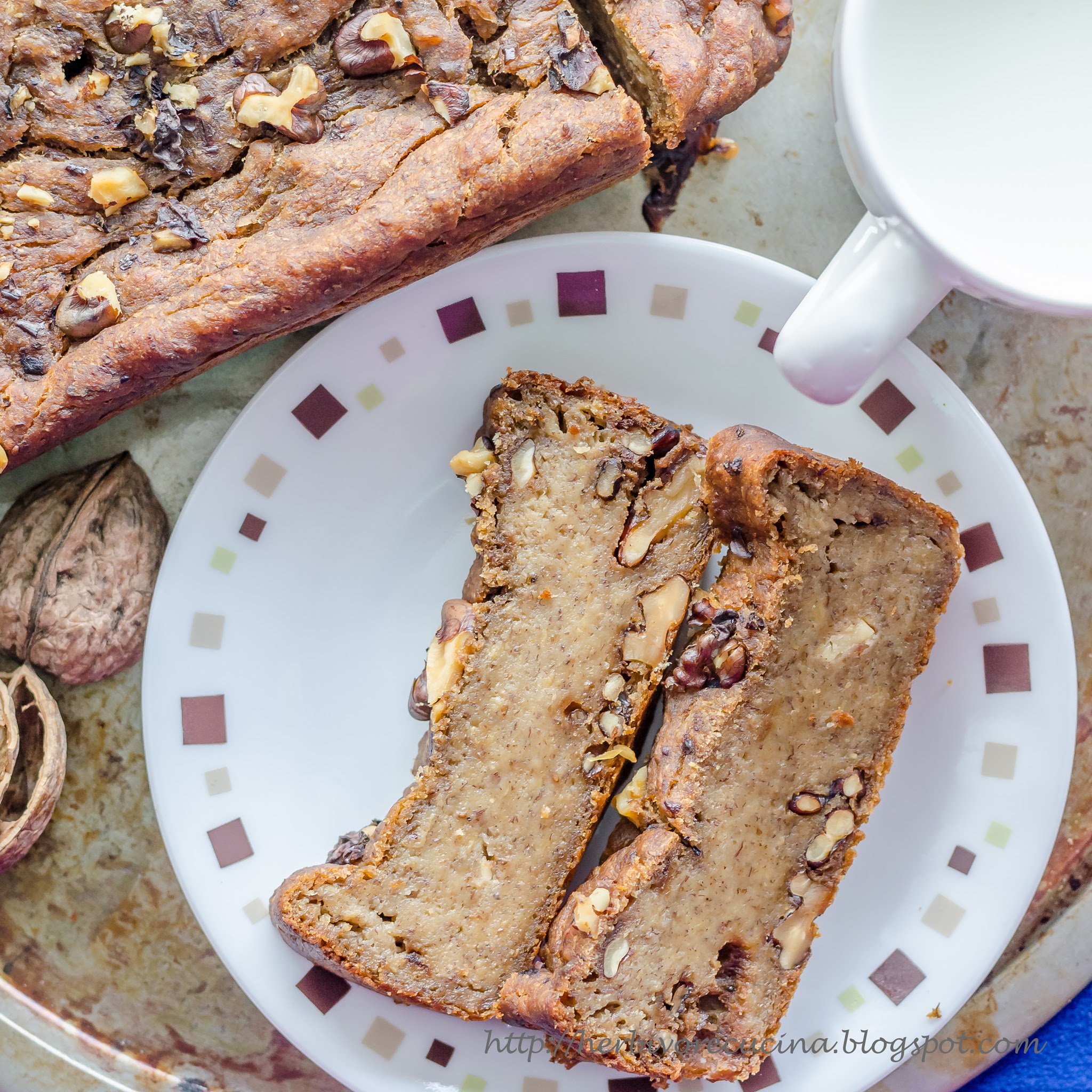 As the weather is cold and it is perfect time to pile up on spices, use cinnamon and nutmeg in the cake. If you dislike any of these ingredients, use substitutions. Also, to break away from the smooth texture of flour, I have used fresh walnuts that I bought from the farmer's market. You may add them, and add almonds too. If you like a chocolate flavored bread, add a handful of chocolate chips to the bread too.
I made a 9*5 loaf of this special treat, and we gobbled it down in a day! Wish I had made two loaves by simply doubling the ingredients. So when you make this bread, make sure you make enough for a few days! The recipe is free of all the unhealthy things, and so you will not mind your family enjoying a lot of pieces of this holiday treat. Happy Holidays peeps!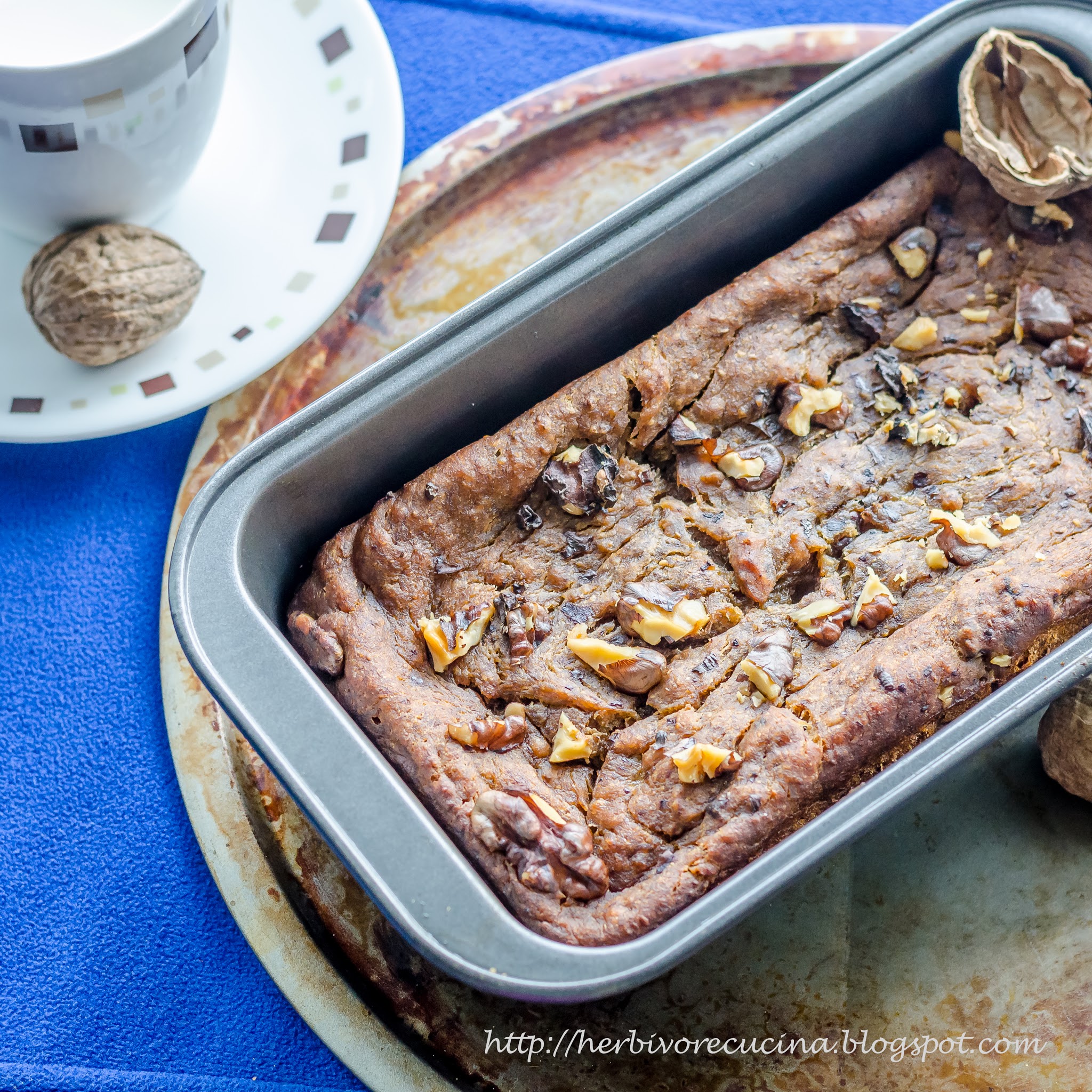 Ingredients
Whole Wheat flour 2 cup
Vegetable Oil ½ cup
Yogurt 3 tbsp
Ripe Bananas 3-4
Powdered Brown Sugar ½ cup
Honey ¼ cup
Roasted Walnuts ¾ cup
Baking Soda 1 tsp
Baking Powder 1 tsp
Chia seeds 2 tbsp
Cinnamon powder 1 tsp
Nutmeg Powder (optional) a pinch
Vanilla Extract 1 tsp
Salt a pinch
Method
For the initial preparation, roughly chop the walnuts post roasting them on medium flame. Peel and mash the ripe bananas with a potato masher. Powder the chia seeds and mix the powder with ¼ cup water and set aside for 15 minutes.

In a mixing bowl mix the oil, yogurt mashed bananas and stir. Then add the sugar, honey, soaked chia seeds powder, nutmeg, cinnamon and vanilla extract. Mix using a hand mixture and add a tablespoon or two of water if required. Set aside. In another mixing bowl sift the flour and mix with baking powder, baking soda and salt. Pour half the wet mixture into the dry ingredients and whisk. Once combined, repeat with the remaining mixture and whisk on medium speed to form a smooth batter. Now add ½ cup of walnuts and mix well.
Preheat oven to 375 F and line a 9*5 loaf pan with nonstick spray or oil. Transfer the mixture to it, top with remaining walnuts and bake it uncovered for 35 minutes. Then cover with a piece of aluminium foil and bake for another 25-30 minutes. Test with a toothpick, if it comes out clean, the bread is done. Let it cool for 10 minutes and then transfer to a wire rack to cool completely.