Blogging Marathon #68 Week 4 Day 2
Theme: Rice Dishes
Dish: Wild Rice Pilaf


Today is the second day of the Rice theme in this month long Cooking Carnival. Yesterday I posted a recipe using Basmati Rice known for its white color, refined texture and flavor. Today is just the opposite. The rice for today is Wild Rice. This type of rice is black in color, earthy texture and rustic flavor.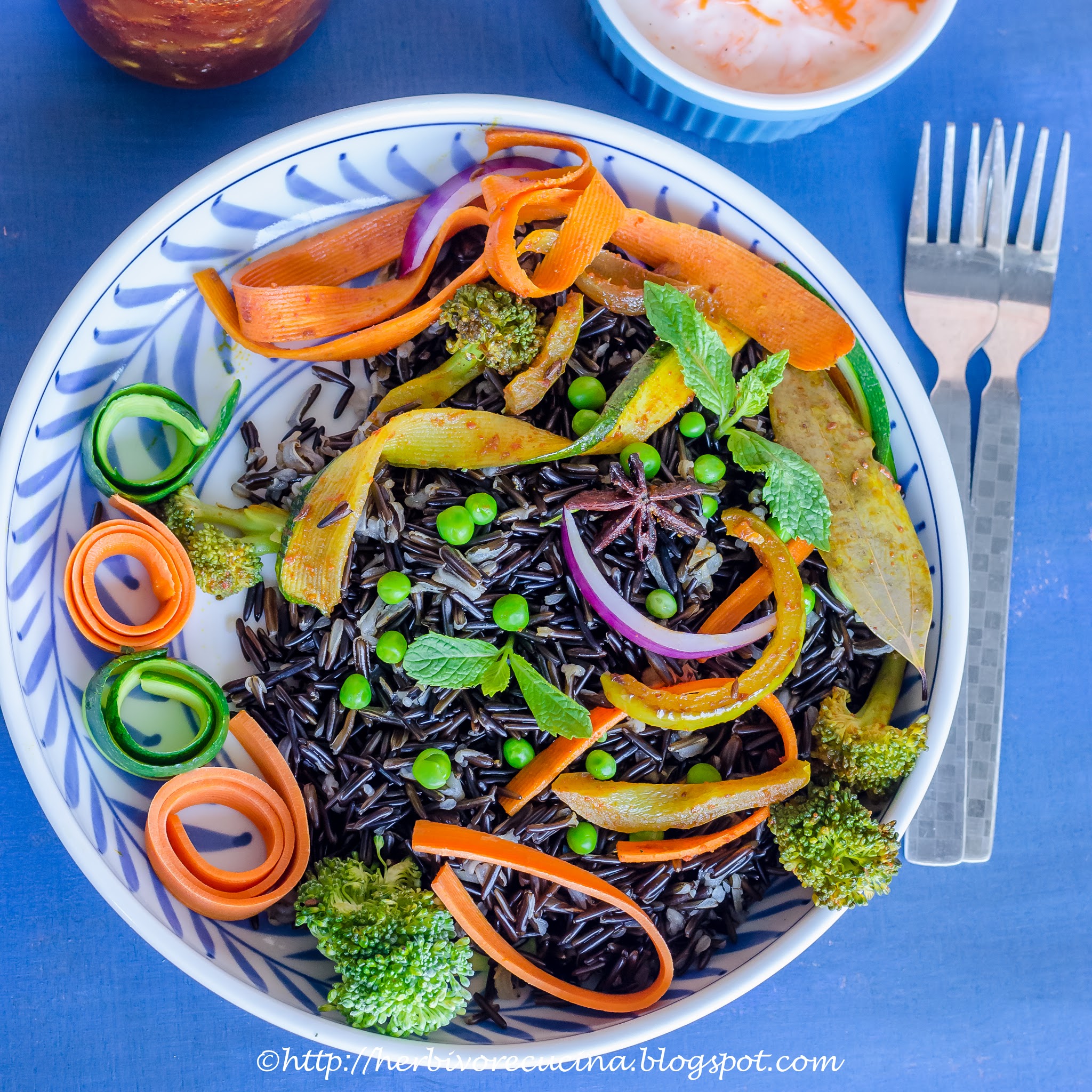 This black wild rice is believed to be really healthy and so we enjoy a dish using it occasionally. Back in India I have never seen this kind of rice. However, here in the US the rice can be easily found. I generally get mine from the bulk buy section of Whole Foods. The first time I got this rice, I had no idea how to make it. Experimenting with it a few times led me to understand that the rice is pretty earthy and has a distinct flavor.

As the rice has it's own flavor, it is best cooked with light add-ins. Adding a lot of vegetables or overpowering masalas makes the rice lose its character. I rarely add cumin and asafoetida in this rice as they are known to have a strong flavor. I leave out garlic as well. However, you can add the ingredients you like.

The rice is rather tough as it comes with the outer husk. Thus, it helps to soak them overnight as it shortens the cooking time. The rice can be cooked in vegetable stock or water. Keep adding water if it get absorbed while cooking. Once cooked, add the vegetables tossed with whole spices and mix in. You can cook the rice in a pressure cooker too. It should take about 10-15 minutes to cook the soaked rice. Add the vegetables of choice or just add the seasonings and serve with raita, salad or even dal.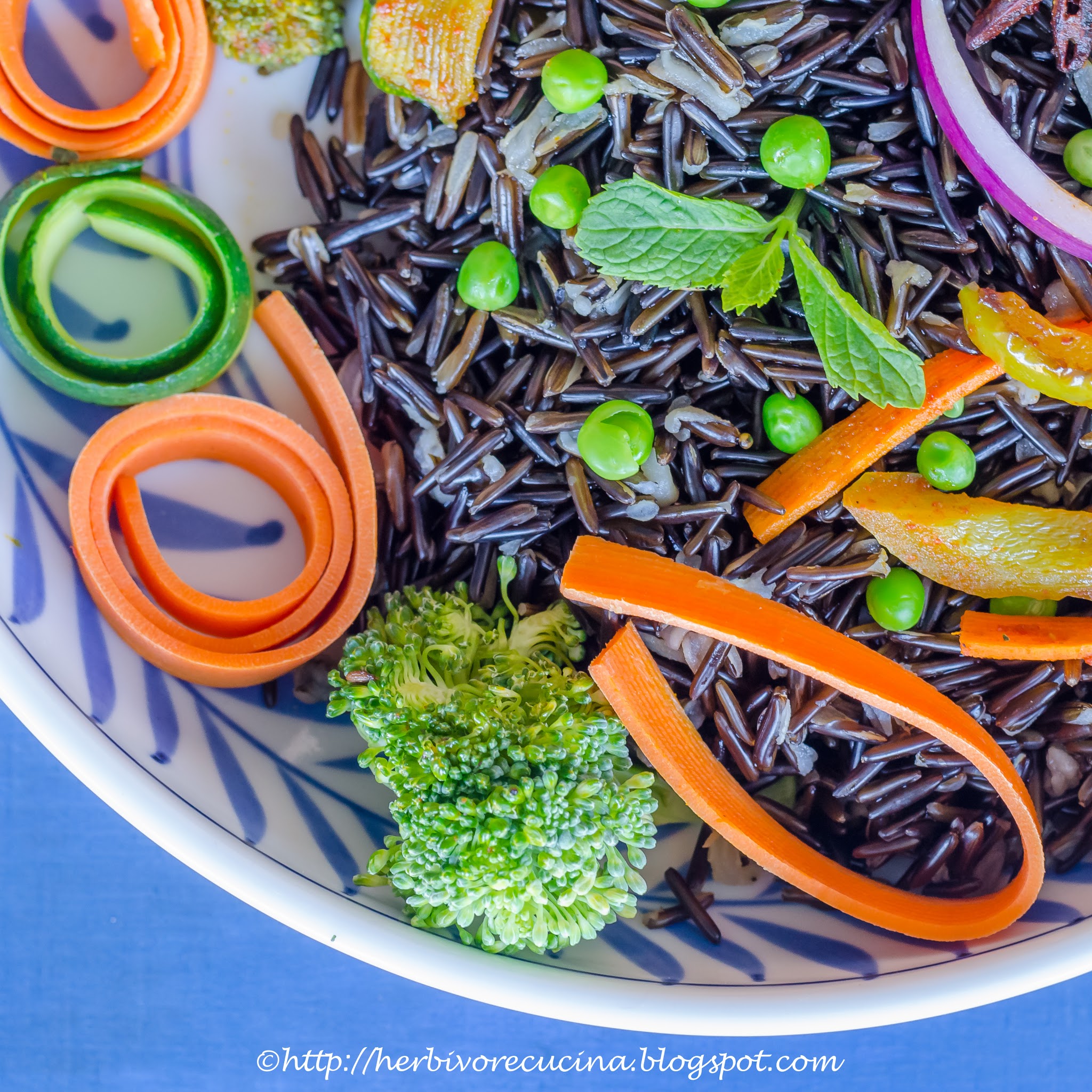 Ingredients


Wild Rice 1 cup
Vegetables 1 cup (Zucchini, Carrots, Peppers, Broccoli, Peas and Onion)
Spices (Star Anise 1-2, Cloves 3-4, Cinnamon 1 inch piece)
Oil 1 tbsp
Biryani Masala 1 tsp
Turmeric Powder ½ tsp
Red Chili Powder 1 tsp
Chilli Ginger Paste 1 tsp
Salt as required
Mint leaves to garnish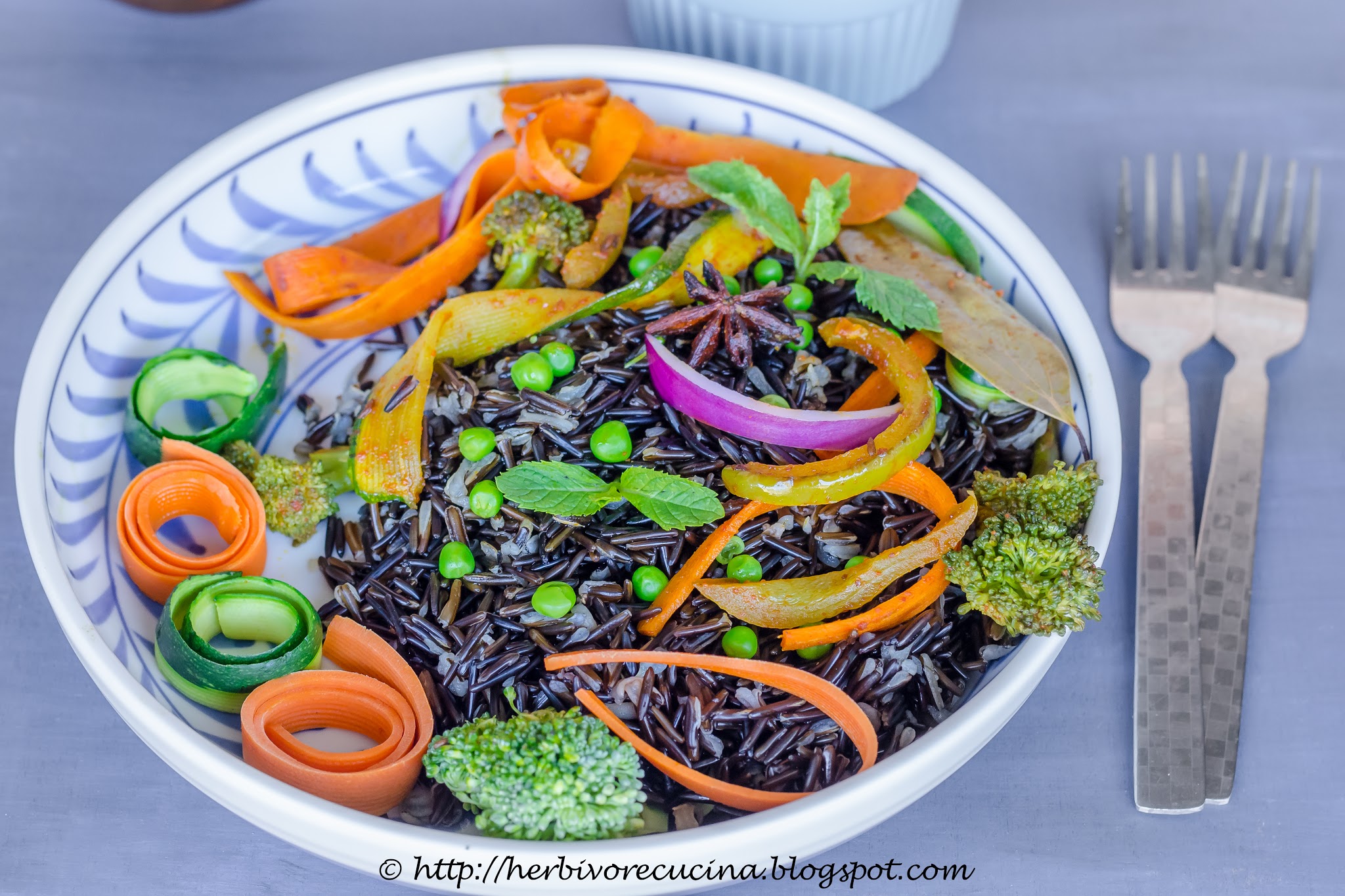 Method
Wash and soak the black rice in 2 cups water overnight or atleast 5-6 hours. Then, boil the rice with a pinch of salt. It takes about 40-45 minutes. Alternatively, cook in pressure cooker for 10-15 minutes. Set aside.
Ribbon the zucchini and carrots. Slice onion, pepper and separate the florets of broccoli. In a pan heat oil and add the spices. Once they are fragrant, add the chilli ginger paste and cook till the raw flavor vanishes. Then add the onions and peppers. Cook till soft and add the remaining vegetables. Also add the biryani masala, turmeric powder and red chilli powder. Cook on medium flame till the vegetables are cooked.
Once the vegetables are cooked, add the rice and adjust the salt. Mix it all well and turn down the heat. Serve garnished with mint and with pickle, raita or salad on the side.