How about some cookies made with Almond Butter and M&M. After all, Chocolate and Almonds is a combination made in heaven, right?
It has been so long since I made some cookies. A couple of weeks back I found some packets of Holiday special M&M and Crunch pieces while shopping at a local store. They looked so cute and inviting, I HAD to get them home.
So I did and started thinking of how to make them into cookies. Plus, I had a jar of Almond Butter from a promotion I did not long ago. Combining chocolate and almond has been a winning combination since Hershey introduced their Nuggets with Almonds or maybe even before that. So I knew I had everything I needed to make some yummy cookies.
Super excited, I got working with all the basic cookie ingredients together and started off. I mixed everything together and got the cookies going. The mixture was so delicious that as I was tasting for sugar, I ended up eating a whole spoon of it, just like that!! It was too good to let go.
I made about 12-13 cookies from the proportions mentioned below. They were small in size, just so that I can have some portion control. The M&Ms were popping out from the cookies and I added a few more just because I LOVE them. The result was much better than I expected.
We enjoyed the cookies and finished them in no time. The cookies were perfectly sweetened, not super overpowering and not very bland. Plus, the almond butter had some almond bits that gave the cookies a great texture. That again proves that almonds and chocolate are probably a combination made in heaven.
However, don't have almond butter? Don't worry. Any nut butter of your choice would be great in this recipe. Whether it is peanut butter or cashew butter, it will all work equally well in these cookies. And the result? It will just as delicious as this one!
All you need to do is to mix all the ingredients together, make the cookies and bake them to perfection. Once done, enjoy them warm or let them cool completely. Finally, dunk them in some milk and enjoy it for breakfast or as a snack.
Looking for something yummy to make for Valentine's day? Make these with the Valentine's Collection from M&M and surprise your loved ones!! A recipe so easy, your kids can help you bake these goodies for the upcoming Super Bowl too!!
Ingredients
All purpose Flour ¾ cup
Almond Butter ½ cup
Egg 1, room temperature
M&M Candies 1 cup
Unsalted Butter ¼ cup, room temperature
Brown Sugar ½ cup
Vanilla Extract 1 tsp
Baking Soda ½ tsp
Salt a pinch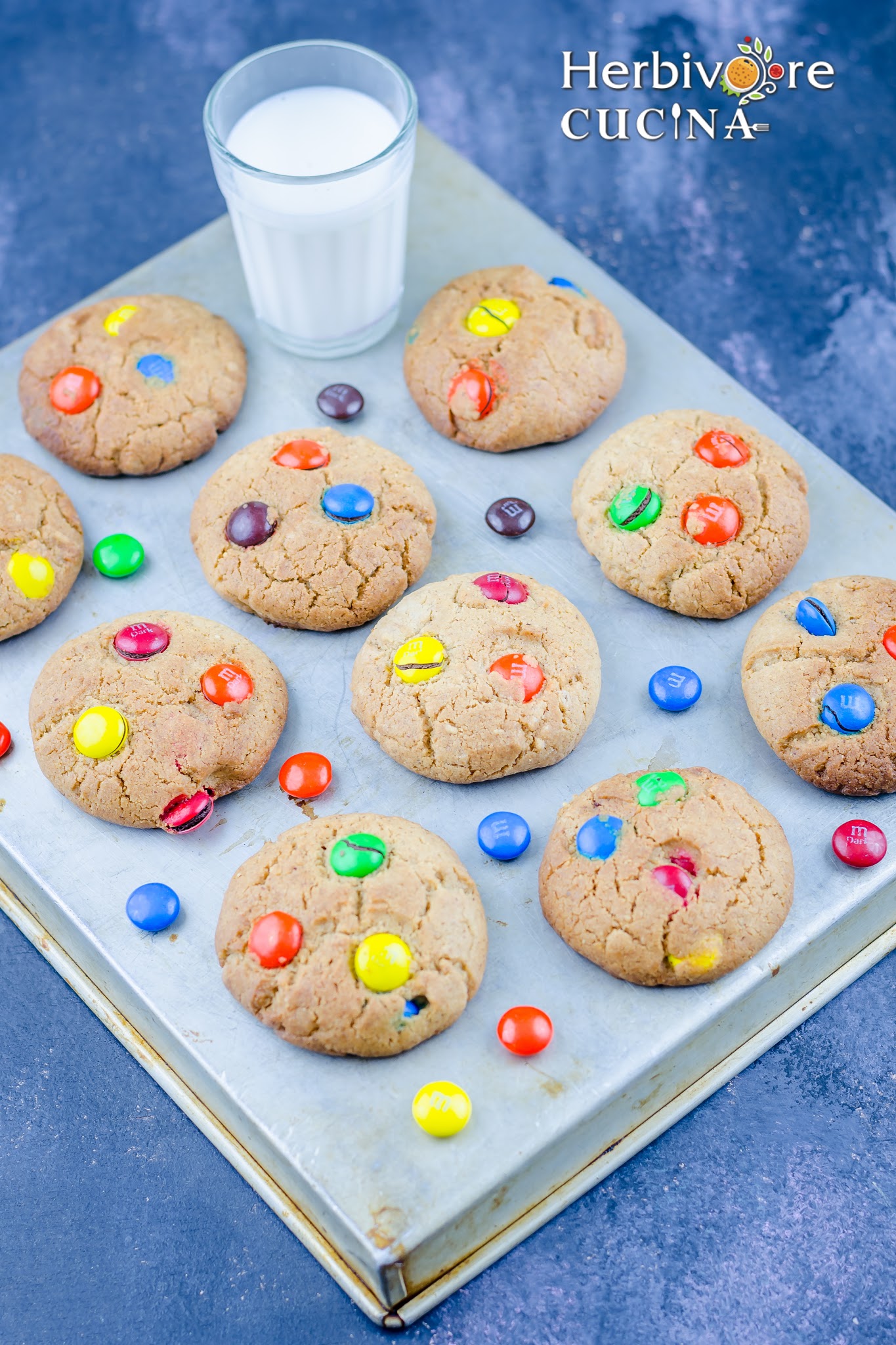 Method
Preheat oven to 350 F. Line a baking tray with parchment paper and keep ready. Sift together flour, baking soda and salt. set aside.
In a bowl or using a stand mixer, mix together butter and almond butter till creamy. Next add sugar and beat till thick and homogenous.
Next add vanilla extract and egg and beat to a smooth mixture. Then add the dry ingredients and mix well.
Finally, add in the M&M candies and fold them in, trying not to break them. Take 2 tablespoon of the dough and make a ball out of it. Press it to a flat disc on the cookie tray. Press in a few more M&M into them.
Bake for 13-15 till the base is light brown and the cookies are cooked. Remove and store in an airtight container.