Homemade hand pressed rice noodles that requires just 4 ingredients. Perfect for breakfast, lunch or dinner. Psst, this one is vegan and gluten-free too.
Breakfast is undoubtedly the MOST important meal of the day. On weekdays it is generally a quick affair, juggling between poha, upma, egg preparations and some pancakes. However, on weekends I like to make something more interesting and filling.
For weekends I try out some recipes from cuisines that I am not very familiar with. It is not only fun but also gives me time to make something else for lunch if I mess up the new recipe! A few weekends ago I made these string hoppers, back in 2016.
But it is only now that I am finally drafting this recipe while I am visiting Boston with my husband for his business trip. I am lazing round in the hotel and eating out EVERYDAY. Amidst all that, I am really craving this yummy breakfast today. And when I think of the warm Kerala style Vegetable Stew that I made with this one, I just feel like having it everyday.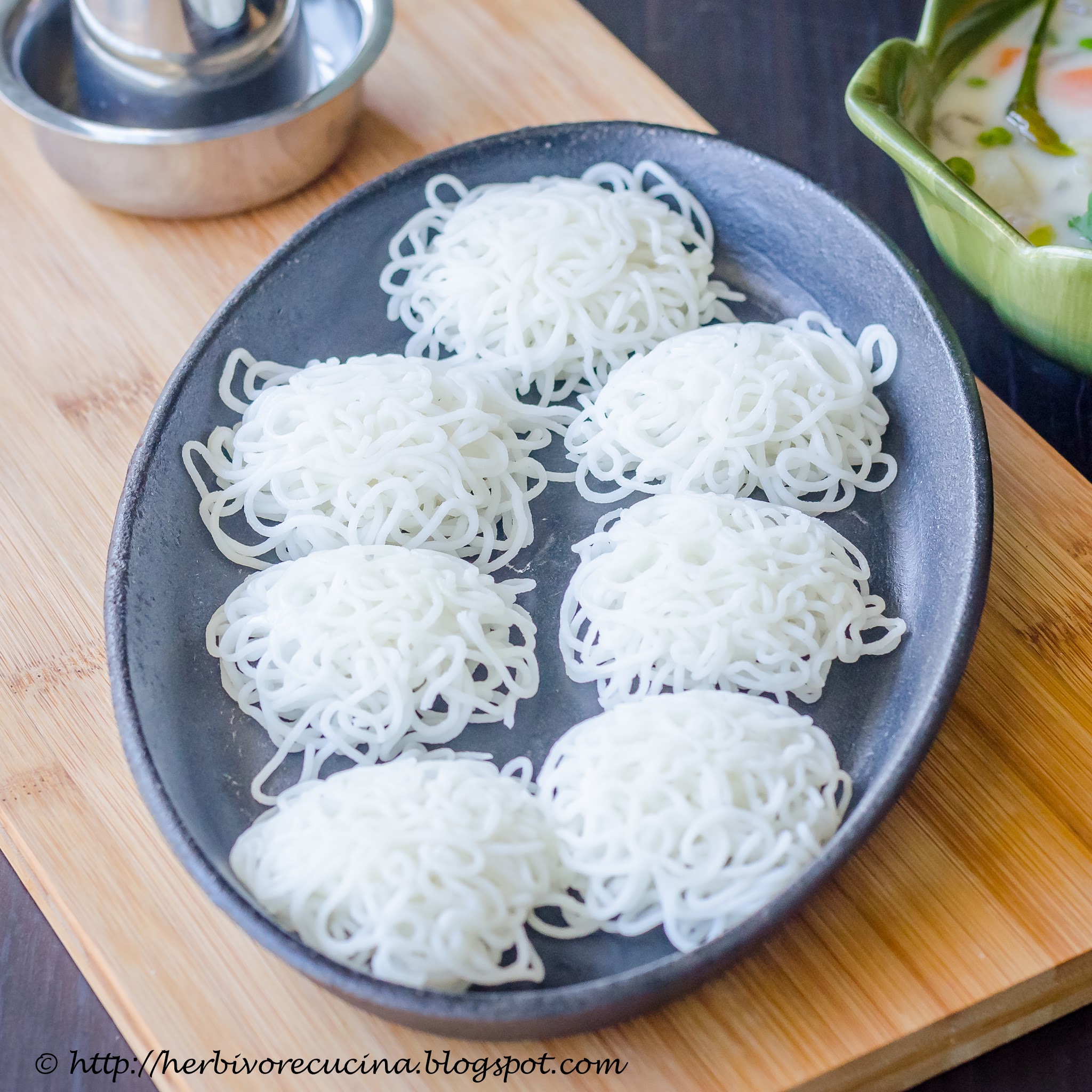 So while I keep craving it, here is a small introduction to the dish for those who do not know. String hoppers are thin rice noodles that are steamed and can be served with a savory stew or with sugar or jaggery. They can be converted to a yummy upma or lemon sevai too.
The original flour for this has to be the idiyappam flour. However, I found this recipe using rice flour and used it. Besides, I did not have the traditional idiyappam maker, so used a chakri (murukku) maker. The noodles came out pretty well and we had a hearty breakfast.
Here is an observation I made from this dish. In Gujarati cuisine we have a rice flour snack called Khichu, a dish we all love in our homes. It is essentially rice flour that is cooked in hot water and spices; then steamed in form of balls and served with oil, red chilli powder and chutney. This dish when made from rice flour is similar, just that the noodles are made instead of balls. It is so amazing, that different cuisines have such similar recipes!!
I saw a lot of recipes on various blogs for idiyappam using all sorts of flours from the traditional rice based to more unique ones like ragi and oats. Now that I have this recipe under control, I think I shall venture out into those!
Adapted from here
Ingredients
Rice Flour 2 cups
Coconut Milk 2 tbsp
Water 2 cups
Salt 1 tsp
Method
Line a idiyappam maker or a chakri maker with some oil. In an idli stand or a deep vessel, fill water and keep ready. Line idli plates or flat plate with holes with some oil and set aside.
In a deep pan heat the water. Once bubbles appear, add in the rice flour and salt. Using a rolling pin or the back of a ladle, mix it well to form a soft yet moist dough.
To check if it is done, make a small ball with your fingers. If it does not stick to your fingers, it is done.
While the dough is warm, make balls and fill the idiyappam maker or chakri maker. Drop thin noodles onto the greased plates ensuring you do not pile a lot of them in one area. Place them in the steamer.
Steam for 10-12 minutes and remove. Pour coconut milk on them and serve warm with Kerala style Vegetable Stew.