A versatile sauce that is perfect as a base for Asian dishes and a dipping sauce for some yummy appetizers. Psst, it has all the ingredients that you will have in your pantry!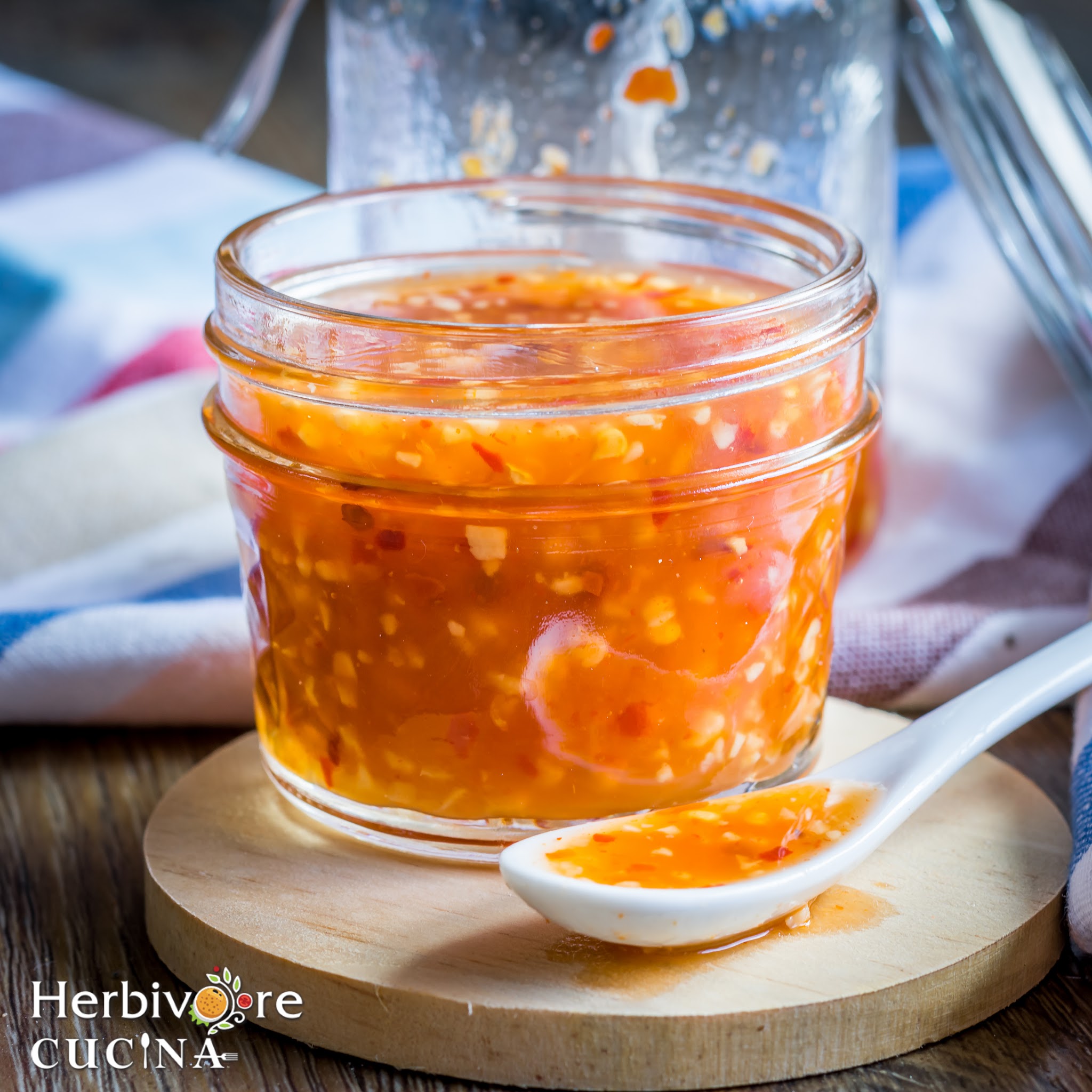 Today is the final day of the Blogging Marathon for this week and my theme continues to be dips, chutneys and spreads. Over the last two days I posted a chutney and a raita.

For the final day is a sauce that works as a sweet and spicy chutney, as a dip for most Asian appetizers and a sauce in making some Asian dishes.

When I was in India I used to buy bottles of sweet chilli sauce and use that as a dipping sauce for spring rolls and dumplings. Plus, it made the perfect sauce to make some yummy American Chopsuey and sweet and sour vegetables. We loved it so much that I started making the sauce at home.

Then I moved to US and the sauce was somehow forgotten. I chanced on this recipe on Foodgawker. I wanted to make the sauce again and what better time than for this month's Marathon.

The day I made this sauce, the light was really bad. I took a few pictures on my chilling patio and finally gave up. Luckily for me, the next day was bright in parts and I managed some more clicks that I liked better than the previous day's.

The sauce is a really simple one; with ingredients that are available in any pantry. From chilli flakes to sugar, salt and vinegar; we mostly have all of this really handy. And the sauce takes about 10 minutes from start to finish and can be refrigerated for a month.

Yesterday I made some steamed momos and we enjoyed every bit of that with this sweet spicy sauce. California is in the middle of a storm and it is raining everyday. Nothing beats a snack of piping hot dumplings and a dipping sauce that is really flavorful.

Today, as i type out this post, I am watching the rain again and feel like eating another bowl full of those steamed delights and some sauce. Hope you all enjoy this post and join me soon for the next post which I promise is super tempting and delicious!!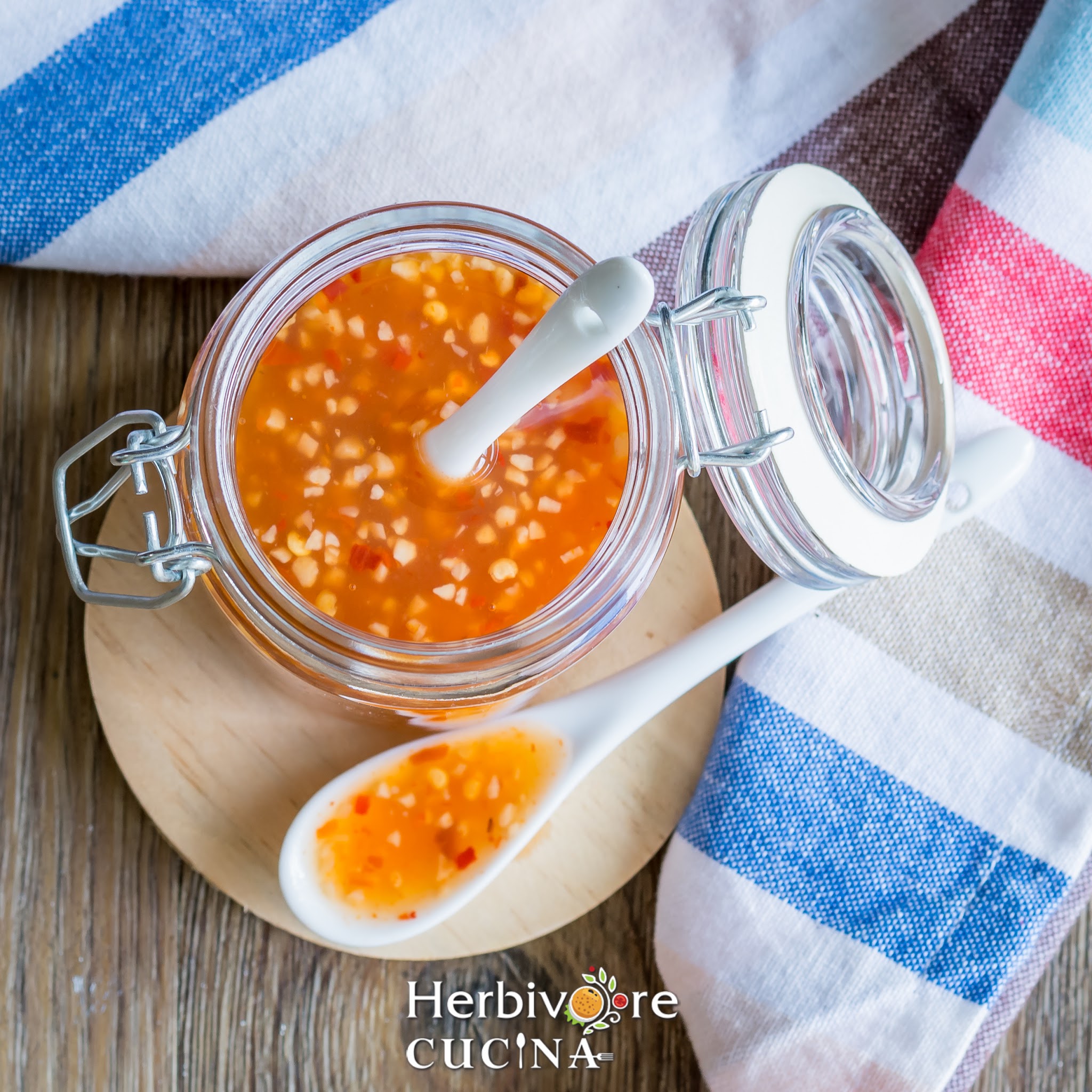 Ingredients
Sugar/ Honey ¼ cup
Garlic 1 tbsp, minced
Ginger 1 tsp, minced
Vinegar 2 tsp
Tomato Ketchup 1 tbsp
Water 1 cup
Cornstarch 1 tsp
Red Pepper Flakes 2 tsp
Pepper Powder 1 pinch
Salt 1 tsp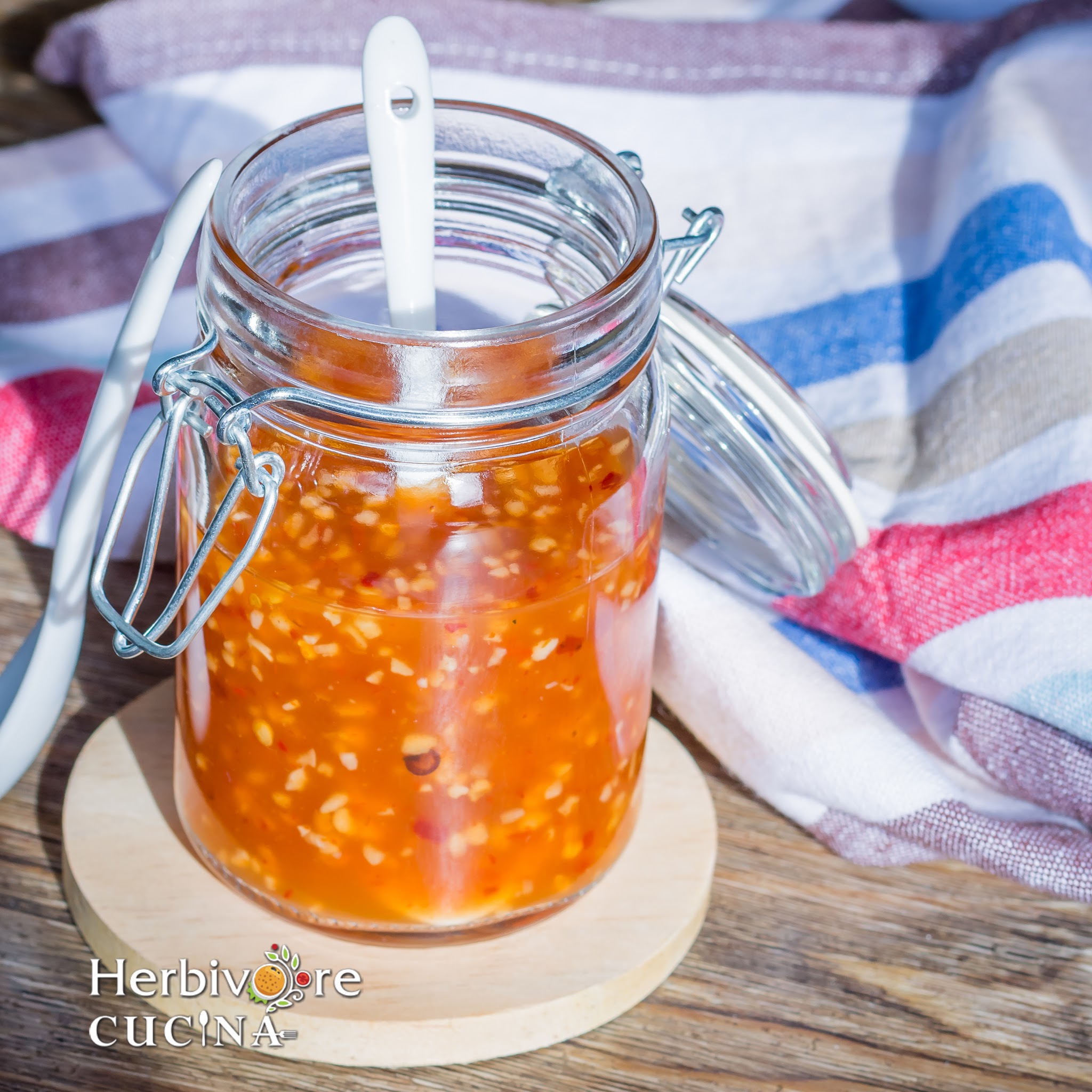 Method
In a pan add all the ingredients except cornstarch and ¼ cup water. Bring to a boil.

Meanwhile mix together remaining water and cornstarch. Once the mixture in the pn boils, add the cornstarch mixture and mix well. Cook till a sauce consistency is reached.

Remove from heat and cool completely. Transfer to an airtight container and store refrigerated. Serve with spring rolls or any other appetizer of your choice.