Blogging Marathon #72 Week 2 Day 2
Theme: Dips, Chutneys and Spreads
Dish: Strawberry Raita


A perfect blend of sweet and spicy, this Strawberry and Greek Yogurt raita is a super versatile dip. From rotis and parathas to rice dishes and from waffles to toast, this one is superb for all these dishes.


Raita is a combination of yogurt and spices with something like vegetables, sev, boondi or fruits. For the most time I have had vegetable raitas and posted them on the blog. From Beetroot Raita to Vegetable Raita, these are perfect with Vegetable Pulao or Biryani.
A few months ago I saw a restaurant menu featuring fruit raitas. They had Pineapple, apple, mixed fruit and strawberry raita. I was tempted to try these and we called for the strawberry and pineapple raitas. The taste was awesome and the fresh flavor still lingers in my mind!

This week when the theme for the Blogging Marathon is dips, chutneys and spreads, I decided to try out the strawberry raita. With just a few ingredients, this raita is super easy to make. It only takes five minutes to make the raita and it is best when served chilled.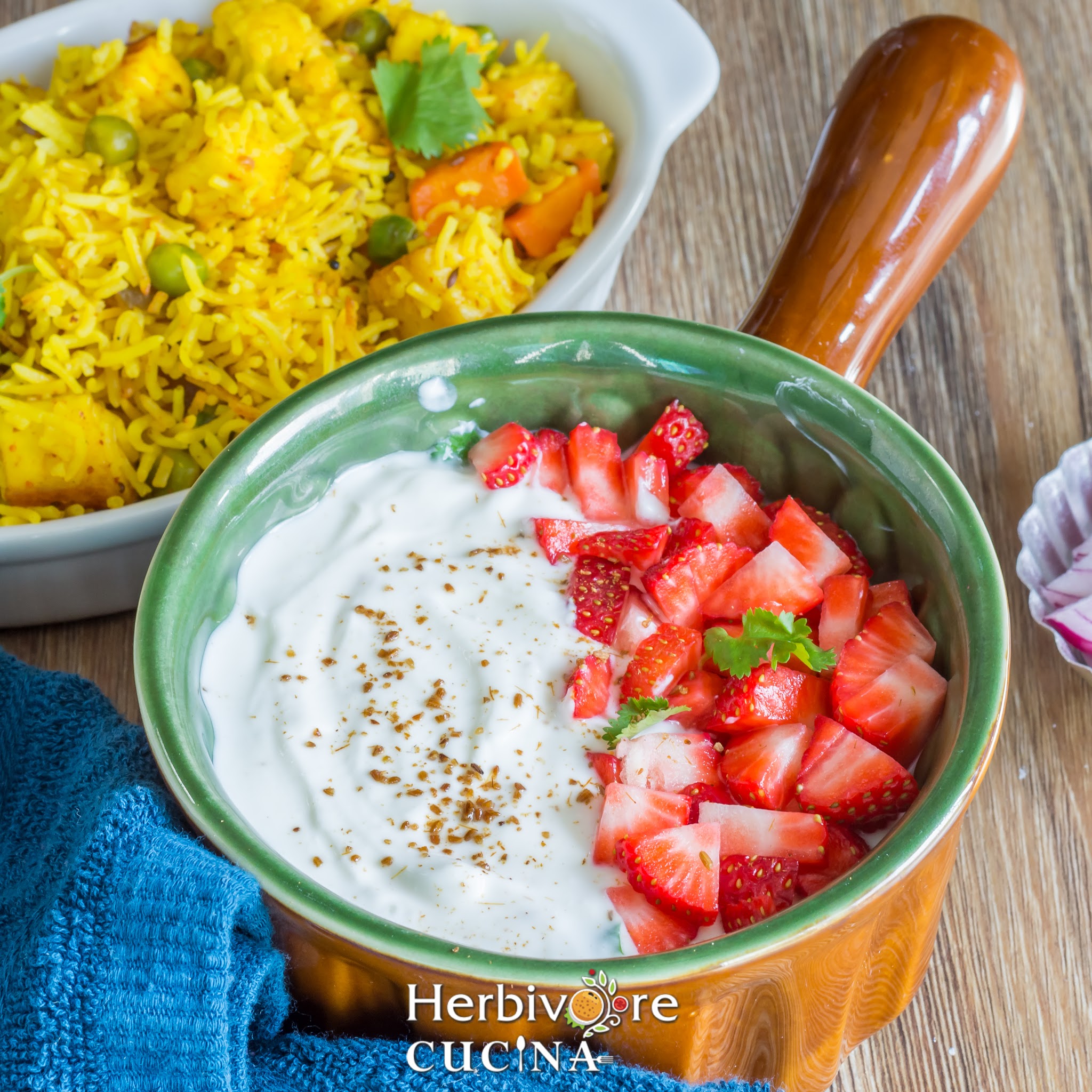 The fresh strawberries and little sugar adds a sweet taste to the yogurt and the green chilli is perfect to add some spice to the raita. The salt is added to balance out the sweet and sour taste.

The last time I made this, we all girlfriends met over lunch. I made this with some spicy Paneer Pulao and served it with sliced onions. Together with parathas and Indian curry, it was a complete meal and we had a great time! The leftover raita was enjoyed by our husbands when they came back home. While we had it with rice, they prefered it over a slice of freshly baked bread.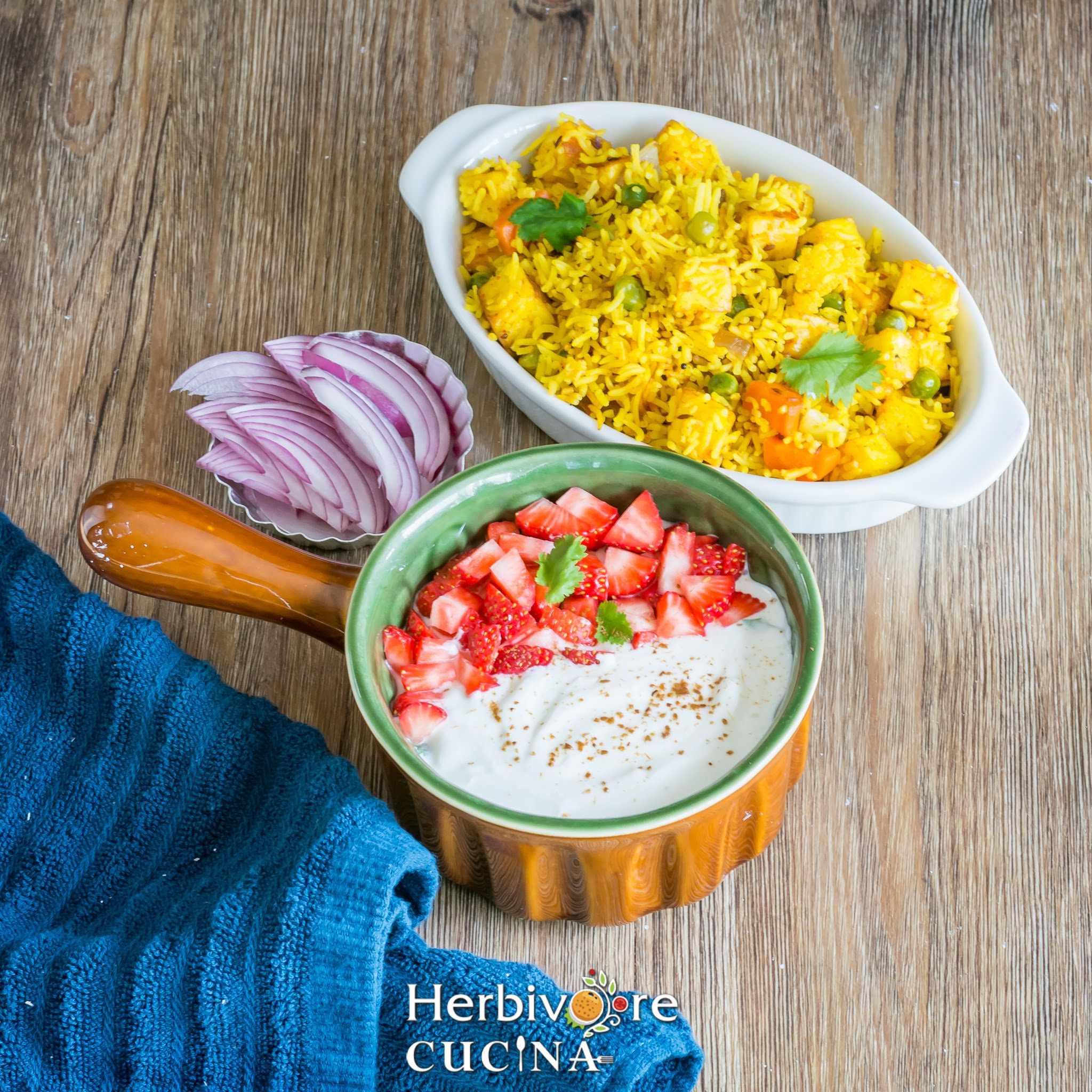 For this one I used Greek yogurt. As the dip comes out nice and thick, it is perfect for all kinds of rice and as a spread for bread. As it has only Greek Yogurt and strawberries as its main ingredients, it is perfect for breakfast with toast and some honey. So this dip is a very versatile one. From breads to rice dishes and as an accompaniment for parathas and rotis, this sweet spicy dip is something I totally LOVE now!
Such a wonderful dip, so easy to make. Make a big lot of this one and use it as you like. Next time I want to try out Pineapple Raita. I am sure that one will be just as good as this one!

Ingredients

Strawberry ½ cup
Thick Yogurt 1 cup
Salt 1 tsp
Sugar ½ tsp
Roasted Cumin Powder 1 tsp
Green Chilli 1, minced
Cilantro or mint to top
Method
In a bowl beat the yogurt. Add salt, sugar, roasted cumin powder and minced chilli. Mix well.

Chop the strawberries to small pieces and slightly mash them to get some juice. Add to the raita and top with cilantro and mint. Serve cold with Vegetable Pulao or Biryani.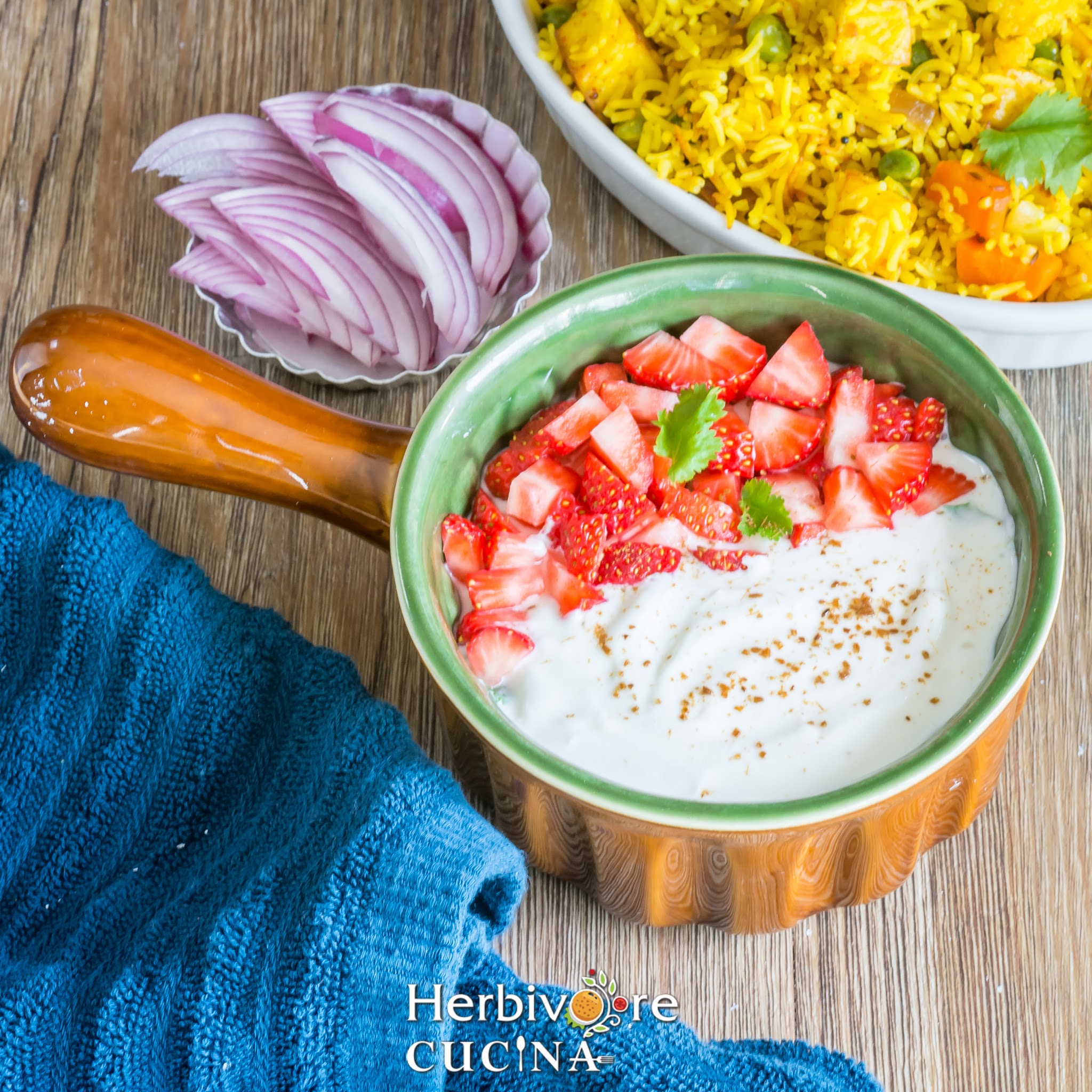 Check out the Blogging Marathon page to see what the other Blogging Marathoners are doing for this BM#72