Ditch the regular chips and dip for this YUMMY and easy to make Baked Cheesy Roti Chips! They are addictive and come together in less than 30 minutes for sure!!
Are you a flatbreads fan? Have you made a LOT of flatbreads for a party or just dinner and have a few leftover? What do you make from it? Or do you just have them as is the next meal? If you have these questions, this post is CRAFTED for you. If not, you should read this recipe for your kids and friends. It makes a great appetizer or snack!
Roti, the staple flatbread of a lot of Indian cuisines is something that a lot of people enjoy. A puffed roti smeared with ghee(clarified butter) is probably the BEST bread to enjoy. Especially if mom makes it and serves it FRESH. I am almost counting the days before my mom visits us and makes them for me!
So if you enjoy rotis or are on a lookout for a NEW way to get your kids to eat chapati or roti, this Baked Chips recipe might help. It makes a yummy alternative to fried chips for parties; yes this one has cheese but you can totally skip it or substitute it!
As kids we enjoyed a ton of recipes that grandma made to use up roti or to get us to eat them without much effort. Unfortunately these recipes are losing popularity with the loss of the generation that used these recipes in daily routine. As a kid I used to love the ladoo that was made from leftover roti, jaggery and ghee. And the great entree my grandma made from roti and buttermilk is still a favorite even today!
Thinking on that theme, this recipe is a modern one using the same base; Indian roti. A common use of roti is to make Khakra by pressing the rotis on a tava till they are crisp. Another delicious recipe is fried roti, a tea time snack that is full of carbs but delicious.
Taking inspiration from both these, I made chips using fresh roti that I got from Heart and Spice. I used a mix flavors in the roti, but using the regular ones works just fine.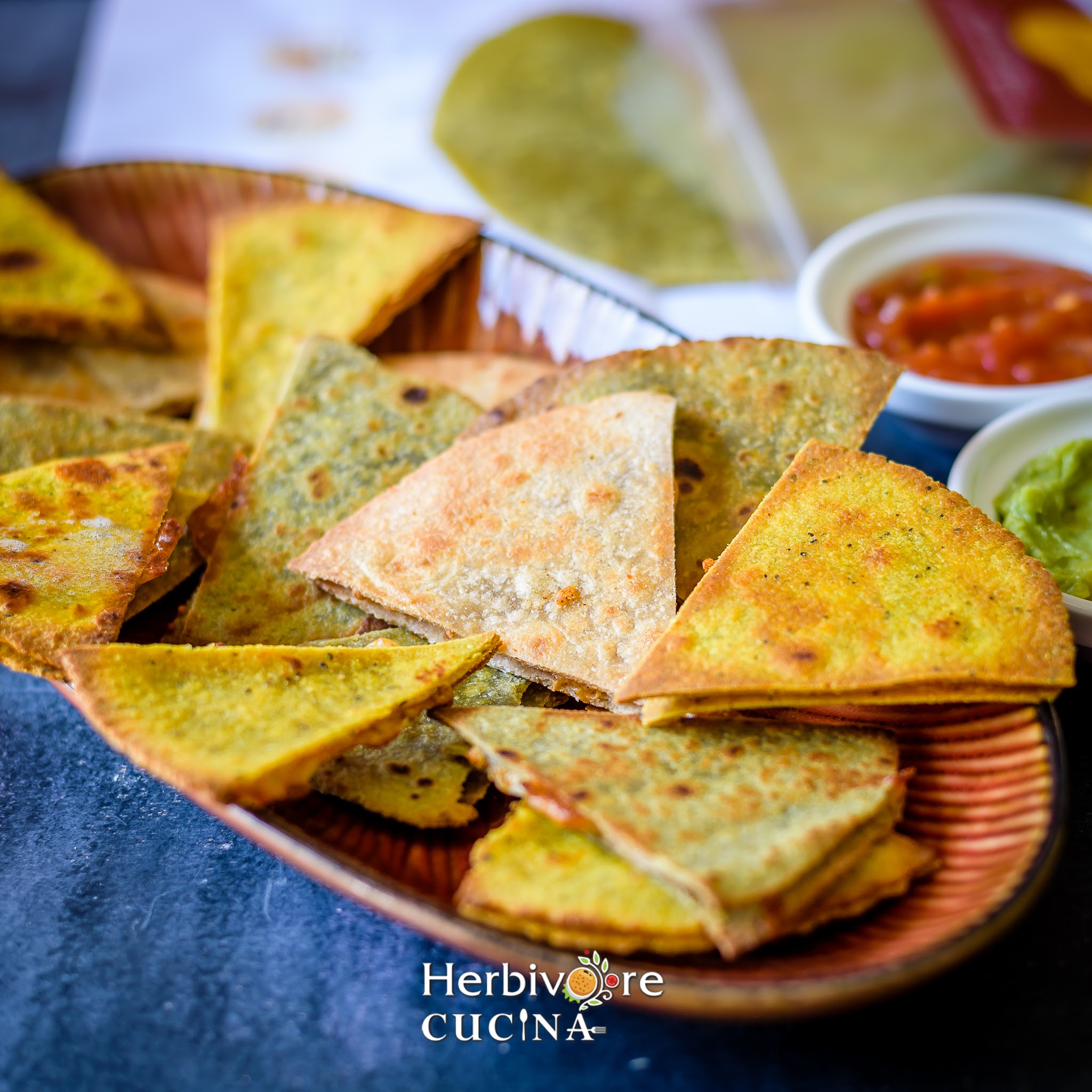 These chips are great with any kind of dip. I have served them with various kinds of dips like hummus, salsa, green chutney and guacamole. They taste yum with them all. And because there is cheese inside, these chips are even good by themselves. I hate that fact that I munch a few in the name of testing and then am guilty of how much I binge while cooking!
One important thing here is that these chips tend to get soggy if left for a long time. They undoubtedly taste the best when fresh out of the oven. However if you HAVE to store them, just place them in a hot oven for a couple of minutes before serving. They crisp up rather easily and the cheese is not stuck then.
I hope you make these and enjoy for your next party!


Variations


You can use any kind of roti for this recipe. Fresh rotis made from scratch, rotis from the Rotimatic or any form of frozen rotis. Even parathas or tortilla works great.
To make it yummy I used a little cheese in the middle. That way the chips become a little thick rather than just being a single layer and hence do not burn easily. Plus, you can pick any cheese that you like best.
I decided to make them with some taco seasoning. If you like Chaat masala better or even sandwich masala, you can totally add that. Just mix and match whatever you like.
Last, I baked them to a golden brown. If you want an indulgent snack, just fry them. They taste heavenly with all the molten cheese in them!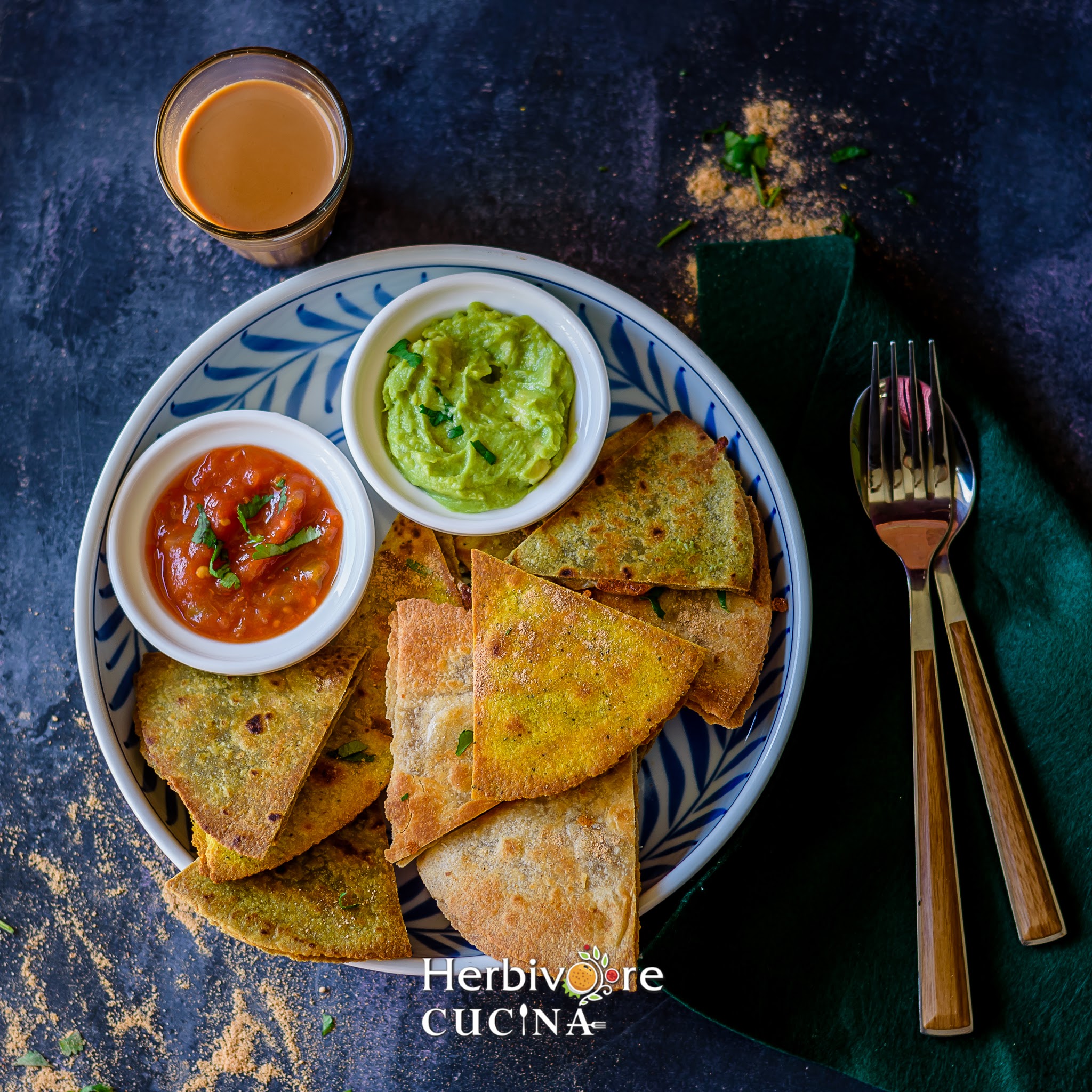 Pin for Later
Ingredients
Roti 3-4
Mozzarella Cheese ¼ cup
Taco Seasoning 1 tsp
Oil/Butter 1 tsp
Method
Preheat oven to 350 F / 180 C. Line a baking tray with parchment paper.
Place a roti on a plate, sprinkle some cheese and taco seasoning on one half of the roti. Fold over the remaining half and press.
Using a pizza cutter or sharp knife, make wedges of the roti. You can get 3 or 4 pieces from each roti.
Spread some butter or oil on the rotis and place them in a baking tray.
Bake for 7 minutes, turn the rotis over and bake for another 7 minutes. Keep an eye and if the chips start getting brown, remove immediately.
Serve with Salsa and Guacamole.