Kachori is a spicy snack popular in various parts of India, particularly the West. Popularly known by different names like Kachauri, Kachodi or Katchuri; this snack is usually a round flattened ball made of fine flour filled with a stuffing; either of baked mixture of yellow moong dal or Urad Dal (crushed and washed horse beans) or besan (crushed and washed gram flour) mixed with black pepper, red chili powder, salt and other spices. The flour balls are deep fried to make them flaky and crisp.
Kachori finds a special mention in our family as most people here love it! This snack is always on the shopping list, be it in India or here in the US. So I decided to make a skinny version of the same. Instead of frying the Kachoris, I have baked them to minimize the calories. The taste however, is not at all compromised and neither is the texture or appearance!! It feels great to enjoy our family's favorite snack in a healthier way. Here is how: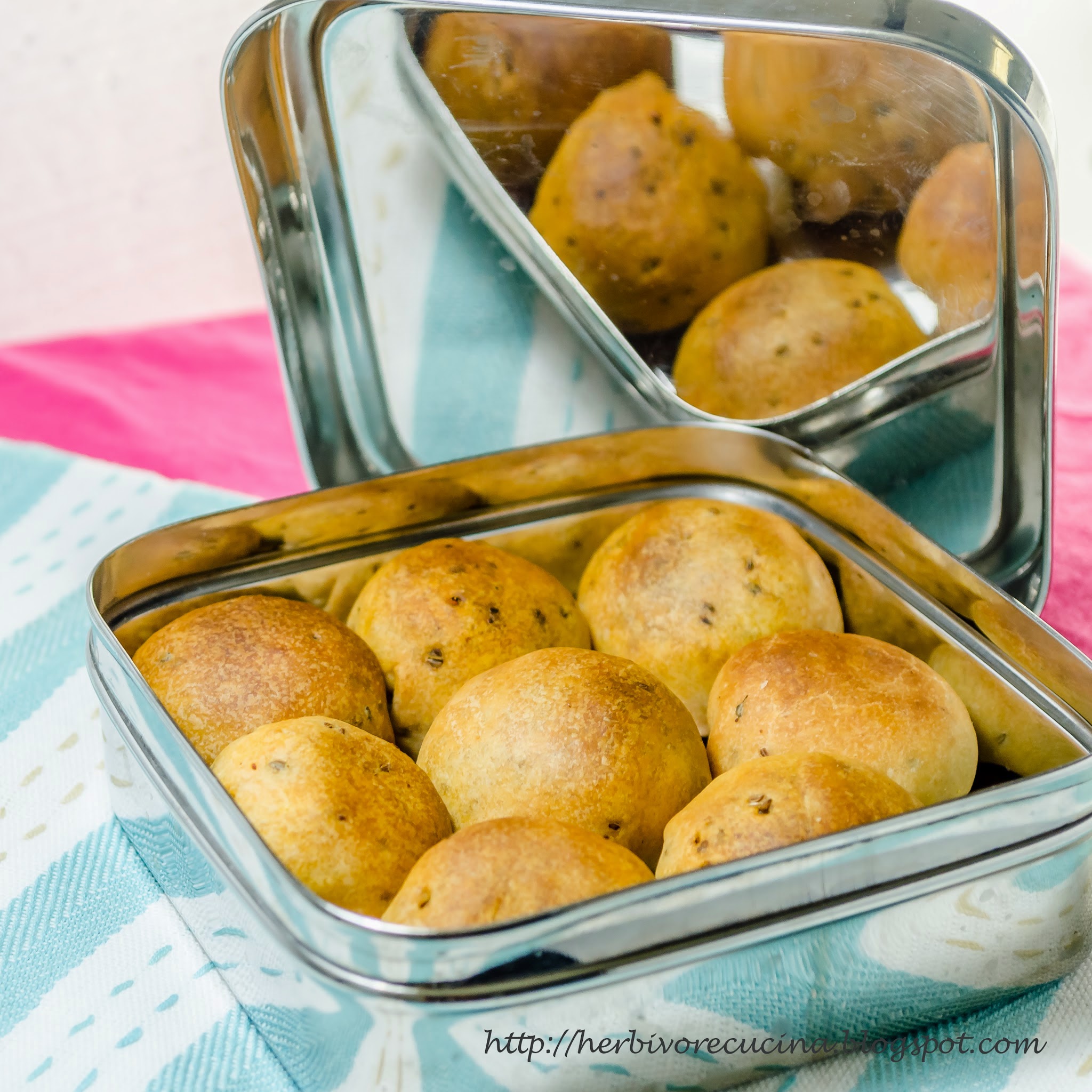 Ingredients
To make the Filling
Moong Dal ½ cup
Cilantro seeds and Fennel Seeds 1 tbsp
Spices (Turmeric powder, Red Chilli powder, asafoetida)
Grated Ginger 1 tsp
Salt and Sugar
Cilantro 2 tsp
Garam Masala 2 tsp
Lemon Juice
Oil 2 tsp
To make the Dough
All purpose flour/ Maida 2 cups
Carrom seeds 1 tsp
Chilled water ½ cup
Vegetable Oil 5-6 tbsp
Salt
Method
For the Filling
Wash the moong dal a couple of times and soak it in 1 cup water for 3-4 hours. Drain water and blend in the food processor for a couple of seconds only. The dal should only break and not become a puree. Coarsely crush cilantro and fennel seeds in a mortar and pestle. Heat oil in a pan, add grated ginger and cook till the raw flavor vanishes. Next add the dal and cook it on medium flame.
After a couple of minutes, add the spices, 2 tablespoon water, cilantro seeds and fennel seeds. Put lemon juice in the mixture and cook on medium flame. Keep stirring the mixture so that it does not stick to the bottom. The mixture should be dry so cook it till the dal is cooked and all the water content evaporates. Add sugar, salt and cilantro and mix well. Once the mixture turns dry and brown, turn down the flame and let the it cool.
For the Outer covering
In a large mixing bowl, add salt and carrom seeds to the flour. Next add oil and make a crumbly mixture. Once done, add water as required to form a soft dough. Cover the dough with a wet towel and let it rest for 15-20 minutes.
To assemble the Kachori
To start assembling the kachori, take the dough and knead it for a couple of minutes. Divide the dough into 5 parts and make 5 balls. Take one dough ball and roll it out to form a thin disc. Using a cookie cutter, cut out small discs of dough. Put a spoonful of the filling and shape the kackori like a ball. Ensure the filling is at room temperature before stuffing. Seal the edges properly so that they do not open up on baking.
Preheat oven to 350F/180C. Grease a baking tray with cooking spray or oil and place the kachoris on it, with the sealed end facing down. Bake for about 10-12 minutes. Rotate the kachoris around and let them bake for another 10-12 minutes. For the last 2-3 minutes, you can broil them to get a nice brown color on top.
Remove kachori from oven and cool them on a cooling rack. Store in an air-tight container. Serve with spicy cilantro chutney or with a cup of hot Masala Chai. Enjoy the guilt-free version of one of India's favorite snack!
Also try these yummy Baked Farsi Puri and Toasted Pita Triangles.