Adding beetroot to falafels makes them super pretty and add a great flavor and taste to the chickpea balls!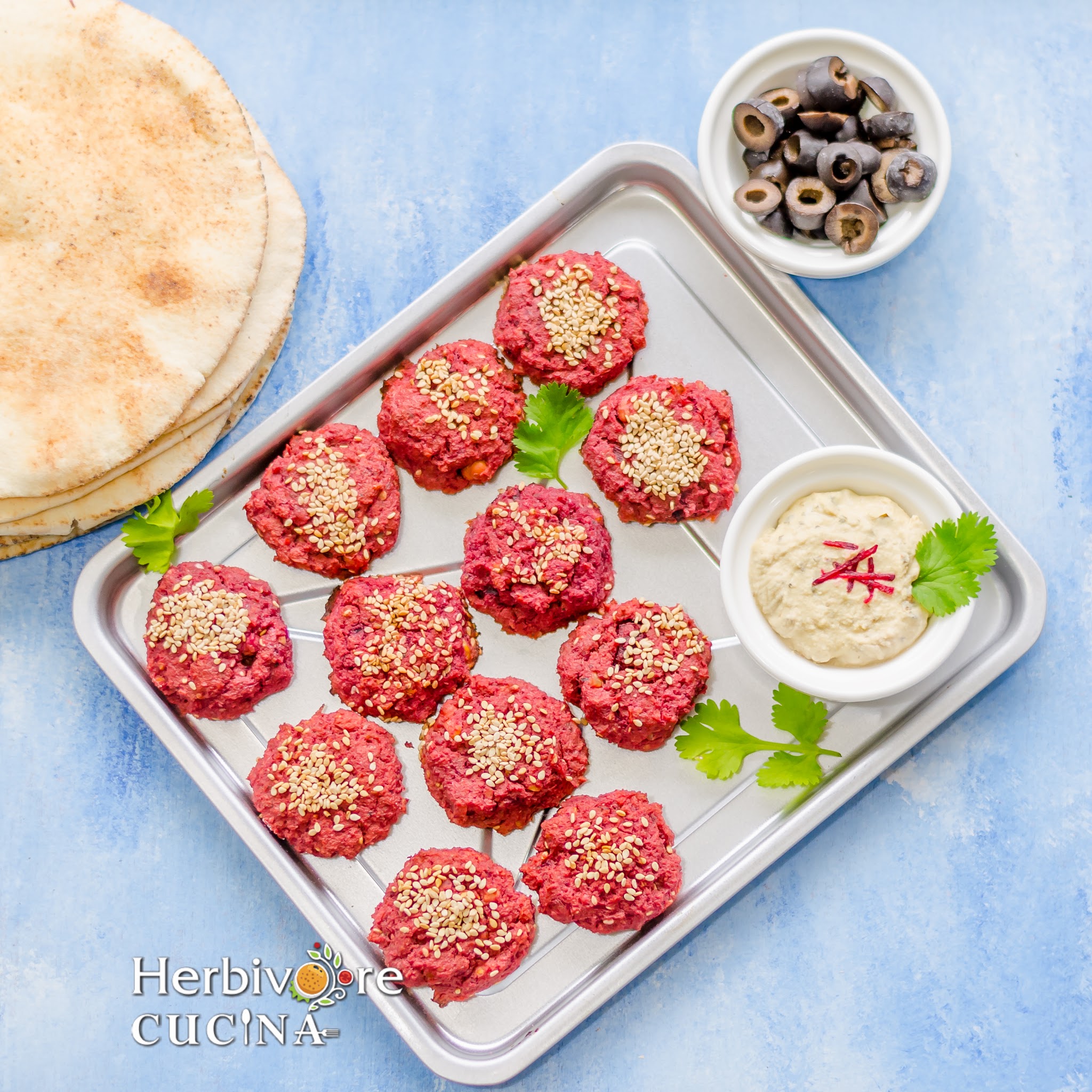 Hello folks! I have been off and on the blog since a few weeks given my vacation to India and Dubai. Now I am back home and I couldn't wait to start cooking and shooting again. On my brief visit to Dubai I had hummus for all my meals; breakfast, lunch and dinner. And I was craving more of it post the trip. That is when I happened to find Boar's Head Hummus at my local Safeway store.

While I had just the Traditional Hummus on my trip, this brand has NINE flavors; Fire Roasted Artichoke and Spinach, Roasted Garlic, Traditional, Roasted Red Pepper, Kalamata Olive Tapenade, Roasted Pine Nut, Fiery Chipotle Pepper, Southwest Style Black Bean and Tuscan Style White Bean. I bought three of these and now I HAVE to try the rest too. They are super awesome in taste, non GMO and Gluten Free. Do get yours quickly.
Coming to today's recipe, this one has been on my mind for a while. I made a beetroot hummus and baked falafels for a Greek dinner a few months ago. Since then I wanted to use the pink color in my falafels. So finally I made them to go with my Hummus.
Because I am still a little jet lagged, I decided to buy some pita breads from my local farmer's market. And while my cut pink falafels baked , I cut some carrots and cucumber to complete a simple mezze platter. Oh yes, I BAKED the falafels to cut some calories. Plus, I think by frying you tend to lose some of the pink color and the falafels have to be cut to expose the color.
A lot of recipes for beetroot hummus call for roasted beets. However, I used grated beet without baking them and the result was not very different. You can go ahead and bake the beets before using them if you like. Plus, I used the cilantro stalks in my falafels, parsley is perfect too. And if your mixture becomes very moist and you are unable to make balls out of it, add some cornstarch, bread crumbs or plain flour as binding. That will help bind the balls easily.
Once the falafels are baked, you can enjoy them as an appetizer or snack. If you like a pita roll like us; just lay a pita bread, spread your favorite Hummus and add some olives and onion tomato salad. Then place a few falafels and enjoy. If you are making a mezze platter for the upcoming Holidays; arrange the falafels along with Pita breads, two or three Hummus, Chopped Tomato and Onion salad and Logs of Cucumber and Carrots. Hope you have a great Holiday season and this post serves as a great Holiday season starter kit!
Ingredients

For the Falafels

Chickpeas 1 cup, soaked overnight
Beetroot 2 medium, shredded
Pink Onion ½ medium, chopped
Sesame seeds 4-5 tsp
Garlic 2-3 cloves
Cumin Seeds 1 tsp
Green Chilli 1 medium
Cilantro a few stalks
Salt 1 tsp
Olive Oil 1 tsp
Lemon Juice ½ tsp
To Serve

Pita Breads
Fire Roasted Artichoke and Spinach Hummus
Chopped Tomato and Onion salad
Chopped Olives
Logs of Cucumber and Carrots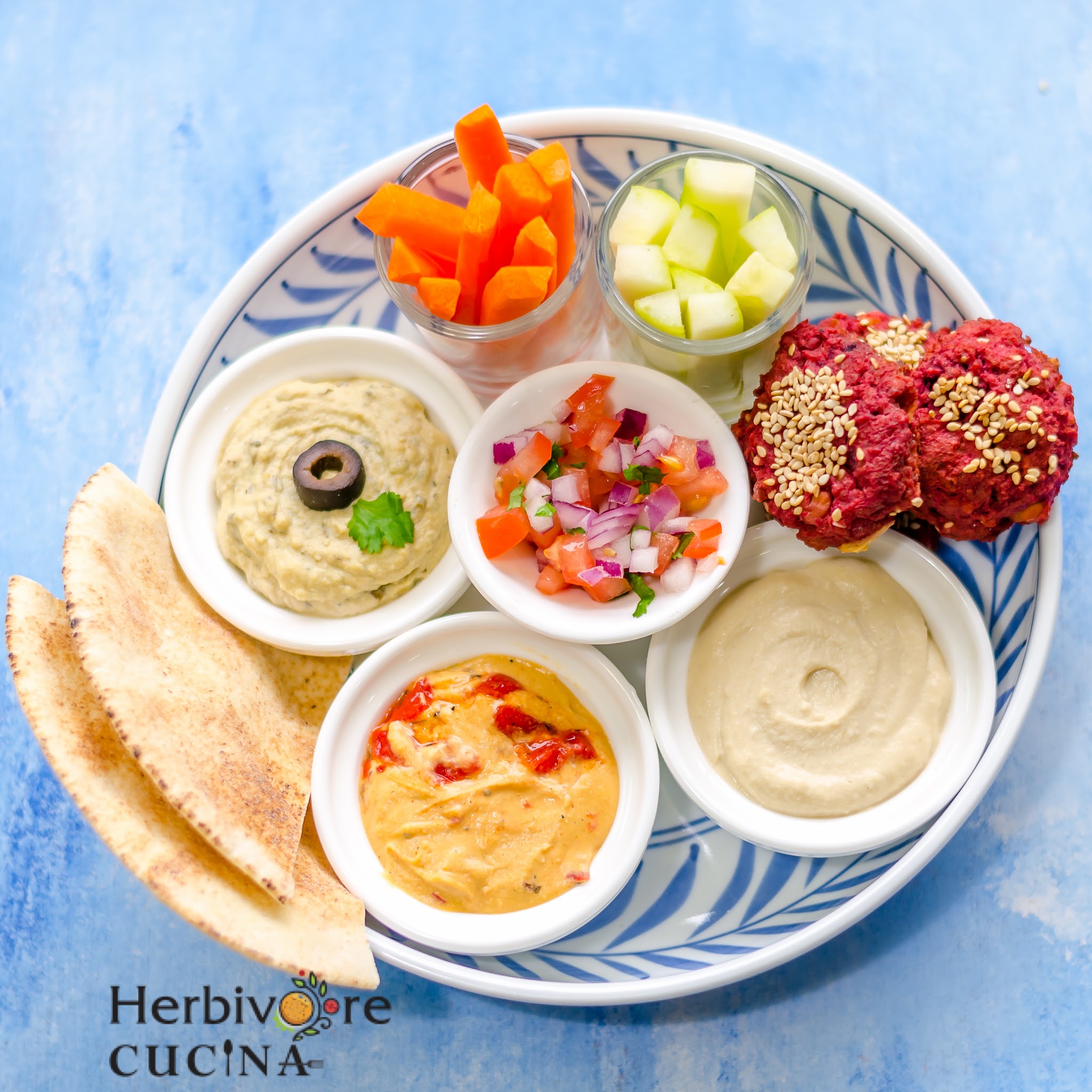 Method

Soak the chickpeas overnight or atleast for 4-6 hours. Drain and set aside.

In a food processor add shredded beetroot, chopped garlic, onion, green chilli and 2 teaspoon of sesame seeds. Process till it is lightly crushed.
Next, add chickpeas, cumin seeds, cilantro, salt and lemon juice. Process to a mixture that is not very smooth. If it does not process easily, add some water and olive oil. But do not add too much else the falafels will fall apart on baking.
Preheat the oven to 400 F/ 210 C. Line a baking tray with parchment paper.

Drop equal sized rounds of the mixture on the parchment paper. Brush some olive oil on them. Sprinkle some sesame seeds on them.

Place the tray in the oven and bake for 18-20 minutes till golden brown. Flip them over once, somewhere at 9-10 minutes.
Remove from oven once baked well. Serve warm with your favorite hummus. I served it with Boar's Head hummus. I chose Traditional Hummus, Fire Roasted Artichoke and Spinach Hummus and Roasted Red Pepper Hummus. They were perfect to pair with the beet falafels!