Blogging Marathon #65 Week 2 Day 3
Theme: One Vegetable cooked in three ways
Dish: Roasted Beetroot Kofta Curry

Today is the last day of this week's Blogging Marathon and the last dish using Beetroot. This dish is the most elaborate one this week. When I was thinking of what dishes to make for the Marathon, I had a couple of friends visiting us over the weekend. They are my greatest followers ever! So we started discussing the theme and I announced I had chosen beetroot for this week. They really like beets and they were excited about the theme. Then I mentioned the dishes I was planning to make. The beet raita got moderate reactions, the roasted beet hummus got a good one and when I described this dish, they said WOW!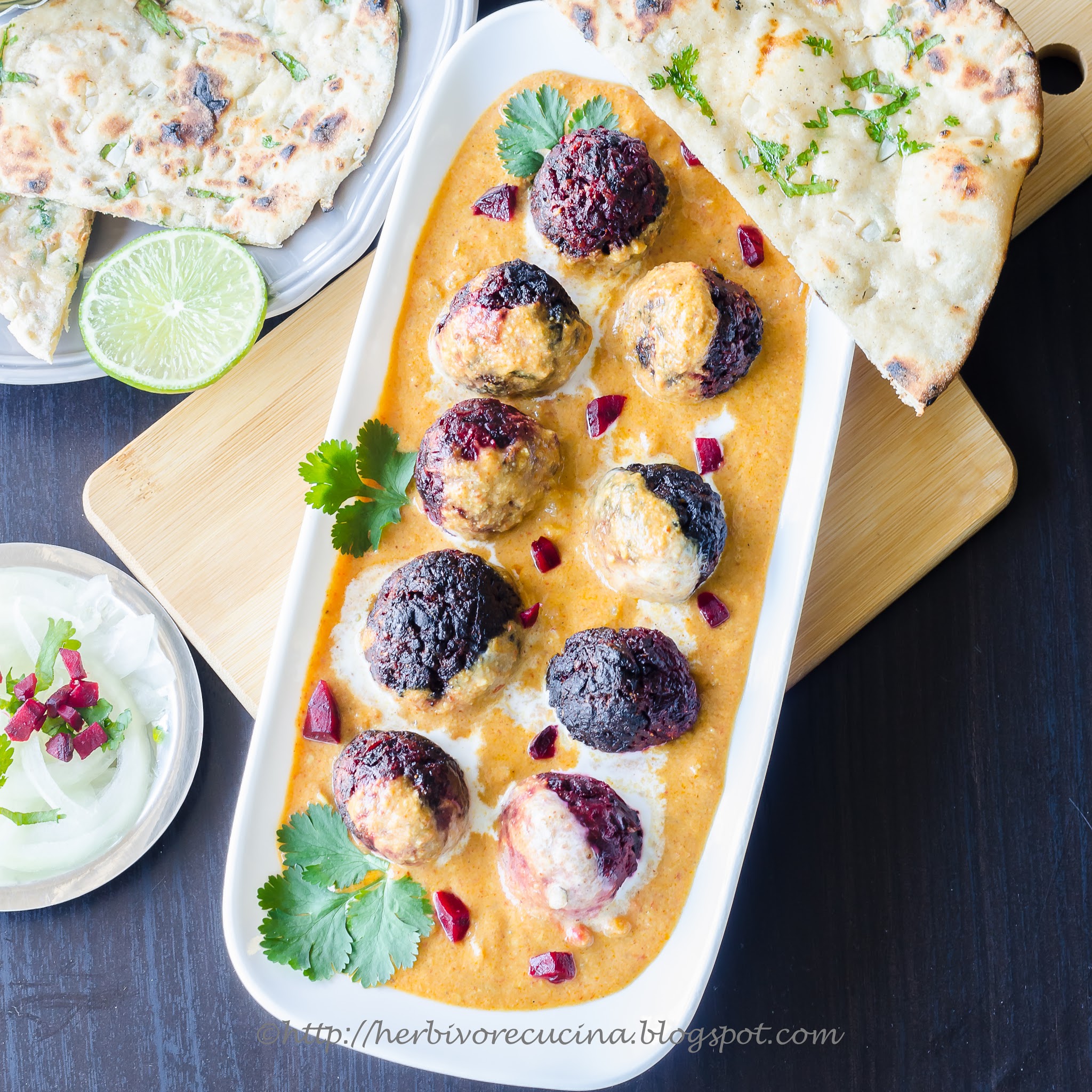 Following the discussion, I knew I could change the other two dishes from beetroots, but not this one. This post is dedicated to them and I can't wait for them to try it out! My friend, a big fan of Malai Kofta will definitely love this curry. The day I made this curry, I also made Garlic Naan just editing this recipe a little. My husband and me had a great dinner with zero left-overs! We literally licked off every bit of the curry.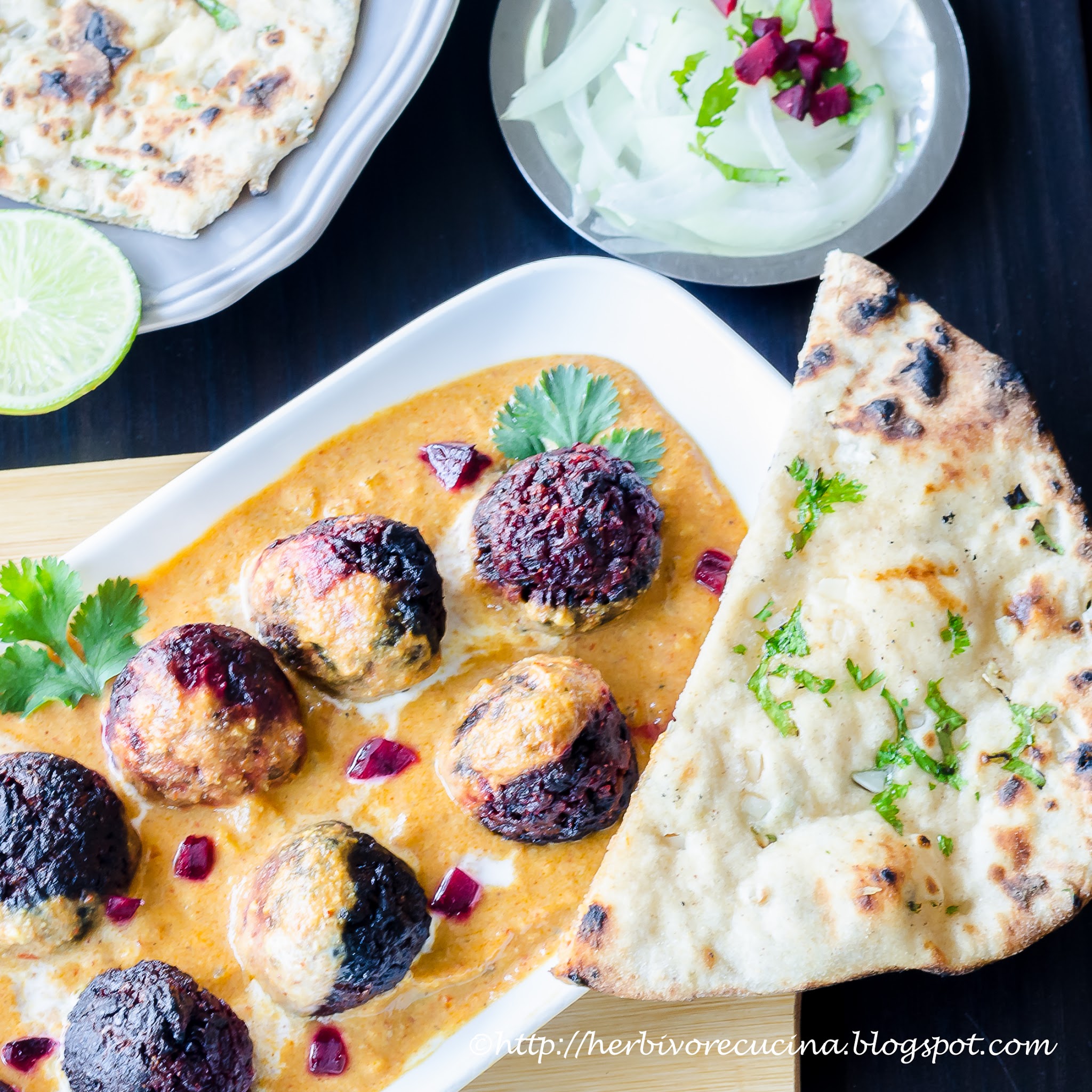 Getting to the recipe, this dish is a fusion. The curry is the same as the one we enjoy in Malai Kofta. While that dish is not on the blog, I shall be making it really soon. The curry will taste great with paneer, tofu or mixed vegetables. Here, the koftas are made from beetroot. The bright pink colored koftas are cooked in a paniyaram stand, but you can fry them as well. Dunk them in the rich cashew based curry and enjoy them with a bread of your choice. This is the last beetroot recipe for this week, but now that I am officially in love with this vegetable, keep an eye for more pink on the blog!




Ingredients
For the Koftas
Beetroot 2 medium
All purpose flour/ maida 2 tbsp
Ginger Garlic Paste 1 tsp
Green Chilli paste ¼ tsp
Garam Masala 1 tsp
Red Chilli powder ½ tsp
Turmeric Powder ¼ tsp
Lemon Juice ½ tsp
Salt 1 ½ tsp
Oil
For the Curry
Onion 1 medium diced
Tomato paste ¼ cup
Cashew nuts ¼ cup
Bay leaf 1, cardamom 1-2 pods, cloves 2-3, cinnamon 1 inch
Ginger garlic paste 1 tsp
Cream ½ cup
Red chilli powder ½ tsp, turmeric powder ¼ tsp
Garam masala 1 tsp
Salt, Sugar and lime juice to taste
Butter 1 tbsp
Method
For the Koftas
Peel and process the beets in a food processor. Alternatively, grate the beets using a thin blade grater. In a mixing bowl add the beets and all other ingredients except all purpose flour and oil. Blend well. Use as much all purpose flour as needed to make a soft mixture that can be made into balls. Divide the mixture into equal sized balls ( I could make 16).
Heat a paniyaram stand and add ¼ teaspoon oil in all the cavities. Slowly, drop the balls in each cavity and cook till the balls are crispy. Keep rotating the koftas intermittently. Once they are nice and crisp, remove on a paper towel.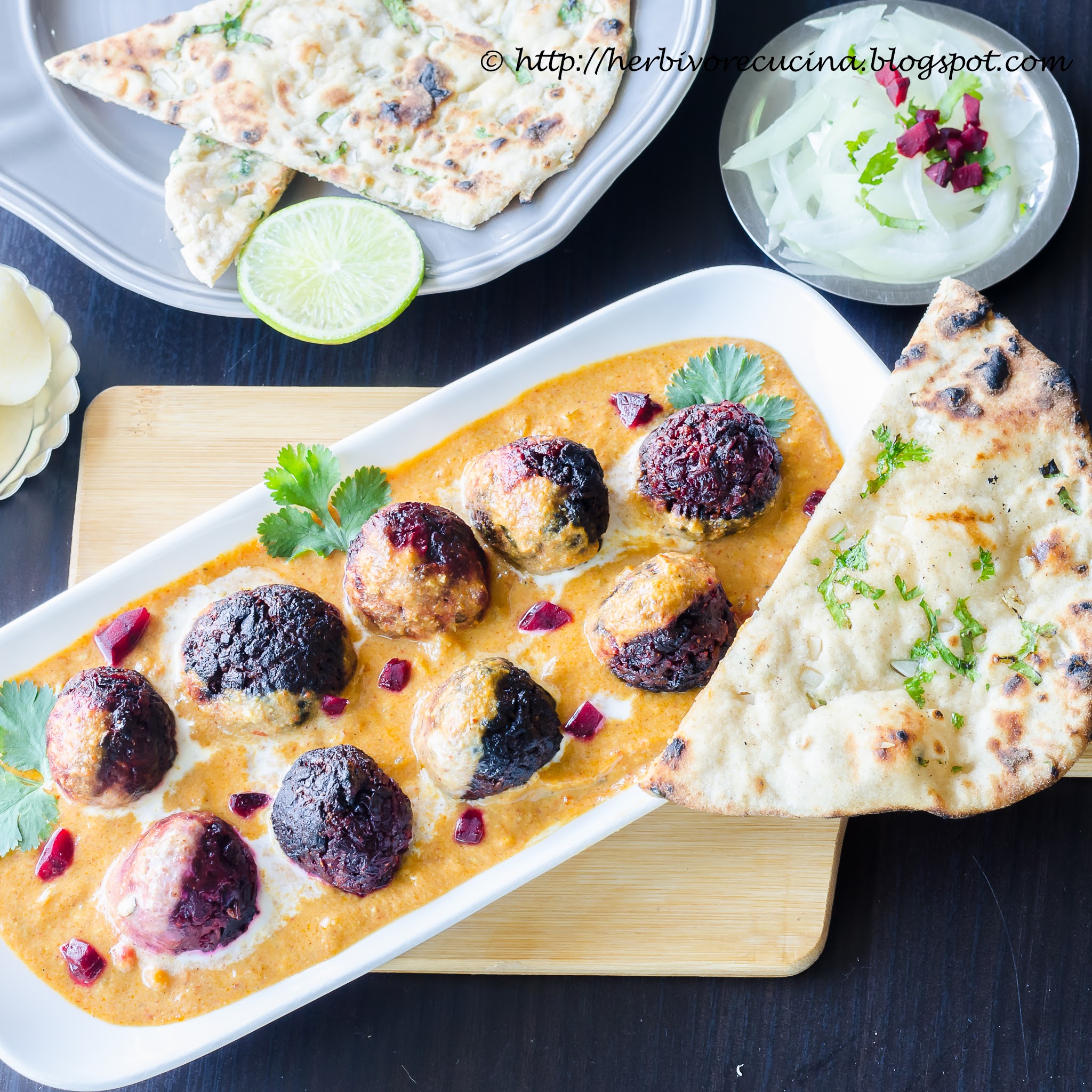 For the Curry


Soak the cashewnuts in water for 10-15 minutes and process to a smooth paste. Set aside.
Heat butter in a pan, add Bay leaf, cardamom, cloves and cinnamon. Once the cloves pop, add the ginger garlic paste. When the raw flavor vanishes, add onion and saute on medium for five minutes or till the onions soften up. Add the tomato paste and mix well. Cook for 3-4 minutes till the paste deepens in color. Add turmeric, red chilli powder and garam masala. Mix well.
Next, add the cashewnut paste and mix well. Also add the cream at this stage. Add salt, sugar and lime juice as per taste. Stir everything well and bring to a slight boil. Turn down the heat and set aside.
Add the koftas in the warm curry. Mix well and let the curry be absorbed. Serve with freshly made garlic naan or parathas and rice.
Check out the Blogging Marathon page for the other Blogging Marathoners doing this BM#65