Blogging Marathon #65 Week 2 Day 1
Theme: One Vegetable made in three ways
Dish: Beetroot Raita
Today is the first day of this week's Blogging Marathon. For this week my theme is to make three different recipes using one vegetable. The moment I saw this theme, I had almost decided I would do either potato or cauliflower. I thought they were the most versatile vegetables, being cooked in various cuisines.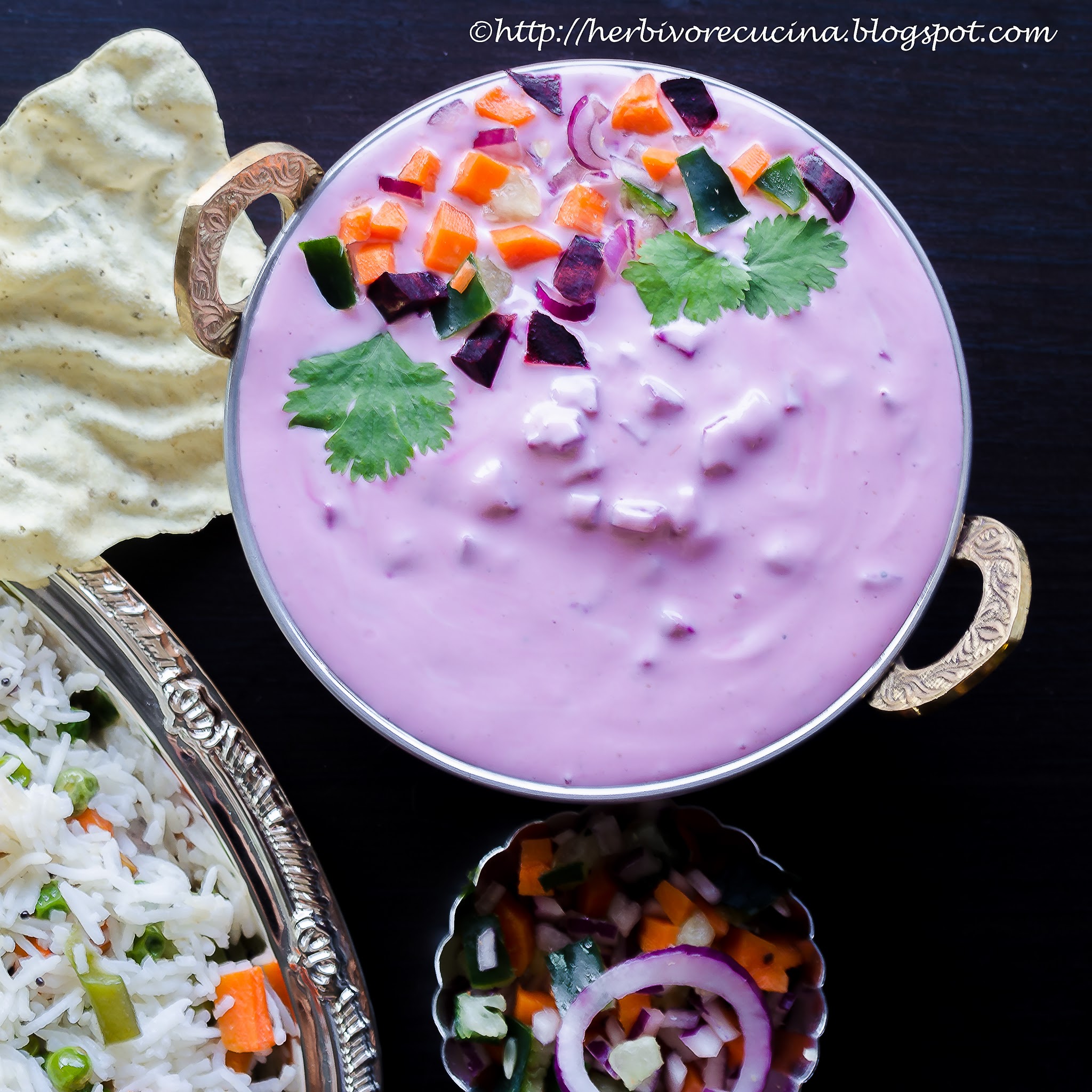 Then I had a closer look at my blog index and thought I should do a vegetable that has never made its appearance on the list. A quick browse through made me realize that BEETROOT is one vegetable missing from the list! That is also when I realized that beet can be used in sweet, savoury, Indian and non Indian dishes very well. So I decided to stick to beetroot and here is a simple recipe to start with: Beetroot Raita.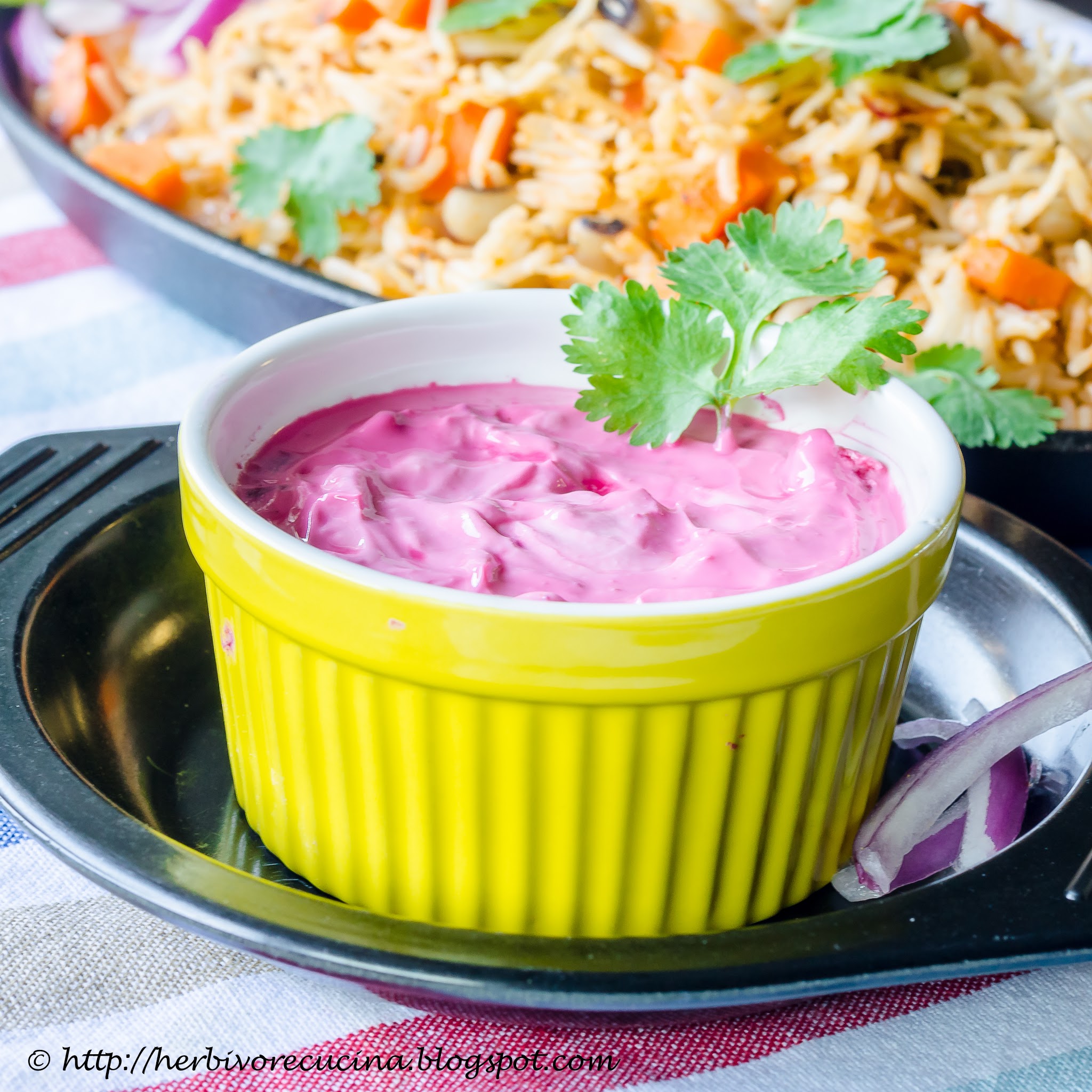 While most rice dishes in India are served some kind of yogurt based raitas, very few raitas are as cute as this light pink colored beet raita. The slight tart flavor of yogurt perfectly balances the sweet taste of beetroot, and adding a few vegetables and spices further enhances the taste.
The color of boiled beetroot deepens with time that it is left for in yogurt. While it is a pale pink when you mix, it slowly becomes a dark pink colored raita when left for a few hours. So depending on how bright you like your raita, mix the beetroot in the yogurt. While I have added onions, carrots, tomatoes and cucumber for texture, the raita tastes great even without them. It tastes best when chilled, generally served with Mixed Vegetable Pulao, Gujarati White Pulao or Cracked Wheat Khichdi.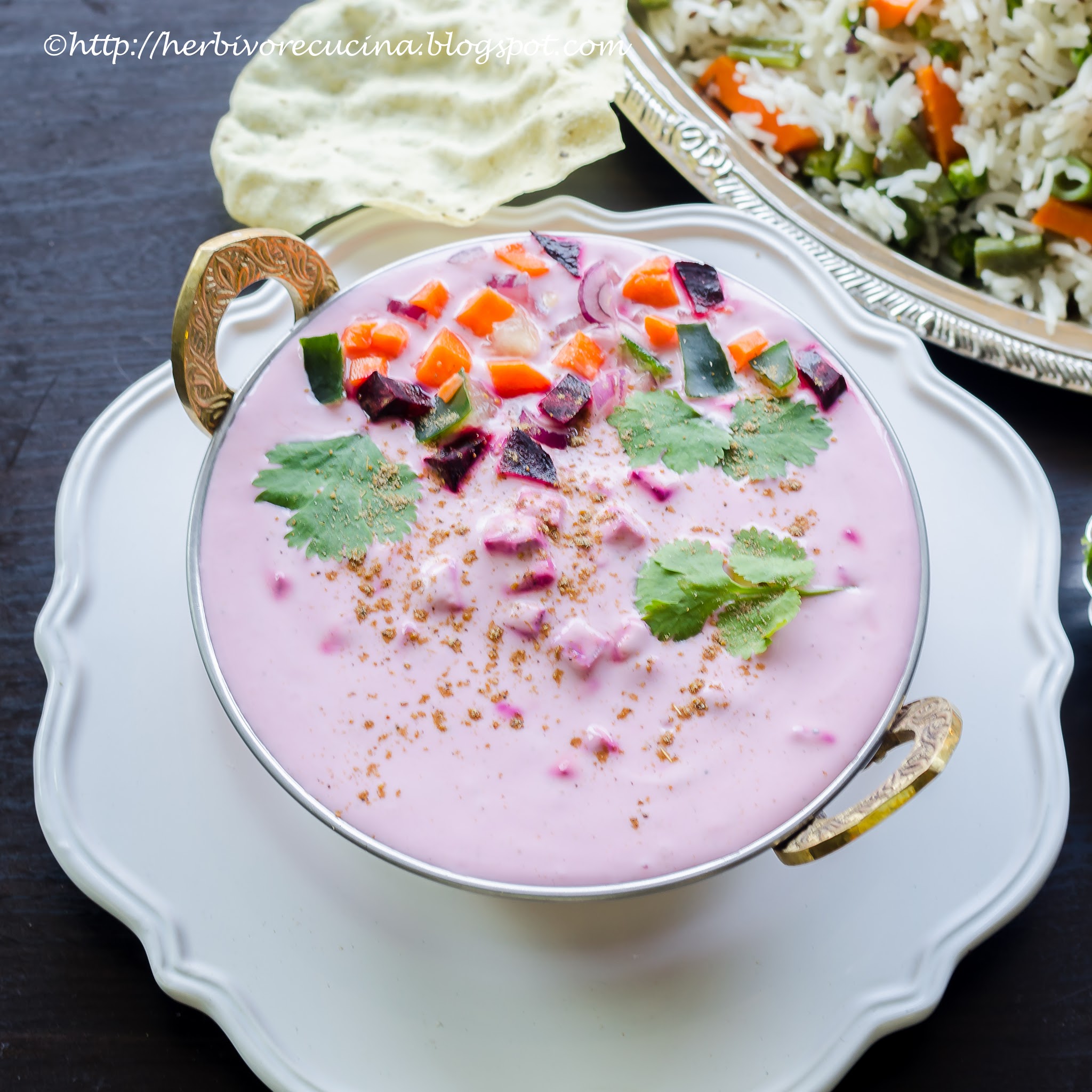 Ingredients
1 ½ cup Yogurt
Beetroot 1 medium
½ cup Vegetables (I used Beetroot, Onions, Carrots, Tomatoes, Cucumber)
Roasted Cumin powder 1 tsp
Dhania Jeera Powder ½ tsp
Salt to taste
Pepper ¼ tsp
Cilantro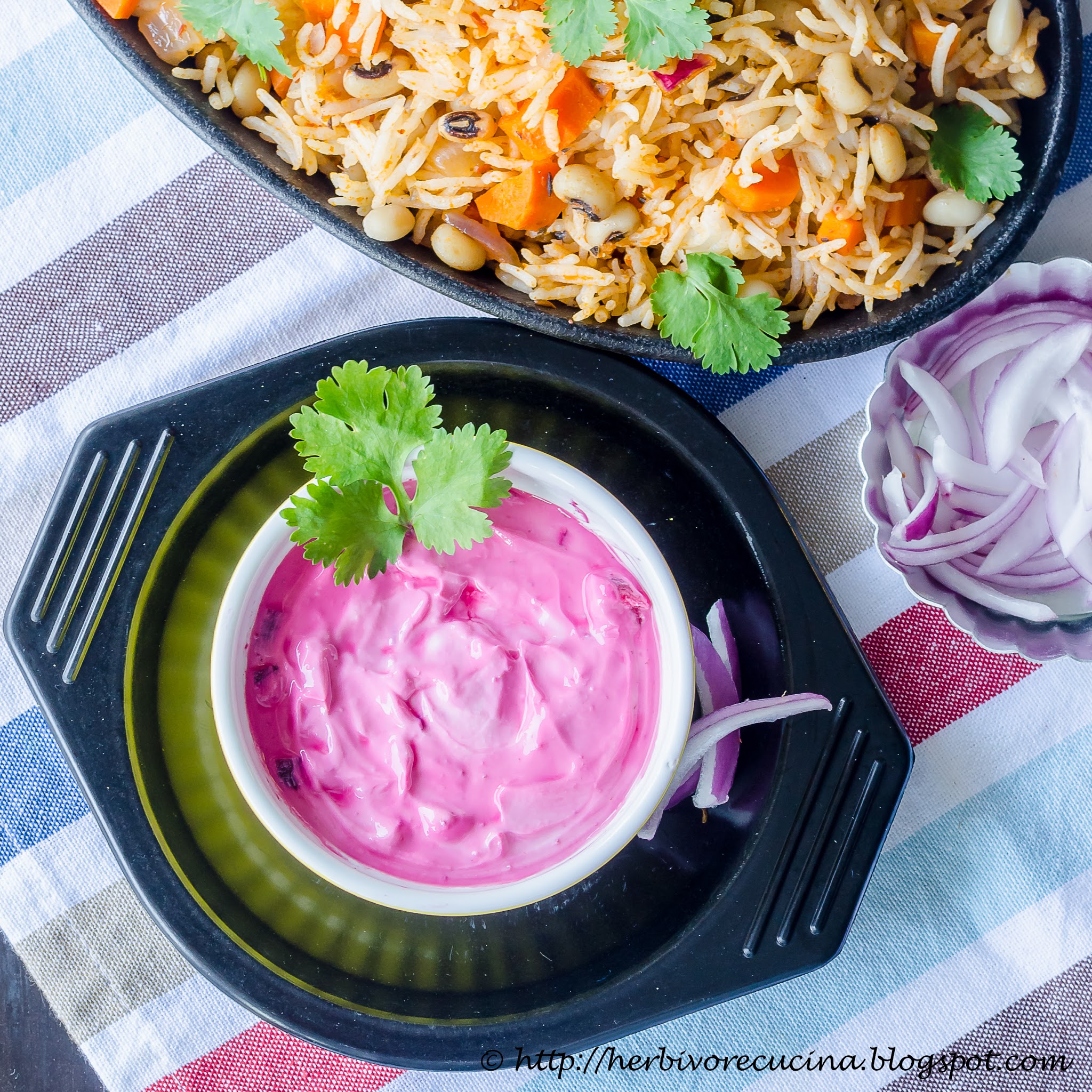 Method
Pressure cook one beetroot and peel. Chop into small pieces and set aside. Also, chop the vegetables to small bits and set aside.
Beat yogurt in a bowl and make a smooth mixture. Add salt, pepper, cumin powder and dhania jeera powder and whisk well. If you are using greek yogurt and it is too thick, add a couple of spoons of water and mix well.
Add all the vegetables and boiled beetroot into the seasoned yogurt. Top with finely chopped cilantro and serve with Mixed Vegetable Pulao, Gujarati White Pulao or Cracked Wheat Khichdi.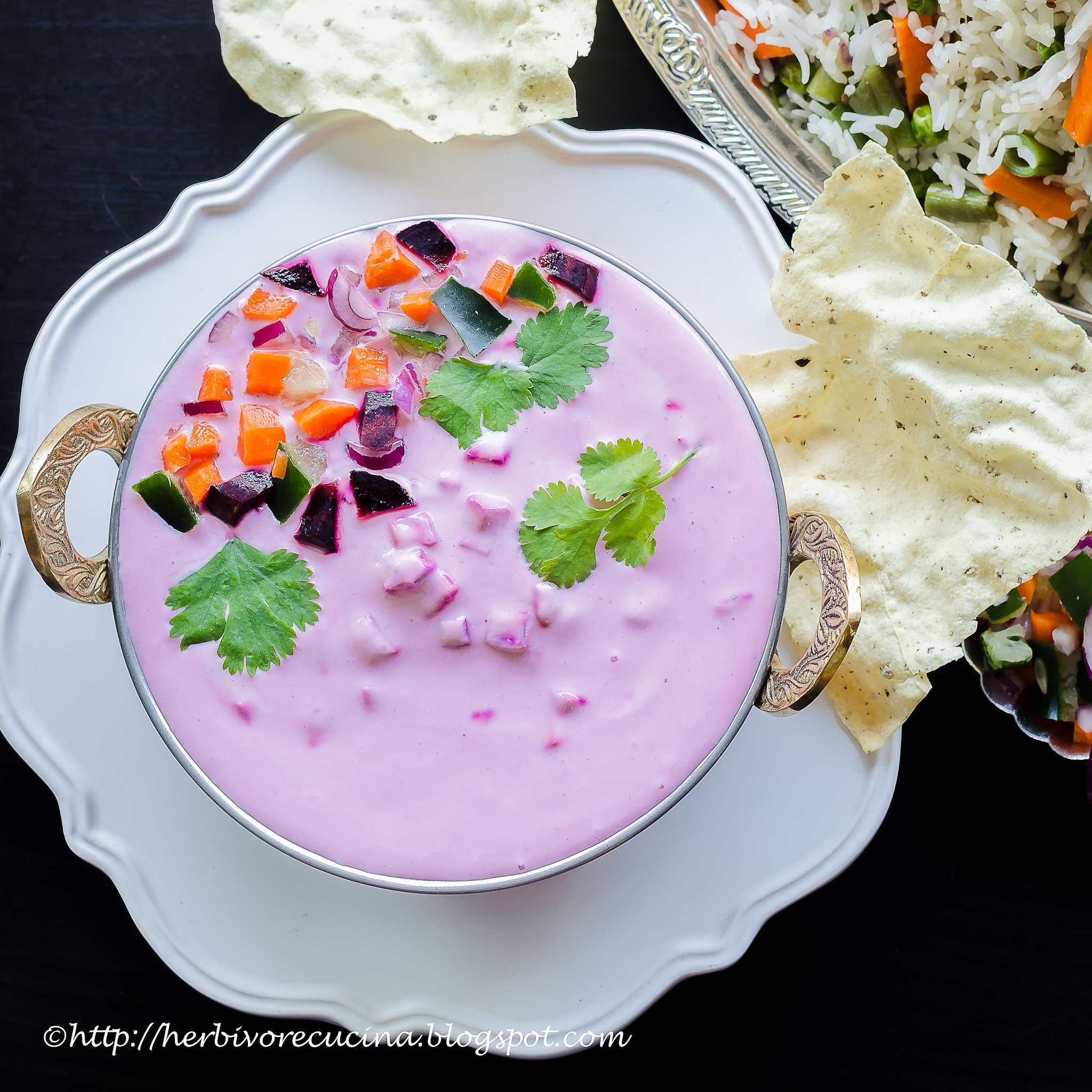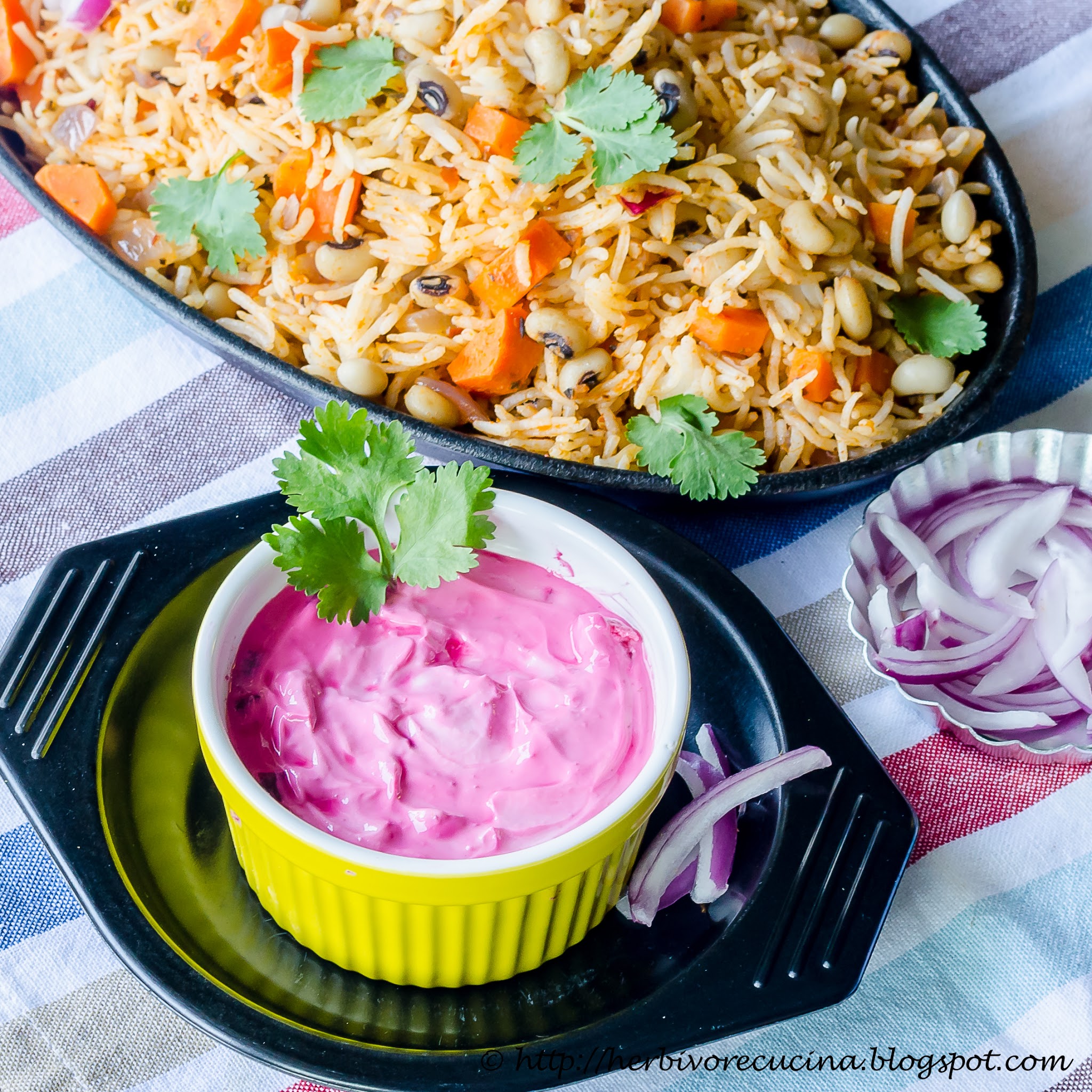 Check out the Blogging Marathon page for the other Blogging Marathoners doing this BM#65