When you start talking of traditional Punjabi cooking, Sarson da Saag makes its way to the top of the list. This main dish made from mustard greens, spinach leaves and daikon leaves is the most famous dish from the state. But just the saag is incomplete without its partner, makai di roti. Simply put, sarson da saag and makai di roti along with kachumbar and lassi is a complete Punjabi meal.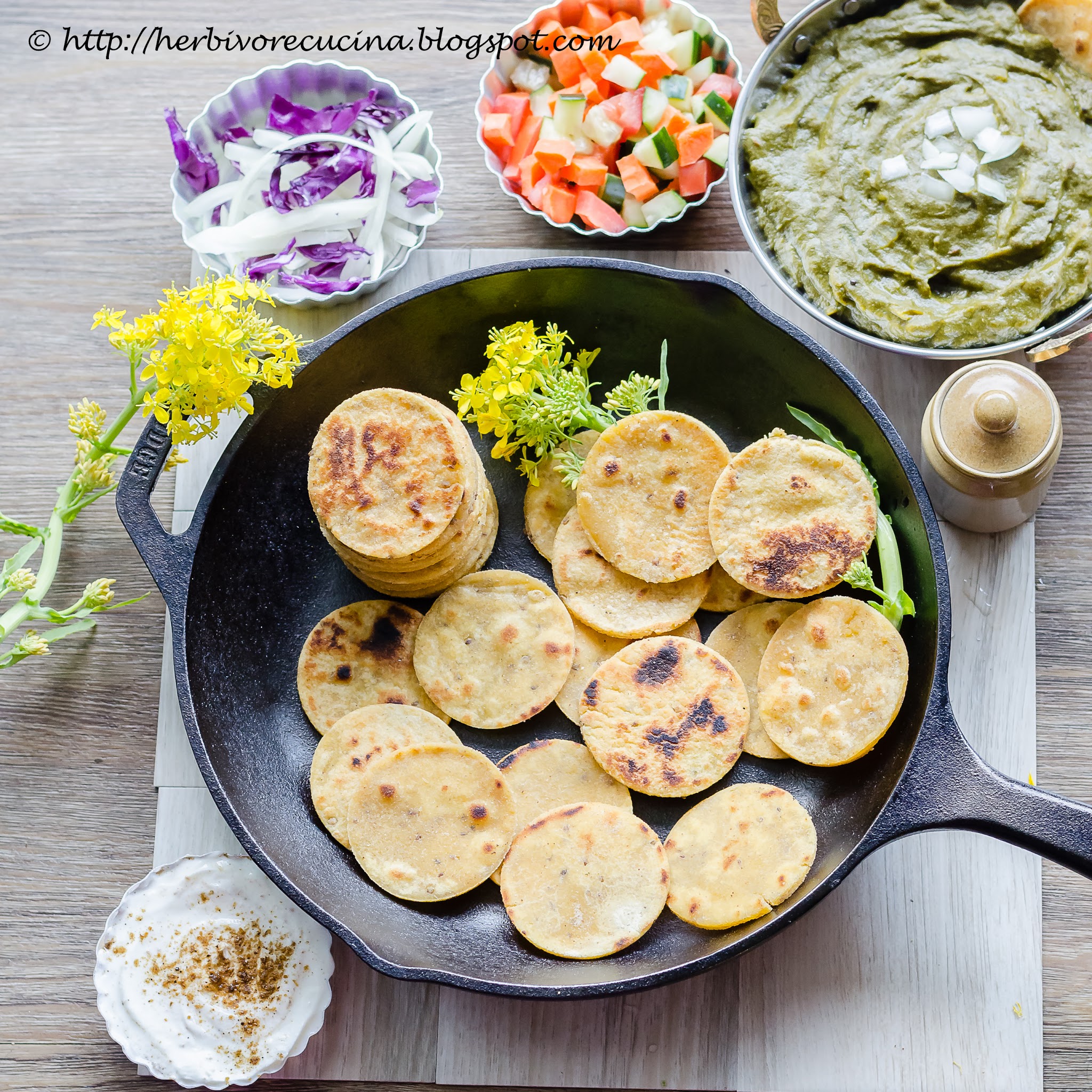 After I decided to make sarson da saag for the Mega Marathon, I obviously had to make this roti. Three reasons: the saag calls for makai aata so I had it in my pantry, sarson da saag would look incomplete in my pictures without the roti :p and most importantly; I wanted to do justice to the saag by making a right bread to go with it!
While the traditional Punjabi people would prefer their roti as a big round disc, I made rather petite rotis out of the makai flour. While there was no particular reason for it, we loved to place a roti on the plate, then a scoop of the saag and finally a tiny bit of the kachumbar and eat it like sev batata puri. The same recipe is obviously good to make big rotis too; I made a big one and cut the small ones from that before transferring them to the tava anyway.
The method to make these rotis is pretty similar to the way we make any other flatbread like Bajri or Jowar. However, because the dough does not bind as well as the other grains, it is slightly difficult to handle it. The easiest way is to place a ziplock bag and then roll the rotis on it. This makes it super easy to pick it up once rolled out. I made a big pile of these rotis and we enjoyed the remainder with tea. They tasted awesome as a snack too, especially because they were perfectly sized to dip in a mug of masala chai.
Ingredients
Makai Flour/ cornmeal 1 ½ cup
Water ½ cup
Ajwain/ carom seeds ½ tsp
Salt ½ tsp
Flour to dust
Ghee or butter
Method
In a mixing bowl add the makai flour, carom seeds, salt and water. Mix well, and keep adding water little at a time till you get a dough that is soft and does not fall apart. Make equal sized balls of the dough.

Place a ziplock bag on the rolling surface and roll out the balls to a flat bread of about ¼ inch thickness. I used a cookie cutter to make small bite sized rotis.
Transfer the roti to the tava, let it cook on one side. Turn over and apply ghee or butter on the top surface. Turn over and repeat. Once cooked on both side, take it off the flame and serve with warm saag, kachumbar and yogurt.